No Comments
Women in Beer | Katherine Valleau of Exit Strategy Brewing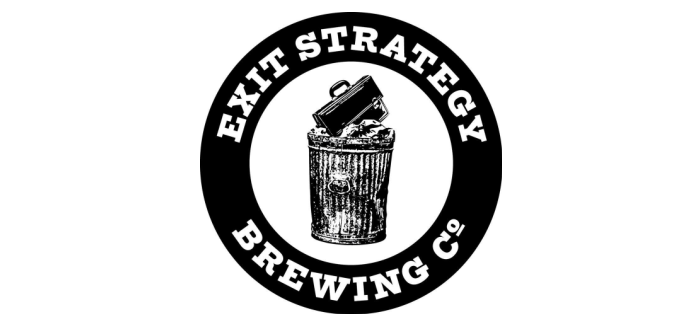 When Katherine and Chris Valleau say they built Exit Strategy Brewing Co. from scratch, they're not kidding. "When we first walked into the building, the skylight was hanging down from the ceiling and there were birds flying around. Everything had been stripped. No plugs. No running water. Only four walls," said Katherine. Nearly six years later, the couple has turned that once empty space into a popular, name-brand brewpub (food and beer), frequented by locals and often visited by traveling craft-beer aficionados.
Exit Strategy Brewery & Beer
The married couple, Katherine and Chris (the head brewer), have lived in Chicago's suburban Forest Park for more than fifteen years. Though suburban, it's not far from the city. Indeed, one can access it via the city's famous "El" (elevated train) via the Blue Line. There's a very urban feel to the place, which in Chicago means becoming an integral part of a neighborhood's social and business ecosystem.
But, it takes work to make that happen.
At first, the couple hoped to make it through the first year — a benchmark for any new restaurant, bar or brewery. "We learned so much that first year," said Chris. "It was madness," added Katherine with a smile. But, they learned, they grew and they adapted. "[The business] has to be a malleable model, or your die," noted Katherine. "The food component became bigger than what we first planned. We are a full brewpub now. We are still not comfortable with the term, 'restaurant,' but we are very proud of what comes out of our kitchen." Still, for the couple, beer is their principal focus. "We are so proud of how our beer has evolved over the years. Chris is a fantastic brewer."
When Exit Strategy opened, they offered four beers. "It took a while to build up a regular beer menu that hit 12 or so, with rotations," noted Chris. Over the years, the former homebrewer added to his repertoire, first with lagering — something he was unable to do at home, and eventually more complex beers such as its expanding sour program and brewing the popular Persephone Pomegranate Wheat Ale. Ultimately, the brewery stands by its plan to brew what they want to drink rather than chasing trends, which includes Old World styles such as its Witbier, Brown Ale, Extra Special Bitter and a Scottish Ale. "Sometimes I want malt over hops," said Chris. "I mean, we opened without an IPA. We had the APA, and then I finally put an IPA on."
View this post on Instagram
Exit Strategy: COVID19
COVID19, of course, has put a huge dent in taproom gatherings. But, customers kept coming for the beer. Interestingly, when asked if COVID19 and its related shutdowns may have interfered with their creative growth, Chris said it was quite the opposite. "No, by not having to deal with some of the day-to-day details of the taproom, there was an chance to say, 'Well, why don't we try this?' I don't want to say the shutdown was a good thing — far from it, but I suppose if there's a silver lining, that could be one of them."
One thing the shutdown stole from them was an ability to celebrate their fifth anniversary properly. "I was so excited about that. After that first year, we set our sights on making it to five years. And then, the lockdown arrived. All of a sudden we had to think about a whole new way of operating the brewery. It was almost like starting over again, in a way," Katherine commented.
Like many, it was a shift to cans and to-go beers and patio spaces. "It was so weird to see reviews that had nothing to do with our beer or food, but addressing our COVID protocols and safety measures, most of which were positive. Such a strange time," said Katherine.
Women in Beer
One thing that allowed the brewery to survive, if not thrive, during the pandemic is the equal work done by Katherine and Chris; their support for each other is obvious when talking with them.  All too often, one thinks of a brewery owned by a husband and wife team as the wife helping the husband run his business. As a writer, I've heard those comments all too often. Exit Strategy is proof that the woman's role in operating the business is in no way a supporting role. And, that attitude of supporting women trickles down to the staff and its customers.
Katherine came to Exit Strategy from the world of education — a female-dominant profession, having taught for more than a decade in Forest Park. The beer industry, on the other hand, sometimes offers reminders of the stereotypes attached to women. "To get into an industry that treats you differently because you have a ponytail, was strange. The thing I heard the most when we opened [from the minority of customers], especially if I asked customers if they wanted to know anything about the beer was: 'Is there a guy around?' or 'Is there anyone here that knows about the beer?.'"
"These [beers] were born on my stove. I gave up my world for this. I know these things. But, to those types, because of my parts, you know, they wanted to talk to people with other parts that they assume know way more. I don't have a lot of tolerance for that."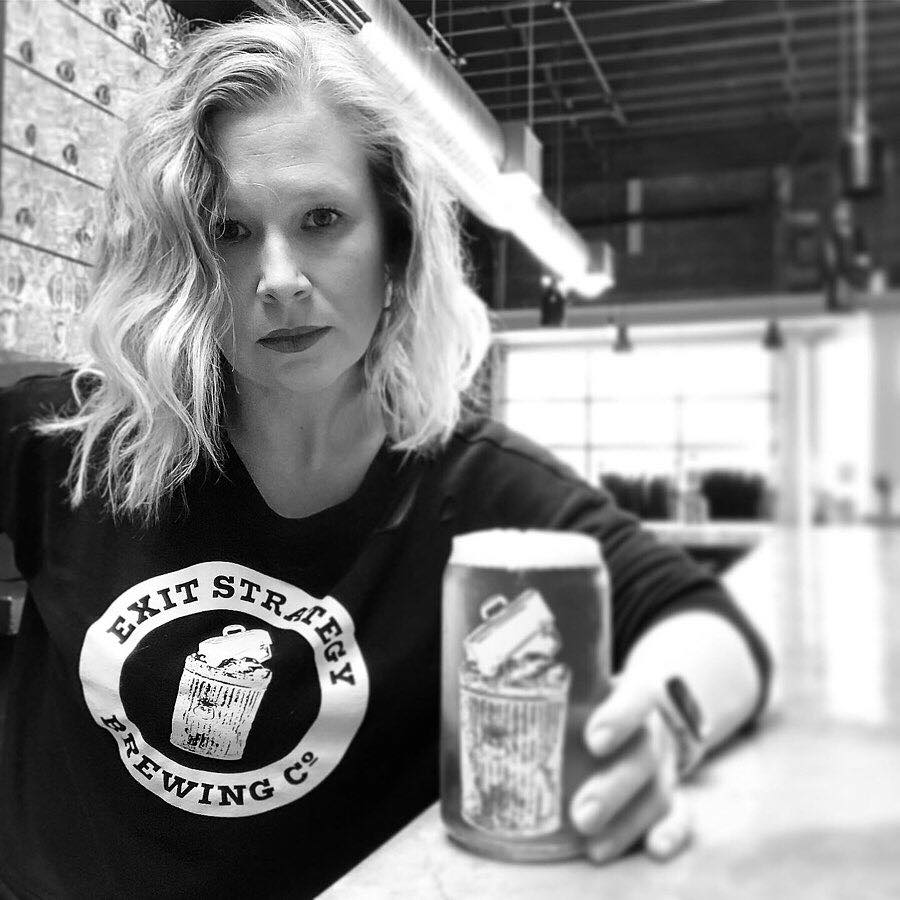 The past six years for women [in the industry] have been better, but it's not yet near where they need to be to have an equitable playing field. There's still an assumption about women, including what women will drink. I like stouts. I like barrel ages. The belief that all women like fruity beers or something like that is just wrong."
Additionally, there's no tolerance at Exit Strategy for men who mistreat women, although Katherine and Chris were clear that those occasions are rare. "My staff are empowered to say, 'That's now how we do things here.' And they know how to do it in a respectful way. I pride myself in telling my staff that their safety, their self-respect, and how they are treated are more important than the five bucks we might make."
Final Thoughts
"We have heard from quite a few people who met at Exit Strategy. They not only became friends but were attending each other's parties and even weddings. We built a brewery that allowed that to happen — it's just so cool," said Katherine.
And it helps that they have great beer. "Chris is just a genius. I swear. It's kinda annoying," said Katherine while laughing. It's that type of banter that speaks to what Exit Strategy is all about: they are not inviting you to a brewery; they are inviting you into their home away from home. Kick back, relax and just have some fun. We could all use that right now, and they are happy to oblige.
View this post on Instagram
---