7 Comments
Ballast Point Chicago Faced Challenges from the Start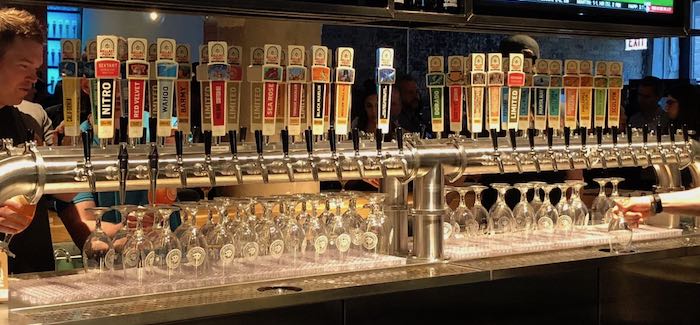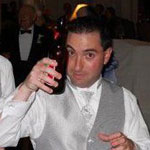 On Tuesday, Ballast Point Brewing owners announced that they would be closing the brewpub in Chicago's West Loop neighborhood for good. The location was open for just under three years and while the pandemic definitely played a factor, the location for the brewpub was always going to present big challenges.
It's hard enough for out-of-state breweries to break into distribution in the city of Chicago, so the idea of a brewpub for an out-of-state brewery raised some eyebrows when it opened in 2018. There's only one other brewery not originally from Illinois that still operates a brewpub in the city, and that's Jolly Pumpkin's location in Hyde Park. But Jolly Pumpkin's location benefits from a stronger neighborhood feel, a stark contrast from Ballast Point in the trendy West Loop.
Constellation Connection
It's probably important to talk about why a San Diego-based brewery even opened up a location in Chicago to begin with. You'd have to go back to 2015 when New York-based Constellation Brands bought Ballast Point for around $1 billion. Constellation has a big office in Chicago as well.
The purchase had people talking throughout the industry and the unprecedented valuation for a brewery, that to their credit had a very strong presence, but still turned heads. Sculpin IPA was one of the country's must-have beers and their barrel-aged beer Victory at Sea drew big crowds in San Diego on release day.
Constellation wanted to expand Ballast Point's presence to be a more national brand and thought Chicago would be a great place to do so, especially with the company headquarters downtown just a short drive away.
When Constellation sold Ballast Point to Kings and Convicts in December of 2019, people began to wonder what the new owners, also based in Chicago, would do with the massive brewpub.
I tweeted about the brewpub closing down and Good Beer Hunting's Michael Kiser made a good point in a response to me that without Constellation, the location didn't make a lot of sense.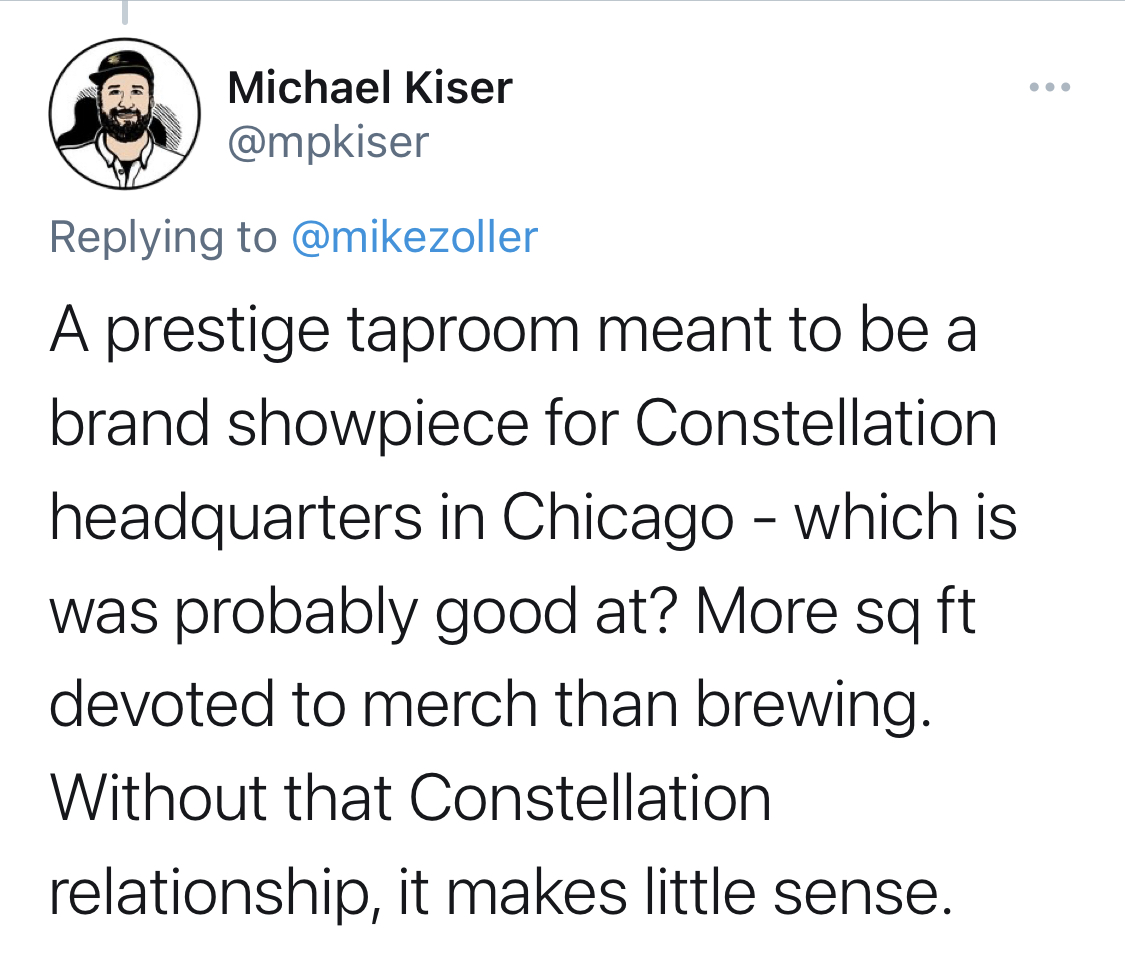 Even though the new owners were also based in Chicago, it's quite different than being owned by a large corporation. That location and its size had to command a high rent and without Constellation being able to back that cost, it seemed like the brewpub would be an easy thing for the new owners to get rid of. Kings and Convicts did say they are pushing forward with a new Ballast Point pub in San Francisco.
Target Audience
From day one, the Ballast Point brewpub had difficulties identifying their target audience. The brewpub had good food, good Ballast Point beer (they won a bronze medal at the 2019 Great American Beer Festival), and a good (but small) rooftop.
One immediate setback was that there were at least eight other Chicago-based breweries within a 10-minute drive of Ballast Point and two other breweries (Haymarket and Cruz Blanca) within walking distance. The desire to drink and support local breweries meant that Ballast Point would often get overlooked.
As for the food, West Loop and Fulton Market have become two of the hottest areas in the city for chefs to open their restaurants. Girl & the Goat, Momotaro, The Publican, and avec all are within a short walk if people wanted a nicer dining setting.
Ballast Point's menu featured West Coast/Baja food like tacos, burritos, burgers, and more. And the food wasn't bad. It was nicer brewery food, but being surrounded by all of those other restaurants made it hard for Ballast Point to really be a food destination. Even if you didn't want the upscale dining that's common with West Loop, there are many casual dining options surrounding the brewpub as well.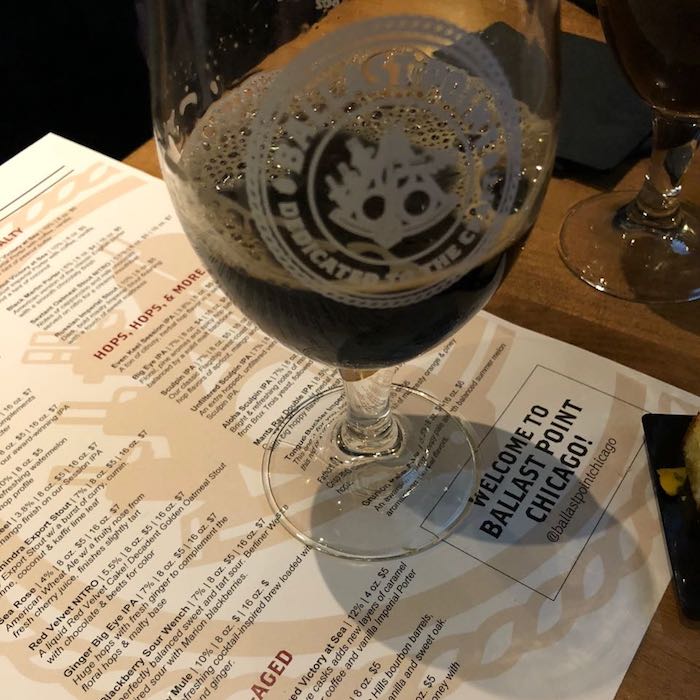 Finally, they had the rooftop. Maybe the best selling tool the location had to differentiate itself in the area. The idea about being able to drink a beer in the summer on the rooftop in the West Loop was really appealing.
But if you wanted a rooftop or patio that didn't focus on beer, there were other trendier options locations that drew crowds into the West Loop for people to get craft cocktails or wine. Ballast Point's rooftop was also pretty small and seating was often scarce during peak times, so if you couldn't get a spot up there, you probably went somewhere else.
We would walk by Ballast Point frequently and when it first opened in 2018 the downstairs, which had a very large dining space, was pretty full. The windows would be open, the summer breeze blowing in, and lots of people ordering food and beers on a Friday or Saturday night.
But then winter hit and the brewery's West Coast vibes didn't really play well when it was 15 degrees outside. The windows had to be kept closed, the rooftop wasn't open and now you are an out-of-state brewpub trying to make it in one of Chicago's hottest neighborhoods.
In the summer of 2019, as we would walk by the brewpub on a Friday or Saturday night, the downstairs was much quieter. Windows were still opened and that's where people would sit, but if you peered inside, the back tables sat empty. The rooftop was still full but too small to be able to support the location, especially if people were just drinking upstairs.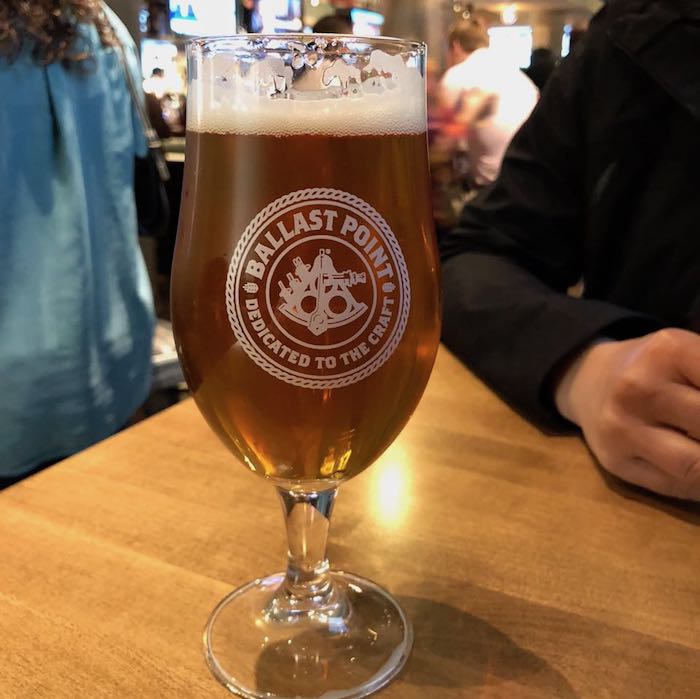 The brewpub had a lot of good qualities about it but nothing that made it a can't-miss spot. If you were a tourist or coming into the city for one night and wanted to go to a brewery, you'd go somewhere local. If you wanted to visit a well-known Chicago restaurant you had plenty of other options. From the start, it was tough to see who Ballast Point would attract.
In my article back in 2018 about the opening of the Chicago location, I wondered if Ballast Point could keep the city's attention in a very crowded brewing scene. I'm sorry to see them close as local people are now out of a job, but hopefully, with so many breweries announcing they're hiring they'll be able to get a new gig quickly.

Focusing on continuing to build on its West Coast presence seems to be the best play for Ballast Point and I think the San Francisco brewpub makes a lot more sense than trying to be a national brand. I think it will be sometime before we see another out-of-state brewery try to open a brick-and-mortar location in the city.
---