No Comments
New Solar Canopy Will Provide 60% of Lawson's Finest's Power Needs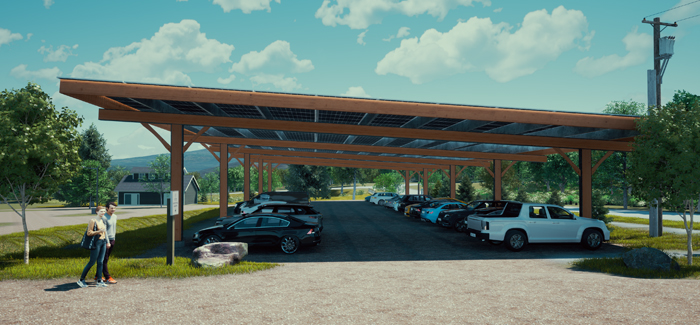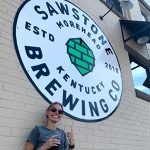 Earth Day isn't just once a year celebration for Lawson's Finest Liquids, it's a 365-day celebration. Reducing their impact on the planet is a year-round effort for the Vermont brewery.
Lawson's Finest latest effort includes the announcement of a 495-module solar parking canopy that will offset 50% of the brewery's power usage. Lawson's Finest has partnered with SunCommon, a solar energy solution to install the solar panels above the parking lot. The solar panels are fully permitted and plan to be completed this summer.
When Lawson's Finest opened the Waitsfield brewery and taproom in 2018, solar panels were installed on the rooftop that covered about 10% of their power needs. The new solar canopy will now offset 60% of Lawson's Finest's power usage.
The new parking lot solar canopy will be built with 495 solar modules (REC 375w) and will deliver over 215kW of power. The covered parking lot canopy will feature two long rows with spots for 40 vehicles.
"And as part of our green is grant initiative, in our social impact program, we're always looking for ways to reduce our carbon footprint, reduce our use of natural resources and cut down on materials and waste," Sean Lawson, CEO and founder of Lawson's Finest, said. "And so this is one way for us to really step up of reducing our impact in a very energy-intensive business in a production brewery."
The new solar canopy will include an additional 12 charging stations for electric vehicles, adding to the four charging stations that Lawson's Finest already offers. All charging stations are free of use to the public.
View this post on Instagram

The announcement of the new solar canopy is not the only part of the brewery's Earth Day celebration. Lawson's Finest is one of the lead sponsors for Green Up Vermont, a nonprofit that runs the annual statewide cleanup event, Green Up Day on May 1. In addition to that cleanup event, employees will be given three hours of paid time off on April 30 to help pick up trash around the Waitsfield brewery and taproom.
Lawson is always amazed at how much trash and debris appear on the side of the road once the snow melts. He is ready for him and his 20 employees, who signed up to participate, to clean up the area around the brewery.
It doesn't end with solar panels, charging stations and picking up trash for Lawson's Finest. The brewery is always looking for ways to cut down on waste by recycling all wastes any and all means possible. Like many breweries, Lawson's Finest sends its spent grain to a local farm a mile down the road to feed beef cattle. The one unique thing the brewery recycles is their wastewater from the brewing process by side streaming high strength wastewater.
"And so high strength meaning it has a lot of solids in it," Lawson explained. "So like all the hops that are dumped off the bottom of the beer tanks, all of the true and the final runnings in the kettle, when we boil up the brew, that all that high strength stuff gets sidestream into tanks. It gets picked up every week by a hauler that takes it to an anaerobic digester, and it helps produce green energy. So it's the anaerobic digester, it digests that organic material that produces methane that's then burned to create electricity. So, it's kind of another cool green way to take what is would otherwise be a waste product and turn it into energy."
So, where did this passion come from? For Lawson, it began when he was a freshman in college.
"When I was a college freshman, I had this naive thought that you know, I'm going to be an environmental studies major go out and save the world," Lawson said.
Lawson attended the University of Vermont and studied environmental studies and received his master's in forestry. He then spent about 15 years doing forest science research and then got into outdoor education. Lawon continues to lead educational snow show tours at Mad River Glen, a local ski area, during the winter part of their naturalist program.
That passion never went away for Lawson, and now it's not part of Lawson's Finest DNA. It's part of who Sean Lawson is.
"But it's really not about saving the world, but about doing our small part to contribute to a smaller carbon footprint and to other efforts that help protect the natural world," Lawson said.
And Lawson's Finest liquids is doing just that.
To learn more about Lawson's Finest efforts on sustainability, visit lawsonsfinest.com
---