No Comments
German Beer Day | PorchDrinking Staff's German Beer & Brewery Picks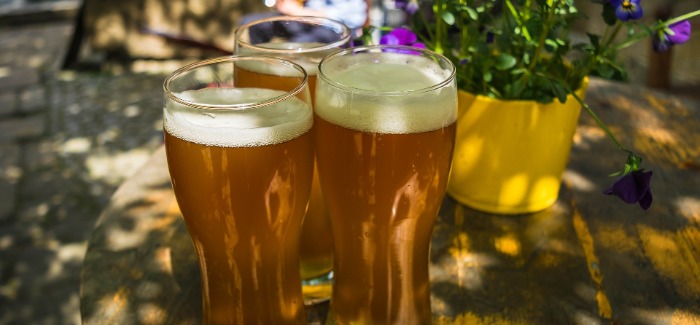 Prost! For some parts of Europe, grape is king. But, in Germany, it is all about barley and hops. German Beer Day (Friday, April 23) celebrates that country's rich brewing culture and history. So we wanted to briefly discuss German brewing and ask some of our team what German Breweries they'd like to visit and what German beer styles they genuinely love.
Most recognize German beer as having ties to the 1516 Bavarian Purity Law, or Reinheitsgebot (applied to all of Germany in 1906 as part of an agreement with Bavaria when it joined the German Empire in 1871). The law stipulated that brewers use only water, barley and hops in making beer — the discovery of yeast and its role in brewing emerged much later. But, German beer emerged far earlier than the late middle ages. For instance, the genesis of the modern Dunkel likely occurred sometime in the 12th century, and beers like Schwarzbier and Rauchbier pre-date the modern German lagers we routinely drink today. Meanwhile, the brewing of wheat beers is now allowed under Reinheitsgebot if they are top-fermented.
So what does any of this have to do with German Beer Day? Well, all the laws, requirements, history and culture boil down to one thing: Germans take their beer seriously. Many Germans emigrated to the U.S. and brought its influential beer culture with them. In recent years, the craft beer boom helped re-introduce a wealth of historical beer styles to beer fans. In short, we should all thank Germany for its profound influence on the beer world. And so we do with German Beer Day.
In that spirit, I posed the question to a few members of the PorchDrinking team:
"What German beers/styles do you seriously love? And, for the bonus round: If you could go to Germany for a day, what one or two (or three…) breweries would you love to visit?
Ruvani de Silva, PorchDrinking Writer | Austin, TX
It's all about the Rauchbier for me – Schlenkerla Marzen is one of my fave beers ever & love the Urbock too – can't wait to visit Bamberg and have it fresh from the source, and also super-grateful to live close to Live Oak Brewing who make phenomenal Rauchbier across many styles – their new Kletus smoked Doppelbock is ridiculously good!!
View this post on Instagram
Seth Garland, Editor and Writer | Arvada, CO
Any Dunkel. My parents lived in Germany for several years and that was my first exposure to actual German beer (and their beer purity laws and beer etiquette). It was also odd as an American to be there and see how eating and drinking was so communal — meaning it wasn't weird at all for people to take up any empty space at your family's table and just start chatting.
Anyway we visited one of the monastery breweries there outside of Munich but I cannot for the life of me remember what it was called. So I would do a Benedictine beer tour until I find it again.
Kindsey Bernhard, Kentucky Regional Editor and Boys Are From Märzen Podcast Producer | Louisville, KY.
You already know! German Schwarzbier!!!
Kevin Kain, PorchDrinking Writer and Owner of CasketBeer.com | New Rochelle, NY
Franconian pale and amber lager. I would visit Schlenkerla, Mahrs and St. Georgenbrau.
Scott Grossman, PorchDrinking Writer | Denver, CO
Oh, such an easy question. All of them! But if forced to narrow it down, Bock, Doppelbock, Fest. On the brewery, Ayinger. Mostly for the beer, partly for the scenery.
View this post on Instagram
Elijah Rivera, PorchDrinking Writer | Fort Collins, CO
This is impossibly hard for me, but for the sake of contributing answers I'll go with Zwei Pils and Brauhaus Sion in Cologne.
Jesse Valenciana, PorchDrinking Writer  | Nashville, TN
I'd visit Heinrich Reissdorf GmbH & Co. KG in Cologne to drink their Kolsch all dang day
Karl Kalinkewicz, PorchDrinkiing Writer | International Traveler
Give me that Weizenbock! Place to visit is Andecht's for the classic hike through cows to a monastery vibes, or Fuerst Wiacek to see what the cool kids are brewing in Berlin.
View this post on Instagram
Scott Johnson, PorchDrinking Writer | Harrisonburg, VA. 
I'm torn between two. For a classic pick: Weihenstephaner Original. For a wildcard pick: Leipziger Gose.
So what about me (Mathew Powers, National Content Editor)? | Chicago, IL
Well, I love German Beer. I'm in that "all of them" category, but I adore Schwarzbiers and Altbiers, And my love for Oktoberfest beers (Märzen or Fest) is right up there. What brewery would I pick? Well, with the Altbeir as my pick, it would be fun for me to head to Düsseldorf — probably Füchschen, I guess. I've never been, but I'll pick one of those fine Altbier breweries to visit and love every moment.
---