No Comments
Botanical Beer Series | Anvil & Forge Brewing Wolf's Bane Grey Tart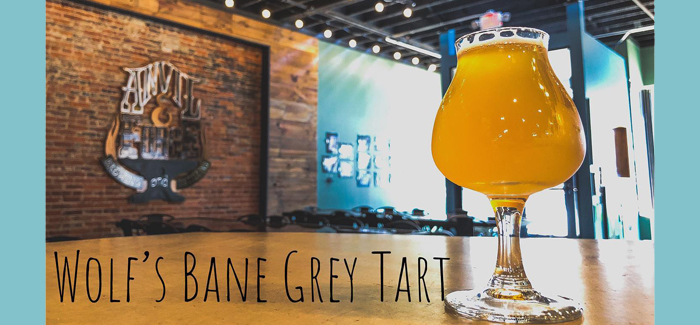 It's natural to seek silver linings in bad situations, but when storm clouds hung above our collective heads during the COVID19, crisis, Anvil & Forge Brewing and Distilling provided Illinois beer drinkers with some helpful grey — Earl Grey Tea, to me more specific. Earlier this year, Illinois Beer drinkers partook in a March Madness bracket-style beer event — #BEERacket — that, yet again, served as a virtual replacement for the in-person festivals we once took for granted. But, amid that reminder of the trouble caused by the evil microbe came a host of good beers, including Springfield Illinois' Anvil & Forge Wolf Bane Grey Tart, a sour ale with with lemon peel, dried wild bergamot flower and Earl Grey Tea. An exemplary botanical beer, Wolf's Bane reminds beer drinkers that there are still brewers willing to producing flavorful beers outside the realm of "trendy styles."
ABV: 4.1%
In 2018, Anvil & Forge opened in historic downtown Springfield, Illinois. Along with its beer portfolio and a plan to distill, Anvil & Forge produced craft coffee. But, with Wolf's Bane, it's all about the tea. The beer offers beer drinkers a botanical delight that's as nuanced and refined as it is familiar and comforting.
One immediately notices the lovely waft of lemon that hits the nose, almost as if one strolled through a lemon orchard. It reminds one more of lemon zest (as advertised) than lemon juice or lemonade — a fresh and vibrant lemon aroma. The lemon flavor profile is a tad more subdued than the aroma, but that's a good thing; otherwise, it would overpower the many other characteristics in Wolf's Bane. Still the citrus presence is profound. The lemon tartness is noticeable but not enough to make one's jaw clench. Meanwhile, the Whimsy Tea Company Bold Earl Grey Tea comes in on the heels of the lemon, and it's not a minor player to say the least. The added orange or grapefruit notes from the tea add to the bright, citrus qualities of the beer. Yet, the earthy notes keep it balanced. The tea, the fresh and tart lemon, the dried wild bergamot flower — part of the mint family, and the malt-sweetness all work together exquisitely. In fact, the malt profile is vital to the beer's quality and should not go unnoticed. Lastly, the dry finish on the beer is an added bonus that makes one yearn for another sip, and then another.
Indeed, the Anvil & Forge Wolf's Bane Grey Tart serves as a wonderful demonstration of the beauty of a botanical beer. Unfortunately (in this writer's humble opinion), botanical and tea-infused beers remain a niche category in today's craft beer world. One can hope with beers like Anvil & Forge Wolf's Bane; more beer drinkers will understand what makes them worthy of purchasing.
View this post on Instagram
Feature image from Anvil & Forge
---