No Comments
Mile Wide Beer Co. Partners with Queer Kentucky to Release First Pride Beer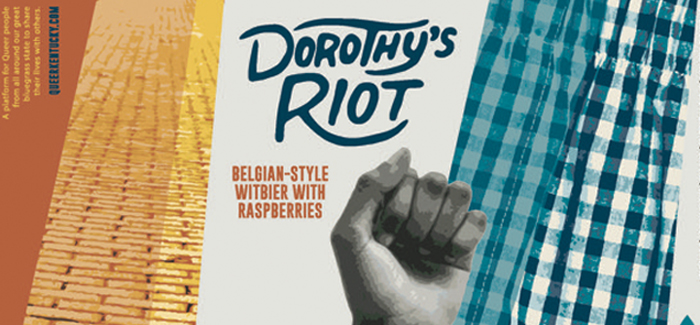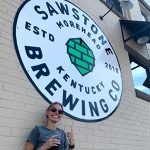 Mile Wide Beer Company is celebrating Pride Month with the release of Dorothy's Riot, a Belgian-Style Witbier brewed with raspberries. The Lousiville, KY brewery has partnered with Queer Kentucky to release its first-ever Pride beer. Queer Kentucky is a platform for Queer people from all around our great bluegrass state to share their lives with others.
The name, Dorothy's Riot, is a reference to both the saying "Friend of Dorothy" and the Stonewall Riots. Both Queer Kentucky and members of the Louisville LGBTQ+ community were involved with the name and label design of the beer.
Mile Wide has been actively involved in LGBTQ+ community and Pride events in the past, but never found the right time to include a Pride beer into their production schedule. The brewery knew they wouldn't miss their chance this year and scheduled this beer into their calendar last year.
"It's such an important month for recognition of this community of people," Scott Shreffler, Mile Wide's co-founder said.
"And a lot of fun as well," Shreffler said on the beer release. "I think that you know, part of what we like to do is throw a good party. And we thought that this could be another reason to throw a really good party."
The release of Dorothy's Riot will be an all-day Pride celebration at Mile Wide's taproom on Friday, June 3. The event will feature music from queer DJs all day, various LGBTQ+ vendors and organizations, free and confidential HIV testing from Volunteers of America, COVID-19 vaccinations from Louisville Public Health, a drag show and a silent disco to end the night.
The Importance of Allies
"We wanted to do this collaboration because we think it's important for us to be allies of the LGBTQ+ community," Shreffler said. "And to be true allies, we have to be willing to show up and put in the work. To not only help raise money, but to help the members of the LGBTQ+ community share their stories, their art and their experiences."
View this post on Instagram
Mile Wide is donating a portion of the proceeds from the sale of Dorothy's Riot to Queer Kentucky. Additionally, there will be limited edition Dorothy's Riot glasses for sale, with 100% of those proceeds going to Queer Kentucky.
"We're so happy to partner with Mile Wide on this event," Spencer Jenkins, founder and Executive Director of Queer Kentucky, said in a press release. "Due to COVID, Pride last year and this year has been so weird. We're just grateful that Mile Wide is holding space for the LGBTQ+ community during Pride month."
For more information on the event visit, facebook.com/milewidebeer
---