No Comments
2021 Texas Craft Brewers Festival Beer List Announced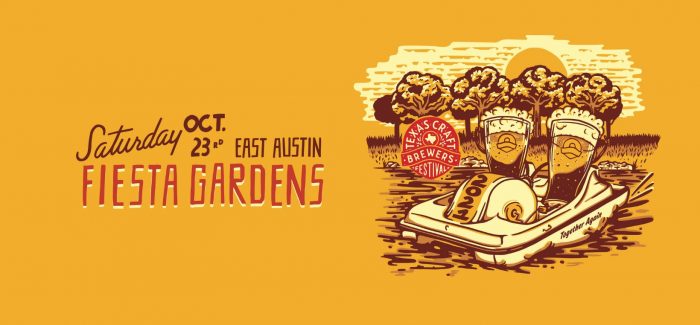 The Texas Craft Brewers Festival, featuring more than 85 craft breweries, returns October 23, 2021, to Fiesta Gardens in Austin, TX. The event, which is organized by the Texas Craft Brewers Guild is the state's largest beer event focused exclusively on Texas-brewed craft beer.
"We are excited to bring back Texas Craft Brewers Festival for an in-person celebration of Texas craft beer," Texas Craft Brewers Guild Executive Director Charles Vallhonrat said. "We appreciate the support and good time we had with Texas craft beer fans during our virtual festival last year, but nothing beats getting together again at Fiesta Gardens with more breweries and more space than ever before."
Follow event news on Facebook, Instagram and Twitter and use hashtag #TXbrewfest.
Note: beer lists are subject to change
(512) Brewing Company
(512) Bock – German-Style Bock Beer
(512) Juicy IPA – Juicy IPA
3 Nations Brewing
Sucker Punch – Berliner Weisse
Royal Blood – Blood Orange Ale
4th Tap Brewing
Supernaut – Cinnamon Chocolate Truffle Imperial Stout
Pinky Blinders – Raspberry Kettle Sour
Singularity – SMASH IPA
House of Torment Pumpkin Ale – Spiced Amber
Acopon Brewing Company
Homunculus – Dark Mild
Gaspipes – Premium Bitter
Altstadt Brewery
Hefe – South German-style Hefeweizen
Kolsch – German-style Kolsch
AquaBrew
Aquabrew Festbier – Festbier
Skyscraper Mosaic – Juicy IPA
Pineapple Gose – Fruited Gose
United We Stout – Dry Irish Stout
Armadillo Ale Works
Land Yacht – IPA
Coffin Racer – Mexican-style Chocolate Stout
Austin Beer Garden Brewing Company, The
Festbier – Märzen
Industry  – German Style Pils
Austin Beerworks
Homeostasis – IPA
Wet Hop – IPA
Megaflora – Juicy DIPA
Lechedor – Horchata Stout
Gourdgeous George – Seasonally Appropriate Pumpkin Ale
Pils Junior – Leichtbier
B52 Brewing
Super Fruited – Cherry, Mango, Banana – Imperial Fruited Sour
Breakfast Stout – Coffee Oatmeal Stout
Baa Baa Brewhouse
N.O.S. Gear 5 – Hazy IPA
Baa Lite – Hoppy Kolsch
Barking Armadillo Brewing
Quarantine Island DDH – Hazy IPA
Eurotrip – Pilsner
Beerburg Brewing Company
Mexican Style Lager – Vienna Lager
Mugwort ESB – ESB
Black Star Co-op
Fructis – Hazy IPA
Roze Sap – Guava Sour
Blue Owl Brewing
Tiger's Blood  – Watermelon/Strawberry/Coconut Sno Cone flavored Sour Ale
Bob's fine Pilsner – Pilsner
Pastry Gose – Sour Peach Cobbler
StrawBatchy RhuBob – Strawberry and rhubarb sour smoothie
Wild Boss  – Dragon fruit and passion fruit barrel-aged sour ale
Mexican Martini – Seltzer with lime, orange, & olive brine
Bluebonnet Beer Company
Oktoberfest – Märzen Style Lager
Hefeweizen – Weissbier
Brotherwell Brewing
Act of Faith – Belgian style Tripel
Wacotown IPA – American IPA
Buckstin Brewing Company
Not the Momma – Hazy/Juicy IPA
The Mute – Saison
Easy Breesy – Blonde
Celis Brewery
Celis Juicy IPA – East Coast Style IPA
Celis Kriek – Belgian style Cherry beer
Central District Brewing
Gold on the Ceiling – Hazy IPA
Cloaked in a Violet Crown – Black Currant Sour
Circle Brewing Co.
Blur Texas Hefe – Hefeweizen
Tuxedo Tshirt Black IPA – Black IPA
Deep Ellum Brewing Company
Dallas Blonde – Golden Ale
Hop Seeker – West Coast IPA
Blind Lemon – Hard Seltzer
Neato Bandito – Mexican-Style lager
Eureka Heights Brewing Co.
Mini Boss – IPA
AxHat – Norwegian Pale Ale
Family Business Beer Company
Saison C'est Bon! – Saison
Rainbow Road IPA – JUICY IPA
Fire Base Brewing Company
Amber Waves – Amber/Red Ale
Fiddlers Green – American Pale Ale
Fitzhugh Brewing
Warped Window – Hazy IPA
Brew Deck Blonde – Blonde Ale
Fredonia Brewery
Professional Texan – Kolsch Style Beer
Hefeweizen – German Wheat
Freetail Brewing Co
Bat Outta Helles – Munich Helles
Strawberry Rhubarb Bexarliner – Fruited Berliner Weiss
Friends and Allies Brewing Co.
F&A Hazy IPA – Hazy IPA
Noisy Cricket – Session IPA
Frontyard Brewing
Kolsch – Kolsch Style Ale
Coffee Milk Stout – Coffee Milk Stout
Galveston Bay Brewing
Captain's Coffee Stout – Coffee Stout
Ghostship Gose – Gose
Galveston Island Brewing
Tiki Wheat – American Wheat
Pit Pit – Chocolate Peanut Butter Porter
Ghost Note Brewing
That Tracks  – IPA
Painted Porch – Pilsner
Hedgehog Brewing
Hoptimism – NEIPA
Hop And A Skip – Farmhouse-Style Saison
Hell Or High Water Brewing
Padre Muldoon – Irish Red
Helluva Hefeweizen – Hefeweizen
Hi Sign Brewing
El Berto the Mexican Lager – Mexican Lager
Violet – Blueberry Blonde Ale
Hi-C Hazy IPA – Hazy/Juicy IPA
Wooderson IPA – American IPA
Hold Out Brewing
Ol' Gil Pils – Euro Pils
New Juice Goofin' – Hazy IPA
Hop and Sting Brewing Company
Aluminum Cowboy – Light Lager
Northeast Texas IPA – American IPA
Hopfusion Ale Works
Black Gold – Oatmeal Stout
Project Series – IPA
Hopsquad Brewing Company
Architetto Ruffini – Italian Pilsner
Lord Zanate – West Coast IPA
Humble Pint Brewing Co.
Funbird – Hefeweizen
Grist & Fermentation – American Pale Ale (APA)
Infamous Brewing Company
Dye-It Pils – Czech Style Pilsner
Oktoberfest – Maarzen Lager
Ingenious Brewing Company
Neapolitan Ice Cream Sundae – Imperial Milk Stout
Hall Pass Kolsch – Kolsch
Jester King Brewery
Das Wunderkind! – Blended Saison
Bitter Death – Extra Hoppy Belgian-Style Pale Ale
Künstler Brewing
Puro Southtown – Mexican Lager
Trash Talk – Hazy IPA
Wolfie  – Vienna Lager
Guava Goddess  – Gose
Last Stand Brewing Company
Citra SMaSH IPA – American IPA
Texas Forever – American Lager
Lazarus Brewing Co.
Katie's Pride – Marzen
Lightning Wolf – Hazy IPA
Live Oak Brewing Co.
Oaktoberfest – Märzen
Biergarten Pils – Adjunct German-Style Premium Pilsner
Lone Pint Brewery
Yellow Rose – IPA
UndeadHeadEd – Chile Porter
Longtab Brewing
Jedburgh – Belgian Blonde Ale
Son Tay – Belgian IPA
Martin House Brewing Company
Best Maid Sour Pickle Beer  – Pickle Beer
True Love – Raspberry Sour
Meanwhile Brewing Co.
Meanwhile Pilsner – German style Pilsner
Secret Beach – San Diego style IPA
New Magnolia Brewing Co.
Ennio Pils – Italian Pilsner
Kolsch – Kolsch
No Label Brewing
El Hefe – Hefeweizen
Cali Boy – West Coast IPA
Gilley's Premium – Blonde
Mangolorian – DDH Mango Milkshake NEIPA
Nightmare on 1st Street – Imperial Pumpkin Ale
Perpetual Peace – BBA Wee Heavy Scotch Ale
Nomadic Beerworks
Peak Season  – Juicy Tropical IPA
Watermelon Helmet – Watermelon Gose
Oak Highlands Brewery
Freaky Deaky – Belgian Tripel
Oktoberfest – Marzen Lager
Oddwood Brewing
Ethics & Standards – Hazy IPA
Pool Dad Pils – German-style Pilsner
Oskar Blues
Dales Pale Ale – American Pale Ale
Oskar's Lager – American Lager
Guava Rodeo – American Session Sour
Can O Bliss Double IPA – Imperial IPA
Pinthouse
Thunderworld – Hazy IPA
Fresh Hop Green Battles – IPA
Magical Pils – Dry-Hopped Pilsner
Southern Sensibilities – Peach Cobbler Inspired Sour Ale
Pondaseta Brewing Co.
Pyrite – NEIPA
Patek Pils – Czech Pilsner
Rahr & Sons Brewing Company
Adios Pantalones – Session ale w/ salt & lime
Paleta de Mango – Session ale w/ fruit & spices
Real Ale Brewing Company
Boombox – Double IPA
Coffee Porter – Robust Porter w/ Coffee
Fresh Kicks – Hazy IPA
Hans' Pils – German-Style Pilsner
Red Horn Brewing Co.
Trail Runner – Golden Ale
Choomerang Kapow – Hazy IPA
Superfly – Candy Milk Stout
Roughhouse Brewing
Roughhouse Pilsner – German-Style Pilsner
Honeycrumb – Farmhouse Ale with Rye Bread and Honey
Saint Arnold Brewing Company
2021 Pumpkinator – Imperial Pumpkin Stout
2021 BBA Pumpkinator  – Barrel Aged Pumpkin Imperial Stout
Harmony – Hazy Pale Ale
Double Down – Double IPA
Art Car IPA – American IPA
H-Town Pils – Lager
San Gabriel River Brewery, Inc.
Knock-Out Blonde – Belgian Tripel
Hop Blood – Red American IPA
Savage Brew Lab
Big Pink Energy – Gose with Prickly Pear
Mr. Nimbus – DDH Hazy IPA
Second Pitch Beer Company
Summer Lightning – Honey Blonde Ale
Hometown Lager – California Common
Soul Fire Brewing Co.
Roanoke IPA – American IPA
Frances – Vienna Lager
Southern Heights Brewing Co.
Tahitian Dreamin' – Hazy IPA
Jam Session  – Raspberry Sour
St. Elmo Brewing
Fritz – Bavarian Pilsner
Schlagen – Oktoberfest
Texas Beer Company
Suds – Hazy IPA
K9 Lager  – American lager
OkTaylorfest  – Oktoberfest Märzen
Texas Cannon Brewing Company
Lost Leg Lager – Mexican Style Lager
6 Pounder IPA – American IPA
The Brewtorium Brewery & Kitchen
Schwarzengiggles – Schwarzbier
Mark it 8, Dude – Smoked Altbier
True Anomaly Brewing
Redstone – Vienne-style Lager
Dark Matter – Belgian Dubbel
Peggy – Fruited Sour (Peach + Plum)
True Vine Brewing Company
Mermaids & Unicorns – Blonde
Daddy's Juice Box – Double IPA
TUPPS Brewery
ALPHA DROP – Double Dry Hopped IPA
IPA – India Pale Ale
DAY OF THE DEAD – Juicy Pale Ale
Two Docs Brewing
Buddy Hoppy IPA – American IPA
Chilton Gose – Gose
Urban South Brewery – HTX
Double Spilled – Heavily Fruited Sour
Chromatic – TIPA
Vacancy Brewing
June – Hill Country Pilsner
Lucille – Sparkling Golden Ale
Vallensons' Brewing Company
ExtraVahAzzier IPA – New England IPA
Settlers Oatmeal Stout – Oatmeal Stout
Vector Brewing
Moonsmoke – Lichtenhainer
Monospace: Citra – Single Hop Hazy IPA
Vista Brewing
Barton Creek Gold – Blonde Ale
Dark Skies – Black Pilsner
Destination – American IPA
Le Saison – French-Style Saison
Stonewall – Lambic-Style Ale with Texas Peaches
Flanders Fields – Oud Bruin
Weathered Souls Brewing Company
Black is Beautiful – Imperial Stout
Vietnamese Style French Press  – Imperial Stout
Whitestone Brewery
¡Mira! – Mexican Lager
Numb Numb Juice – Triple Hazy IPA
Wild Acre Brewing Company
Texas Blonde – Ale
Texas Blonde Imperial Pineapple – Ale
Agave Americana – Ale
Snap'd Gingerbread Strong Ale – American Strong Ale
Willard's Brewery
Fistful of Fury – Hazy IPA
Forbidden Helles – German Style Helles Lager
Willard's Oktoberfest – Marzen Style Oktoberfest
Cowpoke – Sparkling Cocktail
Zilker Brewing Company
Wunderbier Festbier – Festbier Lager
Utopian Festival Ale – Hazy Pale Ale
Berry Fun – Fruited Kettle Sour
6th Anniversary Beer – Hazy IPA
---