No Comments
Anchorage Brewing Adds Innovative Wood Coolship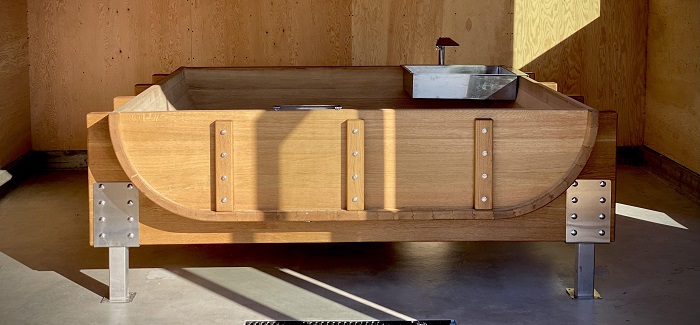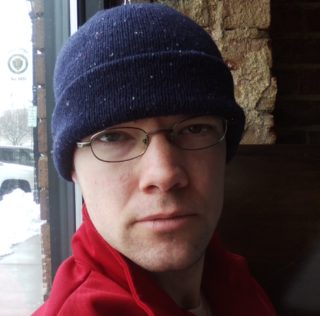 Anchorage Brewing in Alaska's most populous city has been known for its sour and mixed-fermentation beers since opening in 2010, and will soon be adding a new layer to its sour program: a 14 bbl coolship on the rooftop deck of its new expansion. While a new coolship at an American craft brewery is noteworthy on its own, this one is even more unique in being the first all-wood coolship in commercial operation. It was made by Foeder Crafters in St. Louis, Missouri.
"They make stainless steel coolships currently, and the owner approached me about doing one out of wood," says Anchorage founder and brewer Gabe Fletcher. "I said, 'Hell yeah, let's do it.'"
A coolship is a shallow, open basin most commonly associated with Belgian Lambic brewing. Hot wort is pumped into the open vessel and allowed to cool while being exposed to the outside air. Wild microorganisms settle into the liquid and contribute to its complex fermentation after the beer is pumped into wooden barrels, which also contribute their own resident cultures. In the modern era, coolships have been made almost exclusively of stainless steel, with some legacy examples made of copper.
Peter Bouckaert of Purpose Brewing suggested the original idea for the innovative wood design. Bouckaert is best known for his years at legendary Belgian sour brewery Rodenbach and at New Belgium Brewing in Colorado, a pioneering brewery in American wood-aged sour beer.
"Peter was sitting with the owner of Foeder Crafters and suggested making one out of wood, pointing out that bacteria might grow in the wood and add some microflora to the coolship room," explains Fletcher. "So we built the first wooden coolship that I know of."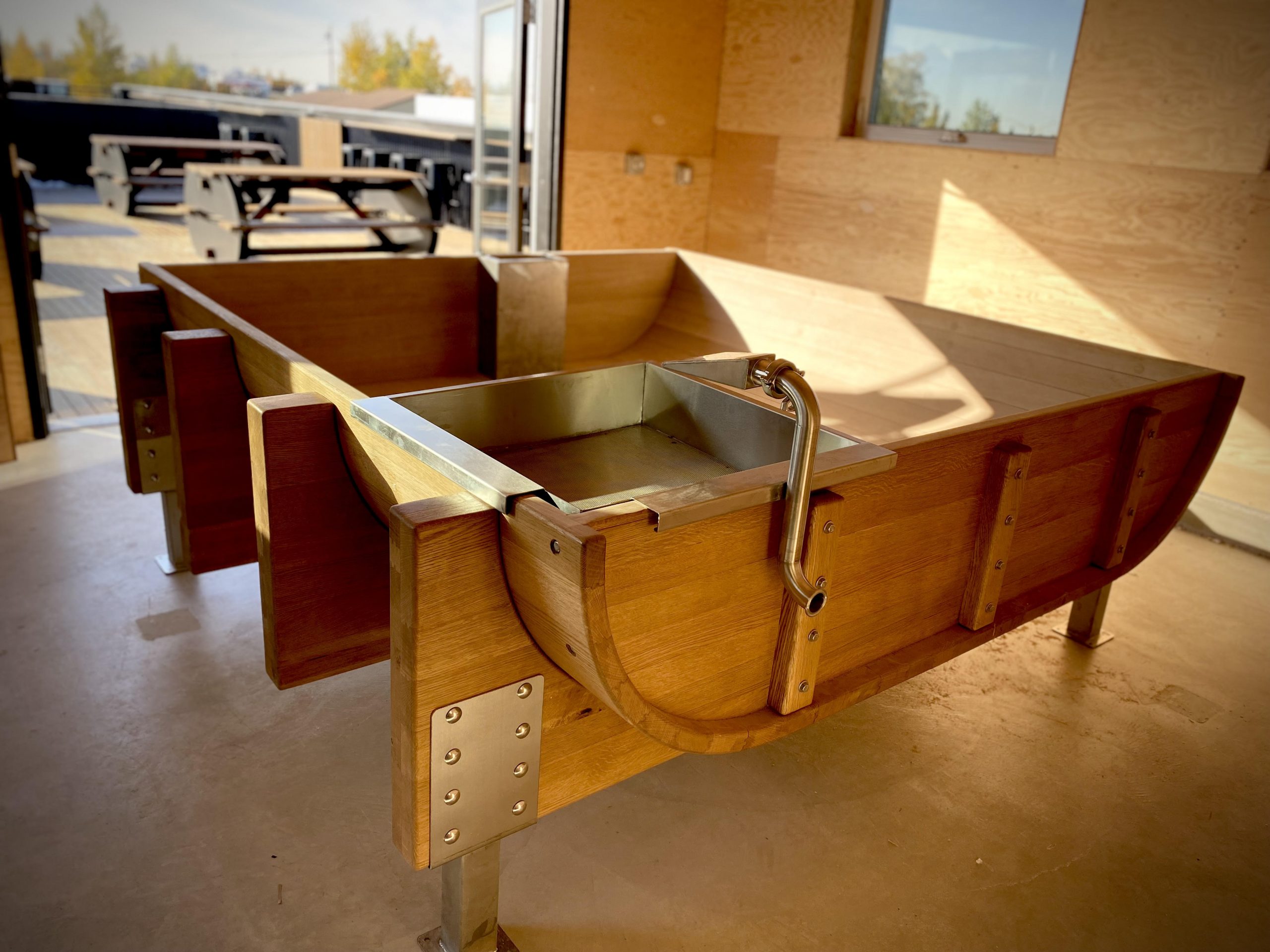 The new Anchorage coolship is 8' x 8' and a depth of 14", and it's made entirely of Missouri oak fitted together with tongue and groove joints. Anchorage built a special standalone room on the rooftop deck just to house the vessel, and the walls are covered in scrap oak sent by Foeder Crafters. The hope is the wood on the walls will retain a resident culture of microorganisms to further assist in inoculating each new batch of beer. Two windows on each side of the room and swinging French doors will allow for a cross breeze to carry the crisp Anchorage air into the room.
Waiting on Weather
That crisp air is key to brewing the Lambic-inspired beers Fletcher hopes to create. In Belgium, there is only a narrow window of time each year when the weather is cool enough to allow for this spontaneous inoculation by yeast and bacteria in the air. He's counting on the Alaskan climate to provide a generous space of time for these projects each year.
"I think we have a much larger window than most [U.S. breweries] only because that temperature range happens a lot longer here than down south," Fletcher explains. "A lot of people get weather that's too warm, and then by the time it gets cold, it's too cold. Our fall is always in the 40° F range, and I think that'll be just right. That probably lasts for close to three months for us."
The rest of the year, Fletcher plans to use the coolship for performing open fermentations directly in the coolship for beers that will then be sent to the brewery's barrels and foeders for more conventional mixed-fermentation ales.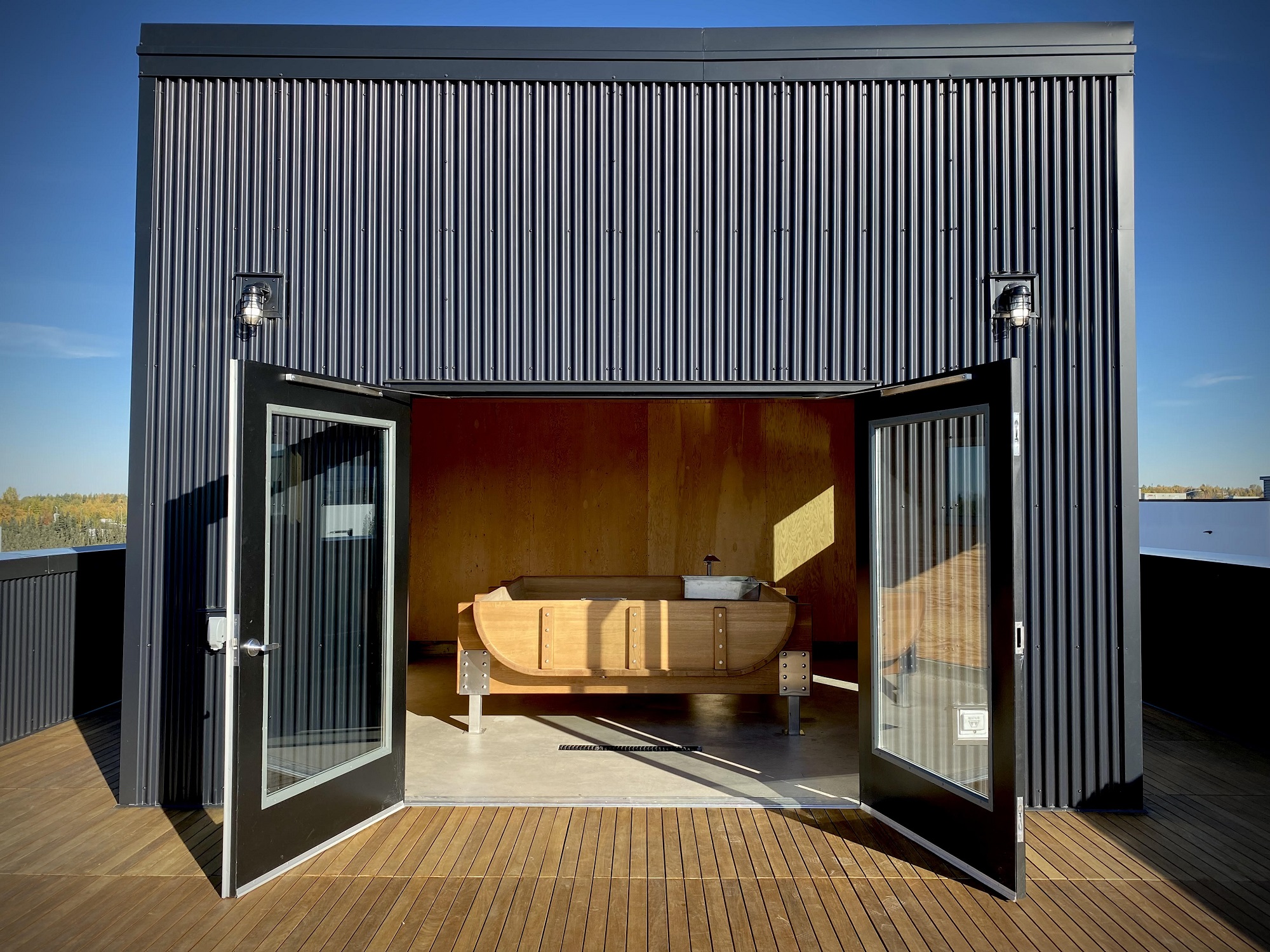 Sour beer is in Anchorage Brewing's DNA. The brewery got its start by focusing exclusively on mixed-fermentation or brett-fermented wood-aged beers back in 2010. At the peak of their sour production, the brewery had 13 French oak vertical wine foeders for producing these funky beers. A changing market has reduced the amount of sour beer Fletcher produces on the brewery's 20 bbl brewing system, though these beers are still the spiritual heart of the brewery. Sour beer now makes up around 25% of Anchorage's production.
Those original foeders have been replaced by stacked horizontal vessels from Foeder Crafters. The upkeep on the newer foeders is significantly easier, and their shape ensures less of the surface area of the beer is exposed to oxygen, which can degrade flavor and encourage certain types of bacterial growth. Their stacking design frees up space for stainless tanks to produce the IPAs and other standard craft styles that keep the lights on. The brewery has seven of these 40 bbl foeders, three of which are used for standard fermentation beers that can benefit from time in wood, such as Imperial Stouts. Another serves as the Anchorage funk tank, maintaining their house mixed culture in an ongoing solera process.
When the Time Is Right
While he knows the new coolship will never be a big money-maker or volume-mover, Fletcher says brewing in the Belgian Lambic tradition has been a long-time dream of his. It will be a while though before those beers will see the light of day.
"Straight Lambic and fruit lambic can be produced in probably a year and a half," he explains. "But to produce a Gueuze-style beer, which would be that ultimate thing for me, that takes several years. That's my main goal."
Gueuze is a blend of several annual vintages of Lambic, and generally the oldest part of the blend must be at least three years old. Fletcher esteems the Belgian masters of the style like Cantillon, Drei Fonteinen, and Tilquin, but his biggest inspirations reside closer to home.
"I look at them as inspiration, but I more so look at the folks who are doing it in the U.S. and doing an amazing job," he says. "Jester King, Allagash, de Garde. Those would be the top three in my mind that are really nailing it. Trevor [Rogers] from de Garde is going to come up here and brew the first batch with us if we can pull it off."
Fletcher isn't sure what he'll call his Lambic-inspired beers yet, though he's followed the debate in recent years over the appropriate terminology for American-brewed Lambic-style beers. Out of deference to the Belgian classics, most American brewers view it in poor taste to use the words "Lambic" or "Gueuze" in their beer names, with many opting for the term "Méthode Traditionelle."
"I haven't nailed that down yet, but we have a couple years to think about it," he says with a laugh.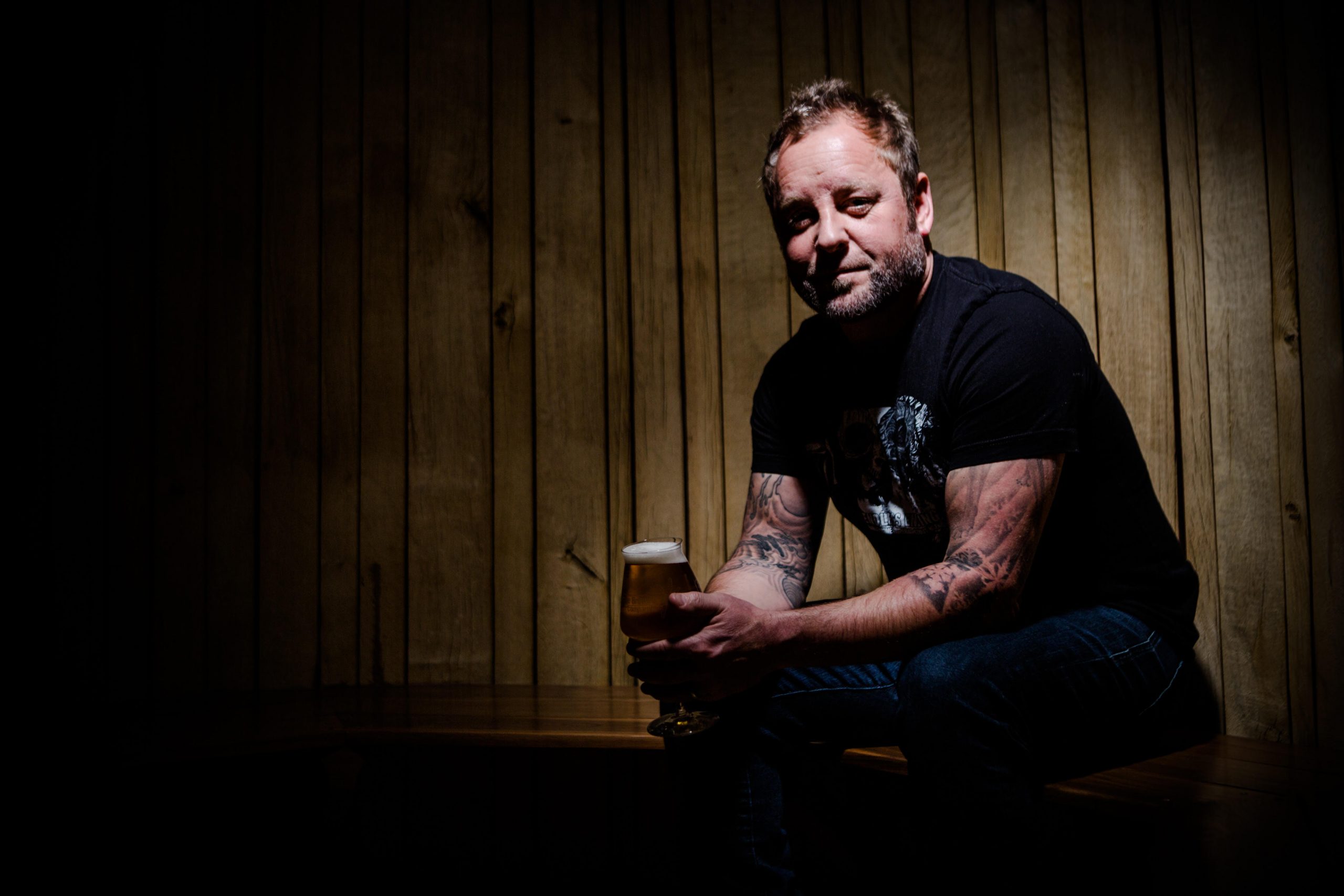 Fletcher also plans to start an aged hop program for his authentic Lambic-style beers. In Belgian Lambic production, hops are often aged in an attic or barn loft for two or three years before use. Aged hops lose almost all of their conventional hop aroma and much of their alpha acid-derived bitterness, but retain some of their ability to limit certain types of bacterial growth, making the beer more stable. They also impart a subtle hay-like flavor to the beer that complements the funkiness of fermentation. It'll take time for Anchorage to establish their own stock of aged hops.
"In the meantime, we have a few friends out there that already have those programs going that will let us use some of their hops," he says. Now, all that remains is finishing the coolship room and brewing the first batch of beer before the Alaskan winter sets in.
"We're almost done," says Fletcher on a late September day. "I think we can hit October and still be good."
Soft-spoken and steady in his responses, Fletcher seems well-suited to the patient task he's setting for himself. Fans of his brewery will need to exercise the same fortitude.
"Hopefully in a year and a half or so we might have something out there for people to try."
If Anchorage Brewing's track record is any indication, their wait will be rewarded.
---