No Comments
DuClaw Brewing Co. | 31 Pumpkin Spiced Lager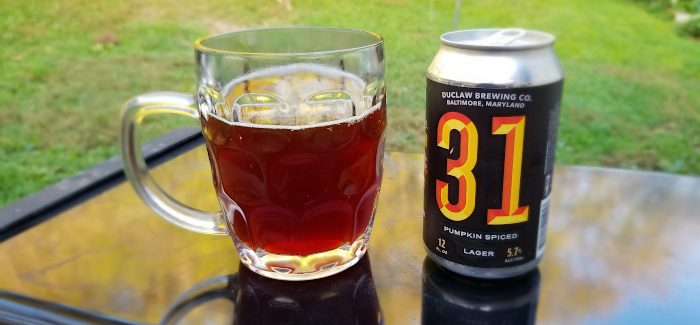 If you think you've had enough pumpkin beers this fall, hold your headless horsemen. This Halloween-themed Pumpkin Spiced Lager from Maryland-based DuClaw Brewing Co. isn't just for pumpkin beer aficionados. Although it has the traditional seasonal flavorings (pumpkin, cinnamon and nutmeg), they don't overwhelm the Munich Dunkel foundation this beer is built on.
On a first sip, the palate might experience a bit of confusion. It's a Lager, but it has a degree of depth missing in most Lagers. And then there's, oh wait: This is a pumpkin beer. As it lingers on the tongue, hints of spiced pumpkin flavor may peek out but they're not the star of the show; the supporting cast has room to shine, too.
Other than the traditional, fall spice flavors, the 31 Pumpkin Spiced Lager tastes very much like drinking a Munich Dunkel. Smooth, malty, medium-bodied, minimally hopped and at a respectable 5.7% ABV, it's the perfect accompaniment to brisk autumn weather and pumpkin-carving (put the knife down after you've had a couple, please). 31 Pumpkin Spiced Lager combines two different seasonal styles to create a delicious, warming beverage that pairs well with cheeses, desserts and rich, meaty meals.
View this post on Instagram
So, climb on your horse, grab your head and "head" to the local craft beer aisle to pick up a 6-pack of 31 Pumpkin Spiced Lager!
---