One Comment
PorchDrinking 10th Anniversary Beer Festival Pour List Revealed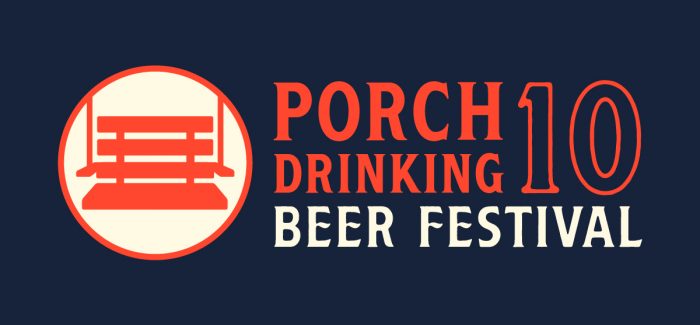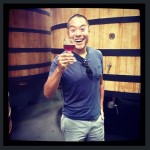 By now, it's no secret that PorchDrinking's 10th Anniversary Beer Festival has brought out an all-star cast of breweries from across the country and locally to kick off GABF week in a massive way. Now, with just over a week until the festival, we're thrilled to unveil an equally jaw-dropping initial pour list that features a prolific array of rarities that span a wide diversity of styles.
From barrel-aged Stouts to Barleywines, crispy Pilsners, and historic ales, to spontaneous and wild ales and fruited icebiers, there's truly something special for everyone.
Spanning over 130 hard-to-find beers, ciders, hard kombucha, and spirits we cannot wait for you to dive into the wide array of impressive offerings we'll be serving up at this inaugural PorchDrinking Beer Fest.
Initial standouts include Sante Adairius' A Thousand Summers Cuvee, a three year blend of one of their most celebrated Saisons aged in Frederiksdal Cherry Wine Barrels with Masumoto Nectarines. Verboten Brewing, one of Colorado's most underrated prolific clean barrel-aged program, is bringing four heavy hitter barrel-aged beers. Similarly, Cerebral Brewing is bringing both of their highly sought-after recent barrel-aged releases in Deep Oblivion and Monsters at Midnight. Austin's Live Oak Brewing lightens things up with a trio of lagers not typically available in Colorado and Highland Park Brewery brings two of their own specialty Lagers as well. Amalgam will be pouring their legendary Boysenberry Reduction, a Boysenberry Icebier. Maplewood Brewing is bringing a pair of their cult-following BA Cuppa renditions, with More Brewing and Phase Three also bringing iconic barrel-aged adjunct Stouts for beer nerds to drool over. On the hoppy-side Other Half is rocking some hazy gems while Parish Brewing is showcasing their newly released Vermillionaire DIPA featuring new experimental hops, while Mobcraft is debuting a Kveik IPA for the very first time. There truly way too many standouts to name and even more for us to discover next Wednesday.
Again the event will take place Wednesday, October 5 from 5-9pm at York Street Yards, 3833 Steele Street, Suite 1332, Denver, CO
Keep in mind this is an initial projection of the beers that will be served at the fest and that this pour list is subject to change, but start planning your can't-miss beers now because it's going to be a doozy.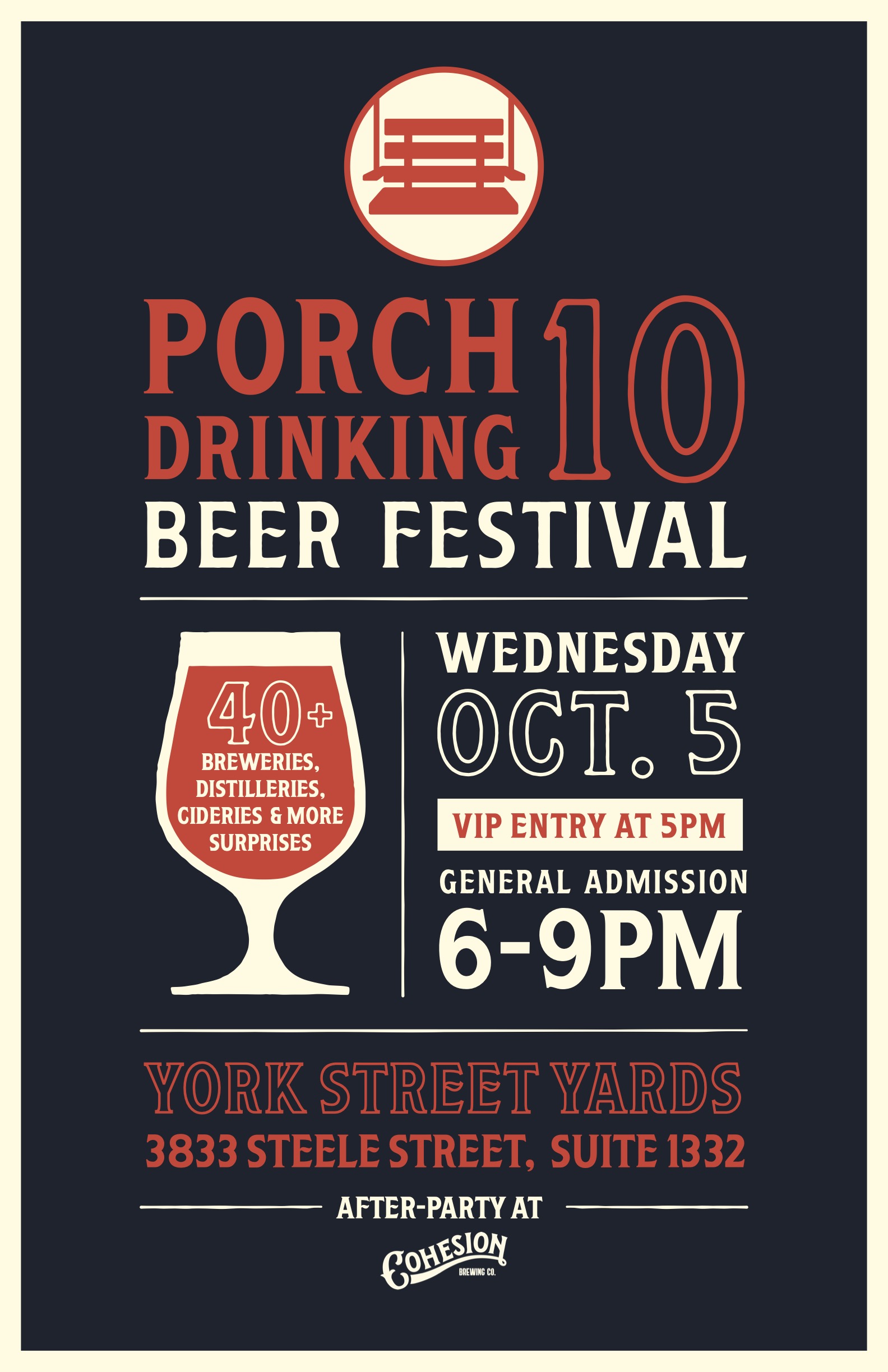 Breweries
Beer Names
ABV
Style
Full Description
4 Noses Brewing
The Jackalope Trove with Coconut and Vanilla
15.7
An Imperial Porter aged in whisky barrels with Coconut and Vanilla
4 Noses Brewing
Forklift Elevator
8.9
Hazy DIPA with Sabro and Cryo Mosaic.
4 Noses Brewing
Eight Oh Colorado Lager
4.9
Crushable lager made with all Colorado ingredients.
Wild Provisions
Provisions 12*
4.8
Czech style pale lager with Czech barley and hops.
Wild Provisions
Metes & Bounds: Red Globe Peach
4.5
Oak fermented sour, refermented on Red Globe Peaches and matured in American Oak.
Alesong Brewing & Blending
Raindrops on Roses
9.4
Oak aged sour ale matured on Pinot Noir Grapes
This rosé-inspired farmhouse ale underwent a second fermentation on 2021 Willamette Valley Pinot Noir grapes and has notes of ripe cherries and delicate rose petals. Mild acidity intertwines with a soft berry sweetness
Alesong Brewing & Blending
Showstopper
14.4
Imperial Stout aged in Bourbon and Whiskey barrels with vanilla beans
Brewed with Eugene's Hult Center for the Performing Arts in celebration of 40 years, this rich and bold imperial stout was aged first in Elijah Craig Bourbon barrels and then finished in barrels from Oregon's Westward Whiskey.
Amalgam Brewing
Boysenberry Reduction
8.8
Boysenberry Icebier
Process: We took 30 gallons of 2021 Boysenbarrel and refermented it on an additional 350 lbs of Oregon grown boysenberries from the Willamette Valley. We then collected the beer that ran freely from the tank then pressed the remainder of the fruit with a wine press, combining both the free run and pressed liquid before freeze-distilling it and bottling the concentrate. Packaged still in 375ml ice wine bottles. We taste: jammy boysenberry with concentrated sweetness, light tannins and balanced acidity, representative of eating the whole berry.
Amalgam Brewing
Table 44
4.2
Gin Barrel-Aged Table Beer
Table beer brewed with Motueka aged in oak puncheons. Finished in a single Spring 44 Old Tom Gin barrel. 2022 World Beer Cup® Gold - Wood and Barrel-Aged Sour Beer
Avery Brewing
Patrol Dog Pale Ale
5.7
An American Pale Ale Dry-Hopped with Amarillo and Comet
An American Pale Ale Dry-Hopped with Amarillo and Comet
Avery is a proud partner of the National Ski Patrol. A portion of proceeds will support avalanche rescue dog programs across the country
Avery Brewing
The Kaiser
8
Imperial Oktoberfest
The Kaiser weaves together rich, toasted Vienna and Munich malts with the floral spiciness of Hellartau and Bravo hops to create a bold and brazen dry Imperial Oktoberfest
Avery Brewing
2018 Tweak
14.7
Bourbon Barrel Aged Imperial Stout with Coffee
We pulled this from Adam Avery's Cellar to celebrate the 10th Anniversary for our friends at PorchDrinking.com. Congrats on your success!
Baere Brewing
Baere-liner Weisse
4.8
Our house sour beer served with or without house made woodruff syrup
Baere-liner Weisse is our take on the german-style berliner weisse mixed culture fermented with our house sour culture and a clean saison yeast.
Baere Brewing
Fresh Hop Saison
5.8
A saison brewed with 2021 backyard hops and bottle conditioned
Baere Brewing
Stuck Between Stations
6
West Coast IPA hopped with Simcoe, Amarillo & Mandarina Bavaria
Bierstadt Lagerhaus
Palate Cleansing Pils
3.5
Baby Pils
Leichten style Pils. Noble hop bitterness, crisp and dry.
Bierstadt Lagerhaus
Oktoberfest
5
Märzen-style Oktoberfest
Burns Family Artisan Ales
There's a Beer Over There
14.36
BA Imperial Seltzer
Imperial Seltzer aged in a Locke & Co Rye Whiskey barrel. Lightly carbonated, flavors of creamy vanilla-oak
Burns Family Artisan Ales
Cold Spell
7.45
Cold IPA
A "Cold IPA". Lager yeast, fermented at slightly warmer temperatures, to enhance the crispness of basic Rahr 2-Row pale malt and adjunctive cane sugar. Hopped with Simcoe, Palisade, Eureka, Cascade and Centennial hops for flavors of nectar fruits, citrus, earth and pine.
Call to Arms Brewing
More Like Bore-o-phyll
6.5
Fresh Hop IPA
Fresh Hopped with 200# of fresh Amarillo from Crosby Hop Farms.
Call to Arms Brewing
Oh My Gatos
4.8
Mexican Lager - with 45% corn in the grist bill.
Light, dry, drinkable with light fruit esters and good corn backbone.
Call to Arms Brewing
Fresh Hop Janet Reno's Dance Party
6.4
Hazy IPA
Huge notes of Melon and Citrus with fresh hop dank/grassy finish.
Cerebral Brewing
Deep Oblivion
11.5
Barrel Aged Imperial Stout with Amburana, Hazelnuts and Coffee. Contains Lactose
Aged 32 months in Willet Rye then conditioned on Amburana Spirals, Hazelnuts & Peruvian Puno Sandia Coffee from Jubilee Roasting Co. Contains lactose
Cerebral Brewing
Monsters at Midnight
12.9
WeldWerks collab - Imperial BA Stout with Almonds and Marzipan
Aged 26 months in 19 year Elijah Craig Bourbon conditioned on Almonds & Marzipan. Collaboration with Weldwerks Brewing
Cerebral Brewing
Neon Lite
4.5
Colfax Lager / American Lager
An American light lager with notes of Tortilla Chips, White Pear and Lemon Balm
Cheluna Brewing
Slava Ukraini Porter
8.3
Baltic porter with vanilla & chocolate notes
Cheluna Brewing
Tiki IPA
7.2
Rakau + Idaho 7 hops, tropical & citrus notes
Cohesion Brewing
Cohesion 12°
4.8
Cohesion 12º světlý ležák (pale lager)
Our version of the most famous Czech lager - the original Pilsner Urquell falling in this style. A full bodied malty lager with a rounded bitterness. Sweet hay, herbal, pleasant bitterness.
Cohesion Brewing
Cohesion 8°
3.1
Stolní pivo (Light Beer)
High in flavor, but lower in alcohol, this double decocted osmička (os-meech-ka) was hopped with Sládek and Saaz. Sládek additions contribute light lemon to a full, balanced malt backbone. Citrus, cracker, herbal.
Denver Beer Co
Blonde Quad Van Damme
11
Strong Belgian Ale aged in Laws Wheat Whiskey barrels
Denver Beer Co
Genevieve
10
Belgian Tripel aged in a Jenever barrel
Denver Beer Co
Grissette
5
Grissette
Firestone Walker
Freiky Bones
6.3
Big fruit flavors; notes of sour cherry, oak, vanilla and pie crust.
Firestone Walker
Parabolita
9.2
Bourbon Barrel aged stout with vanilla beans, cocoa nibs, and sea salt.
Firestone Walker
Pivo
5.3
Crisp. Hoppy. Refreshing.
Firestone Walker
Hopnosis
6.7
Double dry hopped IPA with Cryo Hops
Goldspot Brewing
Gender Fluid
4.7
Italian Pilsner with bergamot orange, lavender and Hungarian oak
Goldspot Brewing
Ryzen Sun Marzen
4.7
Rye marzen with notes of honey, bread and spice
Great Divide Brewing
Laws Barrel Aged Yeti Imperial Stout
12.5
Our Yeti Imperial Stout aged in Laws Whiskey House barrels.
Great Divide Brewing
Horcahta Yeti
9.5
Cinnamon and vanilla enhance the pastry-esque qualities of this divine imperial stout, showing that Yeti continues to reinvent himself.
Great Divide Brewing
Titan IPA
7.1
TITAN IPA is a crisp, boldly hopped American India Pale Ale.
Highland Park Brewery
Baseball Lager
5
Sports Lager! Extra crushable, easy drinking, lager
Highland Park Brewery
Breaking Silence
5.8
Double Dy Hopped west coast coast pilsner brewed using Mosaic hops.
Howdy Beer
Howdy Beer
Western Pilsner
Jester King
TBA
June Shine
Mango Daydream Hard Kombucha
6
An all organic Hard Kombucha brewed with juicy Mango, Pineapple, Orange zest and a touch of Cayenne Pepper.
June Shine
Midnight Painkiller
6
Our dark twist on the classic painkiller tiki - pineapple, orange, coconut and nutmeg
June Shine
Vodka Soda
8
The best of both worlds, real, premium vodka with a splash of Passionfruit and Pineapple
June Shine
Ranch Water
8
A perfect pour of real, premium tequila, cactus, lime and a touch of agave
Knotted Root Brewing
Spirit Visions
7.4
DDH Unfiltered IPA - Designed to honor the spirit world and keeping energy alive in the shape of stars.
Simcoe, Waimea, Motueka, Amarillo
Knotted Root Brewing
Summer Leaves
6
Unfiltered Helles Lager
Crisp. Clean. Full bodied German lager.
Knotted Root Brewing
Thick Strawberry Goo
5.2
Unfiltered Smoothie Style Berliner Weisse
Unfiltered Smoothie Style Berliner Weisse with milk sugar, strawberry, raspberry, passionfruit, vanilla, and dry hopped with Motueka.
Laws Whiskey House
Henry Road Straight Malt Bottled in Bond Whiskey
50
A Bottled in Bond straight malt whiskey made from an heirloom barley that nearly went extinct
Laws Whiskey House
San Luis Valley Straight Rye Whiskey
47.5
A bold, terroir-driven whiskey made with the unique low yield, semi-wild San Luis Valley Rye grain
Laws Whiskey House
Four Grain Straight Bourbon Whiskey
47.5
A novel and robust bourbon made with the best Colorado corn, wheat, rye, and barley
Liquid Mechanics Brewing
West Coast Cartel (Cannonball Creek Edition)
6.8
West Coast IPA Collaboration with Cannonball Creek. Hopped with Strata, Citra, and Mosaic.
Liquid Mechanics Brewing
Lucid AF
7
West Coast IPA with Mosaic, Citra, and Amarillo hops
Live Oak Brewing
Pre-War Pils
5
Pre-Prohibition American Lager
A 1912 recipe, pre-war pils is mashed with 35% corn grits. A fine example of early american lager brewing
Live Oak Brewing
Smoaktoberfest
5.8
Bamberger-Style Marzen
Smoaktoberfest is a smoked version of our fall classic, Oaktoberfest. Using traditional beechwood smoked barley malt, this lager is cloaked in a pleasant balance of smoke, malt and hops. Noble hops offer a faint bitterness enveloped in the flavor of smoked malt. After fermentation with proper Bavarian lager yeast, we condition the beer to allow time to round out the malt character and to develop a clean, smoky finish.
Live Oak Brewing
Pils
4.7
Czech-Style Pilsner
The Pilz is a classic Bohemian-style golden lager, decoction-mashed with a single heirloom variety Moravian malt. Premium Saaz hops combine to produce a clean, crisp pilsner with complex malt flavor and spicy hop bitterness and aroma.
Maplewood Brewing
Barrel-Aged Cuppa - Neat R.V.W.
13
Blended from Cuppa aged in Old Rip Van Winkle barrels for 15 months
Blended from Cuppa aged in Old Rip Van Winkle barrels for 15 months. A formidable stout brewed to showcase the expression of the barrels used in the aging process. For this release, no adjuncts were used: this Cuppa is served "neat".
Maplewood Brewing
Barrel-Aged Cuppa - Vanilla Rye
13
Blended from Cuppa aged exclusively in Peerless Rye Whiskey barrels for 12+ months and conditioned on vanilla beans.
Blended from Cuppa aged exclusively in Peerless Rye Whiskey barrels for 12+ months. Conditioned on Metric coffee, and 3 varieties of vanilla beans: Madagascar, Papua New Guinea, and Indonesian.
Maplewood Brewing
Fest - American Malt Whiskey
45
American Malt Whiskey distilled from an Oktoberfest based mash.
Fest Whiskey began its lengthy slumber during our annual Festbier brewing season in 2017. The same bottom fermenting lager yeast and grains inspired by Festbier are used. Expect notes of dried fruit, marzipan, caramel and bread crust. Aged for over three years.
Mobcraft Beer
Dee Tacko Mexican Lager
5.1
Mexican Lager Collaboration with our buds at Dee Tacko
Mobcraft Beer
Triple Double
TBA
Triple Dry Hopped West Coast Style Double IPA
Mobcraft Beer
Gin Barrel Aged Sour Golden Ale
6.5
2021 Foeder Reserve Sour Golden Ale finished in Great Lakes Distillery gin barrels for 15mo. These barrels were originally used to age zinfandel then gin.
Moksa Brewing
Layers Within
7
Hazy IPA w/ Strata, Citra
Moksa Brewing
Leather Drinkin' Shorts
5.8
Festbier
More Brewing
Henna: French Toast
14
Imperial Stout with cinnamon, maple, & vanilla
More Brewing
Strawberry Tangerine Double Marbles
8
Milkshake Double IPA with strawberry, tangerine, vanilla, & milk sugar
More Brewing
Lil' Space Booties
5.5
Session Hazy IPA with Citra & Galaxy hops
More Brewing
Oktoberfest
5.5
Marzen-style Lager
New Image Brewing
9505
16.01
Barrel-Aged, Wood Finished Barleywine
Barleywine aged 24 months in rye whisky barrels and finished with a second maturation on Amburana
New Image Brewing
Phanny Pack IPA
7.5
Thiolized IPA with Phantasm
Our newest core beer offering, Phanny Pack utilizes New Zealand hops, Phantasm and Thiolized yeast to produce a beer that tastes like over-ripe tropical fruit.
Novel Strand Brewing
Popular Demand
4.5
German Pilsner exclusively hopped with Nelson Sauvin
Inspired by traditional north German pilsners. Everything done to tradition, but Nelson Sauvin replaces noble hops. The result is wonderful.
Novel Strand Brewing
Eau de Cologne
4.5
Kolsch style beer exclusively hopped with Motueka
A German Kolsch style beer brewed to tradition, with the exception of Motueka hops replacing noble hops.
Novel Strand Brewing
TBA
Other Half Brewing
DDH Green City
7
Double Dry-Hopped American IPA
Double Dry Hopped version of our 7.0% IPA brewed with Citra, Centennial, and Simcoe.
Other Half Brewing
DDH Double Mosaic Dream
8.5
Double Dry-Hopped Double IPA
Double Dry Hopped Double Mosaic Dream is our standard Double Mosaic dry hopped a second time with a mosaic lupulin powder. Lupulin powder is a new hop product that is similar to our standard hops but with all the extra plant filler stripped away. It's pure hops and it's awesome.
Outer Range Brewing
Steezy DDH IPA
7.2
Double Dry Hopped with Mosaic and Nelson Sauvin with big notes of blueberries and cannabis.
Outer Range Brewing
You. Me. Sunset. Boom. IPA
6.8
Hops: Azacca, Cashmere / Tasting Notes: Peach • Cantaloupe • Mango
Outer Range Brewing
Full Moon Rising IPA - Our Mutual Friend Collaboration
6.7
We were excited to brew a beer with our pals at Our Mutual Friend! Hops: Mosaic, Kohatu
Parish Brewing
Ghost in the Machine
8.5
Double New England IPA
Parish Brewing
SIPS Pinot Noir Black Currant
4.8
Fruited Berliner Weisse
Overflowing with rich dark Pinot Noir wine grapes, this SIPS' bright fruit tones overlap with complex and succulent black currant atop a sweet sour base that brightens both grapes synchronously. Intense and flavorful, this juicy sour has depth unlike any similar beer and will bring out your inner sommelier.
Parish Brewing
Vermillionaire DIPA
8
Double IPA
A thick DIPA base of 8% ABV is dripping in heavy additions of Citra, Citra Spectrum, Strata CGX, and Citra Terpenes.
Partake Brewing
Partake Pale
0.3
Pale Ale: an award-winning classic.
Our Pale ale achieves a medium bitterness crafted from water, barley, hops and yeast, infused with with flavors of orange zest, grapefruit and a whisper of pine. Pours a deep amber with a bright, white head.
Partake Brewing
Partake IPA
0.3
IPA: citrus hops and sweetness.
Our IPA is boldly crafted from Cascade, Amarillo and Citrus hops. Pours a brilliant gold with a bouquet of sweet florals and honey on a light, bubbly body with dominant and lingering notes of grapefruit.
Partake Brewing
Partake Blonde
0.3
Blonde Ale: full-bodied and balanced.
Our Blonde ale balances floral, earthy hops with a hint of pomegranate and freshly toasted bread on the nose. Pours a brilliant crystal clear gold topped with a foamy, white cap and clean, crisp medium body.
Partake Brewing
Partake Peach Gose
0.3
Fruit Gose: delightfully sweet and tart.
Our Peach Gose balances sweet and spicy with notes of coriander, sea salt, and natural peach flavor. Pours a crispy, clean light orange with a foamy white top.
Peculier Ales
Peculier Pils
4.8
Crisp Pilsner with tettnang and Saaz hops
Peculier Ales
DDH Aroha Nui
8.1
DDH DNEIPA w/ Rye and Ella, Kohatu, and Waimea hops.
Peculier Ales
Not Your Momma's Westy
6.7
West Coast IPA w/ Centennial, Amarillo, Strata, Mosaic, and Citra.
Peculier Ales
Peach Pie a la Mode
6
Pastry Sour w/ Peaches, Vanilla, Graham Cracker, and Cinnamon.
Peculier Ales
Barleywine
14
Barrel Aged Barleywine w/ toasted coconut and vanilla beans.
Phase Three Brewing
What Could Be Batch 14
14
Barrel-aged Imperial Stout with coconut and vanilla
Phase Three Brewing
DDH Double Pixel Density
8
Double Dry Hopped Double IPA with Citra Hops.
We brought up the ABV of our regular Pixel Density to 8% and gave it our double dry hop treatment of some sticky-icky fruity citra and citra cryo.
Platt Park Brewing
Galactic Yacht Party NEIPA
5.8
This Hazy IPA packs a punch of passion fruit, peach, pineapple and citrus notes from the huge hop additions of Galaxy hops. All fruit and tropical aromas dominate the nose, lifting you away to a far destination of flavor, like the coast of Australia where these hop originate from.
Platt Park Brewing
Watermelon Berliner Weisse
4.2
We made the watermelon with a low gravity wheat, pilsner malt based and mixed with a lactobacillus culture. We end up with a golden colored berliner that is light, tart and sour. The final touch is a watermelon addition that makes this sour a thirst-quenching must have. 4.2%
Platt Park Brewing
Platty Lite Lager
4.5
A pale lager that originated in the US and is straw yellow in color. It has a pleasant toasty, grainy flavor that leaves room a crisp & carbonated burp after consuming. 4.7% Abv
Primitive Beer
And Now We Sparkle
6.8
Méthode Traditionnelle Monoblend
Single puncheon of 2-year old koelschip spontaneous beer (Méthode Traditionnelle) made with 100% Colorado ingredients and bottle-conditioned with Alfala Honey in early 2019.
Primitive Beer
Room To Grow
6.5
Fruited Méthode Traditionnelle 3yr Blend
Three-year blend of Primitive Beer (100% Colorado Méthode Traditionnelle) macerated for eight months on whole Colorado-grown Balaton and Montmorency cherries with their pits.
Primitive Beer
Frosted In Moss
5
Young Méthode Traditionnelle on Spruce Tips
Six-month young Primitive Beer (100% Colorado Méthode Traditionnelle) briefly rested on foraged Colorado spruce tips. Served tranquil/still from bag-in-box.
Ratio Beerworks
Undone Vol.10
West Coast IPA w/ Triumph
Ratio Beerworks
Lucky Lighter
Kolsch
Ratio Beerworks
Genius Wizard
Barrel-Aged Russian Imperial Stout
River North Brewery
Nightmare Fuel
11
Imperial Coffee Stout
This is a collaboration between River North and Logan House coffee
River North Brewery
Colorado IPA
7.2
West Coast Style IPA
Sante Adairius Rustic Ales
A Thousand Summers Cuvee
7.6
3-year blend of A Thousand Summers/Saison aged in Frederiksdal Cherry Wine Barrels with Masumoto Nectarines
Before you sits a very special iteration of one of our most celebrated beers. Over the course of the last three years, select barrels of A Thousand Summers were set aside to continue to age and evolve their unique flavor profiles. The result and culmination of this time and effort is A Thousand Summers Cuvee. The blending of older and newer barrels creates a truly expressive blend that showcases the beauty of the fruit, barrel, and time. Consider this another milestone reached. Sante!
Sante Adairius Rustic Ales
Silent Spaces
6.3
Barrel-aged Saison with Spelt and Buckwheat/2021 SARA's Cellar exclusive
After a club year filled with numerous fruited offerings, we felt compelled to end the year with a beer that stands alone. Silent Spaces is an eminently drinkable barrel aged Saison bolstered by both spelt and buckwheat. A mild acidity coupled with barnyard rusticity follows a lean, but structured body as the character of both spelt and buckwheat shine in the glass. While you reflect on another year, Silent Spaces will aid in your contemplation. Sante!
Snowmelt Seltzer
TBA
Stem Ciders
Carrot Ginger Turmeric
Carrot Ginger Turmeric Cider
Stem Ciders
Real Light
Low Calorie Crisp Cider
Stem Ciders
Imperial Tikki Cider
Tropical Cocktail-inspired Cider
Strange Craft Beer
Cherry Kriek
5
Think cherry pie in a glass.
Strange Craft Beer
Can I Get A Lim
4.7
Mexican Lager Mas Fina
The Block Distilling Co.
Old Fashioned Cocktail
The Block Distilling Co.
Gin and Tonic Cocktail
Transient Artisan Ales
Junie Reserve #2
14.5
Imperial Rye Stout with Violet Sky Cocoa Nibs and Salted Caramel aged in Blis Maple Bourbon Barrels for 2 years.
Transient Artisan Ales
Jumbled Juice
5
Ice cream sour with orange, tangerine, vanilla and milk sugar.
Transient Artisan Ales
S'getti
4.5
American Lager with lime, rhubarb, cherry, hibiscus, and bittering herbs.
Upslope Brewing
Upslope Craft Lager
4.8
Bright, Fresh, Easy
Upslope Brewing
Blackberry Lemon Sour
4.5
Tart, fruity, refreshing
Upslope Brewing
Pumpkin Ale
7.7
Harvest style, gourd forward, with a hint of spice
Upslope Brewing
IPA
7.2
Bold, deep, bitter
Upslope Brewing
Citra Pale Ale
5.8
Floral, Juicy, Brilliant
Verboten Brewing
Anybody Want a Peanut
6.3
Golden Ale with Peanut Powder and Strawberry Puree
PB&J Ale
Verboten Brewing
2021 Not a Speck of Light: Mocha
13.5
Imperial stout aged in Axe and Oak bourbon barrels for a year with coffee and cocoa
Verboten Brewing
2021 Iced Grow Old With You
18
English-style Barleywine aged in Laws whiskey barrels
Using the German technique to "ice" it which concentrates it to increase flavor and alcohol percentage. 2021 version
Verboten Brewing
Triple Oaked Reserve Grow Old With You
14.5
English-style Barleywine aged 18 months in cognac port, and bourbon barrels
Blended English Barleywines aged up to 18 months in separate barrels. 2021 version
Verboten Brewing
2021 Not a Speck of Light: Cinnamon Coconut
13.5
Imperial Stout aged for a year in bourbon barrels with coconut and cinnamon
Toasted coconut, Sri Lankan cinnamon, and cassia bark
Weathered Souls Brewing
Oak Aged Castling
4.9
Castling is a dark lager that was aged in neutral oak barrels
Westbound & Down Brewing
Single Barrel Select: Vanilla Louie
13.6
English-Style Barleywine aged in Bourbon barrels, finished on Madagascar vanilla beans.
Notes of toffee, dark fruit and almond vanilla croissant play up coconut and vanilla barrel character.
Westbound & Down Brewing
Retrospective + Dry Hop
6.1
Gueuze-Inspired Golden Sour Blend Dry-hopped with Galaxy & Citra
A blend of golden sours from 2017, 2018 and 2019 dry-hopped with Galaxy & Citra. Over two years of bottle conditioning have brought about huge flavors and aromas of guava, papaya and mango balanced by oak tannins and a delicate acidity.
Wibby Brewing
Wibby Jibby
6.5
Cold IPA brewed with Citra and Mandarina Bavaria hops.
Wibby Brewing
Volksbier Vienna
5.5
2020 GABF Gold Medal winning American Amber Lager
Wibby Brewing
Jack's on the Rocks
6
Rauch Maerzen Steinbier - a smoky amber lager brewed using hot granite rocks
Wibby Brewing
Eis Eis Wibby
19
Eis version of Velvet Schralpinator Dopplebock. Dangerously smooth.
Woods Boss Brewing
Imperial Oswald and the Holy Hop Grenade
10.8
Imperial Hazy IPA
Woods Boss Brewing
Czech Dam
5
Czech Pilsner

Woods Boss Brewing
TBA
---