No Comments
Seventh Son Reborn | One Brewery's Unusual Strategy for Expansion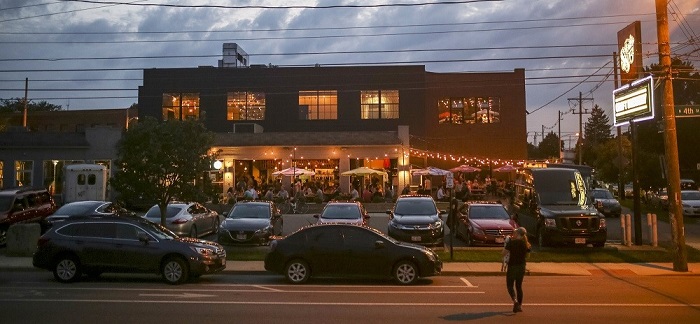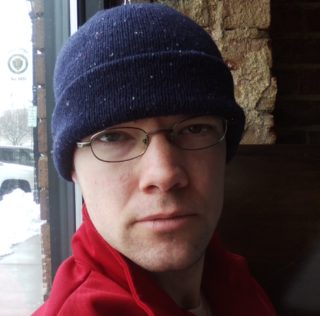 Seventh Son Brewing opened in the historic Italian Village neighborhood of Columbus, OH, in April 2013. Their beer was good and their taproom was friendly and inviting—obvious prerequisites for success—and they set about doing what many other breweries around the country had done before them and have done since: offering classic American craft styles in a communal, social atmosphere.
Like many breweries in the modern craft beer market, Seventh Son felt the need to diversify and expand beyond those spatial and stylistic parameters several years ago to respond to growing market pressures. They wanted to add a sour program. They wanted to get more into classic lagers. They wanted to add taproom locations. What they didn't want was to house all these new concepts in the same big, unwieldy box.
Seventh Son has made the unique choice to open new taprooms that not only feature their own distinctive lines of beers, but their own unique names and branding schemes. The brewery has three taprooms now, but only one of them bears the brewery's name. There is no Seventh Son 2. By opening Antiques on High in German Village and The Getaway in Dublin (a Columbus suburb), Seventh Son has charted a unique course for breweries looking to expand without cannibalizing their own business within their local market.
Ironically, the best way Seventh Son found to preserve and grow its brand was to break it apart.
Multiple Branches in the Family Tree
Numerous cultures around the world attribute unique qualities to the seventh son of a seventh son. In Ireland the heir who met those rare circumstantial qualifications was historically celebrated as a healer. In Romania he was believed doomed to become a vampire; in Latin America, a werewolf.
Seventh Son Brewing seems to have avoided any supernatural curses and is thriving in its tenth year of operation just a couple blocks away from the bustling Short North district on the northside of downtown Columbus. The brewery was founded by childhood friends Collin Castore, Jen Burton, and Travis Spencer, and has grown steadily but comfortably over the last decade, producing about 6,400 barrels of beer in 2022. They've won awards for their beer and frequently been chosen the best brewery in the city in local magazine polls.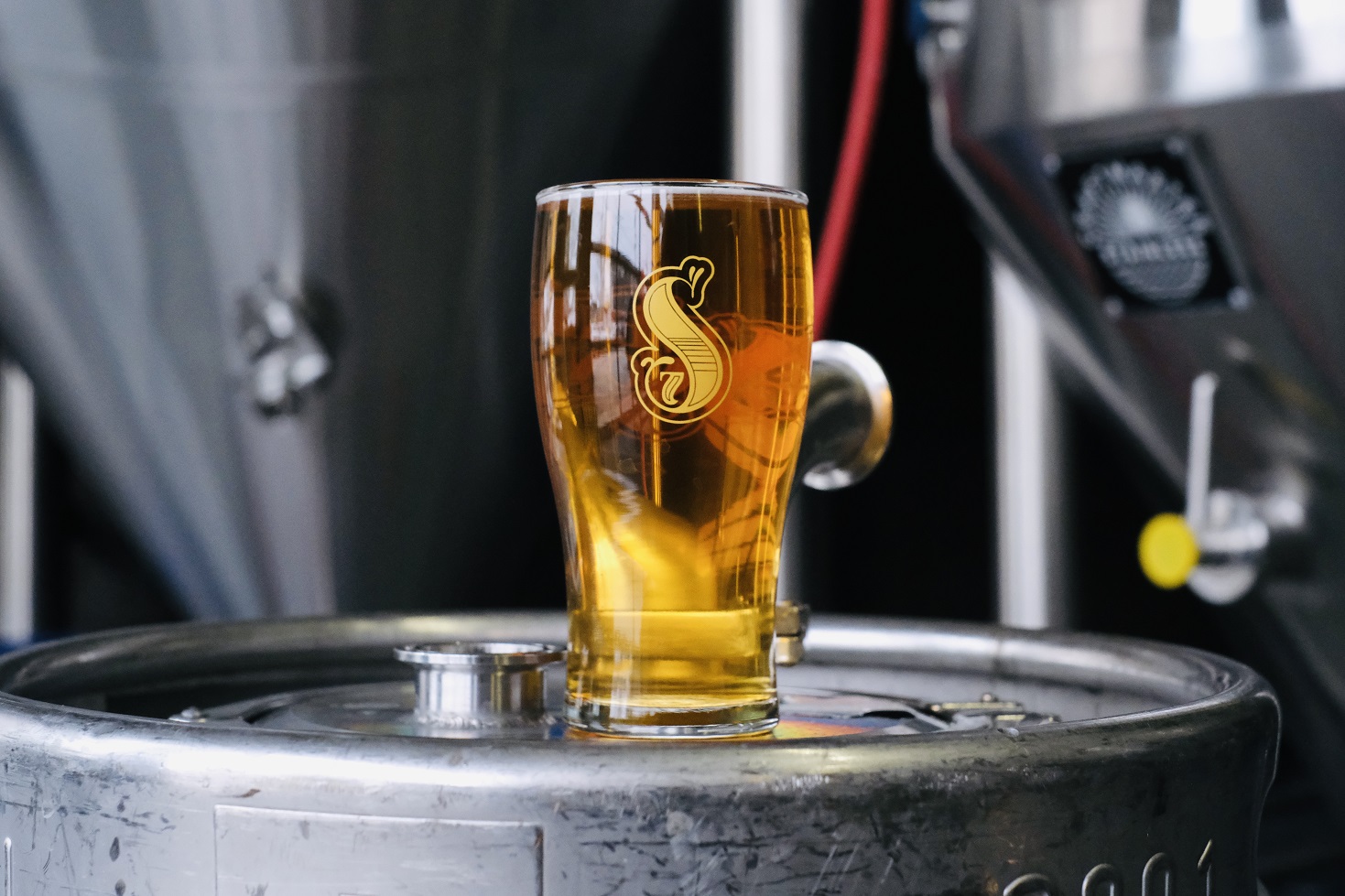 It would have been easy to simply open new Seventh Son locations in different parts of the city and allow their reputation to do their work for them when it came to getting customers through the doors. Ultimately, they felt this still put fetters on how creative they could be under the Seventh Son umbrella. So they took a harder approach and created essentially two entirely new brewery brands.
"Maybe it's a reaction to being in the fast food test market capital of the world," says Castore with a chuckle at his hometown's expense. "We didn't want to do a chain in Columbus."
While Ohio's status as a political swing state is up for debate at this point, it is still one of the proving grounds for food and consumer goods companies looking to try out their latest products. The state's demographics reflect a cross-section of American society, and Columbus sits right in the middle, offering an ideal litmus test for how audiences will react to new innovations.
The very thing that makes Ohio appealing for the Burger Kings of the world to test out their latest combo meals is the same thing that makes Seventh Son want to avoid homogeneity at all costs. Their idea for multiple brands under which to brew different families of beer began long before a second taproom entered the conversation.
"When we first started, we had the idea of coming out with two or three different lines of craft beer out of Seventh Son, but nothing ever really materialized from it," explains Castore. "We were just like, 'Wow, I wonder why nobody does that.'"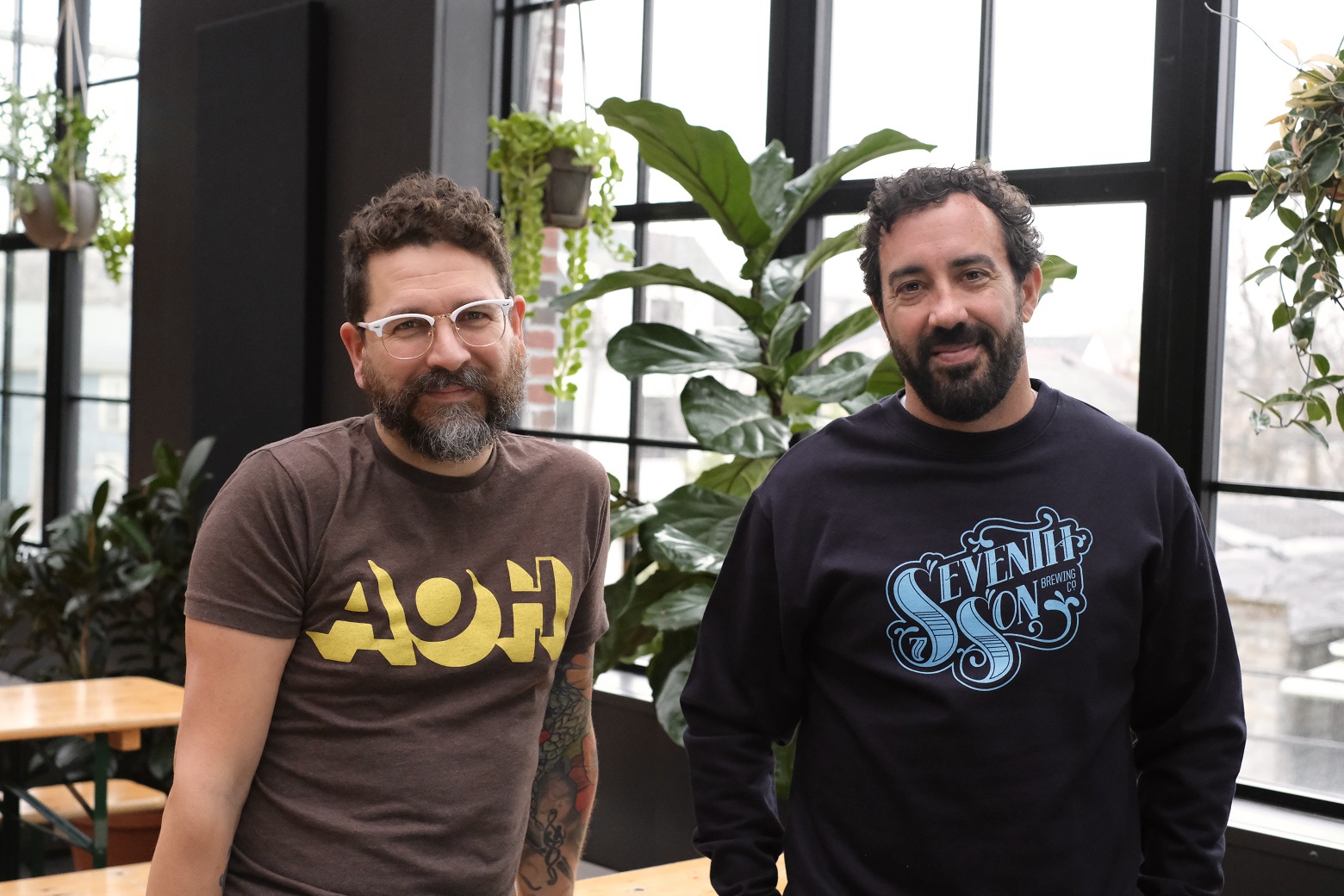 Belgian brewers have done exactly this for decades. It's common to find uniquely branded portfolios emerging from the same Belgian brewery with only the smallest label print identifying the parent company. For example, the Belgian ales of the Kasteel line and the sour Bacchus line were both created by the same brewery—Kasteel Brouwerij Vanhonsebrouck—a name that is hard to find on either label. These portfolios weren't acquired via buyout either, a sort of awkward step-family blending. The intended audiences and marketing tones were different, and so different brewery identities were created for each.
When it came time to plan for a new location, Castore and the team decided it was the perfect opportunity to bring that original idea to light again, using each opening as a springboard for a new identity within the Seventh Son family.
They started with a squirrel-infested former antiques shop in historic German Village.
The Tinder Capital of Columbus
German Village south of downtown, unlike many shopping and nightlife districts around the country, knows it's cool and doesn't need to try too hard to prove it. Elegant nineteenth century architecture, brick streets, and ample foliage give it the solid but lived-in feel of your grandfather's favorite armchair, but it's no newly-reclaimed, gentrified facade from the dreams of out-of-state developers. Overlapping with the city's nineteenth century Brewery District, it's been holding its own for decades, and the eclectic shops, restaurants, and bars dotted throughout the primarily residential neighborhood feel like they belong. Many have been here since long before craft beer was a twinkle in middle America's eye.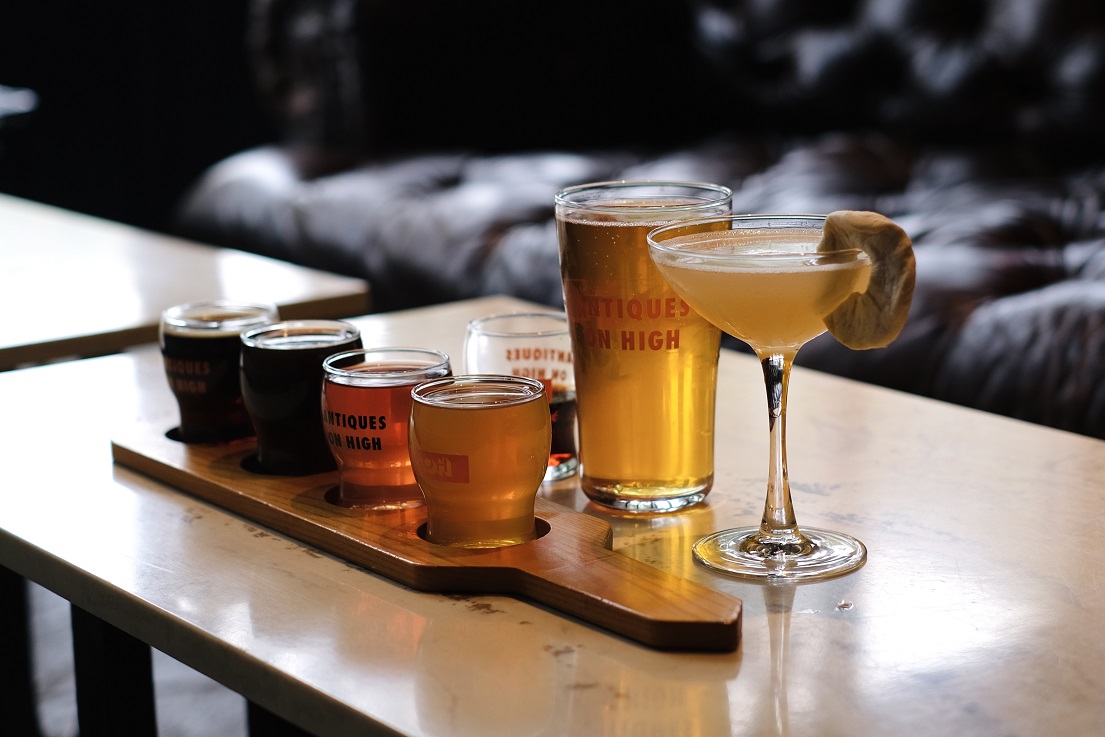 The building Seventh Son eyed for its second location was the former home of the Greater Columbus Antique Mall on High Street. It was built as a residence in the 1800s, and has housed two funeral parlors, a restaurant, and an Elks Lodge, among other things. When Seventh Son took it over in 2017, it was home to a family of squirrels and what a real estate agent might spin as "character." It needed work, but the bones were there. It is all but unrecognizable now, but retains the sleek elegance of a bygone era.
Castore and his team opted to tip their hats to the location's well-known previous occupant and christened their new taproom Antiques on High. The new location opened its doors on November 17, 2017, and visitors expecting Seventh Son 2.0 were in for a surprise. AOH, as much of the location's branding refers to it, feels more like an upscale cocktail lounge or wine bar, with a thoughtful hodgepodge of metal, wood, stone, marble, and colored glass surfaces and accents, deep booths for private seating, and tastefully dim lighting. The only visual nod to the taproom's brewery roots is the bar front adorned with vintage beer cans. Beyond the use of Seventh Son beer mats, there isn't much to clue in a newcomer to the bar's pedigree.
"It's very much a Saturday night bar," says Vent. "A couple of friends or a date night. It feels very much like a space you kind of sink into and have a couple sour beers or a cocktail at the end of the evening."
Date night sounds right—Castore jokes that AOH gets referred to as the Tinder capital of Columbus.
Beyond attracting a different crowd than might pack into Seventh Son's main taproom, the location serves a second purpose. It allows Vent to play with sour and mixed-culture beers without risk of contaminating his primary brewing equipment. While all the wort is brewed at the original location, beers intended for wood-aging and alternative fermentations are inoculated and aged at AOH. The taproom's menu favors these beers (Seventh Son and Getaway guest taps are available as well), with the award-winning Gingkyo Brett Saison leading a taplist that features beers like Mahogany Sour Dark Cherry Ale and Righteous Patina Sour Blond Ale with blackberries (Vent points out the Antiques Roadshow television show has been a great source for AOH beer names).
While the Sours might appeal to a different beer drinker than might frequent the main Seventh Son taproom, the rest of the drinks menu appeals to folks who aren't necessarily beer drinkers at all. Castore thinks the lack of Seventh Son branding—or "brewery" branding at all—has helped the spot's wine and cocktail programs to gain footing. He points out that while Seventh Son is tremendously popular in Columbus, its own popularity as a beer brand might limit the reception it receives to new liquid offerings. A unique brand allows people to approach with fresh eyes.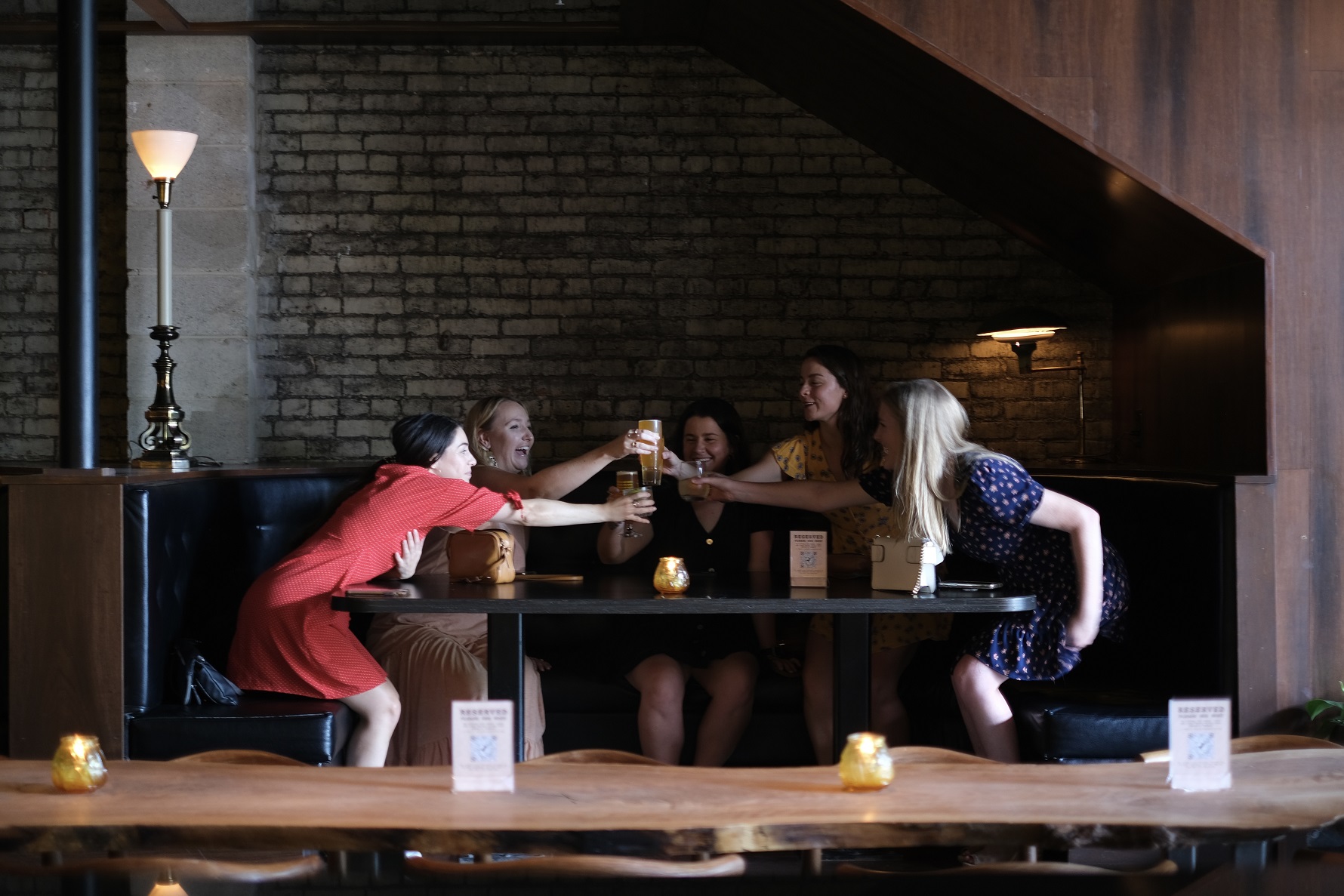 "We have a pretty extensive cocktail program there," he says. "I think the fact that it's its own brand and it's carved out its own space has really helped give that side of the bar a lot more legitimacy. If this were just another Seventh Son location with the same cocktail program, people would be like, 'Yeah, whatever, you're a brewery.' But something about the fact that it's Antiques seems to make that more acceptable to people."
A Slow but Steady Getaway
In Dublin, an affluent suburb just inside the I-270 loop to the north of the city, Seventh Son has established a third taproom and once again built a brand and a concept from the ground up.
The Getaway taproom employs understated midcentury design elements to echo the jet set travel destinations of former decades. White surfaces, pale wood, lounge chairs, and plants bathe in natural light, evoking the airport lounges of the 1960s and '70s, a motif enforced by The Getaway's vintage globe logo and large travel murals. Instead of AOH's sour program, The Getaway is Seventh Son's outlet for classic Lagers and other European styles. Think Mad Men with a Keller Pils instead of an Old Fashioned.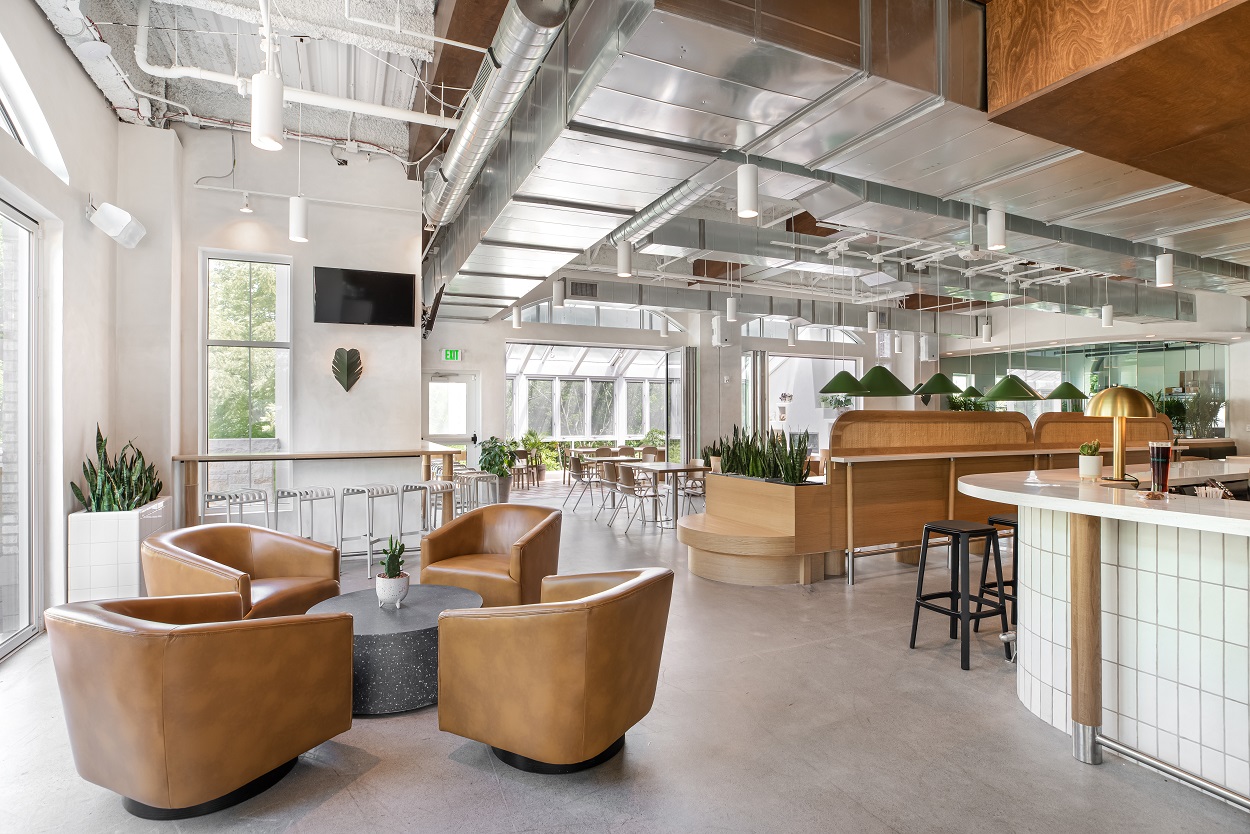 Despite being only 20 minutes from downtown, Dublin has offered more challenges for building a following than AOH did. While the latter might look like a chic, independent bar, beer fans in the city center at least knew Seventh Son was behind it and offered initial business while it got its legs under it. The Getaway, in Dublin's somewhat insular downtown area, was a much slower climb.
"With The Getaway, we've kind of seen that people literally just don't know who we are up there," says Castore. "We went into a historic neighborhood and we just kind of assumed that because we're doing this really cool space and it looked awesome and we're Seventh Sun people would just know and there would be built-in traffic. We've definitely had to work harder for that."
The confusion is likely not helped by Seventh Son's choice to brand the new location as The Getaway Brewing Company on social media and on cans of their signature Lagers, further suggesting this is an independent operation. Beyond the slow foot traffic, they were having trouble moving cans from The Getaway, whose artwork is inspired by vintage travel posters. After opening in May 2021, ownership was unsure about the initial cause of the slow pace.
"Is it because of this really weird downturn in cans overall in the pandemic? Is it the semi-anonymous artwork we had? We had a lot of big question marks about our first couple of Getaway releases," explains Castore. "What we ended up doing was integrating the Seventh Son logo on the facing section of the can along with the larger Getaway logo. If you're not completely savvy you might pick it up and think that it's a collaboration between Seventh Son and Getaway. We're hoping the little graphic marriage should help people recognize The Getaway is from Seventh Son."
While cans from The Getaway have the Seventh Son logo now, AOH's limited cans still only include the parent brewery's name in small print. The cans are all white with a large AOH transparency on the front, and behind the letters are photos of whatever fruits were used in each beer. Why maintain the separate packaged brands when it seems to inhibit brand recognition? The distinction is important to Seventh Son long term, even if it deters initial sales.
"We really want to let them have their own flavor and vibe," explains Vent. "The spaces are completely different. Antiques is very much a dark wood, swanky basement kind of feel. Seventh is bright, hard surfaces, a lot of glass garage doors. The Getaway is like a 1970s airport lounge with these massive dioramas. The packaging really ought to reflect the decor."
Travel Incentives
In an effort to encourage traffic to all three locations, Seventh Son recently implemented a passport program. Participants can get a stamp at each location and receive a free t-shirt at their final stop. While the program requires visits to all three taprooms, it's hard not to see the passport as a visual and conceptual nod to the The Getaway, the location that's had the hardest time finding its crowd.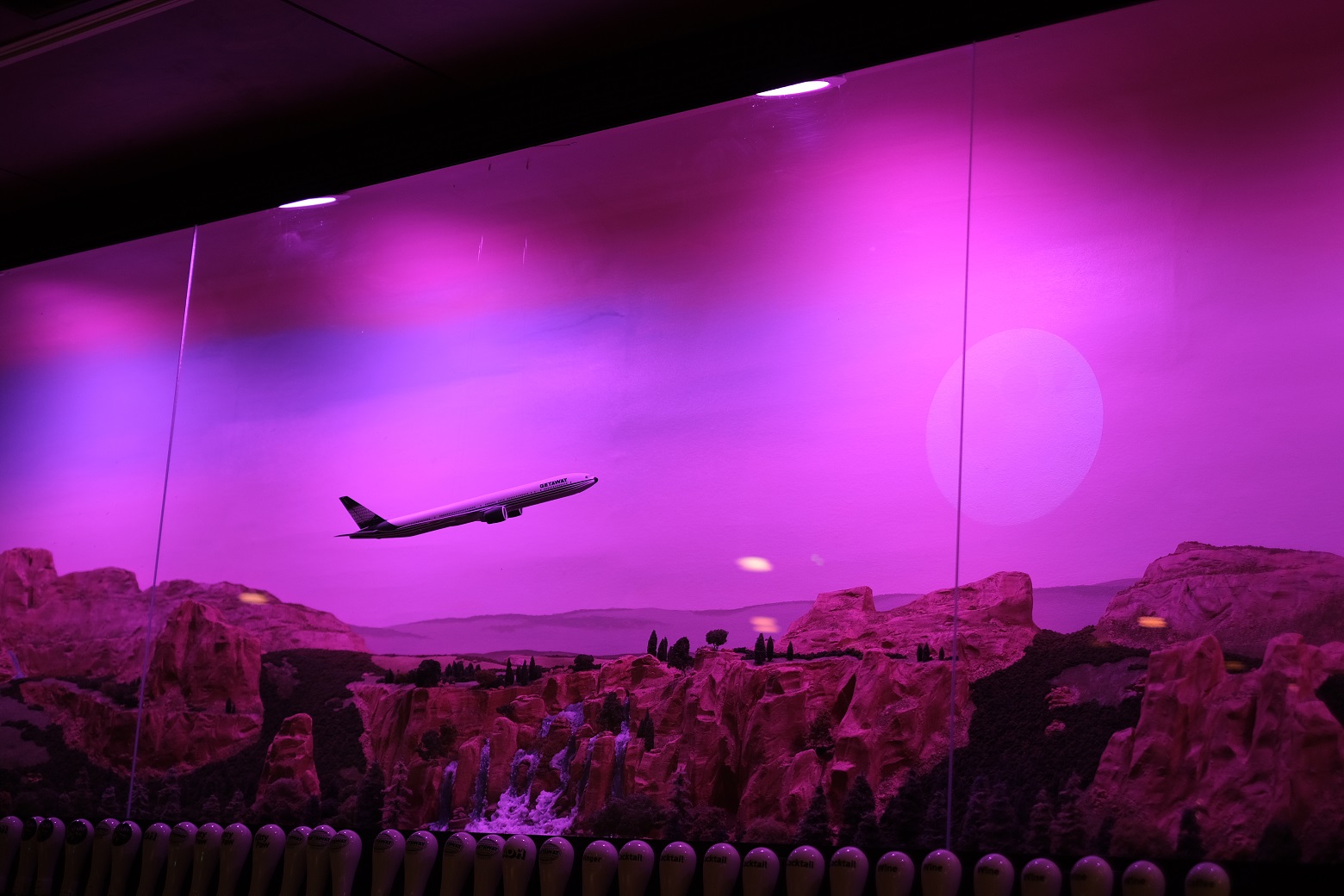 "That passport has been really successful," says Castore. "We've printed about 3,000 in the last few months and they go really fast. Sometimes people will come in from out of town and use this to go around and see some different neighborhoods. Some people just see it as a fun thing to do on a Saturday, like, 'Hey, I'm gonna hit all three places and get a t-shirt.'"
Like several other Ohio breweries, including Sandy Springs and Fibonacci, Seventh Son has established its own Airbnb lodgings as well, with separate rentals themed to match each taproom. The AOH Airbnb is open now, while the Seventh Son location—a refurb of the last unfinished house on the original taproom's street—will be ready in mid-2023. For The Getaway, they're doing something different: offering a true getaway from the city. The Getaway Lodge is about an hour southeast of Columbus in the Hocking Hills hiking area. At 3,000 square feet on nine wooded acres, it's intended as a group retreat destination.
Each spot will have drink options available and possible additional experiences. At the Antiques on High rental, for example, Seventh Son is looking at having an AOH bartender come to the room and teach a personal cocktail class. In addition to encouraging out of town visitors to check out each taproom, these rentals also bring in additional revenue without—crucially—requiring additional employees.
Worth the Hard Work
While Seventh Son's decision to grow three distinct brands has certainly led to slower initial growth and a lot more work, the team hopes the brand diversity will lead to a more sustainable future for Seventh Son in the long run. It also provides a need for constant creative effort that keeps the crew excited.
"I like it a lot from a creativity standpoint," says Vent. "One of my favorite things about the three spaces is when it's time to do a new recipe. Where does it belong? Which brand is it gonna be? And that actually starts to steer the way the recipes are built."
According to Castore, having creative and motivated staff available to dedicate to the additional labor required for this kind of project is the determining factor in whether it will work for a given brewery or not.
"From a business standpoint, if you have a good creative team and you enjoy this type of work, it's a good idea," he says. "But it's definitely extra work, more work than it would be to just have another cookie cutter spot and have another similar menu at each spot. And it requires more staff training."
In the end, diversifying in this way has allowed Seventh Son to find and satisfy customers they might not otherwise have been able to with a classic American craft beer taproom brand.
"The fact that people can find a space that matches their personality or matches the vibe they're going for, I think that's really cool," says Castore. "We've made spaces that would be unique and special in any city in the country, and it's really cool that it's all in Columbus and people get to drive around in a day and see all three of them if they want to."
A sleek cocktail and sour beer lounge that evokes a posh speakeasy from a century ago. A bright Lager house that echoes the airport lounges of the golden age of travel. A classic taproom with long tables and IPAs for the old school beer fan. Seventh Son is satisfying a variety of customers who may not even be aware Seventh Son is behind each experience. It's a counterintuitive approach to building a brand, but eschewing conformity in the country's fast food testing capital is working for Seventh Son Brewing.
All photos courtesy Seventh Son Brewing.
---