No Comments
Fulton Brewing Releases Hop Kingdom IPA Brand Family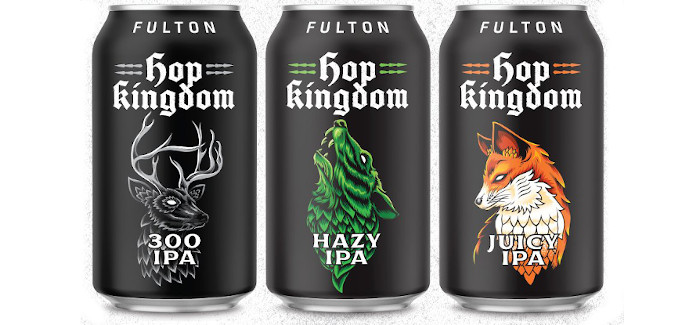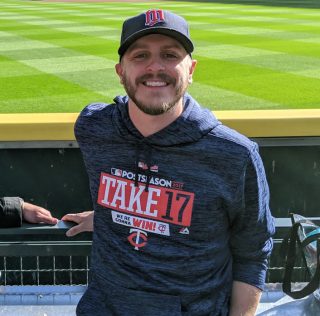 Fulton Brewing, one of Minneapolis' original craft breweries, is expanding its well-known IPA offerings by introducing Hop Kingdom — a brand family of various IPA styles inspired by and made for Minnesotans.
The inaugural Hop Kingdom lineup consists of three brands—two new beers and a brand refresh of 300 IPA, one of Fulton's most popular IPA offerings.
Hop Kingdom
300 IPA: 7% ABV | 74 IBU
A renowned west-coast IPA with trophy status as Minnesota's number one IPA awarded by the Minnesota Craft Brewers Guild, 300 receives a fresh look in this kingdom with an iconic stag.
Despite a visual refresh, the 300 will remain unchanged. As for 300's inclusion in launching a new brand family, Ryan Petz, CEO and co-founder of Fulton and his team believed that a familiar face should lead this new kingdom.
"As we were working on this launch, it kept coming back to us that 300 is our most-awarded IPA, said Petz. "It's that fan-favorite that when I meet someone at a festival or event, that is the beer they name. So the answer became this new concept, Hop Kingdom, but it will include 300 IPA and not change the beer."


Hazy IPA: 6.5% | 28 IBU
Hazy IPA is one of the new offerings in the Hop Kingdom and is still a new venture for the brewery. Slower to embrace the substyle than other breweries, a little over a year ago Fulton introduced its first hazy IPA into its brand calendar. Hop Kingdom Hazy IPA is a dense haze highlighted by Citra and Galaxy hops, providing citrus notes classic to the style.


Juicy IPA: 6.2% | 30 IBU
Juicy IPA is the other newcomer and third member of Hop Kingdom. Hop Kingdom Juicy IPA features a thiolized yeast strain helping make the beer aromatic while pouring a bright hazy yellow.
"This collection of IPAs represents that sweet middle in the Venn diagram of Minnesota, said Petz."

Designing Hop Kingdom
To help lead the visual identity of Hop Kingdom, Fulton partnered with local designer and Marvel comic artist Brent Schoonover. Schoonover was tasked to illustrate the labels and create the characters of the kingdom, drawing inspiration from Minnesota animals. Schoonover was no stranger to the Fulton team and brand, having done some promotional work from when 300 was initially released. Schoonover and his family became close with the brewery working on various projects.
"I always liked Fulton, they were one of the earlier craft breweries, but I always thought I would never do a ton of work with them given that their labels were more text-heavy," said Schoonover. "I worked on a few things for them here and there, and we've always been friends with the brewery."
Schoonover's work with the brewery would change after a call from Petz about a significant project they wanted his help with. Fulton was looking for a vibe with Minnesota pride to connect more with the consumer.
"They [Fulton] wanted to take Minnesota pride and run with it in their way," said Schoonover."
After many rounds of characters, Schoonover and Fulton reconvened after the holidays with the idea surrounding animal royalty—the wolf, the fox, and of course, the stag. Designs that felt like Fulton. Designs that felt right.
Hop Heads Before it was Cool
For Fulton, the Hop Kingdom collection of IPAs represents the sweet middle in the Venn Diagram of Minnesota. These are IPAs made for people who love Minnesota and love IPAs. And that's unique to the North.
"You'll have to fact-check me, but Minnesota was one of the largest Two-Hearted markets going back to the early years," said Petz. There are a lot of hopheads everywhere, but Minnesota has been an outlier in that we've been hopheads before it was cool to be hopheads."
Currently, Fulton distributes in three states, Minnesota and the Dakotas. As such, the brewery tries to speak to their region in the North. The work that goes into launching any new brand, let alone a family of brands, is daunting, but for Petz and the team, Hop Kingdom started with one concept — brewing more IPAs with staying power.
"There are a lot of IPAs out there. Specifically, so much of the innovation that happens within craft brewing happens within this category,: said Petz. "That's a great thing. Still, it also makes it more challenging to create something with staying power that is not just a flash in the pan, but something you make for several years."
That was the impetus behind this brand family. It's distinctive enough from our portfolio that it stands alone. Still, it's consistent within itself, so when Fulton brews new IPAs that become part of the family, they've created an overarching umbrella that keeps the Hop Kingdom going.
"It's exciting to think about how we can build on this. It's become bigger than we originally envisioned, and there could be much more. To see the excitement for what exists and what it can be in the future is one of the parts that energizes us," said Petz.
The first three Hop Kingdom brands are available in 12-ounce, 12-pack cans and 16-ounce, four-pack cans throughout Fulton's distribution footprint of Minnesota and the Dakotas. A fourth brand and new variety of 12-packs will be released in September.
---