No Comments
Cerebral Brewing | Triple Mash Pappy Van Winkle Here Be Monsters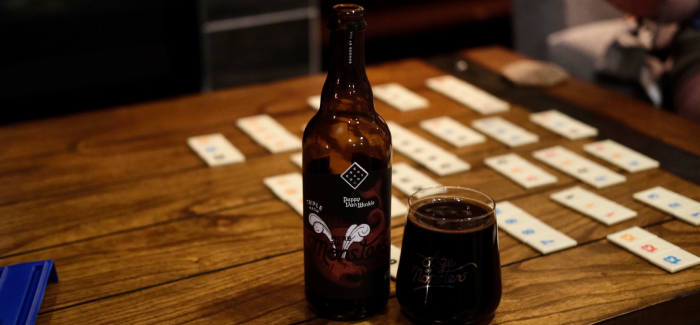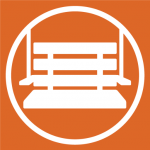 There are certain spirits in the world of barrel aged beer that elicit perked up ears, and then there are those brands that generate whiplash causing sore necks and desperate trips to the chiropractor. Pappy Van Winkle (PVW) falls squarely in the latter category, a mythical wheated bourbon whose popularity and even legend has skyrocketed in the past decade causing bottles to sell on secondary markets for 20-30x their retail prices of $120-$300. Even the used barrels from these 15-23 year aged whiskeys sell for exorbitant prices as breweries clamor to get their hands on them. Cerebral Brewing was lucky enough to land two Pappy Van Winkle 15 Year barrels, and they chose to rest a triple mash version of their Here Be Monsters Imperial Stout in those barrels. This particular single barrel expression aged for 39 months, an incredibly long time yielding an incredible creation.
Earlier this year, Cerebral announced a new bottle club membership, Endeavor. Sean Buchan, Owner / Head Brewer, describes Endeavor as "an expression of our commitment to evolving outside the edges of the map – a community with a deep appreciation for all things oak where we share our most adventurous projects from our barrel cellar." This community is given access to exclusive and very limited beers not available to the general public. "Our members-only bottle releases give us an opportunity to explore single barrel expressions in a way that we haven't been able to before" says Sean. 
Fortuitous timing led to Triple Mash Pappy Van Winkle Here Be Monsters kicking off the Endeavor membership as one of the first two quarterly bottles released. A hype beer aged in the most hype of barrels is a hell of a start to any program.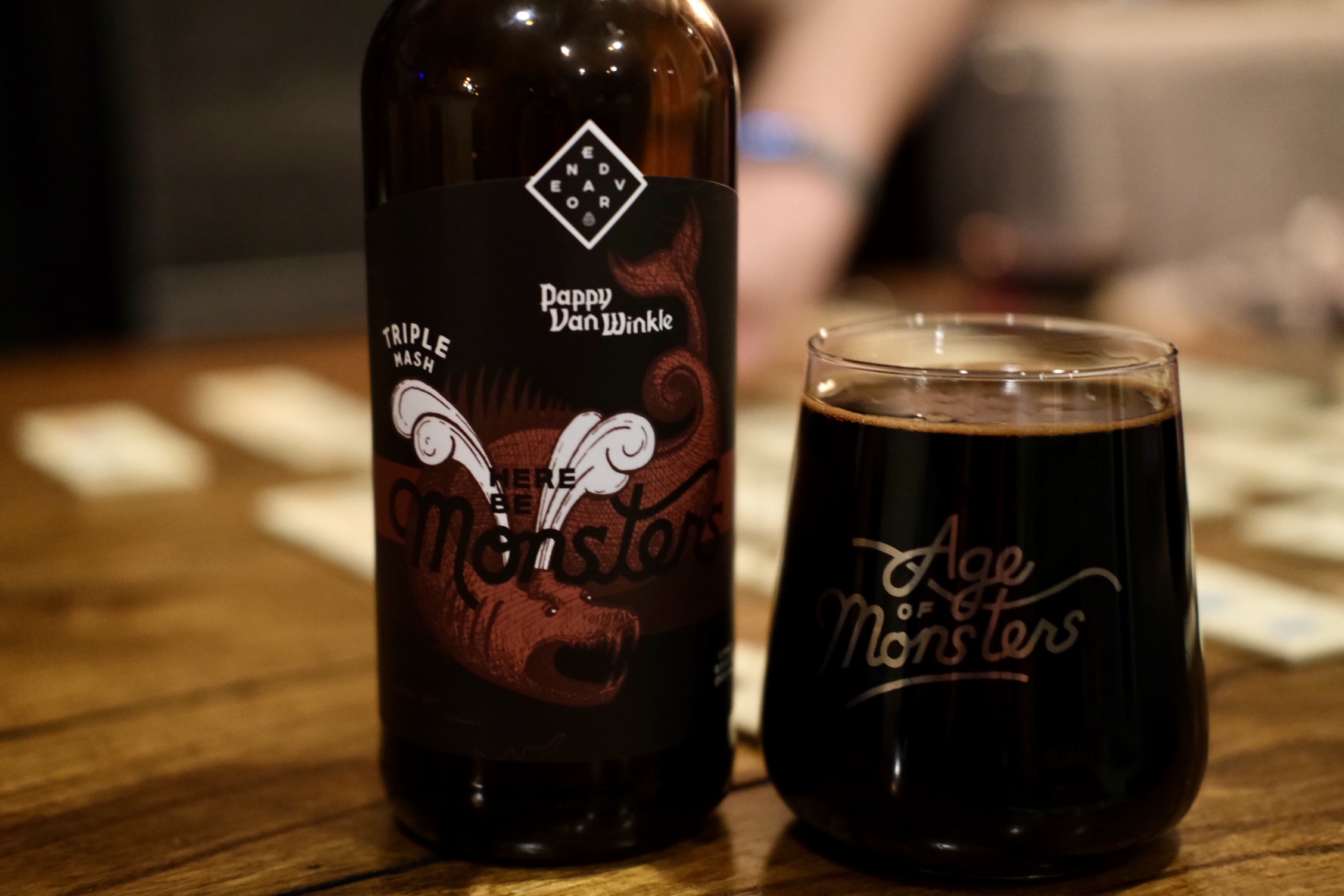 The standard recipe for Here Be Monsters saw an additional mash and an increased boil time from 8 to 28 hours for this triple mash version. This beer was not brewed for a specific barrel type – rather Sean and his team sought the perfect barrel in which to rest this base beer. "When selecting barrels to stand on their own as single barrel expressions, we look for a few things — structure, balance and overall uniqueness of flavor profile" explains Sean. "This barrel checked all 3 categories… with notes of raspberry-filled dark chocolate bar, creme brulee and bourbon soaked blackberry crumble." These flavors highlight the complexities a single barrel can impart upon a beer. The 39 month barrel aging time allowed the "oak and tannic structure (to) provide a necessary balance" to a beer with a high final gravity even after 28 hours of boiling. That high gravity led to an ABV of "only" 11.7%, lower than the typical Here Be Monsters ~14% ABV. 
3 years spent aging in 15 year bourbon barrels is bound to yield some fascinating results, and Triple Mash Pappy Van Winkle Here Be Monsters does not disappoint as an immersive experience in the world of barrel aged Stout. Upon opening the bottle, a wave of oak, alcohol booze, dark chocolate and s'mores crashes the nostrils. Those 39 months did wonders as this beer is nimble and creamy, effortlessly advancing across the palate. First impression is booze as the beer hits your tongue, and quickly caramel and sweet coconut take over. There is dark cherry as the Stout rests in your mouth, and that oaky bourbon barrel leaves a lasting impression beyond the swallow. With such an oak forward presence, it's a wonder that Pappy Van Winkle 23 Year barrels, extreme age statement and wood resting considered, were not used for aging. A sip leads to contemplation as you ponder all the intricacies present here, a symphony of what flavors barrel and time can add to a beer.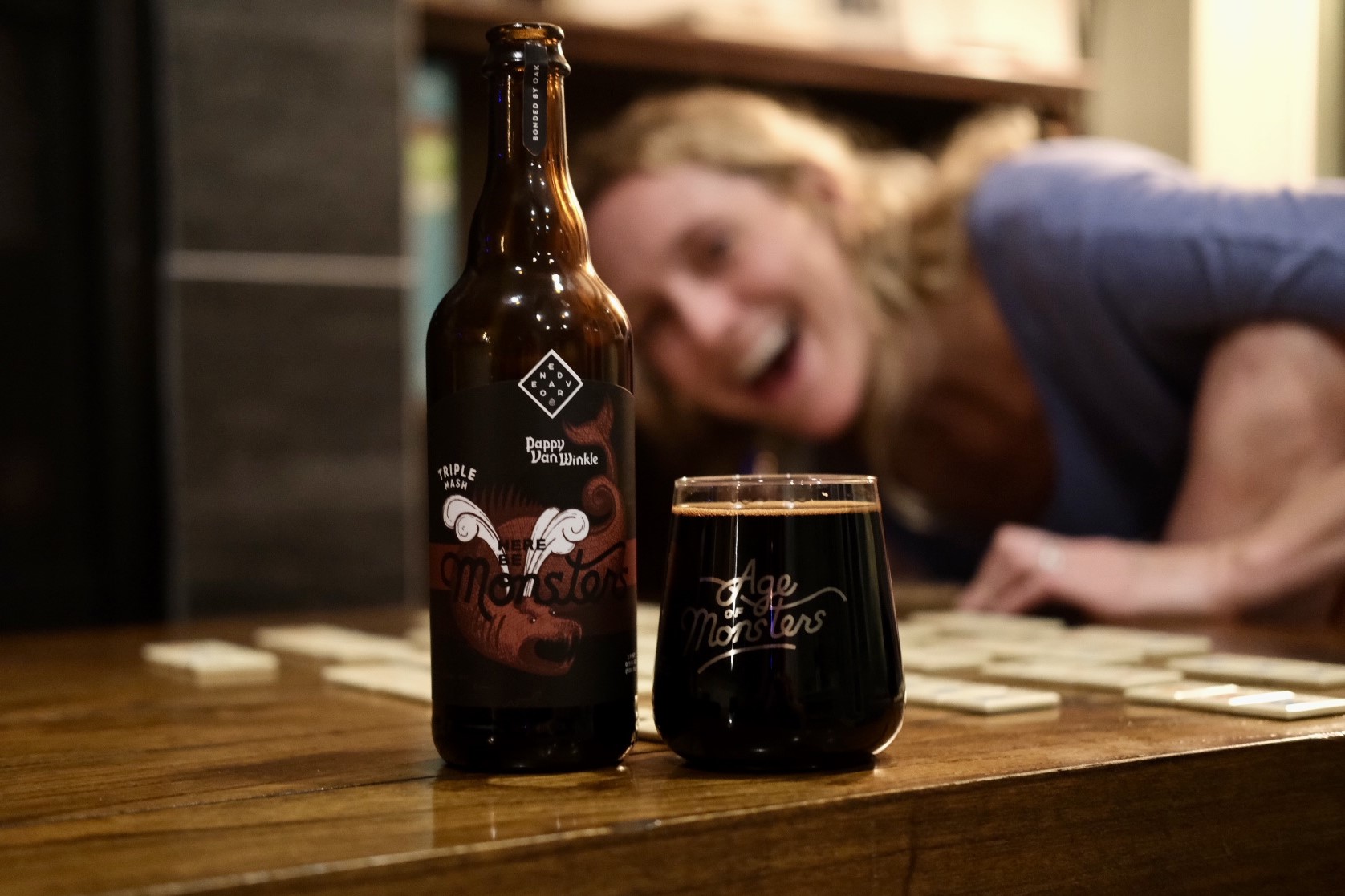 Endeavor has kicked off with an emphatic display of the skill Cerebral possesses in their barrel aging program. While the timing might have been fortuitous, there is nothing lucky about what Triple Mash Pappy Van Winkle Here Be Monsters has achieved. By choosing the best of barrels upon which to rest an exclusive Stout recipe, Cerebral has showcased the depth of mastery in their barrel program. Stay tuned to what Cerebral is doing as there will undoubtedly be more stellar creations in their future.
---