#BlackIsBeautiful Archives – PorchDrinking.com
September 14, 2020 | Kindsey Bernhard
Louisville has been at the forefront of the Black Live Matter movement for months due to the death of Breonna Taylor on March 13. So, When the opportunity to participate in the Weathered Souls Brewing Black is Beautiful beer collaboration came up, Louisville breweries didn't think twice about participating. It was the perfect way to combine two things very important to them: brewing great beer and supporting their community.
September 9, 2020 | Mathew Powers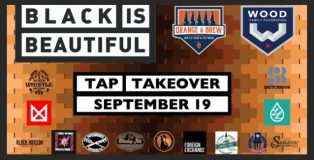 A multi-faceted demonstration of craft-beer community support will manifest at Downer Grove's Orange & Brew Bottle Shop and Tap Room on September 19 (noon – 9 pm). The tap takeover will not only feature a dozen "Black is Beautiful" project beers — some of which have previously only been available in the taproom where they were brewed, but also benefit the Wood Family Pitch In project, which assists oft-ignored inner-city school districts by offering mentoring to kids as they transition from middle school to high school.