No Comments
Weathered Souls | 2023 Whale Rider Set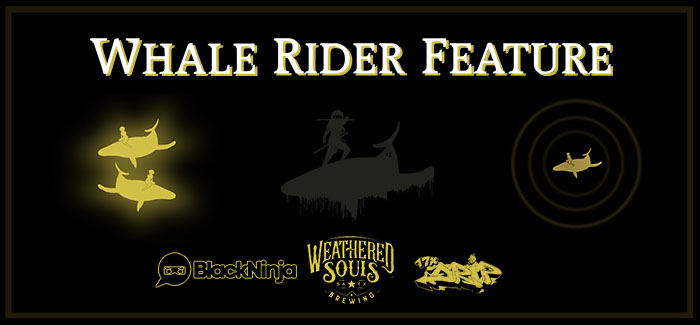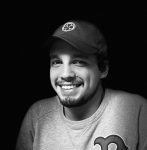 Weathered Souls Brewing has been around since 2016, and since then has made waves throughout the industry. Most notably in 2020, co-owner and Head Brewer Marcus Baskerville started the Black is Beautiful initiative, a movement with the mission to bring awareness to the injustices that many people of color face daily. This open-ended collaboration has inspired the support of hundreds of breweries across the country, and this year even saw the launch of Volume 2.0 of the Black is Beautiful initiative in honor of the opening of the National Black Brewers Association (NB2A) back in May. Marcus and Weathered Souls also had another exciting 'first' in 2023 with their highly sought-after Whale Rider Imperial Stout. July 29th marked the date of the inaugural Whale Rider Day.
Not only was the team in San Antonio generous enough to send the entire exclusive set to us for review, but Marcus also took the time to sit down and answer a few questions about this special day and the one-off variants brewed for this year's celebration.
Whale Rider

When Marcus and Weathered Souls first released Whale Rider in 2019, they chose the name around the idea that they knew they wanted it to be their "hype" beer; the beer they wanted people to seek out from their brand. The name stems from the story Paikea the Whale Rider, and releases of the beer have since revolved around their anniversary. July 29, 2023 was the first Whale Rider Day, and included some very limited special releases.
Whale Rider Day 2023
For the inaugural event, Weathered Souls pulled out all the stops. Whale Rider Day hosted over 40 of the top breweries in the country, with around 400 attendees throughout the day. VIP ticket holders were able to arrive at 12:30pm, with General Admission attendees gaining entry at 2pm. The event ended at 7pm.
There were also three very special, very limited variants released for the event. With 1 bottle limits of each, not everyone who waited in line was even guaranteed an allocation. That said, Weathered Souls conducted raffles throughout the event for the chance to win 1.5L magnum-size bottles of these one-off variants (individually as well as a bundle set).
For those unable to attend the Main Event, Weathered Souls hosted an "After Party" on August 3rd. From 6 – 10pm, guests were provided an opportunity to try some of the beers from the event, as well as a special, unreleased Whale Rider.
The Variants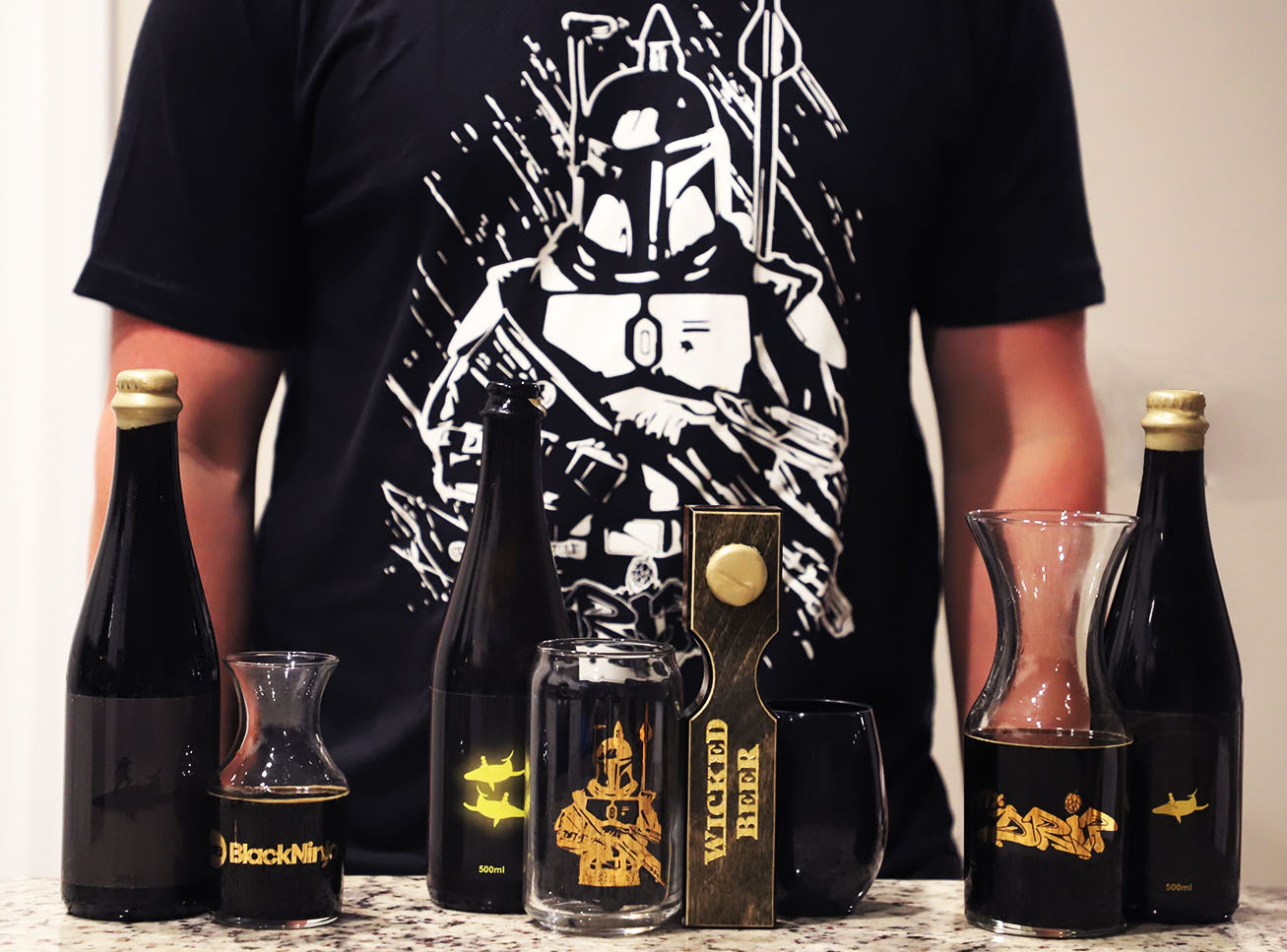 As mentioned above, three iterations of Whale Rider were released for this year's festivities. While all three included the classic Whale Rider adjuncts – raw coconut, toasted coconut and vanilla beans – each one spent time aging in unique and very limited blends of spirit barrels. Additionally, one of these releases collaborated with two of the most recognizable names in brewery design and merchandise. We had the opportunity to open and review all three of these special beers, and owe a huge thank you to Weathered Souls and their collaborators for the opportunity to share both our experience and some of the exclusive branded merch they provided for this tasting.
Whale Rider – Batch 4 (15.5% ABV)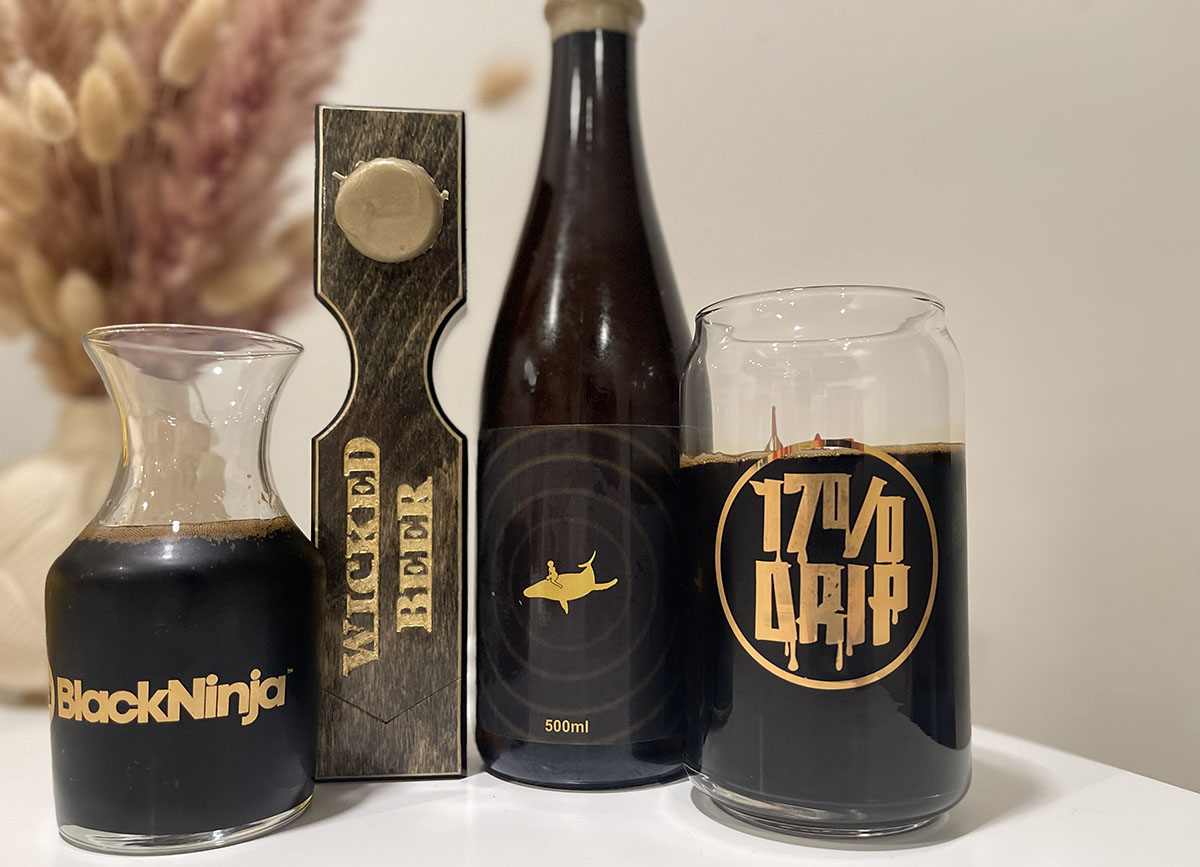 The newest "base" batch of Whale Rider, this release was aged in a blend of bourbon barrels with the same adjunct treatment of coconut, toasted coconut and vanilla.
The Review
The beer is pitch black on the pour. Beige bubbles of carbonation build to about a half inch of head on the beer. It settles into a thin ring that circles the liquid.
The nose is adjunct bliss; liquid Samoa cookies. We get notes of baking chocolate, toasted coconut, and vanilla fudge swirling throughout the profile. Nuances of smoke and fresh oak integrate into the profile as the beer warms and the barrel character has more time to open up.
The palate is more subdued in its sweetness. Toasted coconut features, bringing with it a balancing bitterness. Flavors of dark chocolate lead the way for undertones of roasted malt, tobacco, and a touch of smoked maple.
The mouthfeel is smooth, and medium in weight. A touch of bitterness compliments the well-carbonated liquid, and it finishes warm and with just the slightest touch of dryness as it trails.
---
Double Barrel Whale Rider (2023) (15.8% ABV)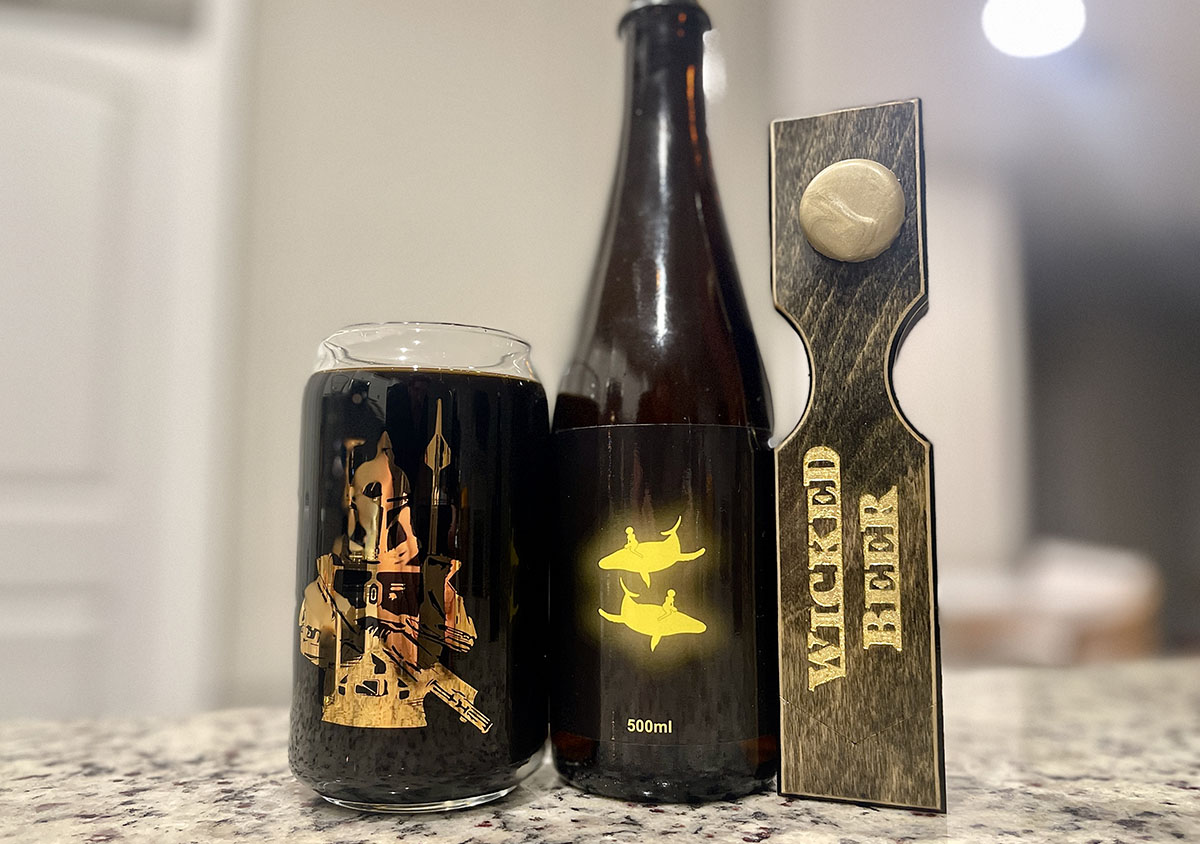 This double barrel treatment of Whale Rider aged in Rye whiskey barrels for 22 months before being transferred to an Apple Brandy barrel for eight months.
The Review
There's the typical Whale Rider pitch black pour, with a nice deep brown head retention that is slow to dissolve back into the body of the beer.
The nose is rich and sweet, loaded with notes of candied coconut and Charleston Chew candy bars. With some time in the glass, the Brandy really begins to shine; we get tons of caramel apple notes.
The palate retains the familiar vanilla and coconut adjuncts, but really does well to initially feature that double barrel treatment into the experience. Following the mildly bittering toasted coconut is that Brandy barrel; caramel apple crumble and a mildly tannic quality on the tail.
The body has medium viscosity but good weight to the base beer. The carbonation is present but soft, and the finish is warming to accompany a touch of residual bitterness.
Overall what we appreciated most about this was the balanced expression of each component. Vanilla, coconut, apple brandy, and bourbon all exude their influence without anything becoming off-putting or overwhelming. This really is an elegant example of a double-aged, adjunct stout.
---
Double Barrel Whale Rider – Black Ninja x 17% Drip Collaboration (15.5% ABV)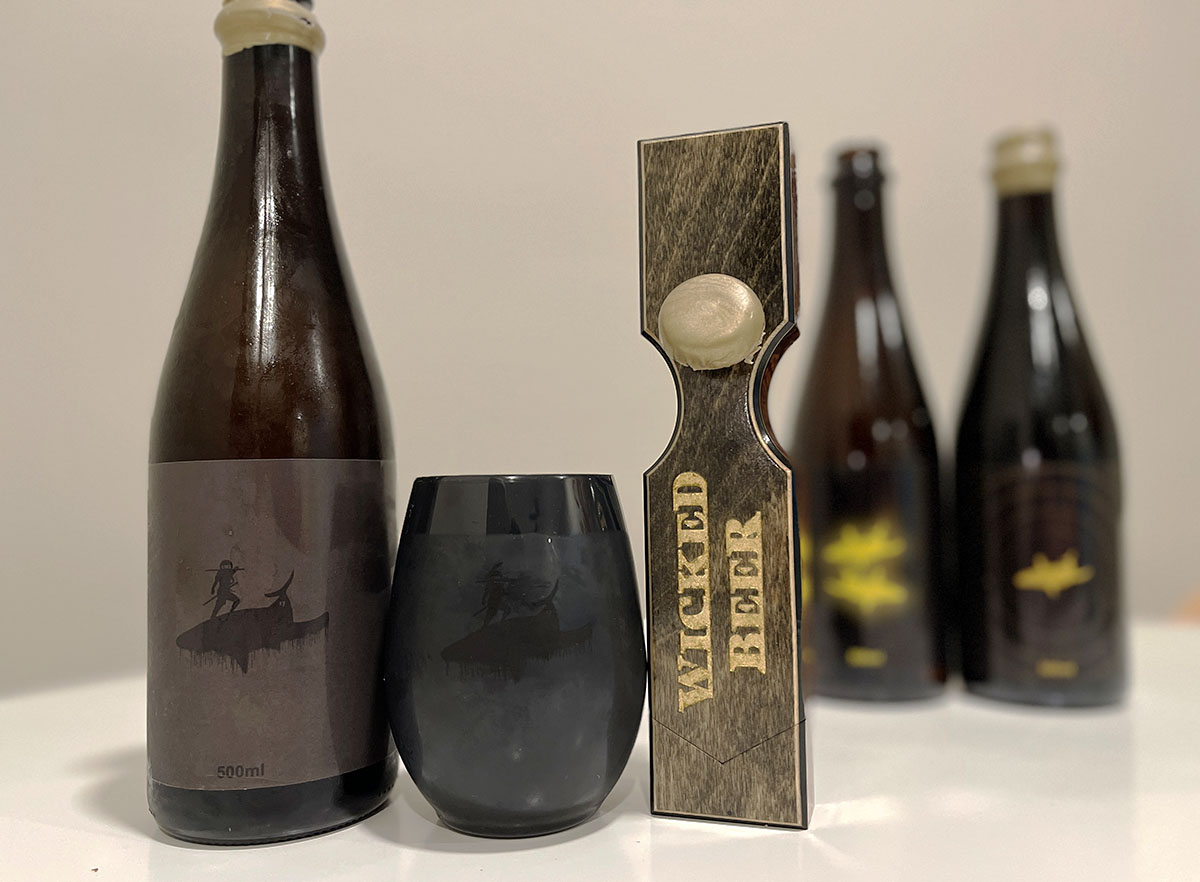 This special Double Barrel expression had only been released once in the past, exclusively to Weathered Souls membership. This year's collaboration release used some of the rarest barrels in their cellar, aging over 18 months in Willett 21 Year bourbon barrels before being transferred to a Willett Rye single barrel for an additional six months. It then got hit with the familiar treatment of adjuncts; hundreds of pounds of toasted coconut, raw coconut, and a 1-1/2 pounds per barrel of Madagascar vanilla beans. The collaborators for this release, Black Ninja Design and 17% Drip, were welcome additions to this already-exclusive beer.
The Collaboration
Black Ninja has designed countless limited run products and collaborated with breweries and craft icons all over the country. The Answer, Beer Zombies, North Park Beer Co., Imprint Beer Co., Fidens, and Hazeboiz are just a few of his past joint ventures. This was Weathered Souls' first time working with Black Ninja, and Marcus noted that as a craft fan in general, this hit one of his list points.
17% Drip is a Craft Beer Lifestyle concept by Sean Dorsett. The brand's goal is to highlight a fashionable way of life by providing trendy merchandise for all cultures in the craft beer community. Through collaborations with craft beer trendsetters and influencers, Sean hopes to bridge the gap between the Urban Lifestyle & Vibe and the Hipsters. Sean and Marcus have been friends for some time now and this isn't the first time time they've collaborated. Marcus stated that there aren't many African-Americans in the industry, so they've always tried to make a point to support each other.
The opportunity to work with both of these highly influential designers was a rare opportunity and well-worthy of this equally rare release.
The Review
The viscosity is like motor oil, with very little agitated carbonation upon pouring. There are small coconut particulates and some noticeable oils.
The nose exudes coconut macaroons and chocolate truffles. There's a very slight undertone of charred oak, but that deeply chocolate-forward base really resonates. With time in the glass, more spicy, oaky notes from that barrel treatment really starts to come through.
The palate brings a lot of that coconut, contributing both added richness and bitterness to the overall profile. Like with the nose, still a ton of chocolate, but with the barrel character really shining. It gives an added boost to the vanilla, with a touch of earthiness and boozy rye spice. Time and temperature are transformative to the overall experience; a journey through the adjuncts and barrel influence.
Mouthfeel is medium-full, mildly syrupy but smooth. The carbonation is low but present, and there's a noticeable warmth from the alcohol. The finish has a touch of residual bitterness.
Again we were very impressed with the ability to balance the profile of these Whale Riders. While vanilla and coconut are far from new additions to the world of adjuncts, the ability to not only keep their influence present amongst the barrel aging but also have the profile transform and adapt with time and temperature was really fun to experience.
Riding Toward the Future
Whale Rider Day and the beers released for the occasion both showed immense promise for the future of Weathered Souls. The support from both breweries and attendees was amazing to see, and the quality of these limited Whale Rider variants could easily be put up against any of the top high-gravity producers in the industry right now.
As Marcus Baskerville continues to grow his brewery, his Black is Beautiful Initiative, and hone in on his product and portfolio depth, be sure to keep a close watch. You know what they say, everything is bigger in Texas. The Whale Riders from this year are surely a testament to that, and something tells me that even seven years later, Weathered Souls is just getting started.
---