No Comments
GABF Denver Beer Bars Guide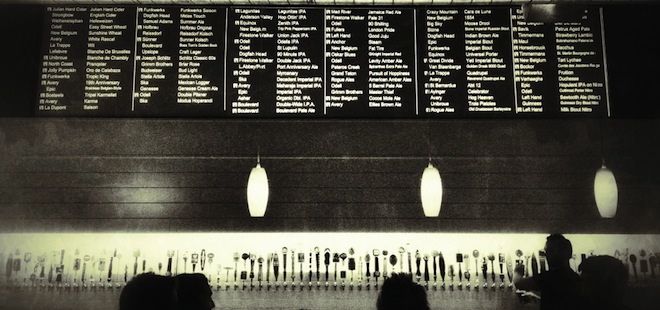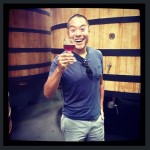 Coming to town for the Great American Beer Festival is about more than just the festival itself.  It involves local breweries, restaurants, the city of Denver, and beer bars.  We decided to break down some of the local Denver beer bars that you may want to check out just in case you couldn't already find enough beer.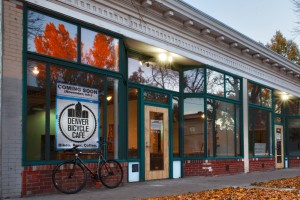 Denver Bicycle Café- Denver, CO
DBC is a combo bicycle repair shop, coffee shop and source for amazing local brews and ONLY local brews.  They also have an emphasis on cans which they believe yield for finer flavor retention and are more efficient economically and environmentally
Colfax Avenue in Denver might be one of the more bizarre places in the city.  Adorned with the likes of a walk up bourbon chicken stand, a mattress store and a rent-a-center (how do these still exist), is Cheeky Monk where you can get a variety of Trappist ales.
Located in the heart of downtown Denver, Star Bar always has great stuff available in a community of bars that are saturated with crap on tap.  This is your hole in the wall beer geek hangout without all the pretense.  Put it this way, if we still have any desire to drink beer after the fest, this is probably where you'll find the PD staff.
Located right off the 16th Street Mall, Freshcraft has been serving great Midwestern delights along with some of the best beer in Denver.  This place boasts a great tap line up along with a great bottle list, Make sure to grab a burger and look at their site for their special Great American Beer Fest events.
This is the rare occasion on our list when a place's food menu might trump their impressive beer menu.  Duck Poutine, Bone Marrow, in house sausages, and pickles are all you need.  Oh and perhaps you should pick up Avery's Rumpkin, or Great Divide's newly released triple.  They also have Tactical Nuclear Penguin somewhere in the back if you feel like PTFO (passing the… well you get the idea).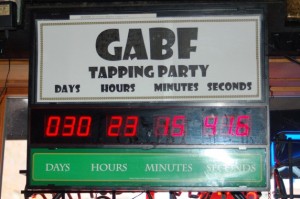 Falling Rock Tap House- Denver, CO
The expression kid in a candy shop has never applied more than when walking into Falling Rock.  With over 70 beers on tap, Falling Rock serves as the unofficial epi-center of GABF week.  They kickoff the week's festivities Monday afternoon at 5pm when their ticker strikes 000:00:00:00 and they'll feature INSANE rare tappings all week long.  Here's their list of this week's events!
The Rackhouse has a great focus on local beers and often hosts beercentric events.  Speaking of events, this Wednesday they will be hosting a Rare Beer Tasting event, unfortunately that event is already sold out.
The only thing missing from Hops and Pie is the Rockafire Exposion Band because it might as well be Chuck E. Cheese for beer geeks.   They are known for tremendous tap takeovers and their "Little Beer Fests".  This week they'll have events from Great Divide, and Avery as well as rare out of state tap take-overs from Cigar City and Sun King.  Those are can't miss events!
Ale House at Amatos- Denver, CO
The Ale House features 42 beers on tap, and has a great breakdown of malty and hoppy beers to help uninitiated drinkers find their flavor.  They also have a tremendous focus on the local beer community.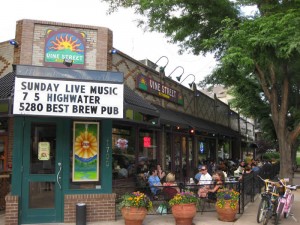 Vine Street Pub and Brewery- Denver, CO
Vine Street is not only a brew pub (they brew their own stuff and it is damn good) but they also feature rotating visiting taps from the likes of Russian River, and a handful of locals.  Great locally sourced food, excellent beer, but don't forget to bring cash as they don't take credit or debit.  If Vine Street happens to be serving Hop Vivant, you need not go any further.
Choice City Butcher Shop- Fort Collins, CO
It's not often you can drink a 2007 Sierra Nevada Bigfoot Barleywine from the tap,  while ordering a fresh slab of beef tenderloin from your local butcher, but that's exactly the case at Choice City in Fort Collins.   This hole in the wall features great meat, and even greater beer.
Mayor of Old Town- Fort Collins, CO
Recently our staff writer Phillip Joyce decided to go more in depth on his visit to the Mayor of Old Town.  Here's his take on the Fort Collins bar that features a massive electronic beer menu.
A quick visit to The Mayor of Old Town's website yields the following mission statement: "[Our] mission is to bring you great beer and delicious food from a passionate and knowledgeable beer-loving staff; who just want to share the love with you." Well that's not a bold statement is it? How many bars have you ever been too where the staff was actually knowledgeable and not snobby? Here is sample dialogue from the normal 'beer bars' that I have visited:
Bar #1
Waiter/waitress: Do you care for any drinks besides water?
Me: I'm in the mood for something a little lighter… can you make any recommendations?
Waiter/waitress: What kind of light beers do you normally like? Miller Light, Miller MGD?…
Me: uh…. (internally: damnit! i just feel downright awful for giving a tip less than 20%…)
Bar #2
Me: (after sitting at the bar for 10 minutes pretending to be invisible) Excuse me, can someone please help me with a beer?
Waiter/waitress: What do you want?
Me: Do you have a menu?
Waiter/waitress: (silence) Points condescendingly at the wall.
Me: Do you have anything that explains the beers listed on your wall? I'm not familiar with a number of these beers. Light-dark? Light-full bodied? Hoppy-malty?
Waiter/waitress: Nope.
Me: Proceeds to search the ever glorious interwebs on mobile web searching device and be unsocial at the bar… making no friends.
[Sit down and stare in amazement at the huge menu. Wait, theres no information on the beers…]
Cute waitress: Welcome to the Mayor of Old Town. What can I get you to drink?
Me: I'm in the mood for something on the Maltier side. Can you make any recommendations?
Cute waitress: Well if you normally like Lagers, may i suggest this Bock, its one of my favorites. Big malt backbone with some wheaty undertones and an ever so smoky, bready finish. If you normally like ales, may I suggest this Porter. Again its malty but with a little roasty with some dark chocolate and coffee notes. Pairs really nicely with our BBQ for You! pizza. If you're in a party mood, which clearly you are, may i suggest this Belgian Quad. Its has lovely fruity and clove-like esters and finishes with sticky dark fruit. Its higher on the ABV so only comes in a snifter.
Me: (Absolutely beside myself. Pinch own arm. Cute waitress is definitely real.) All three?
Me: [After finishing first three beers] Is this a typo? *Points at menu.
Cute Waitress: No, but even if it was I would still sell it to you for that price.
Me: Hercules IPA is really only $3?!?! Where am I?!? Heaven!?!
Cute Waitress: I'll be back with that in a minute.
If the beer geek in you isn't already excited, I'm not sure that I can explain my experience any better than I did above… EXCEPT THAT THE MENU IS DOUBLE-SIDED. BOOM!