No Comments
Anderson Valley Brewing Wild Turkey Bourbon Barrel Stout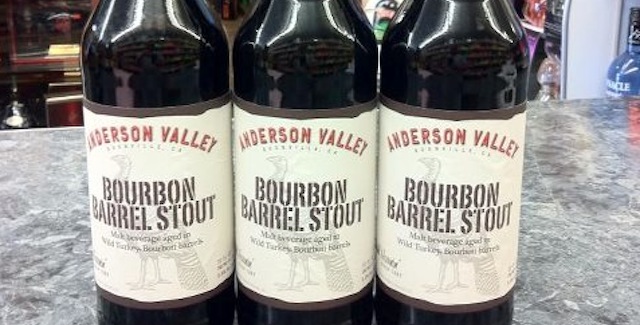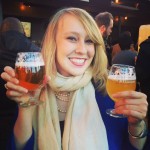 ABV: 6.9%
IBU: 14
I grew up on a farm in Lawrenceburg, Kentucky. Every day to and from school, we would pass one of Anderson County's two distilleries. The smell of mash in the morning still brings back a flood of childhood memories. So when I heard that Anderson Valley produced a beer aged in an Anderson County batch of Bourbon barrels, I was naturally rather intrigued. I am a serious Bourbon drinker and, quite honestly, know more about Bourbon than I do beer. You grow up with it, you tend to learn a few things.
I was so tremendously excited to try Anderson Valley Brewing Wild Turkey Bourbon Barrel Stout ("Aged to perfection in Wild Turkey Bourbon Barrels") that perhaps my bar was set a bit too high. Wild Turkey Master Distiller Jimmy Russell makes my absolute favorite Bourbon (Russell's Reserve – try it) so I obviously assumed that anything that graced these sacred barrels would do my coveted Bourbon justice. However, this beer isn't quite for me.
The beer pours a deep, dark brown with a nice espresso-colored head that dissipates fairly rapidly (par for a stout). The immediate nose out of the bottle is of pure Bourbon, but this scent fades away rather quickly. Once the beer opens, a slight nose of chocolate and thin malt appear. My first thought upon tasting was how unusually crisp the beer is for a stout. The flavor is extremely tame, with small bits of malt and a taste of alcohol at the finish.
The caramel, woody, honey, vanilla flavors that the Bourbon barrels usually lend to a Bourbon aged beer are strangely light. If you are a bit shy with Bourbon aged beers, then this is a good primer. Even though this brew is not for me, I am looking forward to future collaborations between Anderson Valley and Wild Turkey. I hope the next batch will give this Bourbon girl more of those hefty Kentucky Proud flavors I hold so dearly.