No Comments
River Runners Pale Ale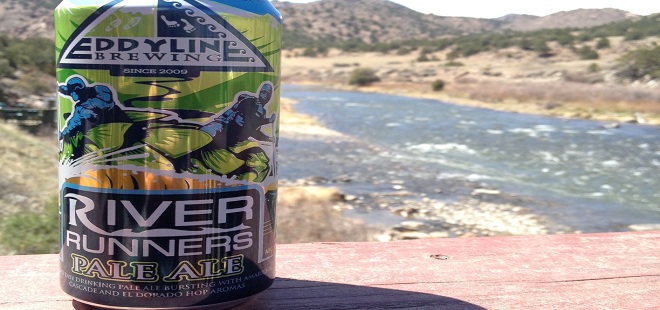 Avg. Reading Time:
1
min
Eddyline Brewery and Restaurant – River Runners Pale Ale
ABV: 6%
IBU: 50
Eddyline Brewery and Restaurant's River Runners Pale Ale is yet another example of the  awesomesauce that can come out of both 16-ounce cans and the frequently neglected beer region of Southern Colorado.
River Runners Pale Ale fills the glass with crystal-clear, shiny straw color and crowns it with a fragile white head. Toasty biscuit scents flutter to the nose with sharp orange zest. Earthy pine aromas party in the olfactory in a fresh-scented, forest-like bouquet. Just like kayaking or rafting, taking a mouthful of the ale is the best way to go, as it encourages you to really appreciate the stage 4 and 5 rapids of flavor. As you paddle your way through the first glug or two, robust toasted notes and caramel sweetness stretch far back in the mouth as juicy orange swells mid-sip. Toasted grains wash over the tongue first, followed by a surprisingly fresh honeydew flavor. As you come around the last bend, the ale finishes dry with lasting bitterness, followed by clean hop flavors lasting well into the aftertaste.  In all, this beer might be on the lighter end of pale ales, but its balanced profile and drinkability make it a pleasure to imbibe. Guess that's why it won a Gold Medal in the Pale Ale category at last year's GABF. So grab some friends, grab a flotation device and hit the river this summer with a six pack of these tallboys tied onto your boat. Ahoy!