No Comments
UPDATED Event Preview | Chicago's 6th Annual Beer Hoptacular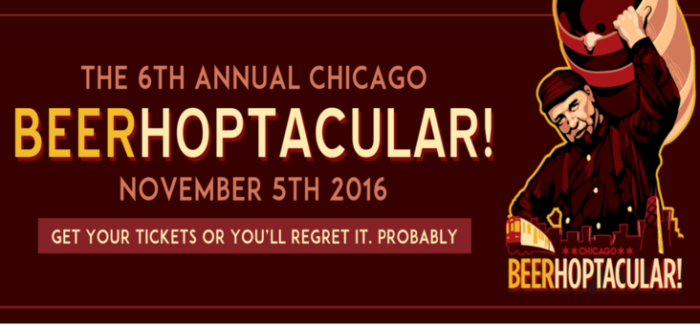 Chicago's Beer Hoptacular enjoyed tremendous success and popularity its first five years..and then it vanished. Seemingly in its prime, it went away for a year. But, drawing on its inner Michael Jordan, HopTacular can announce to the world, "I'm back!"  
(Edit: Back, indeed! The Pour List is located at the bottom of this article. More than 150 beers from around the country.)
Although, Beer Hoptacular almost didn't return.
Former Hoptacular event hosts, Jam Entertainment, have enjoyed increasing success with regards to its music endeavours, rendering Beer Hoptacular a low priority; they toyed with the idea of keeping the fest on hiatus for another year. But, Lou Dog Events' President/Founder Josh Seago stepped in and purchased the festival and will include it in among its growing portfolio of fests that include Chicago Ale Fest, Winter Ale Fest and Ballpark Ale Fest. In other words, the once great festival has returned, and it's now in the hands of an organization that does one thing and one thing only – throw beer fests.
Obtaining Beer Hoptacular thrilled Seago, "Back in 2008 or 2009, events were largely attended by industry people or the very serious beer geek or two. But, Beer Hoptacular was truly one of the first events to cater to the everyday craft beer drinker. It's a great event, and it's also a good place to learn about craft beer."
Seago added, "Plus, this is perfect  for us. We don't want to throw a festival just to throw a festival. A fall festival is great, but it had to be special. This fit the bill perfectly. We couldn't be happier."
When asked if the event might change under the direction of Lou Dog, Seago responded, "No, the event already has such a great tradition. The last thing we want to do is make a bunch of changes. But, with our experience, we think we can enhance the fest, especially from a behind-the-scenes, logistical standpoint. This is what we do. I do think we can put our spin on the event, enhance it and help it grow, but without taking away from what makes the event unique." The only noticeable change is a temporary one; the Friday night session did not return. But, Seago noted that once Lou Dog gets a handle on Beer Hoptacular, the Friday session will likely return.  
Beer Hoptacular takes place directly across the street from Lagunitas in the West Loop over two sessions on Saturday, November 5, 2016 at the awe-inspiring Cinespace Chicago Film Studios. Shows like Chicago Med, Chicago PD are filmed there, and the studio has hosted transformers, superheroes, and stars such as Jennifer Aniston and Jason Bateman. But in November, the only star will be one comprised of water and grain — and there will be a lot of it!
The former steel mill's massive space (1.45 million square feet) will host 75 brewers serving more than 150 beers. And, with sixty-foot ceilings, food trucks can roll right into the building, set up camp, and cure anyone's craft beer munchie needs. Seago noted, "[An inside location] was important. The last thing you want to do in November is worry about the weather. It's really one of the few fests that is held indoors, which means it's all about the beer, the food, and the fun."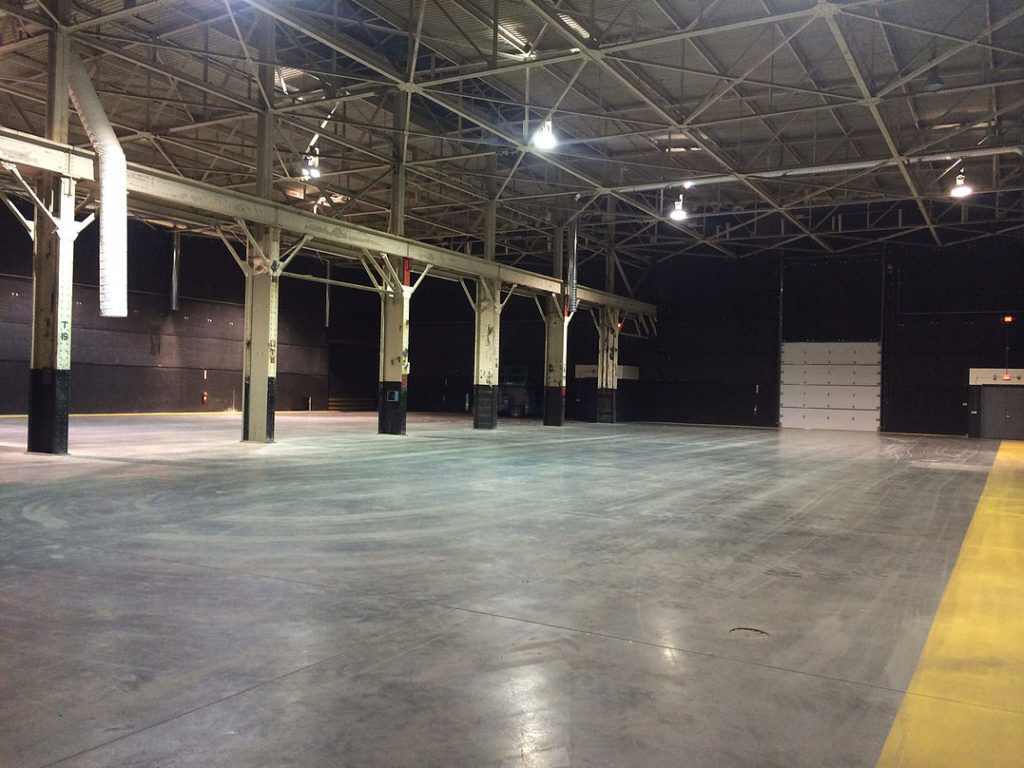 In addition to the brewers (see here for a list) there's also the Beer Hoptacular Homebrew Competition, sponsored by Bell's Brewery.  Twenty nearby homebrewing clubs will brew beer using the same grain bill. They can toast it. They can use whatever hops they want, but one grain, and only that one grain. Professional and BJCP judges will decide the winner on Saturday morning, November 5th, 2016 and that winner will be announced at the Beer Hoptacular Saturday afternoon session.
Meanwhile, there will also be a DJ spinning an all-vinyl playlist, a bicycle kegerator and a live insult booth. Seago said, "The venue, the event — it's basically the anti-hotel banquet [laughter]. This is a bit edgier. Wrap.  Music. The working man's fest, but mostly just really fun." And it's always easier to have fun when one knows the money they spend is going to a good cause. Indeed, a portion of Beer Hoptacular will benefit Chicago's Ignite the Spirit Fund, which helps the Chicago Fire Department by helping to ease the hardship of families of firefighters in need.
Located on the west side of downtown Chicago, Cinespace Chicago Film Studios is near Lagunitas so there is plenty of room for Uber and Lyft drivers, too. Hence, there's no need to drive. All you need to do is show up, drink great beer and have a hoptacular time!

Want to win tickets to Beer Hoptacular? Head over to PorchDrinking Chicago's Twitter page here. Make sure you're following because for the next couple of weeks we'll tweet out how you can win a pair of tickets.
Pour List
5 Rabbit Cervecia (Bedford Park, IL)
Ironica IPA – Mexican India Pale Ale
Yodo con Leche – American Porter
51st Ward Beer Co. (Westmont, IL)
Baseball Head Next Year is Now – American Pale Wheat Ale
Blueward Porter – American Porter
Alarmist Brewing Co. (Chicago, IL)
Pantsless Pale Ale – American Pale Ale
Skewmageddon – Oatmeal Stout
Aleman Brewing Co. (Chicago, IL)
DayMan – India Pale Ale with Coffee
VenkMan – Double Pale Ale with Tangerines
Alter Brewing Co. (Downers Grove, IL)
Alterior Motive – American India Pale Ale
Longman – English Pale Ale
Angry Orchard (Cincinnati, OH)
Crisp – Cider
Arcade Brewery (Chicago, IL)
Winter Slayer – Oat Wine Ale
Grapefruit IPA – American India Pale Ale
Around the Bend Beer Co. (Chicago, IL)
Puffing Billy – American Brown Ale
Mr. Marmalade – Double India Pale Ale
Baderbräu (Chicago, IL)
South Side Pride – Munich Helles Lager
High Nooner – Hefeweizen
Ballast Point Brewing Co. (San Diego, CA)
Deadringer – Oktobefest
Homework #6 – Robust Porter
Band of Bohemia (Chicago, IL)
Black Forest Porter – American Porter
Pear Fenugreek Ales – Fruit Beer
Banging Gavel (Orland Park , IL)
Red Handed – Irish Red Ale
Juror 8 – Hibiscus India Pale Ale
Bell's Brewery (Kalamzoo, MI)
Roundhouse India Red Ale – India Red Ale
Brett Berlinerweiss – Berliner Weissbier
Double Cream Stout – Imperial Cream Stout
Oatsmobile Ale – Oatmeal Pale Ale
Boulevard Brewing Co. (Kansas City, MO)
The Calling – Double India Pale Ale
Tropical Pale Ale – American Pale Ale
Brewery Ommegang (Cooperstown, NY)
Rosetta – Fruit Ale
Collaboration 2016 – Doppel Bock Ale
Brickstone Brewery (Bourbonnais, IL)
APA – American Pale Ale
Forbidden Wheat – Witbier
Buckle Down Brewing Co. (Lyons, IL)
Fritzicuffs – German Style Pilsener
Shady Aftermath – Robust Porter
Burnt City Brewing Co. (Chicago, IL)
Oktoberfest – Marzen
Face Melter – Hibiscus India Pale Ale
Cademon Brewing Co. (Genoa, IL)
Eve's Tuition – Peanut Butter Porter
Woah Black Cherry – Black Cherry Pilsener
Autumn Ambassador – Hefeweizen with Cider & Spices
Cahoots Brewery (Chicago, IL)
AmEn! – Barleywine
Warm Fuzzies – Imperial Spiced Winter Ale age in Maple Syrup Bourbon Barrels
Church Street Brewing Co. (Itasca, IL)
Itascafest – Marzen
Bob's Your Dunkel – Amber Lager
Coney Island Brewing Co. (Brooklyn, NY)
Hard Root Beer – Spiced Beer
Hard Orange – Cream Ale
Hard Cherry – Cream Ale
Crystal Lake Brewing Co. (Crystal Lake, IL)
Midnight Harvest – Black India Pale Ale
Wake Maker – Session India Pale Ale
Dark Horse Brewing Co. (Marshall, MI)
Crooked Tree IPA – American India Pale Ale
Tres Blueberry Stout – American Stout
Destihl Brewery (Normal, IL)
Wild Series Plum Stout – Plum Sour Stout
Vertex IPA – American India Pale Ale
Emmett's Brewing Co. (Downers Grove, IL)
Worlds End IPA – American India Pale Ale
Peace Keeper – American Wheat Ale
Empirical Brewing Co. (Chicago, IL)
Infinity IPA – American India Pale Ale
Chromatic – Imperial Red Ale
Evil Horse Brewing Co. (Chicago, IL)
Lupulor Equinox – Double India Pale Ale
Schottenhamel – Oktoberfest
Charging Bull – Weizenbock
Exit Strategy Brewing Co. (Forest Park, IL)
Posthumulus – American India Pale Ale
Valleaudated – Milk Stout
Farmhaus Cider Co. (Hudsonville, MI)
Raspotle – Cider
Hop Crop – Cider
Finch Beer Co. (Chicago, IL)
Heroic Doses – Imperial India Pale Ale
Taco Cat – Kettle Sour
Founders Brewing Co. (Grand Rapids, MI)
PC Pills – American Hopped Pilsner
Breakfast Stout – Imperial Coffee Stout
Goose Island Beer Co. (Chicago, IL)
Sticky Feathers – American India Pale Ale
Illinois – Double India Pale Ale
Green Flash Brewing Co. (San Diego, CA)
Alpine Hoppy Birthday – American India Pale Ale
Passionfruit Kicker – Amerian Pale Wheat Ale
Half Acre Beer Co. (Chicago, IL)
GoneAway – American India Pale Ale
Lagertown – Oktoberfest
Benthic – Imperial stout aged in bourbon barrels with toasted coconut and coffee added
Hopewell Brewing Co. (Chicago, IL)
Big Adventure – Double India Pale Ale
Farm and Family – American Saison
Illuminated Brew Works (Chicago, IL)
Pazuzu's Pedals – Farmhouse Porter
Brainwash – Tart Farmhouse
Lagunitas Brewing Co. (Chicago, IL)
IPA – India Pale Ale
Dark Swan – Sour Ale Brewed with Dark Red Wine Grapes
Tuberfest – Hoppy Oktoberfest
Brown Suggs – American Strong Ale
Night Time – Black India Pale Ale
Born Yesterday – Fresh Hopped Ale
Fusion 39 – Hoppy ale with Tangerine Peel, Grapefruit and Lemon
Highwest – Barrel Aged Imperial Stout
I Think I Was Rich – IPA with Sour Cherries and Kiwi (Cask)
The Writer Wants White Peppercorn So We Put In Some Peppercorn – IPA with Orange Zest, Tangerine and White Peppercorn (Cask)
Lake Effect Brewing Co. (Chicago, IL)
Falcon Dive IPA – American India Pale Ale
Wine Barrel Aged Ale – American Ale with Michigan Tart Cherries
Left Hand Brewing Co. (Longmont, CO)
Extrovert IPA – American India Pale Ale
Pride Runs Deep – American India Pale Ale
Lucky Monk Brewing (Barrington, IL)
Solitude – Oatmeal Stout
Monkin' Ale – Pumpkin Ale
Confessional IPA – American India Pale Ale
Maplewood Brewing CO. (Chicago, IL)
Charaltan – American Pale Ale
Chrusinator – Session India Pale Ale
Marz Community Brewing (Chicago, IL)
Bridgeporter – American Porter
Lifestyle Berliner – Berliner with papaya and yerba mate tea
Metropolitan Brewing Co. (Chicago, IL)
Flywheel – Pilsener Bier
Magnetron – Schwarzbier
Middle Brow Beer Co. (Chicago, IL)
Karin – Blended India Pale Ale
White Heat – Pepper Witbier
Motor Row Brewing Co. (Chicago, IL)
Reclamation Lager – Munich Helles Lager
Dry Humor – Belgian Honey Wheat
Myths and Legends Brewing CO. (Westmont, IL)
Cooper's Parachute – West Coast India Pale Ale
Mug Shot – Rye Porter
New Belgium Brewing Co. (Fort Collins, CO)
Le Terrior – Dry Hopped Sour Ale
Citradelic – American India Pale Ale
Noon Whistle Brewing (Lombard, IL)
Cozmo – American Pale Ale
Bernie – American Milk Stout
Oak Park Brewing Co. (Oak Park, IL
Frank Llyod Rye – Rye American India Pale Ale
TBD – American Brown Ale
Oddside Ales (Grand Haven, MI)
Citra – India Pale Ale
Bean Flicker – Blonde Ale
Old Town Abbey (Chicago, IL)
Belgian Style Double – Belgian Dubel
Belgian White – Witbier
Penrose Brewing Co. (Geneva, IL)
Tripel – Tripel
P-2 – Belgian Pale Ale
Perennial Artisan Ales (St. Louis, MO)
Hommel Bier – Belgian Ale
Von Pampelmuse – Wheat Ale
Pipeworks Brewing Co. (Chicago, IL)
Lizard King – American India Pale Ale
Blood of The Unicorn – Hoppy Red Ale
Session 1 – Sunburst Peacock – Imperial IPA w/ Honey, Guava and Citra Hops
Session 2 – Double Creature Festure – Double IPA (Toppling Goliath Collaboration)
Pollyanna Brewing Co. (Lemont, IL)
Lemont VS. Everybody – Sour Rye Saison
Eleanor – American Porter
Second Anniversary Lager – Rauchbier
Prairie Artisan Ales (Tulsa, OK)
Bomb! – American Imperial Stout
Prairie HOP – Saison
Prairiekrafts Brewing Co. (Buffalo Grove, IL)
Midnight Stampede – Black India Pale Ale
Buffalo Horn – Berliner Weiss
Revolution Brewing Co. (Chicago, IL)
Oktoberfest – Marzen
Jukebox Hero – American India Pale Ale
Right Bee (Chicago, IL)
Right Bee Cider – Cider
Samuel Adams (Boston, MA)
Boston Lager – American Lager
Juiced IPA – American India Pale Ale with Mango
Short's Brewing Co. (Bellaire, MI)
Sticky Icky Icky – American India Pale Ale
Key Lime Pie – Experimental Ale
Sketchbook Brewing Co. (Chicago, IL)
Smokey Jack – Saison brewed with Smoked Pumpkins and spices
Turbulence – Imperial Stout with bourbon infused cocoa nibs and coffee
Smylie Brothers Brewing Co. (Evanston, IL)
Cali Common – California Common
Who the Funk is Brett Pulver? – Rye Saison Aged in Pinor Noir Barrels w/ Brettanomyces
2016 Bourbon Barrel Aged Belgian Strong – Barrel Aged Belgian Strong
Solemn Oath Brewery (Naperville, IL)
Snaggletooth Bandana – American India Pale Ale
Butterfly Flashmob – Belgian India Pale Ale
Punk Rock For Rich Kids – Belgian Pale Ale
LÜ – Kolsch
Radth – Blonde Ale aged in Chardonnay Barrels
Soundgrowler Brewing Co. (Tinley Park, IL)
Cave Dope – Imperial Stout
Blood Sacrifice – American Amber Ale
60/40 – American Double India Pale Ale
SweetWater Brewing Co. (Atlanta, GA)
Squeeze Box – India Pale Ale
Hash Brown – American Hopped Brown Ale
Tangled Roots Brewing Co. (Ottawa, IL)
Pale Ale – American Pale Ale
West Coast – American India Pale Ale
Temperance Beer Co. (Evanston, IL)
Escapist IPA – American India Pale Ale
Free Dive IBA – American Black Ale
Ten –Ninety Brewing Co. (Glenview, IL)
Half Wit – Witbier
Ninety Feet From Heaven – American India Pale Ale
Traveler Beer Co. (Burlington, VT)
Jack-O – Pumpkin Shandy
Illusive – Shandy
Two Brothers Brewing Co. (Warrenville, IL)
Northwind – Imperial Stout
Hop Centric – Double India Pale Ale
Uncle John's Cider Mill (St Johns, MI)
Apple Cranberry – Cider
Apple – Cider
Virtue Cider (Fennville, MI)
Michigan Brute – Cider
Michigan Harvest – Cider
---