No Comments
2 Days, 2 Nights | South Bend Craft Beer Scene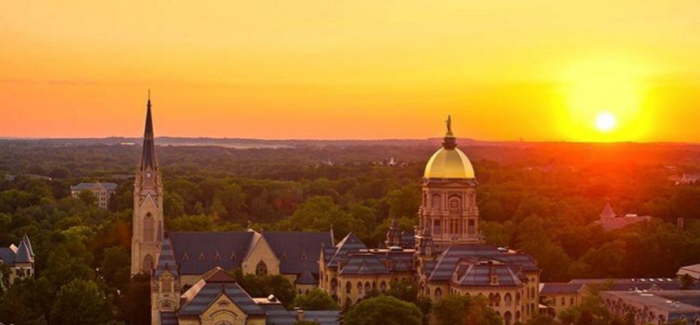 Notre Dame isn't the only source of gold in South Bend; there are plenty of pint glasses filled to the brim with golden lagers and ales, too. Not to mention, barrel-aged barleywines, stouts, and everything else one can imagine are all being served in Northern Indiana.
Even if you loathe the Fighting Irish, South Bend (90 miles east of Chicago) offers craft-beer geeks and college football fans a unique experience that includes great beer, terrific food, the College Football Hall of Fame, a gorgeous walk through Notre Dame's campus and its awe-inspiring cathedrals and plenty of pageantry, notably when the military academies visit.
How do you get to South Bend?
Well, most people arrive to South Bend via Chicago, but South Bend's International Airport is sizable (it handles one million travelers annually), and it's the only U.S. airport to offer air, intercity rail and interstate bus service all in one spot. Delta and United Airlines travel to South Bend, and you can even take a small plane from Chicago to get there.
South Bend is a mid-sized city, but the presence of Notre Dame means the town offers visitors plenty of lodging choices. Also, Uber drivers are everywhere. But, because it is a smaller city, almost everything is easy to get to!
Friday Evening/Night
South Bend Brew Werks



216 S Michigan St, South Bend, IN 46601
(574) 334-0356
You've just arrived. You're hungry. You're thirsty. Time to head to South Bend Brew Werks, located in downtown South Bend. The small-batch brewery comes equipped with 10 taps that rotate regularly. Expect a few staples such as Black IPA, Smoked Porter, Amber Ale, Wheat and Oatmeal Stout, but the rest of the taps will be filled with seasonal and innovative creations.
The best part of buying beer at this location involves South Bend Brew's commitment to charity; each pint sold results in $.50 being donated to local community partners.
As if drinking delicious beer that goes to a good cause isn't good enough, one can also enjoy some fine grub, including such beer-centric selections as Ragamuffin Spent Grain Soft Pretzel, Drunk Hummus and SBBW Beer Cheese soup.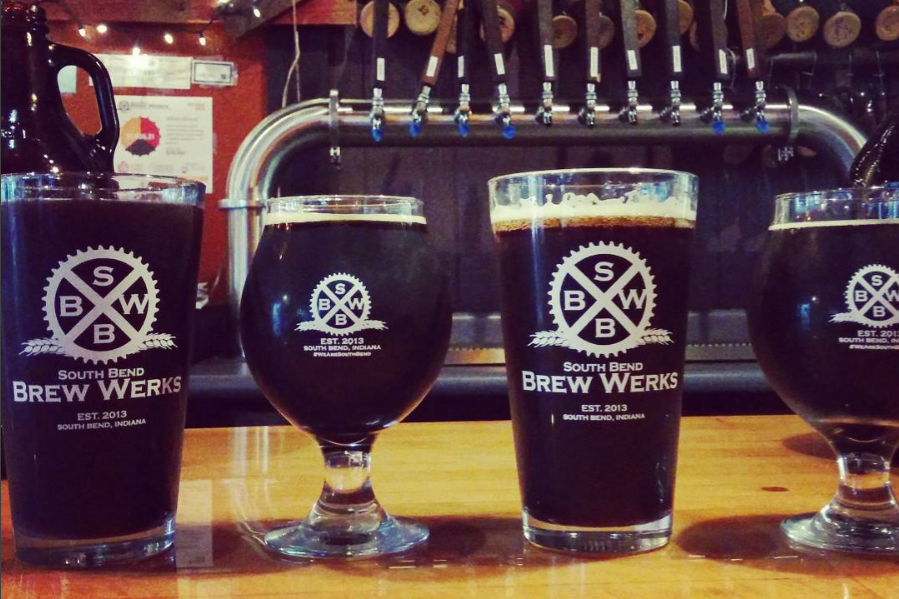 Friday Night/Saturday Morning (Midnight to 12:45 a.m)
Before heading back to your hotel, check out the Midnight Drummer's' Circle. With the famous Notre Dame Golden Dome as a backdrop, the Notre Dame band's percussion section performs a riveting, chilling show for forty-five minutes.
Saturday Morning
Love the Fighting Irish or hate them, the Notre Dame pre-game festivities are all about culture and tradition. Even those who could care less about football attend the the morning activities. For sure, check out the majestic Notre Dame Basilica of the Sacred Heart — a more gorgeous piece of architecture is hard to find. After that, head over to the College Hall of Fame. You won't be disappointed.
Saturday Midday/Afternoon
Mark Dine and Tap



1234 Eddy Street, Suite 111
South Bend, Indiana 46617
(574) 204-2767
If  you don't have tickets to the game, the next spot on your journey should be Mark Dine and Tap for beer and brunch. Mark Dine and Tap is located in the Eddy Street Commons across the street from the University of Notre Dame. You won't find just Guinness and Smithwicks here. In fact, they exclaim," Our beer selection is a compilation of the work of master brewers.  At The Mark we feel the craft of brewing is an art and we want to be able to offer our guests a glimpse of what true artists do…The brewers and staff have an "insatiable desire for everything beer. We are persistently searching out, researching, and tasting new craft and imported beers to add to our already delicious catalog."
They also happen to have amazing food. Indeed, they are the OpenTable 2016 Diner's Choice Winner. May I suggest Chicken in a Biscuit, Cinnamon Roll Bread Pudding, steak and eggs with cheesy potatoes or Berry Good Stuffed French Toast? And if you need a break from beer, enjoy a bloody mary or tequila sunrise, among many other cocktails they offer.
Saturday Night
Evil Czech Brewery was founded by George Pesek, a chef and restaurateur, so it is no surprise that the food and beer are both of the highest quality. Evil Czech Brewery explains, "The result is a line of fantastic hand-crafted brews that will match any mood you're in, and enhance any occasion you're celebrating. We don't just work here…we love beer and the art of brewing as much as you do..we believe life is too short to drink bad beer, but there's always time for Evil Beer!"
And what a cool selection of beer! Yes, Evil Czech serves IPAs and Pils, but also some innovative brews that include Camomile Wheat,  Vanilla Rye Porter, White Stout, White IPA and Mead!
Pair those beers with terrific food! A few examples:
Drunken Irish Nachos – smoked pork shoulder and pastrami, house-made IPA cheese sauce, pickled jalapeños, pico de gallo, beer battered fries

Parmesan Truffle Fries – fried rosemary, Pilsner truffle aioli

Fresh Baked Pretzel – beer cheese, brewhouse mustard

Pork Rib "Corn Dogs" – memphis dust pork rib, chipotle bbq sauce, sweet cornbread jacket, yellow mustard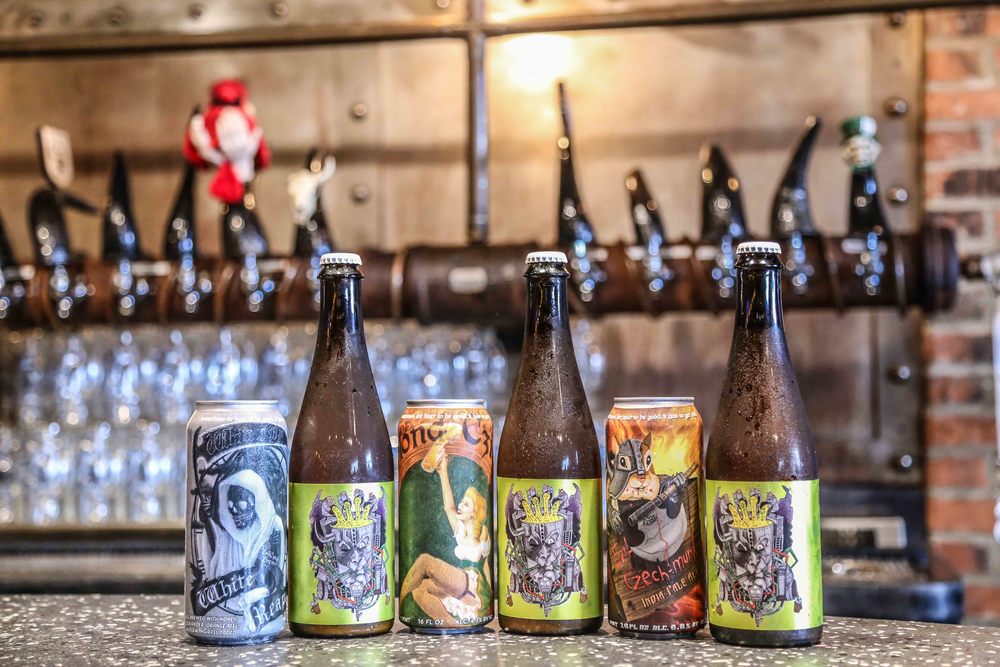 Sunday Morning (let's' face it, you were drinking on Saturday, so it's probably late morning)
Waking up on Sunday, you might need one more trip to a brewery. Of course you do. And that means you should make a visit to Crooked Ewe for award-winning beer and another fine brunch, which starts at noon.
Walking in the door, it should be obvious that the first words out of your mouth will be, "I'll try the Glasgow Butcher Scotch Ale." Why? It won the Bronze Medal at the 2016 World Beer Cup. After that the selection becomes a bit tougher, only because of the variety offered In September, 2016, the beer located in the barrels — not quite ready, yet — speak to the brewing style that is Crooked Ewe:
Wood Beast — Beast Barleywine aged in Journeyman Brandy barrels

Wee Heavy — Aged in Journeyman Rye Whiskey barrels

Barleywine — Aged in spent Journeyman Rye Whiskey barrels that have been aging Indiana shagbark hickory syrup
After you select your beer, order the brunch. A few suggestions include the Chicken & Waffle with barrel aged hot sauce, the Trucker (brisket, sausage, pork belly, and eggs with hoosier fries), Shrimp and Grits with pork belly, and my favorite – the Ganjang Tacos (pork belly, kimchi, egg, avocado, and cilantro).  They also have vegan selections, too.
On your way out of town…
…don't forget to stop by any one of a number of South Bend Chocolate Company locations (they have one at the airport, too). What more can I say than you'll be getting chocolate made by true chocolatiers who everyone in town swears by — why pass that up? Health? You've been drinking for two days, start the diet on Monday.
After all that beer and food, it's probably good to end the trip with some chocolate!
---