No Comments
Founders Pop-Up & KBS release April 3 | Tribes Beer Co. (Chicago)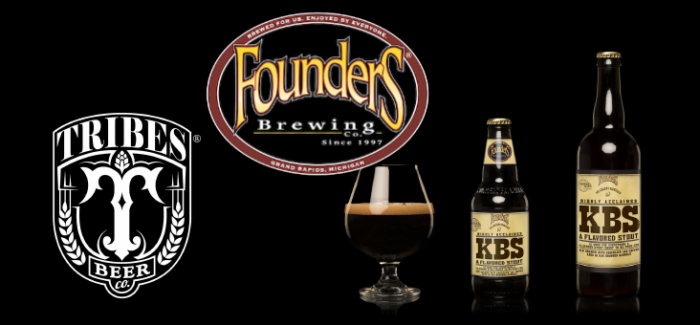 Founders Brewing is bringing its freshly-released KBS and the entire Grand Rapids experience to Tribes Beer Co., located in Chicago's southern suburb of Tinley Park, on April 3. Along with the 2018 KBS, there will be a special menu, live music and a host of highly regarded beers such as '17 KBS, CBS, Doom, Backwoods Bastard and Frootwood.
The event starts 5 p.m! All you need is an appetite and a thirst for good beer.
Founders' Sean Williams explained,"For KBS, we wanted something big, something unique. Chicago's north side often gets to host all the big events, but I think there is a ton of Founders support and excitement on the south side and in the south suburbs. And, Tribes has always been such a great beer place, such a good supporter of good beer and Founders. It just makes sense with Tribes, to do something this big and unique."
Along with the stellar lineup of beer, there will be a Founders-inspired menu, live music and plenty of Founders decor that will help transform Tribes into a Founders taproom.
The highlight, of course, will be the freshly released 2018 KBS Bourbon Barrel Aged Chocolate Coffee Stout (12.3% ABV). Unlike many breweries that release barrel aged beers during the fall, KBS has always kicked on/near April 1 (it kicks this year on March 30 to avoid a conflict with Easter). And, for those new to the craft-beer scene, Founders uniquely ages its Barrel Aged beers 85 feet below its brewery in caves that once existed as gypsum mines.
Each year, the KBS emerging from the caves offer fans subtle changes from the previous years' releases. Although one would have to have an incredible palate memory to confidently discern those changes, in my opinion. Though I have yet to taste the new release, some characteristics never change. The beer pours deep, dark brown with a gorgeous tan head — a beer pour that's downright sexy. Sweet caramel and bourbon aroma accompanies flavor notes consisting of creamy maltiness, a bit of chocolate and coffee and just a wee-bit of hoppiness. In fact, the delicate hoppy bitterness is a sublime addition that serves to gently offset the bigger boozy and sweet notes found in KBS.
Typical of BBAs, drinking the beer at a warmer temperature, say north of 50 degrees. allows for a greater boozy quality. If one prefers to mute the booze qualities, be sure to chill the beer before drinking.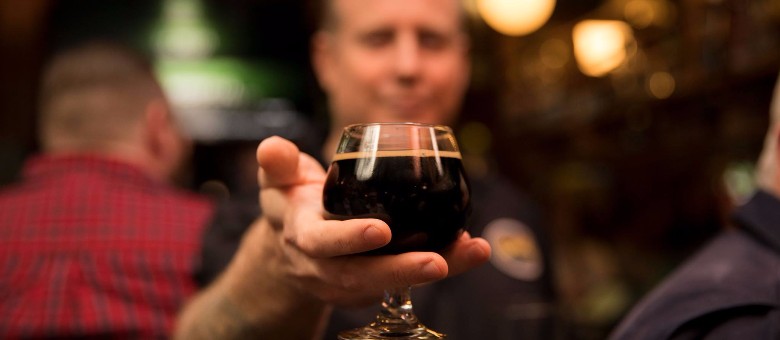 Meanwhile, the event is but a prelude to one of the many big things planned for the Tribes franchise this spring. In addition to its Tinley location and the original Mokena, IL brewpub, an 11,000+ square-foot brew house, taproom and outdoor garden space will open in the spring, also in Moknea.
Adding to its beer production at the original pub, three new 30 bbl fermenters were recently installed that will (soon) allow Tribes to increase production while simultaneously providing its fans with a truly majestic beer experience. Head Brewer Matt Voelker recently came to Tribes from Chicago's Revolution Brewing Brewpub. So, not only is he an exceptional brewer, but he's one that's well acquainted with the pub experience and a brewery operating in more than one location.
You can read more about the new space in a story I wrote a couple of months ago.

All told, there's plenty to love about this event for beer fans, from a metaphorical trip to Grand Rapids or a very real trip to a place that's always celebrated craft beer in a variety of ways. More simply, it's a day one can drink a heckuva lot of highly coveted beer.
---