No Comments
Three Floyds Evil Power Imperial Pilsner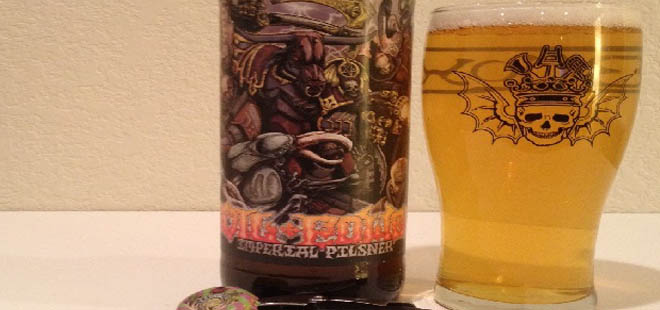 Avg. Reading Time:
1
min
Three Floyds Brewing  – Evil Power Imperial Pilsner

ABV: 7.2%
IBU: 56
"I hear voices . . . " resounds the first lyrics on the self-titled track, EVIL POWER, from Lair of the Minotaur's fourth release. Lair of the Minotaur (LOTM as they shall be known henceforth) and Three Floyds Brewing collaborated for this bottle of fearsome, full-palated deliciousness. After popping the crown cap, I am also hearing voices. These voices are telling me to find more Three Floyds Evil Power Imperial Pilsner and to hoard it like there is no tomorrow.
Three Floyds Evil Power pours a golden hue as the suds slowly roll out of the bottle with a substantial head forming that dissipates slowly in the glass. This beer has aged beautifully with dissonant waves of golden lager filling the glass with a symphony of sweet aromas. The nose of this behemoth Pilsner also forecasts bright, hoppy tones. This lager drinks smooth but with a lot of flavor. The flavors explode mid-palate with sweet citrus hops followed by malty breadiness.  Black tea and sawdust whirl around like a Midwest thrash-metal-barnburner of a mouthfeel. As the lager finishes, we find a dry balance both mystifying and, most excellently, delicious. Pilsners are never really my go-to beverage but this smooth drinking, flavor-packing tongue mangler hits the sweet spot on a warm night. All hail LOTM and all hail Three Floyds!