One Comment
Tennessee Brew Works: Welcome to Nashville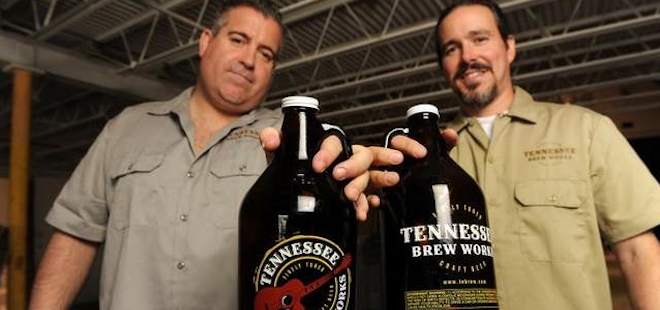 "Beer tastes better close to home," says Garr Schwartz, head brewmaster at Tennessee Brew Works, one of Nashville's newest almost-breweries.
The brewery, slated to open to the public in late September/early October, will be on Ewing (we're all wishing it were Brewing) Avenue, tucked in the corner of the newly named SoBro (South of Broadway), down the street (ish) from Jack White's Third Man Records. Schwartz co-owns the Brewery with Christian Spears, a bubbly, jovial beer lover originally from the East Coast. The two make a dynamic duo, Schwartz reigning in Spears' overflowing enthusiasm with sound, spot-on brewing knowledge.
Their brewery will be an expansive, two-story space, with tin roofing (actually their old roof) covering the walls, a sheet of glass that overlooks the deck, and a double-decker tasting room where patrons can peer directly into the brewery where the magic happens. They'll have some simple food — chips, soft pretzels, cheese plates — everything fresh and time stamped. And they'll have communal seating, forcing strangers to talk to other strangers and make some friends.
"The point is to make everyone a part of the experience," Spears says about the taproom, which won't have servers — if you want a beer, you go up to the bar and grab one, or a beer runner may be able to bring it to you. Either way, this place is about tasting good beer while watching it all happen.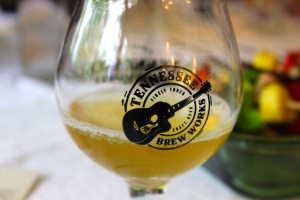 "You can drink beer, and you can smell the beer. You can hear all the noises… You can be part of it," Spears explains. Garr Schwartz, head brewer, got his beer chops from homebrewing batch after batch, trying to   make beer that he liked while also trying to craft beer that his wife didn't mind either. After originally meeting Spears through their work in finance, the two decided to start their own brewery back in 2010.
The other possibility became clear when Schwartz was bottling beers during the Nashville flood of 2010, and his friends were practically stealing it from him. "We're brewing this beer, and people are coming over left and right, and they're really trying to get him [Garr] to part with this beer…"
So, they started talking about launching a brewery. With the brewing backbones and the business know-how, the two were a pretty good match. Up until recent years, Yazoo and Blackstone were essentially the only breweries around, but a recent resurgence in craft beer interest and brewing talent has brought Jackalope, Czann's, Fat Bottom and others into the arena (Black Abbey, Little Harpeth, and Tennessee Brew Works are all in the works.)
After spitballing together and buying up domain names, the guys got their families together to explain that they were about to turn their lives upside down. Sorry! Spears and Schwartz say their families were behind it, but the transition from steady income to what-the-hell-are-we-doing was a tough one. When you're starting a brewery, there are "no paychecks [coming in], but you're writing paychecks," the guys say. "You've got to really believe in it."
For Nashvillians, it's exciting to have talented brewers coming into a city who do believe in the town, the beer and the industry as a whole. And, since we all know that Nashville is obsessed with itself, it's exciting to have some new neighbors on the block — especially those who know the ins and outs Tennessee's fastidious beer and liquor licensing laws. At the brewery, there's Tennessee Brew works LLC, which is the actual brewing space in the brewery and there's also the TennesseeTaproom, where the actual tasting room is hosted. And, there's your growler station, which is a separate, tiny space, where people can fill up for take-away beer. Unlike many local breweries, TN Brew Works will be featuring high gravity options later on.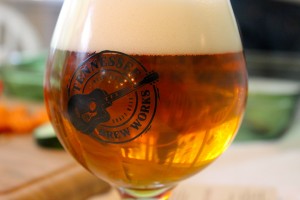 When I visit the brewery, Schwartz and Spears are trying to get a water line fixed, wrap up construction and get the first batch of beer brewed. We waltz through the brewery, looking at their ultra-efficient set up, which allows them to use less water and do less manual cleaning than most breweries. The cite breweries like Sweetwater in Atlanta and New Glarus Brewing in Wisconsin as being sort of inspirational mentors in their process of creating their brewery and taproom concept.
"The taproom always gets a little bit loco, because we always take things too far," which may explain why it's taken them a bit of time to get things underway—or perhaps that's mostly due to their difficulty finding real estate when they first got started.
But, with most of the kinks being worked out, the duo hope to meet with the beer board at the end of September or the first week of October.
"At the end of the day, it is a tasting room. It is all about the beer; it is about showcasing the beer …Maybe someday we'll be distributing beers all over the country, but our goal is to be one of the best regional breweries in the Southeast — in this region. And that's why we're called Tennessee Brew Works."
As of September 2, the guys are full steam ahead. They're open, just not to the public yet. They'll be at the Taste of Tennessee on September 6 weekend, and they'll be at Live On The Green September 12.  Last time I stopped by, the guys were brewing furiously, plunking away at computers and trying to tie up some of the loose ends.
"The Extra Easy Ale is just about ready to go, and The Cutaway and Basil Ryeman are just behind it," Spears tells me — which means Nashvillians are seriously close to getting some new local beer in their hands.  Plus, you can look for drafts from the guys at M.L. Rose, Craft Brewed and The Filling Station soon.
Here's a cheat sheet of their beers, which, for the record go really well with food. Or so they claim (Kidding, Spears says that Schwartz has a knack for brewing beers that are complex but approachable, and that typically pair much better with treats in hand.)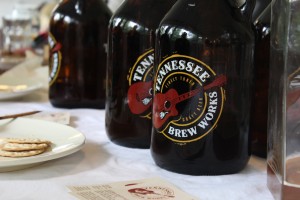 Southern Wit
ABV: 5.14%
IBU: 14.5
This beer uses wheat & pilsner grains with Mt. Hood, Tettnag and Saaz hops. The brewers say that it offers "spring floral aromas complemented by orange, pear, and honey. It finishes smooth and citrusy," and is an "excellent summer beer."Pair it with some shellfish or mild cheese. Or both, at the same time.
Extra Easy
ABV: 5.25%
IBU: 39
This English Pale Ale or Extra Special Bitter (ESB) is, "easily quaffable." It's dominated by "caramel and stone fruit esters," and goes great with light appetizers and white fish.
Basil Ryeman
ABV: 6.25%
IBU: 28
While first and foremost boasting a really great pun playing off local Nashville venue, The Ryman, this beer is a Farmhouse Ale/Saison. It's got the highest ABV of any beer on their menu, and the guys describe it as "creamy, spicy," and with "hints of fruit." They'll tell you to enjoy it with Italian or Thai food–or pretty much any dish that complements the basil seasoning. I don't know about you guys, but I've never had a basil beer, and I'm pretty excited to try this one.
Cutaway
ABV: 6.0%
IBU: 60
Another great music city name, this IPA has an "obvious citrus bouquet of grapefruit, and lighter notes of tangerine and orange." As is their style, Tennessee Brew Works goes for beer that pairs well with food, and they'll tell you to sip on this one with some spicy eats.
Country Roots
ABV:6.0%
IBU:37
This beer is a sweet potato stout, so I don't know what else I really need to say about. But, they actually put baked sweet potatoes in with the grains to create a "complex, silky smooth stout with prominent presence of coffee and dark chocolate." Drink this with your desserts, friends.
So, may we let the countdown begin until the day Tennessee Brew Works opens their doors to the Nashville public.
All photos from this article come from the beautiful and talented Claire Gibson, who talked to the TN Brew Works guys a while back, wrote about them and took some great pics. Be sure to check out all of her work at www.clairegibson.com, and don't bug her too much, because she's currently working on a book. As for me, I'm Liz Riggs. And you can read other stuff I write on www.lizriggs.com.