3 Comments
Sol | Summertime Cerveza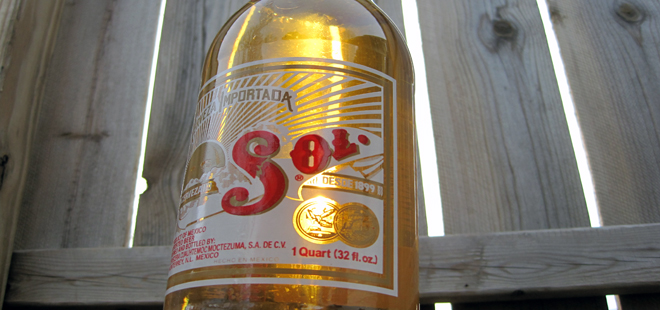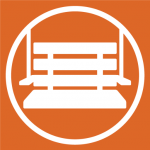 4.5% ABV
Mexican Golden Lager
Craft beer has been my pride and joy over the past year and the beers just keep on coming. The only problem with this is that I find myself only buying craft beers – meaning I hit the title of "beer snob". This is not an entirely bad thing, but I feel like I am not being fair to all the other beer out there – which is just not cool. Now, I do realize that Sol from Cervecería Cuauhtémoc Moctezuma, S.A. de C.V. is not a typical beer that we would write up on PorchDrinking, but it is one that I personally enjoy, and absolutely love on a hot summer day. Sol, which means sun in Spanish, is a Corona-like beer, but is one that not as many people have learned to love and enjoy. For a brief history click here.
Two summers ago, before I dove head first into craft beers, I did a lot of work outside my house. A new back patio, privacy fence, fire pit, and lots of landscaping and I learned to really enjoy light, refreshing beers after and sometimes during a long hard day outside. Today, many of my favorite beers are IPA's and stouts, and as many of you know, they are not typically the lowest ABV beers. Therefore they may not be the best choice after sweating your ass off all day long.
Sol was first introduced to me by my fiancée. She had just gotten back from a month long trip to Mexico, and this was her favorite beer while she was there. For the longest time, it was not available here in Ohio, but one day I was looking around at my favorite grocery store, Jungle Jim's, and noticed a 32 oz. container of Sol on the shelf. So of course I picked up a few bombers, and surprised my fiancée and her family – they were ecstatic. Since then, I have seen it popping up around the area in bombers, variety packs of Mexican beers, and 6 packs at a select few shops. For those of you who love Corona with lime – try it, and I promise you won't be disappointed. For the rest of you who think beer like this is for girls and/or not worthy of being consumed, I am sorry for your loss – go sweat your balls off for a few hours, crack one open, toss in a lime wedge, and get back to me then.
Sol should be enjoyed straight from the bottle with a lime wedge. If you feel the need to pour it into a glass, that will work as well, but I find it unnecessary for this beer. Check out this youtube video, for a brief tutorial of placing a lime into a beer bottle.
Sol is golden in color, and reminds me of what the beer is named for – a beautiful sun. I picked up notes of yeast, faint honey, and a hint of grain and corn. Overall, this beer has a simplistic nose, with a taste that follows suit – which is why the lime accentuates the beer so well, and why this beer goes down so easy.
Readers, my night is finally coming to an end. The sun (sol) is going down, and my bottle of Sol is bone dry – 32 oz. down and I could probably handle one more. My favor of you, is to comment on this article and list a few of your favorite summer brews – whatever they may be. I need to add a few more beers to my must-have summer collection, and input from fellow beer lovers is the perfect way to accomplish such a task. Enjoy your summers and the sol (both the beer and the sun of course)!