No Comments
Perennial Artisan Ales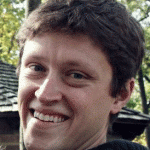 Having recently moved to the St. Louis area, I've been looking forward to checking out the craft beer scene. My best friend Dave was on a cross country road trip from New Jersey to San Diego and planned to spend a couple days here. Naturally beer was on the menu and we ended up one evening at Perennial Artisan Ales. Hooray!
Blindly following the navigation system, we cruised through an industrial part of town looking for what I'd heard was an old Coca-Cola factory. What we found was The Temtor, a modern updated campus using the entire plant as a combination of loft apartments with commercial space spread out on the first floors. Rad.
Perennial opened in Fall 2011 and, according to the friendly bartenders, has been getting continually busier. Owners Phil and Emily Wymore have the kind of story that I believe most beer lovers envision when they toss around the idea of opening their own brewery. According to Emily,
"We both worked at a small brewpub in Columbia, Missouri and this is where Phil decided he wanted to pursue a career in brewing. He sent his resume to Goose Island and after deciding we were moving to Chicago, he called the Goose office, set up an interview for the next day and was hired on the spot. We moved to Chicago two weeks later. He was promoted to Cellar Manager and managed the barrel program for a year and a half. He was then hired by Half Acre to be their Head Brewer, where he stayed for a year. Then we moved to Saint Louis in 2010 to open Perennial!"
Walking inside we were greeted with comfy couches, a glimmering copper bar, tables and darts. There was also a faint yeasty aroma in the air which really completed the welcoming atmosphere. Dave and I pulled up to the bar to get started.
Abraxas Imperial Mexican Chocolate Stout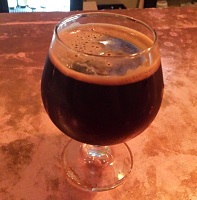 ABV: 10.00%
In our excitement to imbibe, we made the rookie mistake of going whole hog out of the gate. Perennial offers either full pour or tasting sizes. Naturally, we went for the full pour, which, at 10% ABV made for a nice head rush. Brewed with white ancho chilis, cacao nibs, vanilla beans and cinnamon sticks, Abraxas had a deep brown color with a smooth, thick mouth feel. There was also a clear dark chocolate flavor running about. #Glorious. Worth noting is the fact that the vanilla beans are hand-scraped with the chilis and cinnamon sticks getting pureed on site. No artificial ingredients or extracts here.
When we asked one of the bartenders, Pete, about the slight alcohol aftertaste he explained the unique aging characteristics of this brew. The particular batch we were tasting was high on the yeast and quick to the tap leading to this particular flavor. A friend of his had recently opened a 1 year old bottle that overflowed with cinnamon notes. When Pete opened while his own, 2 year old bottle, did the same but with vanilla.
Last thing about this one is the unusual name – Abraxas. Another barkeep, Ilya, turned out to be one of the seven brewers and was able shed some more light on this. Though the name of a Santana album, the real reason comes from an ancient, mystical system of the Gnostic Basilides. Emily explained they were looking for a powerful name to go along with a beer of this nature. I'd say they nailed it.
Black Walnut Dunkel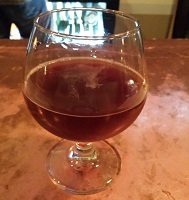 ABV: 6.60%
Being partial to dark beers, this was an easy second choice as Dunkel is German for dark. Brewed with Missouri black walnuts, this beer had a dark red amber color and a crisp aroma. Perennial uses 250 pounds of these nuts to soak the beer on before packaging which explains the satisfying walnut taste.
Companion Soft Pretzels with Spicy Mustard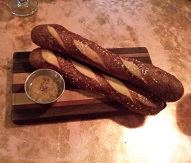 CBV (Carbs By Volume): Plenty
I'm a sucker for fancy brewpub food menus like Perennial's Hand Pie of Flaky Pastry with Pulled Pork. Having just gorged on local BBQ, I couldn't handle a pie but who doesn't love good food with good beer? Served hot, the pretzels were crispy on the outside, chewy on the inside and came with a ramekin of snappy mustard. Very tasty.

Saison De Lis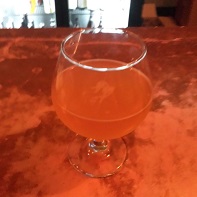 ABV: 5.0%
At this point, we wisely switched to the taster size which not only slowed down the buzz but also eased the wallet at only $2 per glass. That being said, I was starting to feel it so my descriptions from here on are, um, less detailed. This farmhouse style ale is brewed with chamomile and had that tinted peachy color you might find in a cup of tea. It's fruity notes gave it the feel of a refreshing summer beer.

Hommel Bier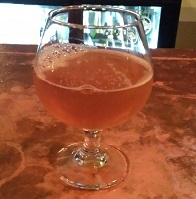 ABV: 5.9%
This was a dry hopped Belgian pale ale with a nice herbal aroma and hoppy flavor. I can't say I'm a hophead but I learned that dry hopping is the process of adding hops after the wort has cooled. I can say that it gave this brew a nice balanced flavor without being bitter. My brother, Tyler, and I were discussing our thoughts on hoppy beer and he pointed out that there seems to be balanced hoppy like the Hommel and bitter hoppy which we both agreed was not a favorite.
La Bohème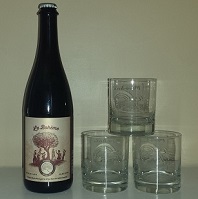 ABV: 6.0%
As we wrapped up our adventure, bartender Pete made a great sales pitch for a take home prize. As he described the bottle options on display behind the bar, I settled on La Bohème. This wild ale is barrel aged for 2 years in wine barrels with tart cherries from Michigan. I have yet to sample a wild ale so it was a no brainer Though currently closed, it will be opened shortly when my brother and dad come to town for a visit. Hashtag me excited.
Ginkgo Leaf
The last item on my list was to find out the story behind Perennial's logo. I'm a fan of unique design and their logo fits that bill. Though I found out the centerpiece is a gingko leaf, I did not find out the meaning behind it. A story for another visit.
Follow Niel on Twitter @WaveTrainLLC