One Comment
The Brooklyn-Stockholm Connection | New Carnegie Brewery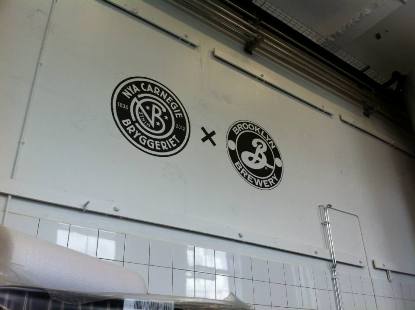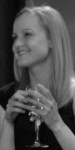 "It's like I was given a new puppy," my husband says, as he sips his beer, "and then someone takes it away from me."
The new puppy was a beer called J.A.C.K., the signature brew from the New Carnegie Brewery, a collaboration between Brooklyn Brewing and Carlsberg.
Why were we so upset sipping this refreshing, slightly piney, 4.5% dry-hopped IPA? Because we were in Sweden. And so was this beer.
New Carnegie, or Nya Carnegiebryggeriet, has been open since February, and they are already producing some of the finest, most drinkable beers I have tasted on either side of the Atlantic. This exciting cross-continent marriage between Carlsberg and Brooklyn is a great development for anyone who loves history, loves innovative and refreshing beer and just wants to see how geography truly influences beer styles.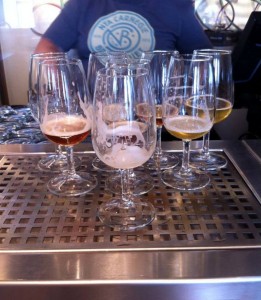 The New Carnegie Brewery is only about a 15 minute taxi ride south of the main train station in Stockholm. It's in an old lightbulb factory in a refurbished-looking office park, near condos that overlook the waterways of the city. It's a quiet area, notably in comparison to the traffic, construction and tourists sites to the north. The facility isn't large, but it has a private dinner room, a full restaurant, space for bottle production and a beautiful outdoor patio along the water. All production systems are shining, clean and you can sense a Scandinavian efficiency throughout. Next to the stainless steel, though, is evidence of cross-continental history: There are casks of Woodford Reserve, waiting for their respective beer for aging. Since opening, New Carnegie's four brewmasters have been experimenting with historic yeasts, old recipes and barrel aging.
What's the Brooklyn-Stockholm connection? Carlsberg imports Brooklyn Brewery's beer; we saw the New York-based beer on tap throughout Stockholm. Carlsberg also owns the trademark to Carnegie, which is known for a historic Baltic porter, Carnegie Porter. According to the Carlsberg Group, the Carnegie Porter has been available since 1836.
In comparison, Brooklyn Brewery has only been open in New York since 1996. Under brewmaster Garrett Oliver, the company has driven much of America's newfound love of craft beer, and now is leading the trend to bridge old and new beer worlds.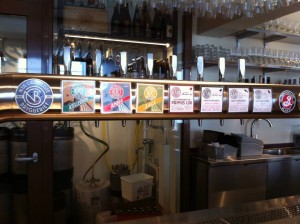 Christian Eikner, the brewery's bar manager and brand ambassador, gave us a thorough tour of the facility, including letting us taste the Kellerbier straight from production, comparing gravity-poured to what was on tap in the tasting room. Eikner said that each Wednesday, visitors can enjoy a gravity-poured brew. He also outlined (rather, made us salivate at) some highlights from the restaurant's menu, which changes daily and includes such selections as rooster with chanterelles and summer truffles.
Oliver has been to the facility about eight times this year, Eikner says, and the Swedish brewmasters are teaming up to send certain brews to Brooklyn.
What we loved:
J.A.C.K. (4.5% ABV): An IPA with a "snappy pine finish," dry-hopped with American and British hops. Named after the Swedish brewing team: (J)osefine, (A)nders, (C)hristopher and (K)arl.
Kellerbier (5.9% ABV): This lager is perfect for a summer evening, but the higher alcohol content will keep you a bit happier than it's friend, J.A.C.K.
Amber (4.8% ABV): It's a British bitter and is malt-forward. Fermented for one week and matured for three, it has a citrus hop finish.
Soleil (4.7 % ABV): This classic Belgian session style is named after French word for "sun." Slightly bitter, it carries a fitting hazy, golden color.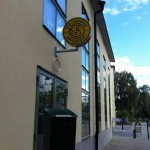 What you'll notice with New Carnegie's selections: Beers here are far less hoppy, have much lower ABV percentages. We were drinking seasonal, summer brews, but even the dark saison comes in 7% ABV (and has three types of pepper in its flavor profile). You won't find bottles of New Carnegie throughout Stockholm quite yet, but you can find it on draft at nearby restaurants, like the amazing brewpub Akkurat, which fittingly sports an overwhelming Brooklyn vibe.
Tasting these beers on the edge of the waterways in Stockholm, learning about the history of Kellerbiers and the development of the brewhouse, I knew we had struck gold on this trip. I only wish we could have packed up all that goodness into our suitcases, back with us to the states.