No Comments
CANvitational hosted by Sun King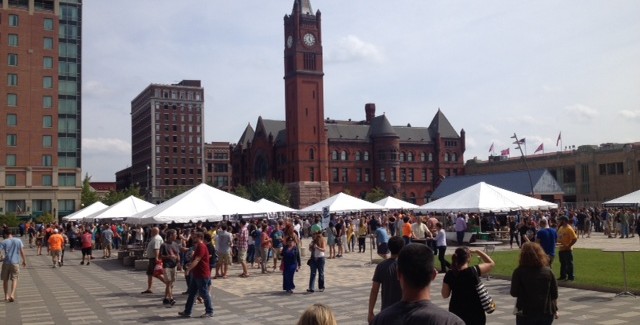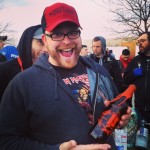 This is the second annual CANvitational hosted by Sun King Brewing Co in Indianapolis IN. As the name might suggest, a festival that celebrates canned beer throughout the craft community. This brings beers from all around the US to our beautiful city. It's an awesome opportunity to try some beers that aren't distributed in the area. If you are new to beer, or haven't spent hours walking through a liquor store while on vacation this festival is a must attend. Some of the breweries included Ska, Cigar City Brewing Company, West Six, Rhinegeist, Revolution, SanTan, and dozes of others. Indianapolis hosted dozens of breweries that we don't get on a regular basis.
After having such a great time at CANvitational last year, I was pretty excited for this year. The weather was perfect and Georgia Street is just an amazing venue. For those of you who haven't spent much time in Indianapolis, Georgia Street was redone for the Superbowl when Indy hosted. It was fitted with built in heating units and it sits perfectly between Bankers Life Fieldhouse where the Pacers place and Lucus Oil Stadium where the Colts play. It is the heart of Indianapolis's restaurant and bar scene and has a pretty great view of the city. It's cool to be drinking downtown with the city all around you.
Some of my personal favorite breweries like Cigar City, Rhingeist and Surly bring their basic lineups and now with the invention of crowlers, large cans that replace 32 oz growlers, some of these breweries were able to bring special releases. The special releases were the one thing that this festival was missing last year.
Since this is Sun King's festival they had better bring their A game. Lucky for us they did a great job. Sun King showed up with a couple different King's Reserve beers including one of my personal favorites Lonesome Dove. They also brought Grapefruit Jungle. Although this is an awesome beer, it was a little bit long in the tooth by now. I appreciate that they were trying to bring something special, but I feel bad for anyone who had old GFJ as their introduction to the beer.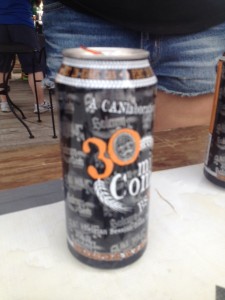 For me, one of the highlight was this year's collaboration which was with Solemm Oath out of Naperville, IL. Solemn Oath is known for bringing awesome Belgian flavors to inventive American beers. They called this collaboration, 30 Minute Coma, a Belgian session IPA. The beer was outstanding. The beer was light and summery with a nice American citrus hop flavor and a light Belgian yeast character. It was a nice blend of the two styles and had a great IPA punch even though it was a lighter beer. As fall is just around the corner and it's already getting colder here in IN, I'm not sure that I would have gone with a session beer, but at least it will be the best tailgate beer in the cooler.
I liked last year's Royal Brat collaboration with Three Floyds but I think this one is even better. Be on the lookout! this beer was released on Monday the 22nd in the Sun King tasting room. It's worth the trip to the brewery to make sure that you don't miss out on this awesome beer.
Other than Sun King these were my three favorite beers (in no particular order) that I hadn't had before:
Country Western II, a brown ale with Kentucky sorghum and aged in Kentucky bourbon barrels. brewed in collaboration by two awesome breweries in Lexington, Country Boy and West 6
Smog Rocket by Beavertown… with a name like that I had a hard time taking the brewery seriously but great lightly smoked beer. You can call yourself whatever you want if you brew beer like
10 Ton and Flying Rye by Warped Wing out of Dayton OH. Maybe I cheated a little bit here but they were both great beers. I am pumped to try and set up a trip to check this brewery out in person. Both of the brews were great and the people were great.
I was worried this festival would have a tough time staying fresh. Most of the breweries bring their basic lineups that you can find throughout their markets. This isn't bad but I worry about exciting beers coming to the fest. With the advent of the Crowler and all the new breweries that start canning every year I don't think this will be a problem. This year was a blast, and I can't wait to see what they bring next year!
Cheers