2 Comments
Cooking with Beer | Beer Sriracha aka Beeracha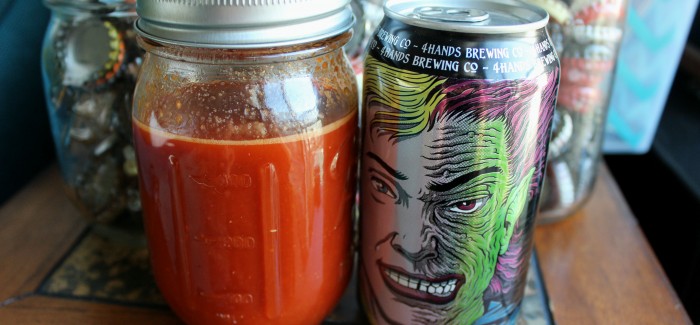 After Christmas, I spent a lovely twelve hours in the car driving from Missouri back to Denver. To keep me sane, I brought my friend and amazing photographer, Nate Polta, along for ride. As we made our way through the incredibly exciting plains of Kansas, I convinced him to help me brainstorm recipe ideas. Nate kept proposing I make stir-fries and beef dishes, mostly likely due to his recent return from Asia. Three or four suggestions later he said, "You should make beer sriracha!" … and so I did.
Since we were leaving Missouri with all kinds of great beer packed in the car, it only made sense that I use one of the delicious finds from my hometown. In the end, I decided on Alter Ego Black IPA from 4 Hands Brewing Company. I seriously love this brewery and Alter Ego proves once again that they can truly pump out some great beer. The flavors of the brew imparted an earthy flavor to the sriracha, giving it more depth so it didn't turn out to be liquid fire. Now don't get me wrong, this beeracha is extremely spicy. I'm a big wimp when it comes to heat but I can definitely say this is hotter than your basic green-topped bottle you find at the grocery store. If you're brave enough, give it a try. Maybe all that spice will bring out another side of you…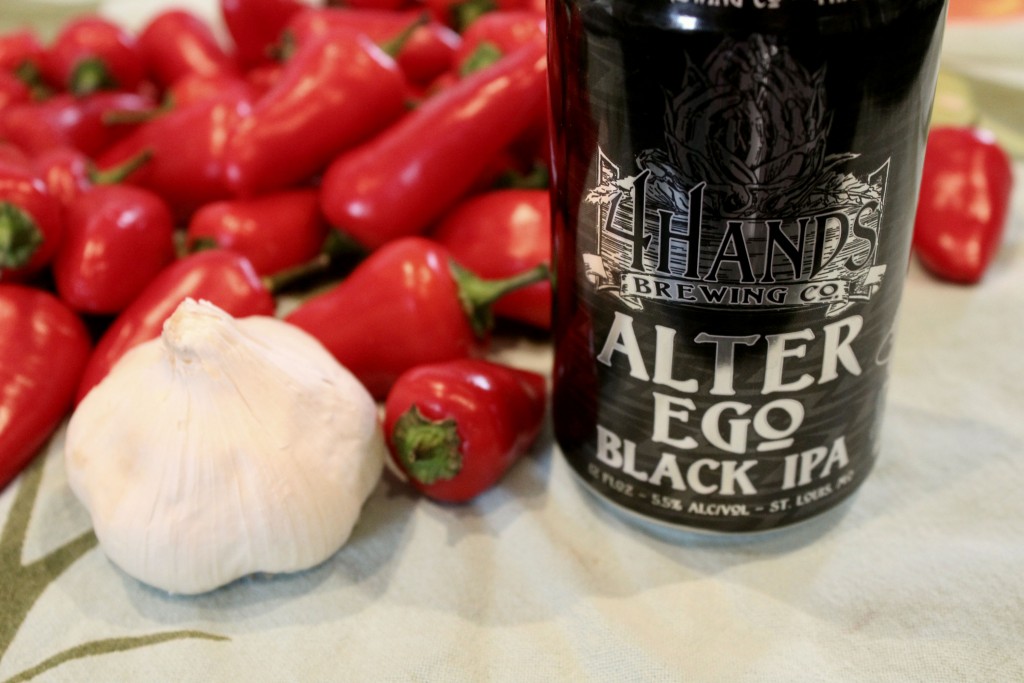 Ingredients:
1 ½ lbs of fresno peppers
8 cloves of garlic
½ cup brown sugar
2 tsp kosher salt
¾ cup Alter Ego Black IPA
½ cup white vinegar
Cut off the stems of the peppers. You can leave the green top but try and get most of the stem that pokes out.
Add the peppers to a food processor along with the garlic, sugar, salt and Alter Ego (everything but the vinegar). Blend until a puree forms.
Pour the mixture into jars and let it sit for 7 days. You'll start to see bubbles form as the spicy juice ferments. Give the jars a stir or a shake every other day.
Bubbly bubbles: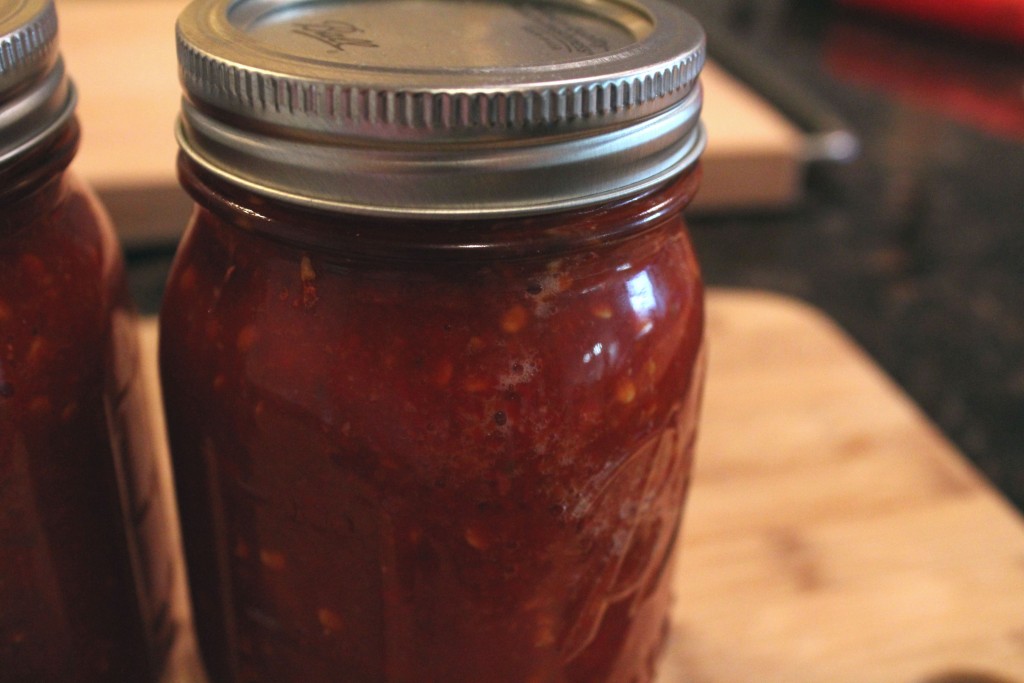 When the week of waiting is up, pour the contents of the jars into a blender and add the vinegar. Blend for 2 minutes to completely liquefy everything.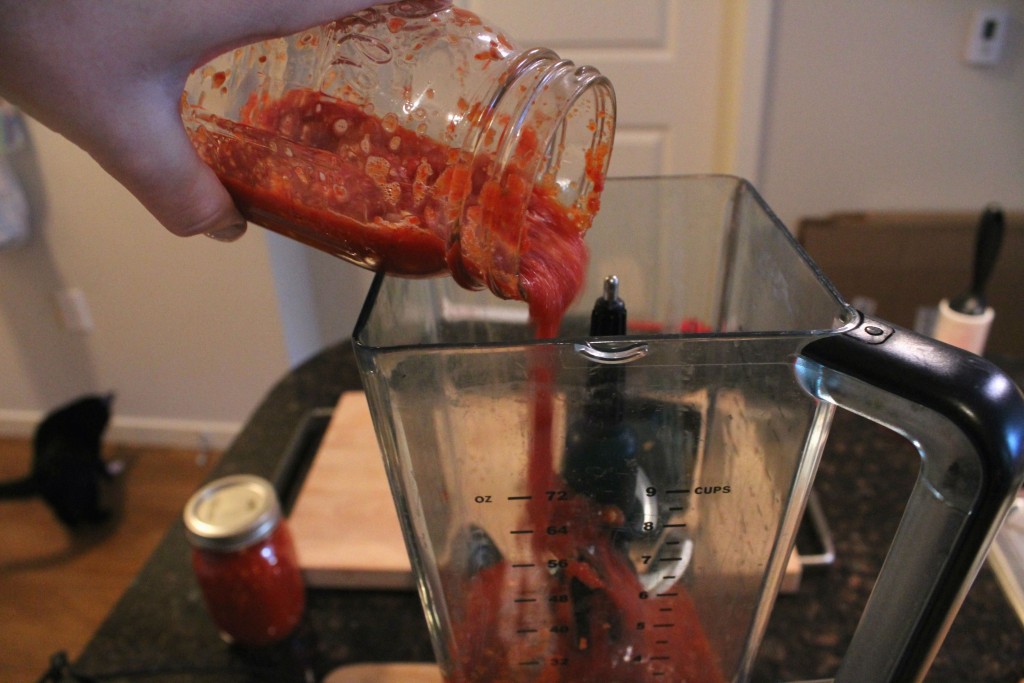 Strain the mixture over a pot. You can use a spatula or a spoon to push all of the liquid out of the pulp.
You'll know you've gotten all the good stuff out when the leftover gunk is the consistency of playdough. Like this: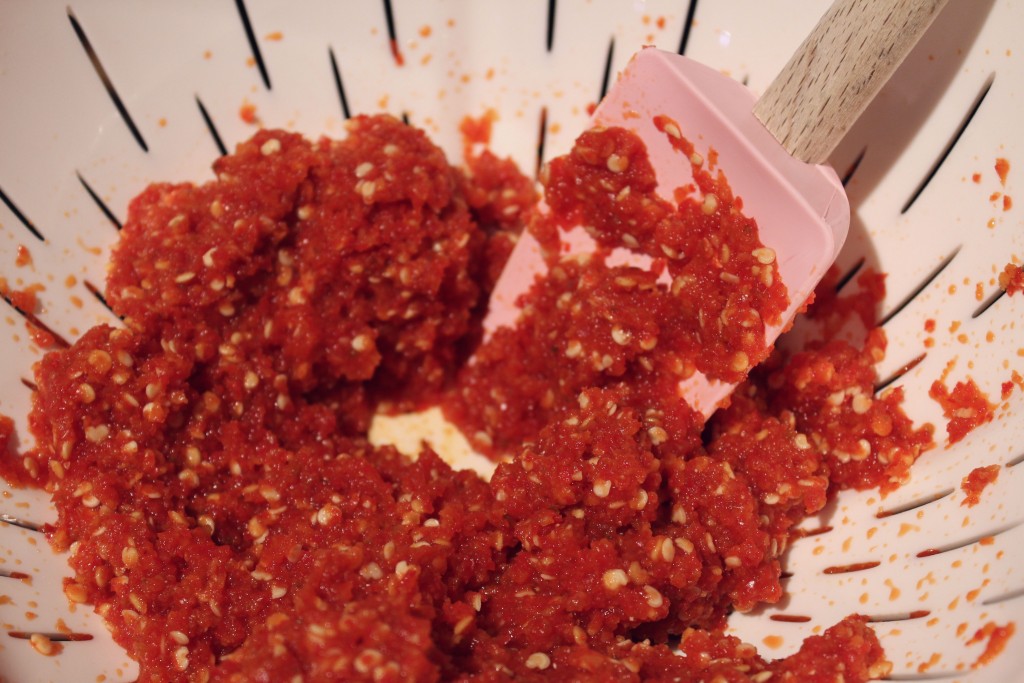 Bring the liquid to a boil and then reduce to a simmer for 10 minutes. After 10 minutes, your house will sufficiently smell like beeracha and your mouth will start water for a spicy treat.
Want to see how I used the Beeracha? Visit DrinkandSpoon.com to see Beeracha Hummus and more boozy recipes.
---