No Comments
Westbrook Brewing Co. | Fisticuffs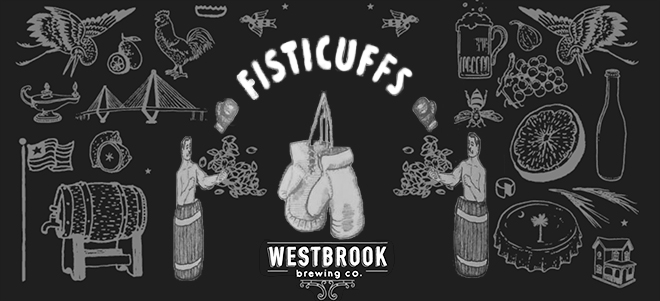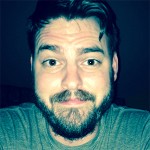 8.0% ABV
Westbrook Brewing Company may not be the biggest, but they are one of the best breweries in South Carolina. This past January, RateBeer.com released their list of "Top Beers, Brewers, New Brewers By Subregion," which listed Westbrook as Best Brewery in South Carolina, again. So, would you expect anything less than Fisticuffs from the Charleston, SC based brewery? I would say, not!
Westbrook's Fisticuffs is an old ale aged in bourbon barrels that contains "No.1" from Bittermilk, another Charleston based company that specializes in craft cocktails. The cocktail company collaborated with Westbrook to make this beer using their "No.1" series, a bourbon barrel aged Old Fashioned made with:
"Burnt Organic Cane Sugar, Demerara Sugar Water, Orange Oleo Saccharum (Organic Orange Peel, Organic Cane Sugar), Spices, Organic Gentian Root, Cinchona Bark, Tartaric Acid"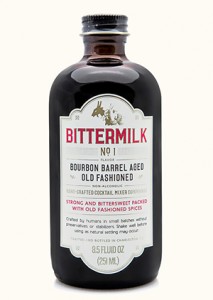 Bittermilk takes barrels that were first used by Willet Distillery to age bourbon and inserts their concoction. Then Westbrook takes the same barrels after No.1 is emptied from them and fills them with Fisticuffs to be matured for 1 year. This really should have made Brian's list of "10 Ways Craft Beer Is Improving Its Environmental Friendliness," because it's recycling at its finest! The result is phenomenal!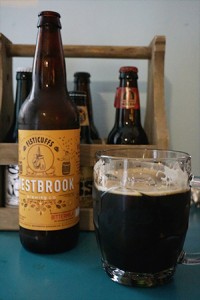 Fisticuffs pours dark into the glass with a small head. The color is reminiscent of fired wood with a pale tan head. This ale is pleasantly aromatic with whiffs of bourbon, bitters and cherry cordial. The mouthfeel and taste is where the brew really shines. It has a creamy, full body with decadent flavors that include plum, caramel, vanilla, molasses, figs and a hint of toffee. The beer label touts that it can be cellared for up to one year; I had mine only a couple months after it was distributed.
For those looking to put this beer into a box, the closest you'll get is a Roggenbier, but with a twist. A Roggenbier is an old, Old, OLD German style of brewing that is created with half barley malt and the other half evenly split between wheat and rye malts, with a low hop profile. This allows the malt flavors to take the reigns. Now, take that and age it in bourbon barrels that were once used to make delicious Old Fashions, and you've got Fisticuffs. I am not sure if this is what the brewery was going for, but it's what my research turned up.
Westbrook currently distributes to South Carolina, North Carolina, Georgia, Alabama, New York and Europe. If you don't live in one of these areas, but would like to try Westbrook Brewing Co., or any other South Carolina brewery, contact Charleston Beer Exchange for a mail-order delivery* your tastebuds will thank you for!
*restrictions do apply depending on what state you live in.
---