No Comments
Ultimate 6er | 6 Southern Beers to Shoot the Hooch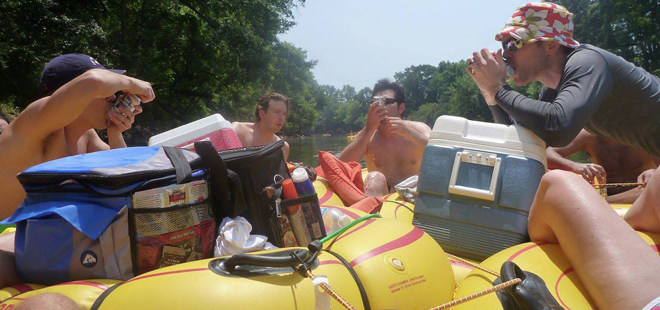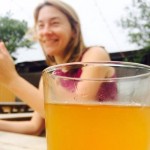 Summer in Atlanta means three things: drenching humidity, the annual 4th of July Peachtree 10K Road Race (which is held in the drenching humidity), and Shooting the Hooch.
While Shooting the Hooch may sound a little NSFW, we promise, it's not. "Hooch" is short for the Chattahoochee River, and "Shootin'" means you're leisurely floating down said river in an inner tube — and trust me, you're going to need a beer for that.
So what's the perfect river beer? Well, for starters, keep the ABV relatively low. Trust me: Water + sun + 3 hours in an inner tube = WHOA. You also gotta keep it to canned beers, since there's no glass allowed on the Hooch.
A few years ago, it took a few stops to find beers to fit the bill. But as craft breweries add cans to their distribution lineup, it's way easy! Even here in the South, where, though our beer laws are behind the times, our regional breweries are producing killer beer — AND canning it!
So here's the Ultimate 6er, Southern style: All canned, and all perfect for summer sipping.
Westbrook Gose out of Mt. Pleasant, S.C., is the taste of summer, people. It's salty. It makes the tastebuds on the sides of your tongue tingle until you have another sip. It's so good, and so easy drinking ABV-wise, you won't want to share any of it with your tubing friends.
---
While the uber popular Jai Lai IPA put Tampa's Cigar City on every hophead beer nerd's radar, Florida Cracker is the first beer I hunt for in Florida — because it's HOT there, folks. Maybe it's the French Saison yeast, or perhaps it's that touch of coriander and orange peel that reminds you it's summer somewhere.
---
Creature Comforts Brewing brings a juicy, slightly tart twist to a berliner weisse, which they named after the Greek goddess Athena. Not only is this a heavenly beer to rely on when it's scorching hot in the summer, but 2015 is the first time it's heading out in cans.
---
When Orpheus Brewing burst onto the Atlanta beer scene in May 2014, the Atalanta was one of the first beers they used to introduce themselves to the world. This tart plum saison will bring some class to your river tubing adventure.
---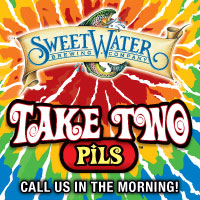 Atlanta
5.5% ABV
I know there are a few berliner weisse and wits on this list — and that's because they're awesome. But if you're looking for something a little hoppier during your river tour, break out the cans of SweetWater's newly-released Take Two Pils. It's a German style pilsner with Mt. Hood, Saaz and Styrian Golding hops, and it answers the call.
---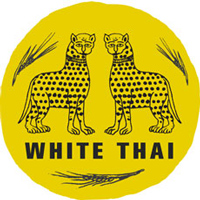 Mt. Pleasant, SC
ABV 5%
Back to Mt. Pleasant's Westbrook Brewing Co., but this time for a little Asian flair in the White Thai. Westbrook White Thai, with it's succulent hints of ginger, lemon, a dash of spice and a little more citrus, is the beer you want to keep cold for cookouts, porch drinking and of course Shootin' the Hooch.
---