No Comments
Odell Brewing & Radiantly Raw | Chocolate and Beer Pairing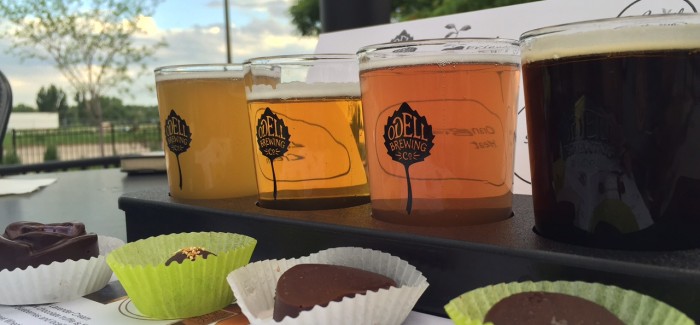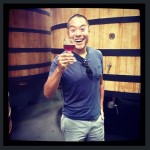 I can't reiterate enough just how integral Odell Brewing has been to shaping my passion for beer. As I've stated many times before, I came to Colorado in the fall of 2009 to serve a year with AmeriCorps and having never stepped foot in the Centennial State before. My interest in craft beer was still in its infancy mostly relegated to Kentucky Ale Bourbon Barrel, Sierra Nevada Pale Ale, and a bottle of Chimay Blue, which was celebratory beer I settled on to commemorate my decision to move away from Kentucky.
After two days of driving cross country, I rolled into Fort Collins, a city where I knew not a single soul. That first night, I still vividly remember my host mom taking me out to dinner at the country club near the house where I would be spending the next 8 months. The first thing Diane did was order me an Odell Isolation Ale, stating that now would be as good a time as any that I discovered the great craft beers Colorado had to offer. I still remember the sweet malt forward flavors and subtle complexity that blew my mind and my concept of what beer could be.
Fast forward five and a half years later, by now I've sampled more beer than any normal human should proudly admit and yet I'm still blown away by Odell's diverse and innovative approach toward beer.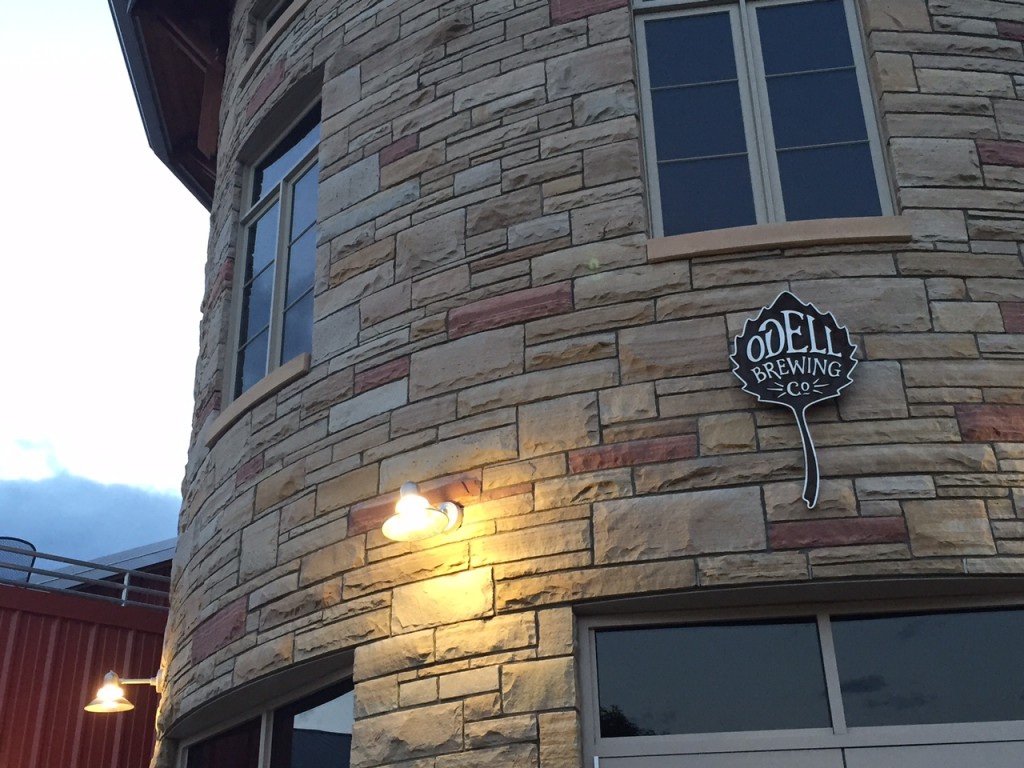 That element of beer surprise was revisited on multiple levels a few weeks ago when I attended Radiantly Raw's Chocolate and Beer Pairing at Odell. At this point in the craft beer movement it has become more and more difficult to prioritize which events, tastings, let alone beer fests to attend, however I was immediately drawn to this divine pairing of indulgences.
Radiantly Raw Chocolates is based down south in Colorado Springs with multiple locations, but has also garnered great success with online sales and deliveries. As the name indicates they take a completely raw approach toward their chocolate, which means no added milk, sugar or vegetable oil, just a combination of cacao, coconut oil and honey. Ironically, just as Odell was able to redefine my previous misconceptions about beer, Radiantly Raw's offerings brought about subtleties and flavor profiles I had never encountered before in regular chocolate.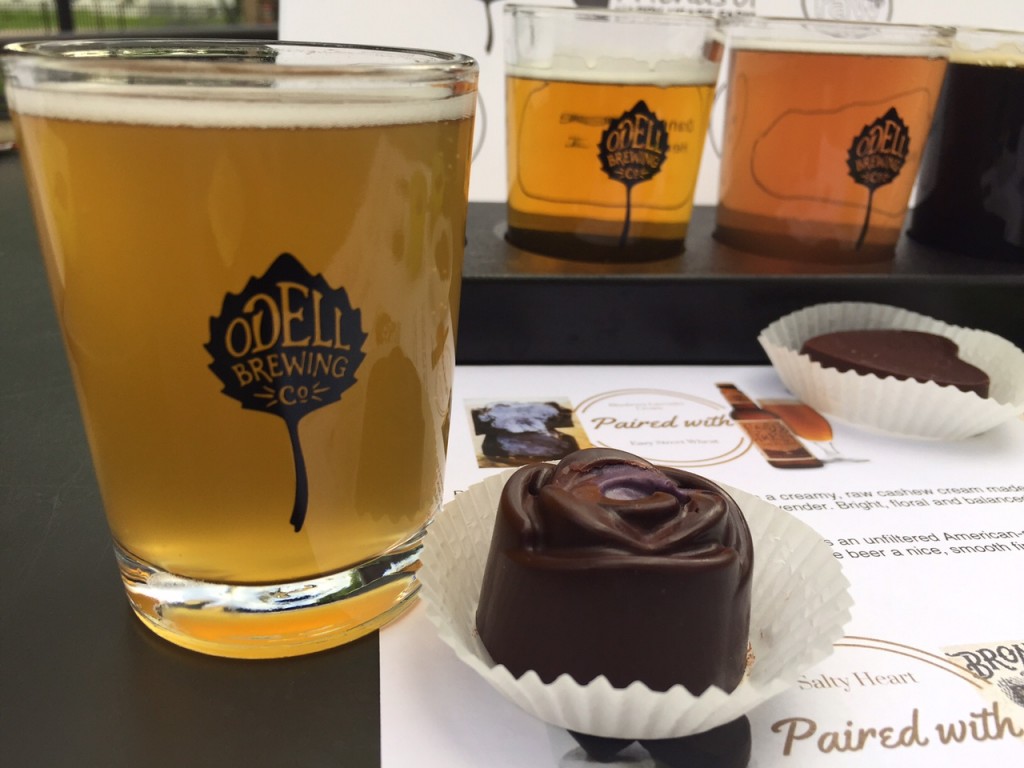 Our first pairing pit Radiantly Raw's Blueberry Lavender Cream with Odell's Easy Street Wheat. The dark chocolate truffle was filled with this bright, vivid raw cashew cream made from blueberries and local lavender. Admittedly slight traces of lavender in foods are a huge weakness of mine so it came as no surprise that this was my favorite chocolate of the night.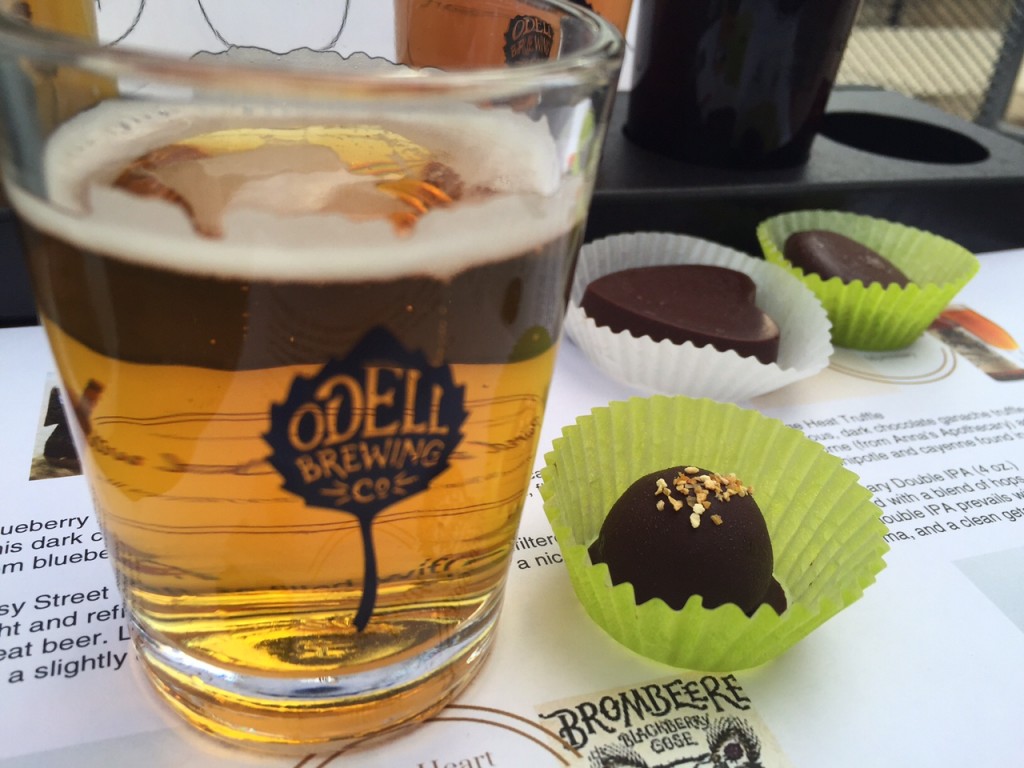 Next up was the Orange Heat Truffle made with orange citrus and spice paired with the Myrcenary Double IPA. This truffle was so beautifully complex with it's bold but not overpowering citrus flavors finishing with a slight heat from the spices. That blend of citrus worked perfectly in drawing out similar flavors in Myrcenary and the slight heat at the end helped to cut through some of the bitterness and ended up mellowing the beer a touch. This ended up being our favorite pairing of the night as the combination of the two just worked so well together.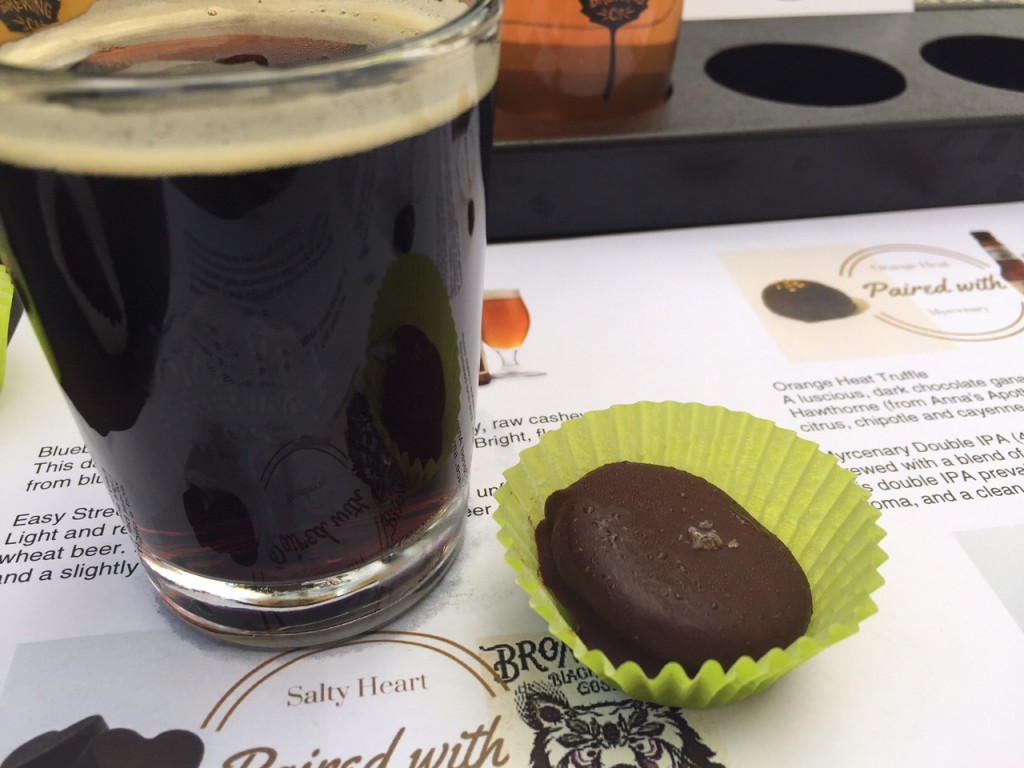 We then tried the Pecan Turtle along with Cutthroat Porter. While the pecans made this the least expressive of the chocolates we sampled, we loved the dark chocolate richness this course offered. Plus that richness played perfectly with the dark roasty flavors of the Cutthroat Porter.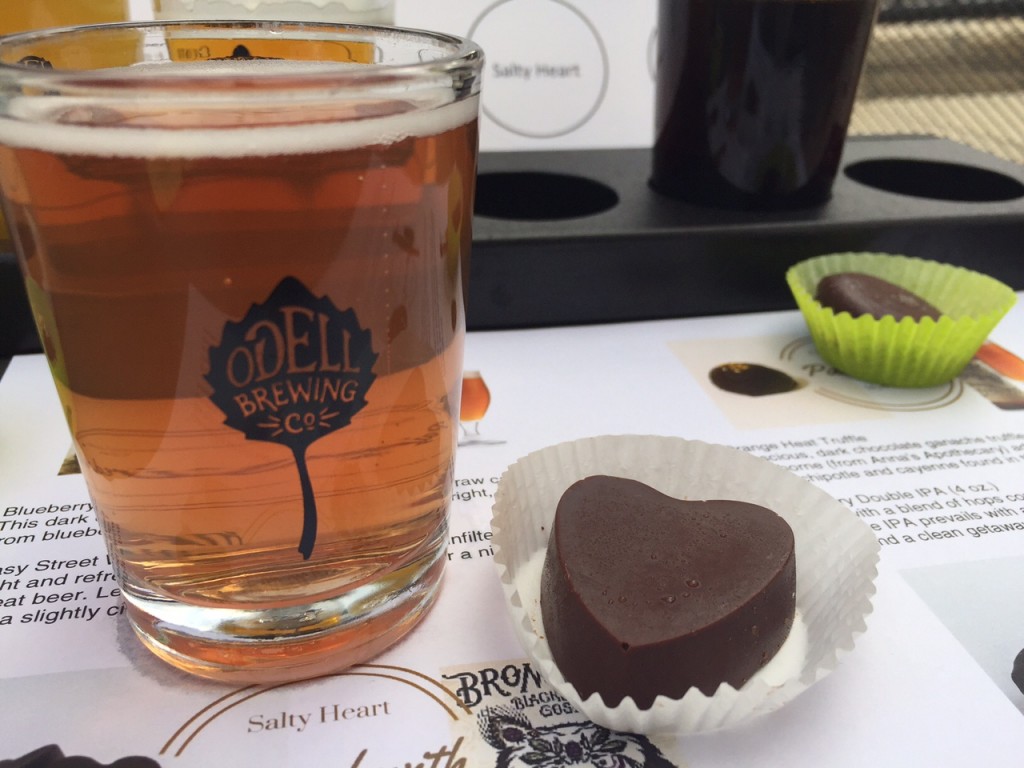 Finally we ended the night with the Coconut Sea Salt paired with Odell's newest release, their Bromeere Gose. I was most excited for this pairing going into the tasting as I have been mildly obsessed with the Gose style over the past few months. The Coconut Sea Salt featured just slight hints of coconut and Colorado honey, and while I figured the sea salt would help to accentuate the saltiness of a Gose style the pairing itself was probably the most off. However, the Brombeere itself, is fantastic Pouring a pink peachy haze, this Gose has the tanginess of a grapefruit but also the sweet tartness of blackberries. My fellow attendee Barb noted correctly that it tasted like a juice you could sip on for days and I'd agree.
The event itself was so spot on, often times tastings can get a little bogged down by long winded explanation, forced conversation with the people sitting next to you and very little focus on the beer, but this event was the exact opposite. Attendees were able given a flight of beer with appropriate chocolates accompanying them, then allowed to sample at their own pace in a relaxed cozy environment. Special thanks to Radiantly Raw for inviting us up and to Odell for hosting such a great event!
---