No Comments
Summer of Growth for Georgia's Wild Heaven Craft Beers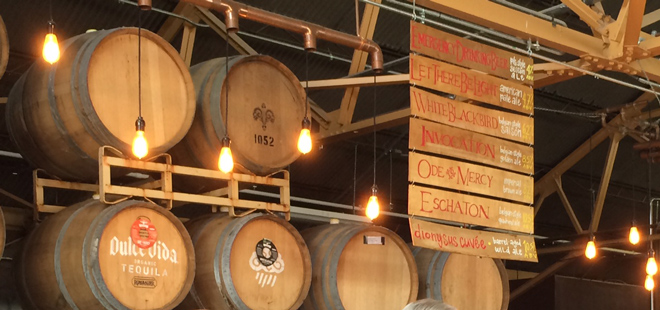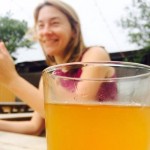 In a warehouse about a mile east of the hubbub of historic downtown Decatur, Georgia in the Avondale district, a line snakes out of the front door of Wild Heaven Craft Beers on a steamy July Saturday.
The 95 degree heat index doesn't seem to bother anyone. Neither does the occasional screech of the Marta light rail or the chug of the railroad nearby. You're more likely to hear the 'thump-thump' of bags hitting the boards from the game of cornhole in the beer garden.
Here at Wild Heaven, the motto is "Serve Your Neighbor." And by the looks of the growing line at 3:30 p.m., more than 90 minutes after they opened for the day, Atlanta beer lovers are eager to consider themselves part of the neighborhood.
https://instagram.com/p/5AlbCtgkkB/?taken-by=craftcurious
Summer 2015 has been an exciting one for Wild Heaven. A little more than a year after setting up shop at the Maple Street brewing facility, the brewery is releasing the first bottles from its barrel-aged program: Height of Civilization, an english style barleywine aged in tequila barrels, and Dionysus Cuvee, a barrel-aged wild ale based on their Eschaton quad.
(Review: Height of Civilization Adds a Tequila Twist)
The brewery is also adapting to a new Georgia beer law, which expands the amount of beer you can consume at a Georgia brewery from 32 oz. to 36 oz., and also expands tour rules to allow take-home "souvenirs."
Each Georgia brewery is interpreting the law a little differently, and at Wild Heaven, you can now get a flight of six 4 oz. samplers or three 12 oz. pours. First-timers, or even the indecisive among us, might want to try the full list of beers, including the new pilsner-style Emergency Drinking Beer, as well as their flagships, including Invocation, a belgian-golden ale, and Ode to Mercy, an imperial brown.
If you live in states like Michigan, Colorado, California or the Carolinas, getting 12 oz. pours at a brewery may not seem like a big deal. But here in Georgia, where laws have enforced glass half empty rules for years, sitting down to a 12 oz. glass of beer from a brewery is huge.
The new laws also allow you to take home beer from the brewery, something Georgians have never been allowed to do before. The take-home beer is considered a souvenir, and it's tied to a specific level of tour. Here at Wild Heaven, you can pick from a tier of tours, which will let you walk out of the brewery with a fresh 4- or 6-pack, crowlers or 750 ml. bottles.
Less than 2 hours to go! Open 5:30-8:30 w/new Tour options. #BeerToGo pic.twitter.com/7K3DNvv8kr

— Wild Heaven (@BeerWildHeaven) July 2, 2015
Dog-friendly, kid-friendly (on Sundays) and even parent-friendly (I got my Bud Heavy-drinking dad inside over the winter, and he used all his tasting tokens before I got halfway through mine), Wild Heaven in Decatur is worth a stop when you're in Atlanta. Won't you be their neighbor?
Wild Heaven Craft Beers
138B Maple Street
Decatur, Georgia 30030
Brewery Tour Hours
Thursday & Friday: 5:30 p.m. to 8:30 p.m. (21+)
Saturday: 2 p.m. to 6 p.m. (21+)
Sunday: 2 p.m. to 5 p.m. (all ages)
---