No Comments
Upslope Brewing Company | Ozo Coffee Brown Ale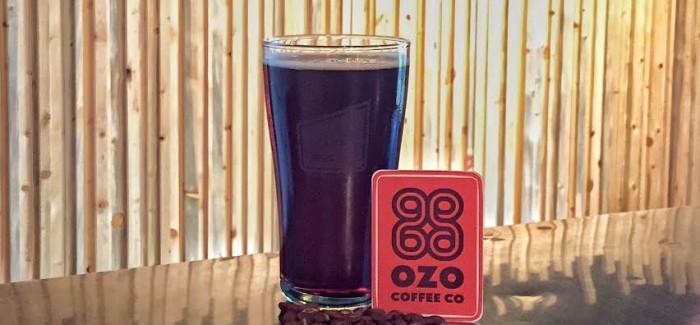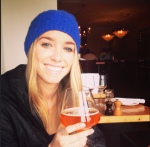 ABV: 6.7% | IBU: 45
Upslope Brewing Company in Boulder has collaborated with beverage-makers hailing from as far as Northern Italy. Their Ozo Coffee Brown Ale, however, hits a little closer to home. Upon opening their second brewing location in East Boulder, Upslope wasted no time in collaborating with one of its new neighbors: Ozo Coffee Company. Ozo, another Boulder-based business, operates a café and roasting lab directly adjacent to Upslope's Flatiron Park location. What resulted in this union is a liquid love child consisting of a two-time GABF medal winner and a massive amount of coffee beans. I was lucky enough to sit down with Upslope's head brewer Sam Scruby to taste and discuss the origin of this roasty libation.
First, the brewing team at Upslope chose their Brown Ale as a base, as opposed to a bigger ABV stout or porter, which are used in a lot of coffee beers. The Brown Ale base makes perfect sense, as Scruby explained to me this popular, year-round Upslope offering already utilizes coffee malts in its brewing process.
Second, Upslope evaluated a couple of different Ozo bean varieties before narrowing it down to the Mocha Java, dubbed the world's oldest coffee blend. The brewers thought this type of bean, with its berry notes, paired best with the Brown Ale. According to Ozo's website, the Mocha Java bean "gets its name from a combination of heavy Indonesian island coffee and sweet, fruity, aromatic African coffees."
https://instagram.com/p/y72MiDipGI
Now, in order to give their Brown Ale that coffee-forward kick, Upslope does a 16 hour cold steep with 30 pounds of the Mocha Java beans. Scruby stressed the cold extraction method reduces some of the coffee flavor's bitterness, whereas in a hot-brewed coffee, a sharper acidity can be detected. Essentially, this cold brew process is akin to dumping coffee into a finished beer. The end result is a perfect, consistent coffee ale.
On the nose are fresh coffee bean aromas of a rich character. Upon sipping this beer, I found caramel coffee notes on the front end, followed by a full roasty-ness on the back end. Overall, this beer is quite drinkable given its brown ale base. Moreover, the addition of the Mocha Java creates a fuller, fruity taste that leaves me pining for another sip. I personally would not mind drinking this beer for breakfast!
For food pairings, Scruby thinks this beer would complement a chocolate dessert or some earthy cheese, just as an after-dinner coffee would. In terms of availability, you won't be able to find this brew in one of Upslope's signature cans. However, this beer is usually on tap at Upslope's Flatiron Park location, and there are some kegs going to a few select accounts. When Scruby informed me that Upslope brewed an impressive 3,000 barrels of beer in the month of July, I started to hope that meant even more Ozo Coffee Brown Ale pints for the masses!
Flatiron Park Tap Room
1898 S. Flatiron Court, Boulder, CO 80301
Hours: Mon – Sun: 11 am – 10 pm
Tours: 3 pm (Sat & Sun)
Happy Hour ($1 off): Mon – Fri: 11 am – 2 pm
---