No Comments
Festival Recap | Rocky Mountain Cigar Festival 2015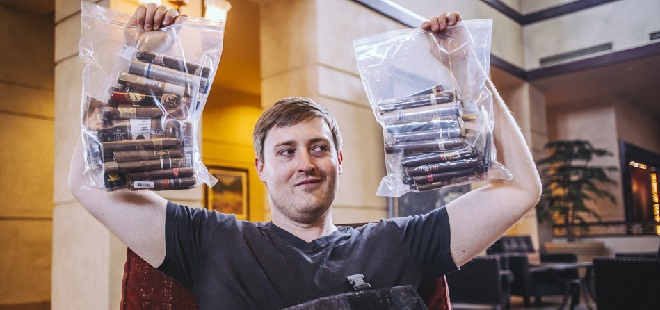 Average Reading Time: [7 min]
With a year under our belt, Chris Day and myself ventured back up to Broomfield for our second Rocky Mountain Cigar Festival over the weekend. We recruited our old friends Will Dozier and Lynn Thayer to help us celebrate festivities and help out with photography. We'll recap our travels and triumphs here and would love to hear everyone else's feedback as well.
Lynn just got a new tattoo and was finishing dressing that bad boy for a day in the sun. So, Chris and I waited in the car and we cranked up the Ghost while we waited. With much haste, Will and Lynn hopped in the Scion and we mobbed down to Burrito Giant for road snacks of the most delicious kind. Then on to the turnpike and up to the Omni Interlocken Resort in Broomfield. We got temporarily diverted by hotel staff telling us to park in the overflow parking. Sadly, his attempt to give us proper directions of a "right, right, and another right" brought us back to the topside of the parking lot he was trying to save for hotel guests. We conceded that he had given us the best directions he could and he wanted us to park there! This also allowed us enough time to nosh on our breakfast burritos/tacos. You know we love some tacos!
Again, this place is mad-pretty and a great grounds for the number of patrons to this event. Rolling waterfalls, a golf course connected to the backside, rolling green grass, a handful of pools and lots of event space and a huge pavilion. We meet up with our media contact, Danny Szarmach, and chit-chat before he transitions. Thanks for the hook up, Dan! You're the man.
We venture out of the Omni and out onto its grounds to take in the sweet smell of cigar smoke. Honestly, we could smell the grey cloud once we opened the doors but this smell was more apparent the closer we got to ground zero. So, now that we have been fueled with green chili and tempted with the smoke, we look for our first beer.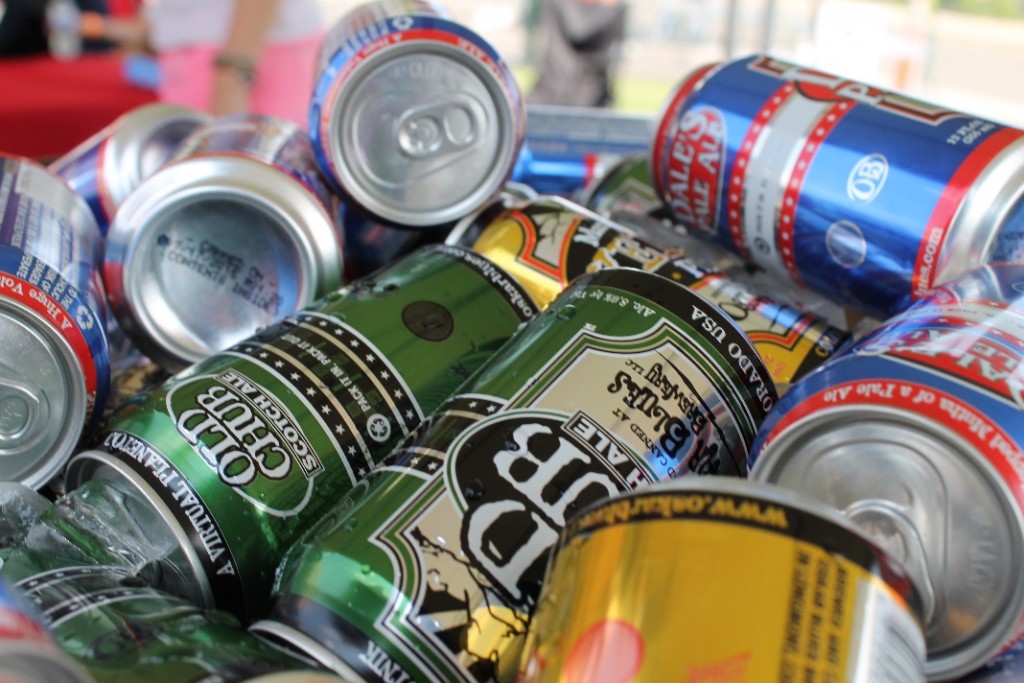 We end up over at the Oskar Blues Brewery tent to talk shop. Shan tosses us cans of OBB's flagship cans like Mama's Little Yellow Pils Pilsner, Dale's Pale Ale, the brand new IPA, the Pinner Session Ale, and the Old Chub Scotch Ale.
When Chris asks Shan on which beer she would pair with a cigar, Shan says "Well, it would depend on the occasion. The brand new IPA would be great with a cigar, but it's kind of an every-man's IPA so it's great with everything. If I were going to sit down and have a cigar and a beer and watch the sunset, it would probably an Old Chub. That malty quality, the chocolate-ness, the big body wouldn't be overpowered by a cigar."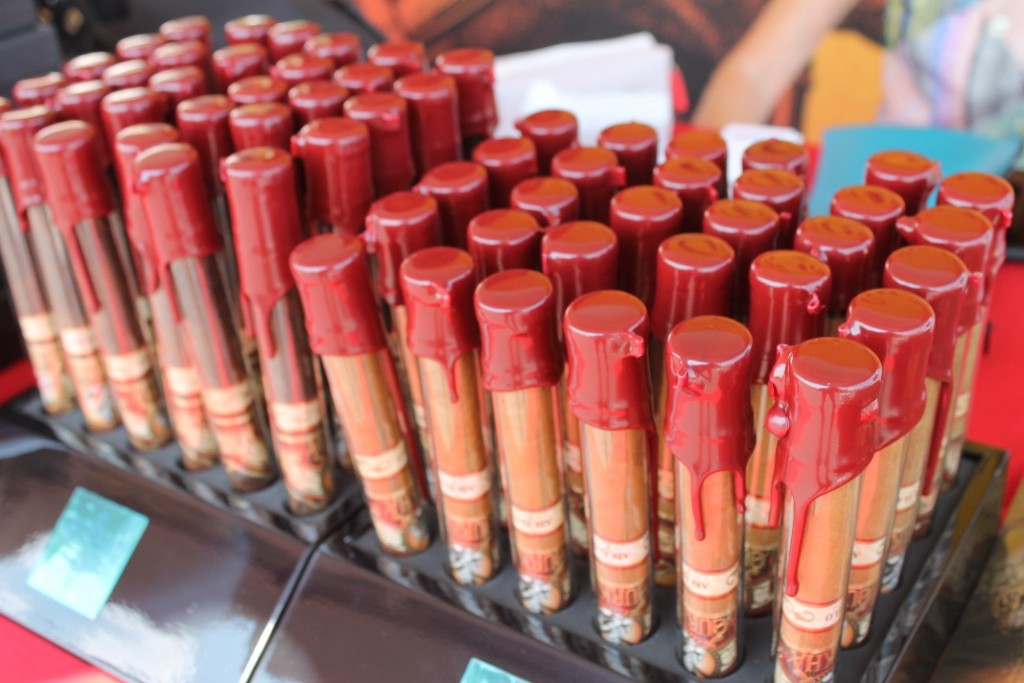 I sneak over to the Gurkha Cigars tent to throw a shout out and snag a pic of those delicious Private Select/Grand Reserves. But, it was only a few quick minutes before we became distracted by more beer…
We mosey over to the Mu Brewery Tent and catch up with Nathan Flatland.
Chris Day: Which beers did Mu Brewery bring today, Nathan?
Nathan Flatland: I brought Mu-tation, it's a smoked porter with raspberries and smoked Serranos and a Saison with blood orange in it.
How did you pick these beers?
We picked the blood orange more because of the heat. The blood orange will stand out really nice even with a Robusto or something like that. In case somebody was smoking a darker cigar, we brought the Mu-tation.
When you're smoking cigars at home and drinking beers, what styles of beer do you usually pick?
I usually go with something that's got a big, strong flavor. I'll pick a strong IPA or it will just kind of depend on the temperature of the day. Something with a lot of flavor.
If you had to pick a cigar to pair with each of these beers, what would you pick?
I think I picked both of them with a Robusto in mind.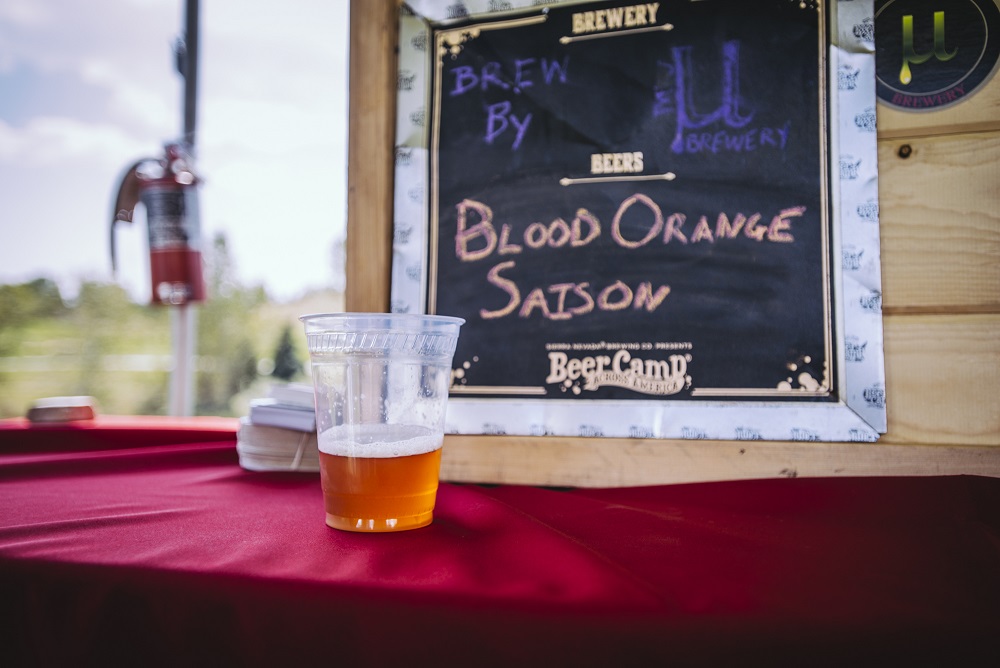 We transition from the Mu Brewery tent with recommendations on the Berliner Weisse from Crabtree Brewing at the top of the hill under the pavilion. With Willy D and I both attending school in Greeley and having had great experience with Crabtree before, we take the recommendation with great regard and start walking up to the pavilions to get that Berliner in our skulls. About half way up to the pavilions, my cup is empty… I need to refill ASAP.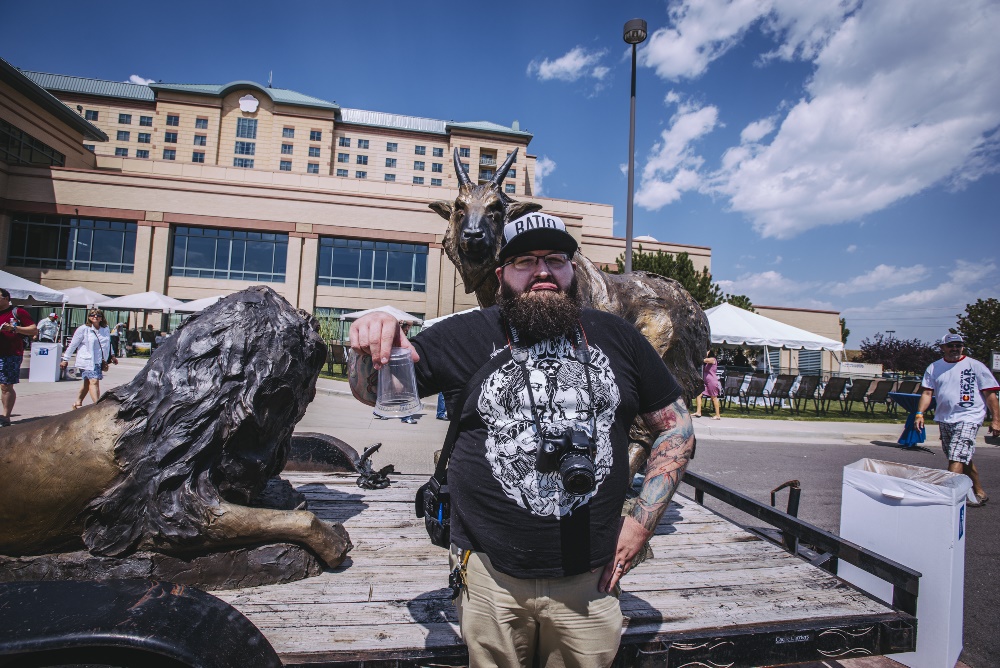 *Sidenote: We have no idea what some of these booths at the festival are for. We get that smoking a cigar is a lifestyle and we try not to pass judgement. But metal sculptures or smoking jackets for dogs? These are things we don't really understand.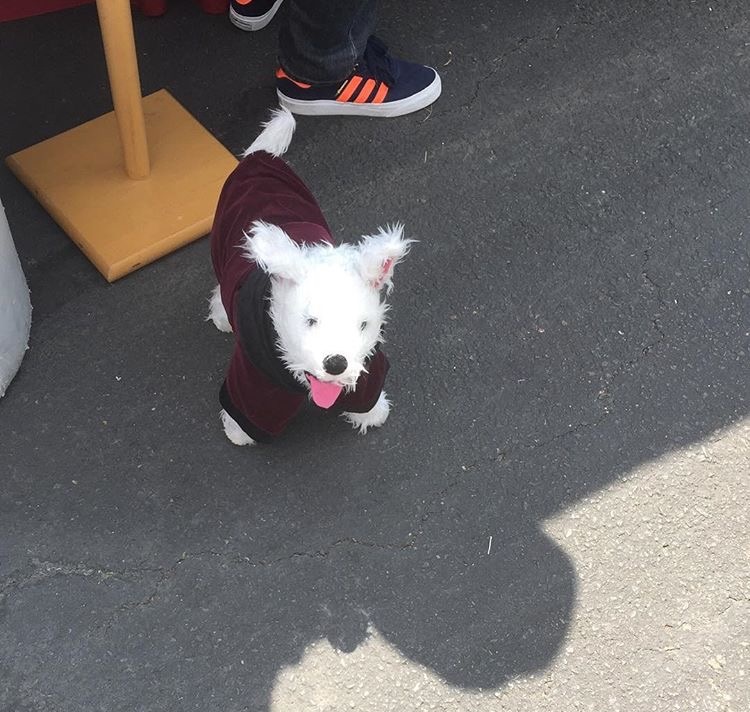 We do the almost unthinkable but the oh-so drinkable thing at the festival… we walk over to the Small Town Brewery tent and talk it up with their rep Heather and ask for repeated pours of that ill-na-na that is Not Your Father's Root Beer. For those unfamiliar, Small Town Brewery has a back story about whether they are legit or not; whether this is beer brewed with spices or just booze soda. We don't care about that today. All we care about is having some delicious adult root beer. So we do. Thanks, Heather!
Belly full of that delicious root beer, we continue our ascent up to our original destination for that delicious Berliner Weisse <pause> "Do you know when you are on a mission and you have a plan and you get diverted non-stop at a festival?! That may or may not have happened to us so many times!" <unpause>
So, we keep cruising up the viaduct of cigar-y goodnesses and talk with our friends at Echo Brewing. Sadly, they are unsure what pairs with a cigar and are not super interested in talking about what they think would compare with a cigar. That's chill. We will catch you dudes when you are in a better place and not at a cigar fest.
We do make a stop with our brethren of the mead world over at Redstone Meadery for a splash of that passionfruit mead because… passionfruit mead. Sweet, bubbly passionfruit mead.
We continue on. We hit the pavilion finally and make our way over to the shirt zone where we catch up with Chris from Drew Estate. He was the pigtails hat guy from last year. This year, he was just rocking the straight pony. Nonetheless, he hooked us up with our media shirts early and we high-fived him appropriately.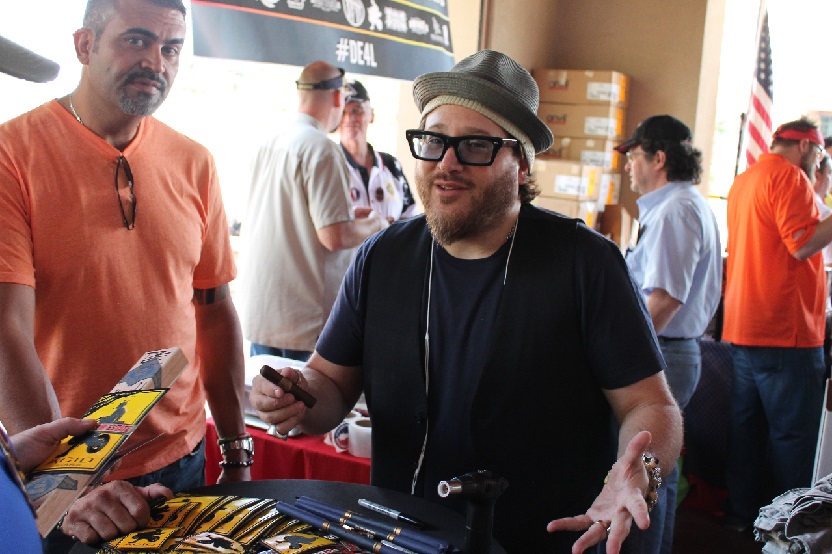 We bounce over and get a cameo shot of the Sam Caligione of the cigar world, Johnathan Drew, of Drew Estate. This dude is a total stalwart and the face of the Rebirth of Cigars. That is the company's motto and it's evident when you see his larger than life personality and persona. We were def stoked to see this guy cutting and lighting cigars for attendees.
We continue on, looking for this Berliner Weisse, we find tequila and rum… we find whiskey coffee, we find smokeless tobacco…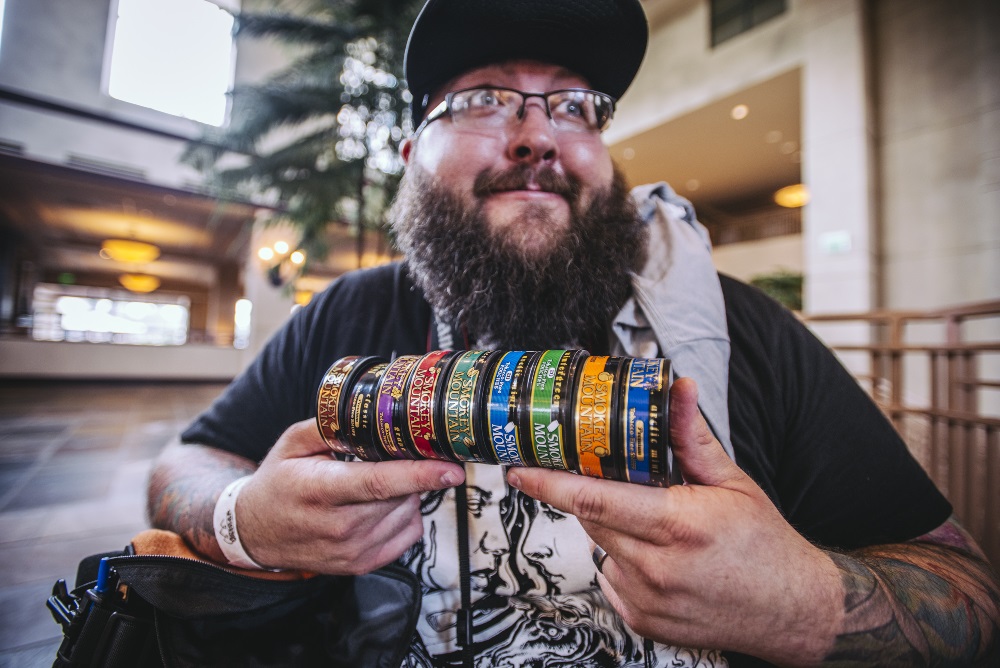 Our next stop on our journey to the great Berliner Weisse of the RMCF 2015 was Honey Jack Meadery! We sampled both their BLUEBERRY (you know how I love that Blueberry!) mead wine, which tastes like blueberries slam dancing in CBGB in the early eighties, and the Black Currant mead wine which tasted like sweet dark fruit and honey. Literally, my two favorite quaffs of the day. Am I now a Meadwvlf?! I don't know, maybe… so sue me!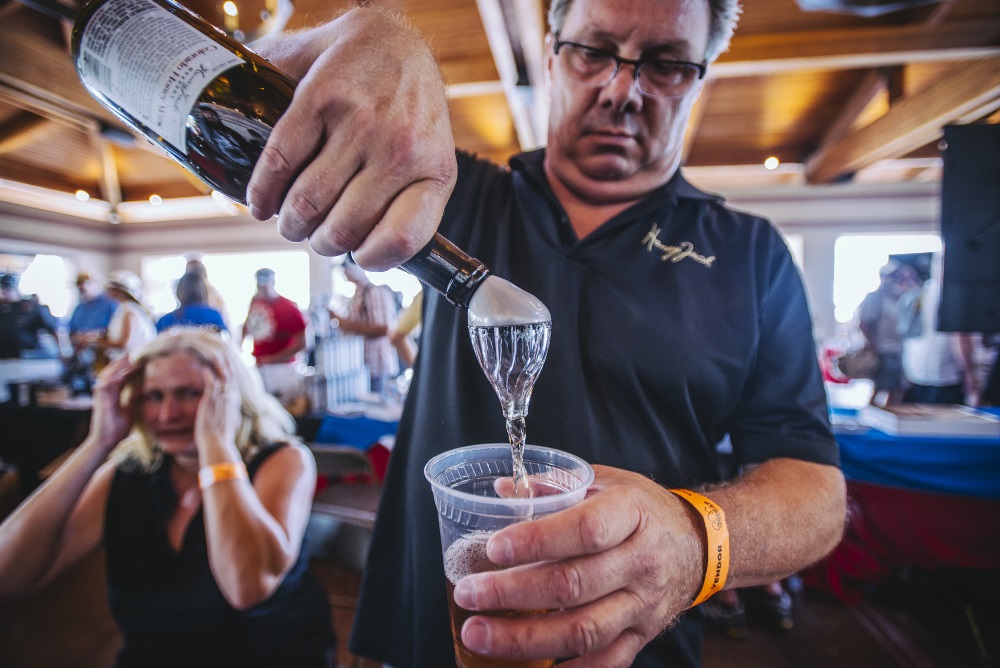 We made a quick bathroom break and then we grubbed on some food after our mead and talked with Crooked Stave Artisan Beer Project about what they brought along to the festival.
Chris Day: Sarah, can you tell us about the beers you brought and why you brought them?
Sarah: Absolutely! So, we brought three different options. As you know, we barrel-age everything, gonna have a nice oaky character to it anyway. We have the Wild Sage Saison that has good herbal notes to back up any kind of cigar that has good clove, a little sweetness to it. We also have a dry-hopped sour called Progenitor, gonna have a nice acidity to it, also a little bitter note from the dry-hopping but very tropical, gonna pair really well with a sweet cigar as well, but one that's very robust, too. Gonna clean up your palate a bit from that tartness, gonna refresh a little bit. Finally we have the Origins, which is my favorite out of the three to pair with cigars. Aged in oak for about twelve months, burgundy sour as a base with lots of roasted malt. Also going to have some tobacco notes, little bit of roasty character as well, but very dry and tart. Definitely going to clean your palate, but pair very well with any cigar with a lot of character to it.
Have the smokers given you any feedback?
Origins has been the favorite. Lots of the berry, they say, lots of tartness to it, but it pairs very well.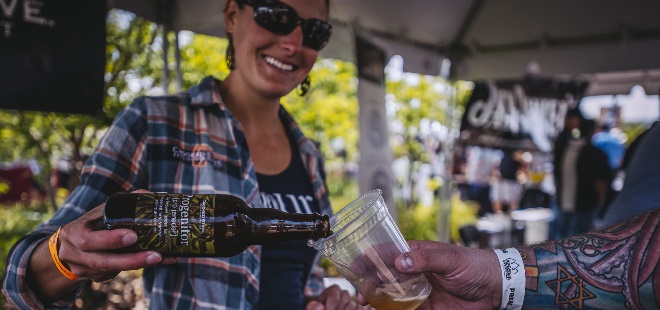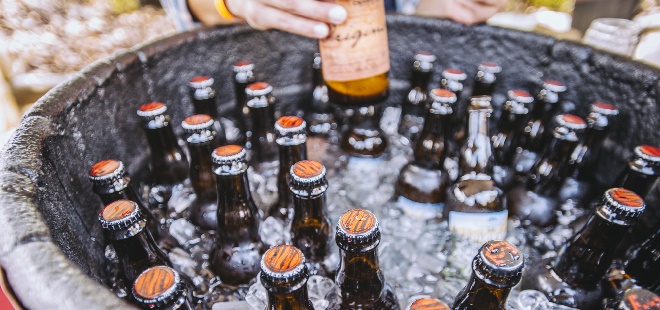 We also decide to shotgun some Rockstar… because… energy…
Re-energized and ready to continue our trek, we stop off at Vindication Brewing to talk with Marty about beer and cigars.
Chris Day: You guys brought two beers, what did you bring and why?
Marty: We brought our Freedom Stout and our American Bold Ale. Both pair really well with cigars. I smoke cigars so I know that. They're both balanced really well. When we're paring anything, we always want to do it with something that's really well balanced. The American Bold Ale is kinda like a well-balanced IPA with lots of malt then the stout is dry. A sweeter stout kind of gets in the way of a cigar in my opinion, so this drier European style stout really seems to help.
And I imagine the stronger ale could stand up to a spicier cigar?
Yeah, exactly.
We've heard lots of people say they would pair a spicier cigar with an IPA. Would you say this [American Bold Ale] is kind of between an IPA and barleywine?
The malt really pops out of it and matches well.
What's your malt bill like in this beer?
Out of a 10 gallon, it's almost 750 lbs of grain.
What are you hopping it with?
Chinook and Columbus and we have local Zeus hops coming out of haystack hops.
What cigar would you pair with each beer?
This one [Freedom Stout] with a big heavy cigar and this American Bold Ale with a nice medium cigar so it doesn't get that much in the way.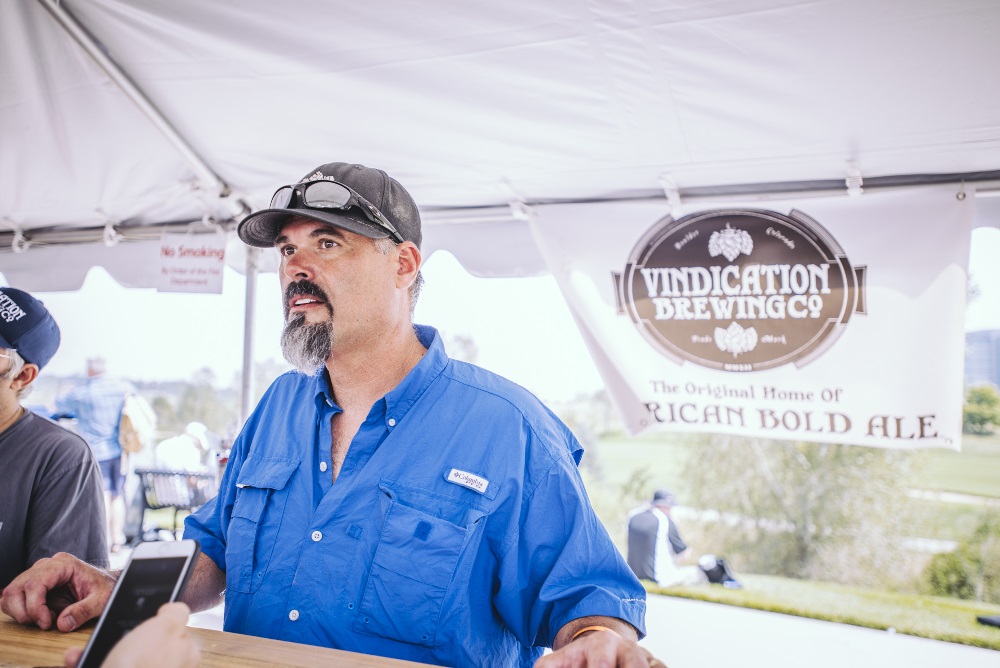 After chatting up Marty, the PD crew is noticing how hot it is outside and how full of delicious drinks and food we are. We have to rally and finally try this Berliner Weisse…
So we hike back up to the pavilion, we are really going to try this beer, and then we're going to take off. We are cigar'd out, we have had all the mead that we need and we can't possibly drink one more beer in between the Berliner Weisse and our lips… until… we spot 7 Hermits!
Holy shit! A mystery brewery that we didn't know was going to be here is here… and they're new and . . . 7 Hermits Brewing!!!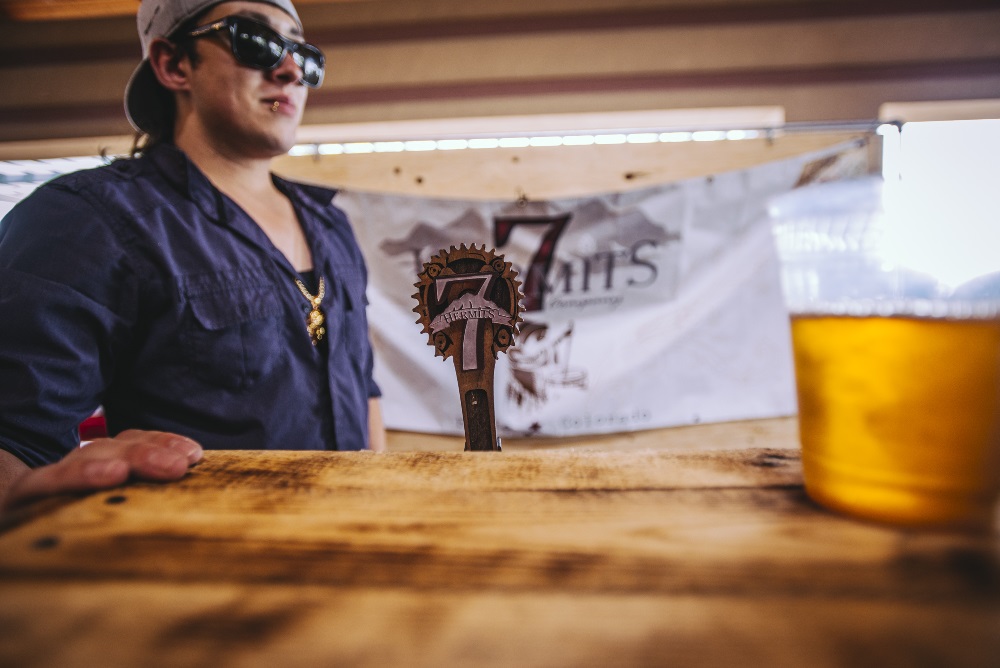 Chris Day: Hey, 7 Hermits, what are you folks pouring today?!
Kara: We have two that we're pouring. We have our Haystacker Amber that's really smooth, caramel-y, malty, really mild and not super hoppy. So, if you're smoking a more mellow cigar, it's going to pair very nicely and not overpower the beer. Our Pullout Pale is kind of a cross between a session ale and an IPA. So, we have four different kinds of hops so it's got a lot of snap – it's really light, citrusy. IPAs, as far as I know, are pretty popular with cigars.
If you guys are smoking cigars, what do you like to drink and how do you pair cigars with beer or vice versa?
Kara: I love IPAs, personally, because they do stand up to the smoke itself. I like scotch, I like bourbon, I like beer primarily with cigars.
Lucas: I stick with the bourbon.
Kara: It depends on what kind of cigar you're smoking. If you're smoking a really intense cigar, you need something that will pair with it or one will outweigh the other. It's all about balance.
Okay, I know we have been searching for this Berliner Weisse for so long… like all day… but we finally made it. And it was totally worth it!
We take a seat inside the lobby of the Omni with Crabtree's Berliner Weisse in tow… and divide our bounty of cigars. It turns into auctioneering quite quickly, but at the end of the day, we're all winners. What an amazing festival: great food, great smokes, great libations!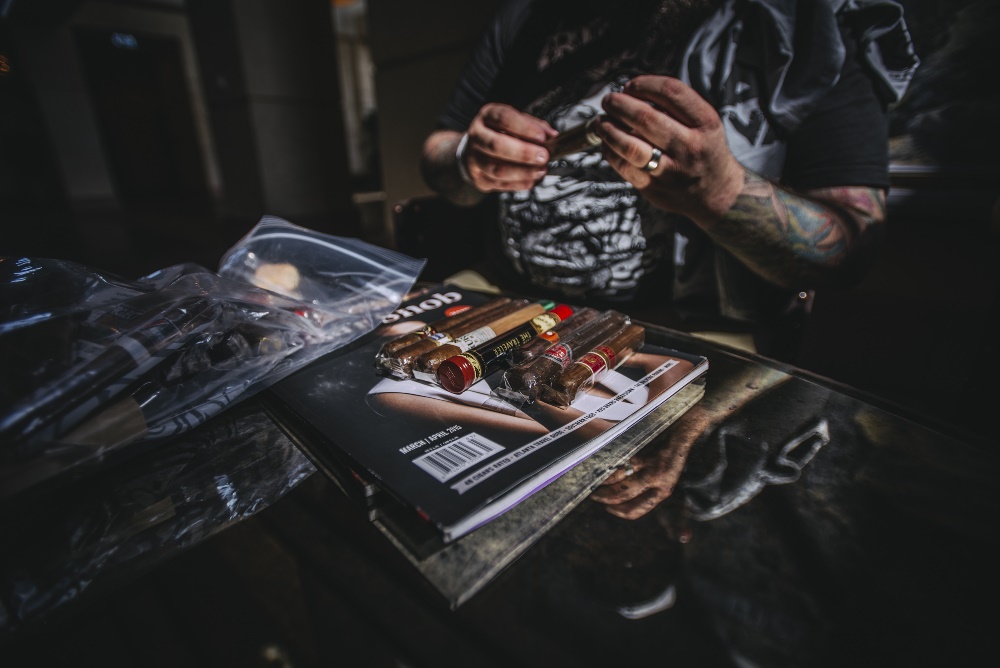 We were surprised to find some Colorado cigar producers making a splash in the scene. It's always good to support your locals. Also, for the amount of money you drop on this festival, you get a lot of stuff. All attendees purchasing a cigar ticket were provided with an official festival bag containing over 50 premium cigars, cutter, lighter and butane, festival glass, t-shirt, drink tickets and coupons for vendors at the show. Unlike beer festivals, cigar producers can sell their wares at their booth and you can find some 'smoking' good deals on cigars, tobaccos, humidors, etc. right on site at the festival. We were really excited to see that Boveda is jumping into the humidor game with their new acrylic humidor! Also, we love the new Xikar Volta Lighters because they look like a bluetooth wireless speaker but they light your stogie. But we must say, it looks like it may cause some confusion so don't have that thing around the kids! Just sayin'.
Knowing what we do about craft beer and wanting to learn more about cigars from some of the best blenders and tobacco owners around, we are so blessed to have been able to attend the Rocky Mountain Cigar Festival this year and provide some event coverage. We hope that we may have spread some of our knowledge on all things craft beer with some of the cigar folks. If you love craft beer as much as we do, and you're a cigar fan – be it a rookie looking to learn or a professional looking to capitalize on the great event – you should definitely try to make it out to next year's Rocky Mountain Cigar Festival. Keep an eye out for our cigar and beer pairing series coming soon. As always, stay thirsty and Smoke 'Em If You Got 'Em!
Cory Pelc is the Denver Editor for PorchDrinking.com. Follow him on Instagram and Untappd: @haveabeeraboutit. On Twitter, you can follow along at @haveabeerboutit.
---