No Comments
Brewery Showcase | Senn Bierwerks Planning 2017 Debut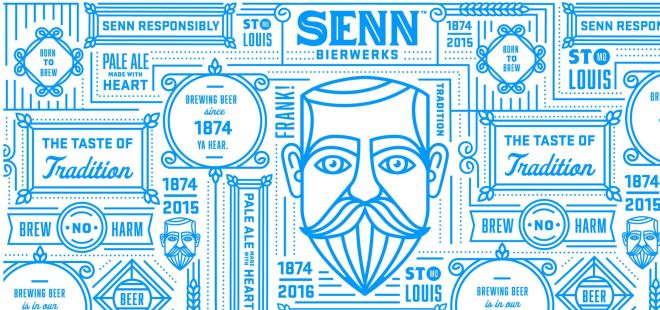 St. Louis is a thirsty town and getting thirstier. Thankfully, the local brewing community is responding with new ideas, new beers, and new breweries.
This week we learned the plans of St. Louis' soon to be 'newest' brewery, Senn Bierwerks.  Senn announced the opening of its taproom and brewery in St. Louis for early 2017. Founded by Dustin Chalfant, James Hellmuth and Kristen Chalfant, the 20-barrel production facility, tasting room, and beer garden will be the area's first 100­% aluminum packaging brewery.
The Chalfant's and Hellmuth are no strangers to the St. Louis beer scene.  Between them they bring nearly two decades of collective experience, and have worked extensively in every aspect of the brewery. The mission of the Senn brand is commitment to "5 Key Principles" which include Green Initiative, Contribution, Connection, Community, and Creativity. These principles are summed up in three words: 'Brew No Harm'.
Senn will distribute a variety of ales and lagers in 4-pack 16oz cans, and 32 oz. Crowlers filled to­ order.
"We are not set on any one style of beer, and that affords us the flexibility to make whatever we feel like making," said Kristen Chalfant. One thing we will stress amongst our employees is experimentation, and the opportunity to express their creativity through our pilot system. That said, we are planning to roll out with a malt forward, amber-style beer, a NWIPA, and a hop forward pilsner."
Senn could also go sour. With Hellmuth's barrel aging and sour experience, don't be surprised if Senn dabbles in that arena as well.
What's in a name?
Where does the name Senn come from? Dustin Chalfant's mother's maiden name is Senn, and fermentation has been in his family since before he can remember. In fact, his 4x great uncle, Frank Senn, started Senn & Ackermann Brewery in Louisville, KY in the late 1800s, which was the first lager brewery to have an ice machine. "All of this combined gave us the inspiration for Senn, and the motivation to take it to another level with the revitalization of a commercial brewery," said Kristen Chalfant.
"After years of planning, we are excited about the opportunity to expand our roots here in St. Louis," Senn President Dustin Chalfant said. "Following our mission to 'Brew No HarmTM,' we are committed to making a positive local economic impact, building community, and brewing some amazing beer."
"The one thing we're most excited about is getting to work with the people we want to work with, and doing the things we've always wanted to do but couldn't do because of ownership restrictions," said Kristen Chalfant.  "Really, in the end, we want to have so much fun that everyone else around us will be having fun, too."
We can't wait for the fun to begin in early 2017!
Get more great St. Louis craft beer news everyday at Drink314 online or on Facebook and Twitter.
---