No Comments
Event Preview | St. Louis Brewers Guild's Heritage Festival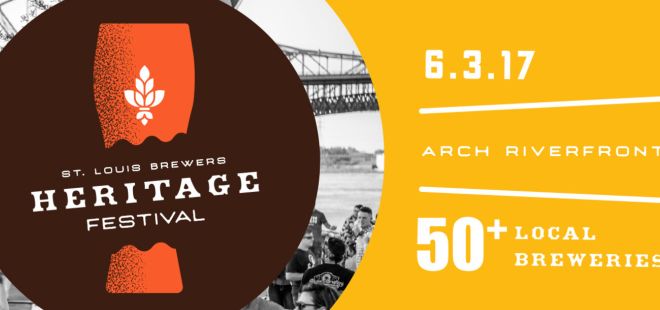 Featured image courtesy of St. Louis Brewers Guild.
It was a big deal to move a festival as large as the St. Louis Brewers Guild's Heritage Festival from Forest Park to the Arch grounds, but I think it is one both local brewers and beer lovers agree is worth it.
There is no other beer festival in the city that offers the rugged poetry of the Mississippi River and the majesty of the Gateway Arch as its landscape (which, I must say, takes on new meaning after a few beers and a clear starry sky).
This festival is unique in St. Louis because unlike other festivals, this one is really a celebration of the city's nearly 200 year love affair with beer, and is hosted by the men and women who have redefined this love in the 21st century.  It's a giant pat on the back, and a loud "good for us dude, look at what the fuck we built here!"
Now in it's 11th year, on June 3rd, the festival will once again be open by sessions, and each session will feature live music, entertainment and include a commemorative tasting glass and unlimited samples from the 100+ pro-brewer beers, Homebrew Club beers, festival beer, and rare tapping tent.
Food trucks, food vendors and retail vendors will be onsite for attendees to purchase food.
Early Entry tickets are limited and offer guests an opportunity to enjoy everything the festival has to offer for an extra hour before the rest of the attendees are allowed to enter.
VIP tickets are limited to just 200 per session and include access to the exclusive iTap Riverfront VIP Experience featuring full pours from a 20-tap back bar, hourly rare tappings, an included meal from Bailey's Range, and fancy, air-conditioned bathrooms.
Session Times
This festival takes place over one glorious afternoon and evening. The afternoon session begins at 1 p.m. and runs three hours till 4 p.m., but early entry tickets get you in at noon for an extra hour of fun. The evening sessions' early entry begins at 6 p.m. with the regular session starting at 7 p.m. and lasting till 10 p.m.
Rare Tastings Tent 
One of the two things I'm most excited about for this year's festival is the "Rare Tappings Tent," an event hosted by Ryan and Justin, the owners of Saint Louis Hop Shop. These guys are curating an incredible selection of hourly releases throughout this year's festival from local favorites like Perennial Artisan Ales, The Modern Brewery, 4 Hands Brewing Company, Narrow Gauge Brewing Company, 2nd Shift Brewing, Earthbound Beer, Urban Chestnut Brewing Company, Schlafly Beer, The Old Bakery Beer Company and even up and coming Rockwell Beer Company.
Festival Strategy
Call it experience, call it trial by fire, but I have found that the best way to maximize your beer festival participation is to have a plan.  After perusing the attending breweries, all of which I love, I found a thread for this years plan—The New Kids On The Block.

Of the 48 guild members pouring this year, many are new breweries who have either just opened:
Or are going to open soon:
Wellspent Brewing
Rockwell
Bluewood
Gumbo Flats
That's my plan.  Feel free to steal it, or come up with your own.  But no matter how you plan to enjoy this year's festival, do it responsibly.
---