No Comments
Event Preview | Fieldwork Brewing Anniversary Weekend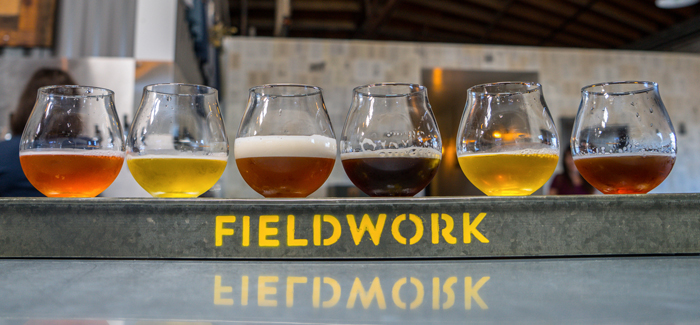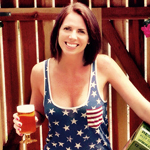 Fieldwork Brewing is a Berkeley-based brewery committed to quality and freshness, that has taken the Bay Area by storm. Their beers are some of the most aromatic and balanced hoppy beers that you will ever have. The vast beer array of beers Fieldwork offers are truly unique and forever changing. The draft list may be completely different a week later.
Having been open for a year and exponentially growing in popularity, Fieldwork Brewing has reason to celebrate for three days. Co-founder and head brewer Alex Tweet stated, "in my eyes the anniversary is to celebrate our customers. We honest to god have the best customers I have ever seen in this industry, and the anniversary is hopefully going to be a fun weekend for them to celebrate what they helped build. If it wasn't for them we wouldn't be in business."
https://instagram.com/p/BDy864PwdyX/
Friday April 8 | Tapping Open the Vault
Tap Room Open 11:00am -11:00pm to the general public
Tap List:
The release of 2016 Eliza, tapping at 11:00am. Eliza is "our NOLA-style Coffee Imperial Milk Stout brewed with coffee from local roaster Paramo Coffee, French Chicory, cane sugar, and milk sugar. We will have 150 32oz growler available in the taproom on a first come, first served basis at $26.00."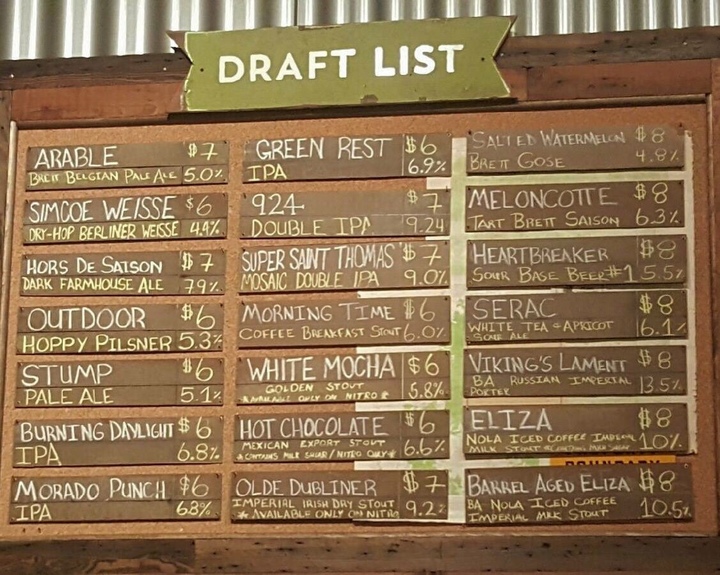 The library kegs being tapped from the vault include:
2015 Barrel Aged Eliza (last keg and it was barrel aged in Bourbon and Red Wine barrels!)
Vikings Lament Barrel Aged Imperial Porter
Serac, White Tea & Apricot Sour Ale
Heartbreaker Sour Base Beer 1
Salted Watermelon Brett Gose
Meloncotte Tart Brett Saison
** No growler or Crowler fills of these library beers**
---
https://instagram.com/p/BCjzQgalkOh/
Saturday April 9th | The Brothers Comatose Show
Tap Room will be open 11:00am-5:00pm to the general public. The brewery will be closed from 5:00pm -7:00pm to get ready for The Brothers Comatose show. 7:00pm ticket holders will be able to enter with a 9:00pm show start. This show is unfortunately SOLD OUT.
Tap List
Library Beers -TBD.
New Releases: Pulp Free IPA and Morado Punch IPA
---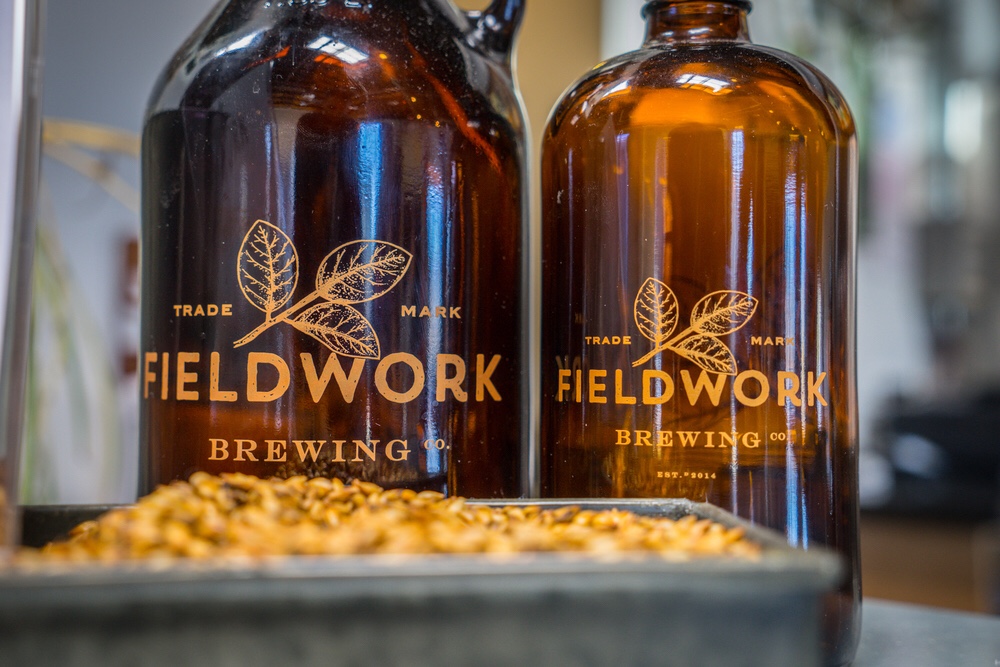 Sunday April 10th | First Anniversary Beer Dinner
Tap Room open 11:00am – 10:00pm to the general public. Mike O'Brien, Executive Chef of The Monk's Kettle in San Francisco and Fieldwork Co-owner and Head Brewer Alex Tweet. Beer dinner will be 6:00pm -10:00pm. The $85.00 ticket (gratuity and tax) covers six exquisite courses from O'Brien paired with eight Fieldwork craft beers from Tweet.  This 75 person event  sold out almost immediately.
Tap List
Library Beers -TBD.
Beer Dinner Menu
First Course: Amuse Grilled Oysters with Prosciutto and Parmesan Mignonet paired with Meloncotte
Second Course: Watercress, Asparagus, Radish, Avocado, Lemon Verbena Oil paired with Arable Brett Belgian Pale Ale
Third Course: Larb por ped; Spicy Minced Duck over Bibb Lettuce with Green Papaya, Culantro, Mint, Lime paired with our new Mosaic DIPA
Fourth Course: Whole Grilled Snapper, English Peas, Favas, Green Beans, Creamy Green Garlic Pesto paired with a fresh IPA & Hors de Saison Farmhouse Ale
Fifth Course: Galbi; Grilled Korean Style Short Ribs with Kimchi and Scallion Pancakes paired with Eliza NOLA-style Coffee Imperial Milk Stout & Serac White Tea & Apricot Sour Ale
Sixth Course: Strawberry Rhubarb Cobbler with Whipped Cream paired with Tart Cherry Gose
---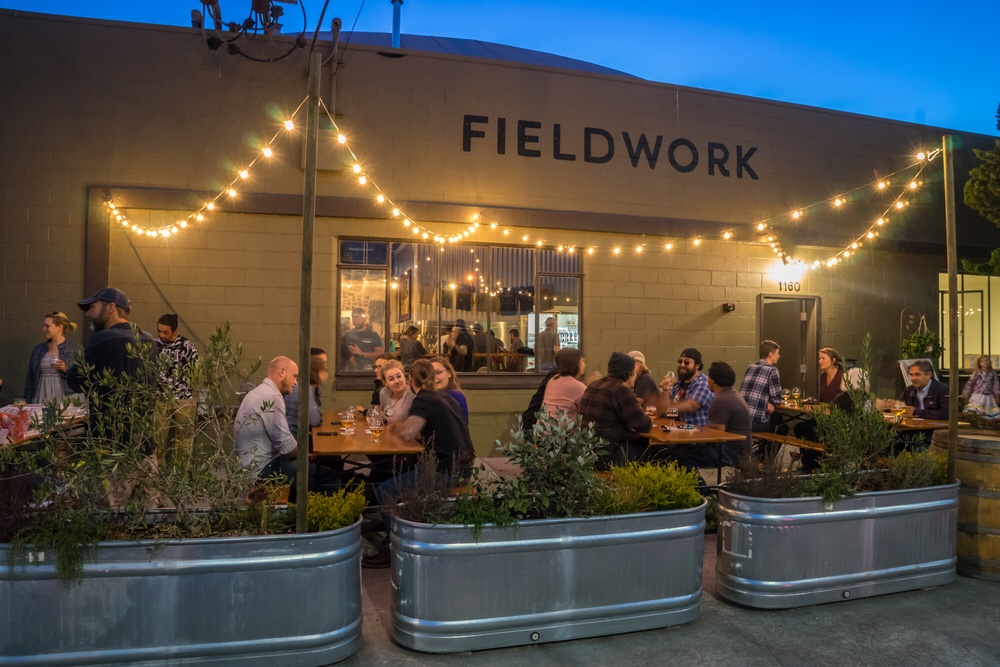 Words from the Bay Area Locals on Fieldwork Brewing
Fieldwork Brewing has quickly become one of the best brewers in the entire Bay Area. Their beers run the gamut of styles, from West Coast IPAs to sours and barrel aged stouts. It's easy to find their beers on tap in Bay Area bars and restaurants, but in order to get the real Fieldwork experience, you need to go to their laid-back taproom and order yourself a flight. Feel free to bring your dog, too. John Brooks, Bay Area Writer for PorchDrinking.com
The Good Hop was thrilled to be one of the first few beer bars to have Fieldwork on tap. Their beers are ever changing and evolving, growing right along with their reputation for exceptional beer and not only a local stand out but a stand out brewery in the Bay Area. It's hard to believe they have been around for only 1 year!  Melissa Myers, Owner of The Good Hop 
Fieldwork is honestly one of my favorite breweries in the entire world—and I'm not just saying this because it's an easy breezy three block walk from my apartment. They are my family, they are my friends. And they are making some of the most innovative and interesting beers I've ever had. Goses brewed with various wine grape varietals, IPAs brewed with new and experimental hops, fruit beers that would blow your mind. In a time when the word 'craft' has been challenged, if not compromised—Fieldwork is continuing to raise the bar for craft beer. They make me feel all warm and gooey inside. Happy Anniversary, Fieldwork. I love you guys! Ashley Rouston, Author of The Beer Wench's Guide to Beer and District Manager for Green Flash & Alpine Beer
Dog people are the best people. …Scratch that; dog-loving, beer-making people are the best people. Fieldwork meets my criteria for best people. Delicious beers in a dog-friendly zone make Fieldwork one of my go-to adult beverage hangouts. Kim Schmike, Social Media Director & Events Reporter for The Brewing Network.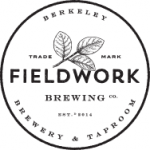 "As always, well behaved adults, children and dogs are welcome" at the taproom. Come celebrate the freshest and most fragrant beers at Fieldwork Brewing with me this weekend. You can follow my beer adventures on Instagram and twitter @tapswithtor!
*Cover Photo by Suni Sidhu
---