No Comments
GOAL. Brewing opens in San Diego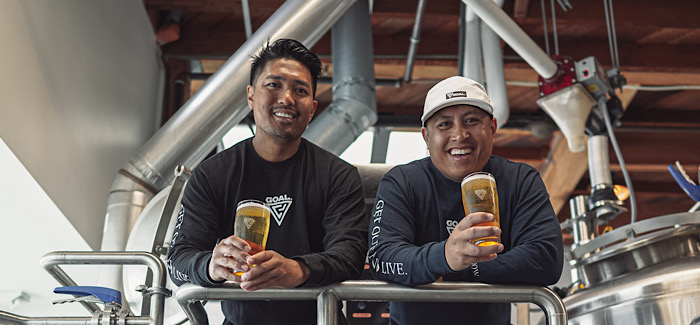 A new, but returning player is back in the San Diego brewing scene. GOAL. Brewing opened in July and at the helm of the brewhouse is Derek Gallanosa.
You might know Derek from his most recent job at Moksa Brewing Company in Rocklin, California. Before that Derek honed his skills at both Karl Strauss Brewing and Abnormal Beer Co.
As the brewery was in the midst of its grand opening, Derek took a few minutes to explain GOAL. Brewing, and how Brewery Igniter, a business incubator program, helped it open.
PD:

GOAL. Brewing appears to be part of a GOAL. brand. is that accurate? If so, how does the brewery fit in with the brand?
DG: Yes, that is correct. GOAL. is an acronym for "get out and live." It's a parent brand that reflects the lifestyle of my business partner, Jayson Pizarro, and myself. The brewery is just one entity of the brand and will continue to expand into other related and unrelated industries over time. Right now there is a sportfishing arm of the brand that was established before the brewery. We have some plans in the works that we will unveil closer to their debuts, you'll just have to follow us for all the updates.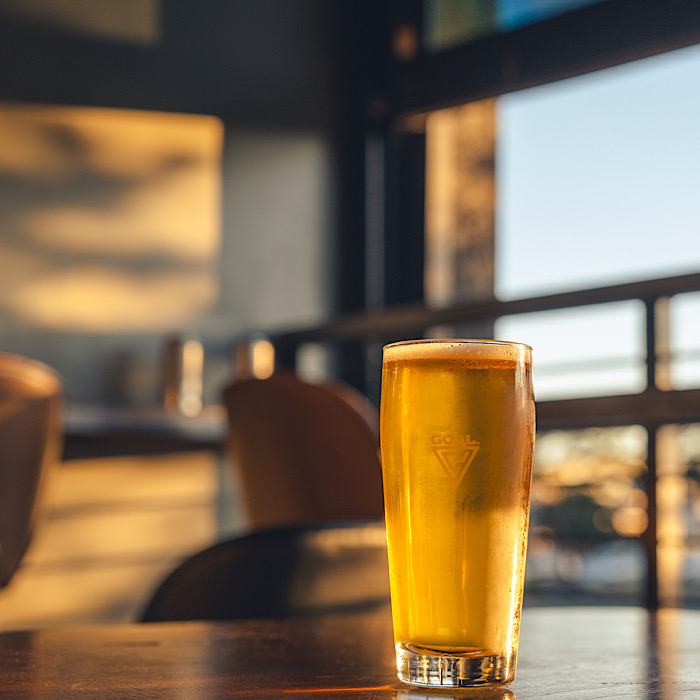 Can you explain how the Brewery Igniter works and what the overall space is like? Multiple tasting rooms?
The Brewery Igniter program allows breweries to build their brand while limiting some startup costs. We are essentially renting a fully functional brewery and taproom without having to purchase the main equipment. There are three separate breweries, all in separate suites, with identical brewery setups. This allows customers to visit one location and try up to three different breweries. It's a neat concept and is allowed us to operate faster and cheaper than if we were to build something from scratch.
Is the plan for GOAL. to be distributing beer at some point?
The initial round of distribution will be focusing on events such as tap takeovers, beer dinners and meet-the-brewer. By doing this, that week's allocation of distro kegs will be concentrated at one spot at a time, meaning they can promote our beer as only being exclusively at their place and our taproom for that night. This also provides a sense of urgency for the surrounding customers knowing that their chance to try our beer in their neighborhood is limited to that night and maybe a few days after. Once the beers are gone, we move on to the next event somewhere else.
You have many connections in the industry, when will we see the first collab?
The first collab since moving down to San Diego went to Harland Beer Company out of San Diego. We brewed a Foeder Aged Smoked Pale Lager that should be ready in a few weeks. Collaborations will always be a part of our business, there are too many friends we want to work with together.
Your time in Sacramento was short, but you have a lot of fans in Northern California. Any plans to visit Sacramento with GOAL. beer?
I have no set plans on visiting Sacramento yet, but I'm sure there will be opportunities for events and collaborations soon. But whatever they are, I'm not committing to anything until after that heat cools down.
You have mentioned in other articles that day-to-day brewing and cellar work has been difficult to get "back in shape" for. Will your volume allow you to bring in more brewing staff at some point?
Right now, it's just me in the back of the house doing all the beer production. Honestly, I have gotten back into "brewing shape" and things have been much easier physically. The volume is much smaller than Moksa, so I don't see myself needing help until we start to scale up, but there are no current plans for that just yet.
Anything you want to share or think I should know for this article?
A few more things about our brand and beer program. One thing I cannot "pick up where I left off" down here is a barrel-aging program. My average is about 20 months in the barrel, so it will take some time before customers see more barrel-aged beers from me. Also, if you want more updates about GOAL. Brewing, follow @GOALxBrewing for more overall brand stuff, and me (@HeyBeerMe) for more behind-the-scenes beer-related stuff.
* * *
If you spent any amount of time following Derek on Instagram you will definitely know about his predilection for burritos. So I had to ask about his top three spots when you find yourself in San Diego. I would expect these spots to all be burrito gold.
La Perla #3
Colima's
TJ Tacos
"Get out and live" is not only a great acronym for a brewery, but it's also a fantastic mantra for anyone. GOAL. Brewing looks to be the next hot spot in San Diego. With Derek's past success, there is little doubt that the beer will live up to the public's expectations.
---