No Comments
Avery Brewing Company | Daywalker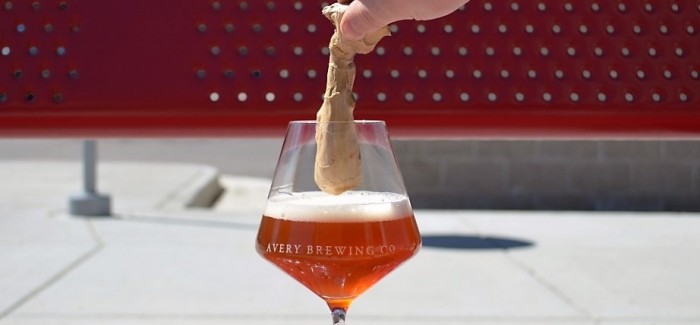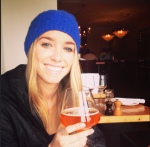 ABV: 5.8% | IBUs: 5
Back in the day, while living the dream as a carefree twenty-one year old in Boulder, I had my first Avery Brewing Company Tap Room Rarity: the now-infamous Liliko'i Kepolo. The exclusiveness of this sweet-yet-tart beverage, only available in a tucked away warehouse of the former Avery Tap Room, felt like one of Boulder's best-kept secrets. Walking into the brewery on a warm summer day, I always knew that Liliko'i was the exact beer I wanted to drink on the red patio before riding off into the sunset (on my awesome 50cc scooter, of course.)
Fast forward six years later to a night out at Avery's new facility in Gunbarrel, where I stumbled upon a new Tap Room Rarity: Daywalker. After hearing confirmation from some of my other craft beer brethren in Boulder about how this barrel-aged beer with ginger juice is truly a standout sour, I knew I had to write this showcase.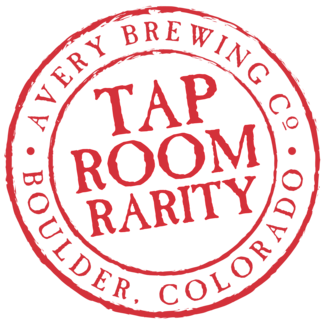 Lucky for me, I was able to sit down with Andy Parker, Avery's Head Barrel Herder and creator of my tender loving Liliko'i. Even more fortuitous for me, we were later joined by both Thoma Ledder, self-described Barrel Romancer and the man who conceived the Daywalker, as well as Travis Rupp. These three men, in addition to Leigh Audin, make up the four-man squad that is Avery's Special Projects Team. Note: Thoma and Travis were late to the party because they were having a fruit fight in preparation for another batch of Avery's Raspberry Sour, and rolled up to our patio table covered in pureed raspberry (aka pure sex.)
Origin
(Imagine that Snoop Dogg's "Gin(ger) and Juice" is playing in the background)
Now, it is worth mentioning that before the Daywalker made its debut in Avery's Tap Room, the Special Projects Team first brewed a beer called Day-tox (because we, as avid beer drinkers, all need a beer to help us detox during the day.) To impart this beer with some healthiness so that it could live up to its name, Day-tox was made with ginger and beets. The beets gave this Tap Room Rarity libation a nice coloring, and the ginger flavor helped give the sourness a slight kick.
It was not until the Special Projects Team realized that, due to a miscommunication, they had some leftover cold-pressed ginger juice from brewing Double D's (Avery's thirty-second Barrel Series release — a bourbon barrel-aged spiced beer with ginger.) Well one night, Thoma, who may have been slightly intoxicated, was drinking straight up ginger juice. Then, in a total genius move, he proceeded to pour the ginger juice into a barrel full of aging beer. And, voilà, it ended up tasting awesome. Thus, after deciding that a ginger-forward sour (sans-beets) could work after all, the Special Projects Team made eight barrels of what became the Daywalker. Moreover, Thoma said that he was also inspired by San Francisco's The Rare Barrel, who puts out a ginger sour called the Sourtooth Tiger.
Daywalker got its name from a South Park episode. According to Urban Dictionary, Daywalkers are gingers (i.e. redheads) that do not burn in direct sunlight. Given that the beer's key ingredient is ginger, Thoma wanted to pay homage to its presence in the beer while also tipping his hat to Trey Parker and Matt Stone's 2005 episode "Ginger Kids".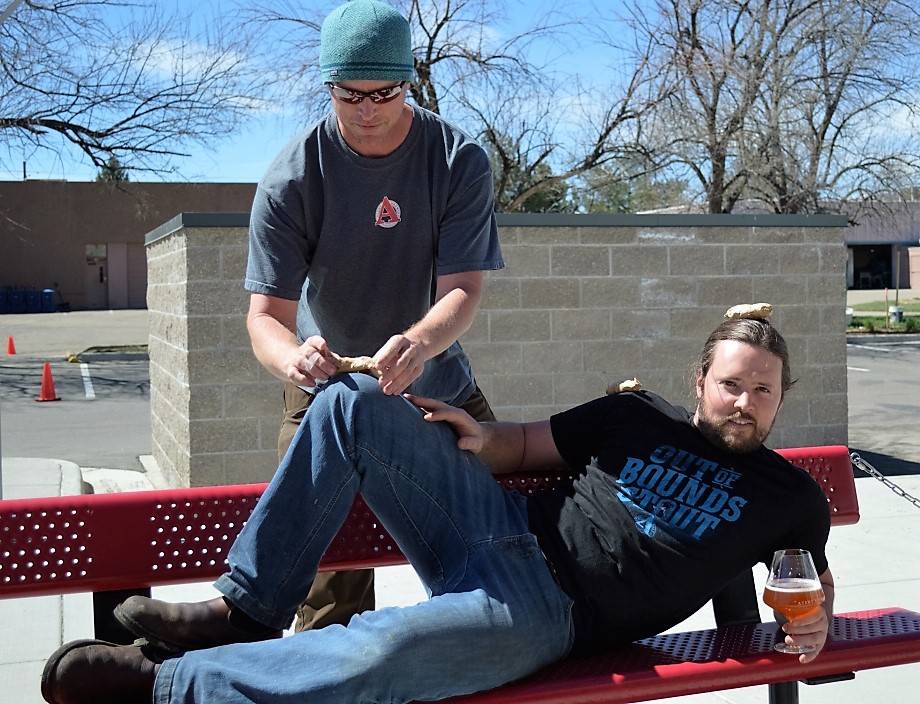 Brewing Process
Let's get into the specifics of how Special Projects makes the Daywalker. Andy Parker gave me a very educational rundown. It's worth noting that Andy has been with Avery since his move from the Big Island in Hawaii fourteen years ago. As an overall brewing ethos, Andy said that the Special Projects Team is simply just making stuff that they, as beer fans, want to drink. Andy mused that the off-the-cuff Tap Room Rarities (like the Liliko'i was originally, and the Day-tox, and the Daywalker now) give the brewers a nice testing ground for new types of beers.
To commence the Daywalker's creation, first the brewers take the base beer and put it into one of Avery's steel tanks with Saccharomyces yeast. Next, they transfer the beer into neutral wine barrels and throw in some Brettanomyces yeast, as well as some Lactobacillus and Pediococcus which are two types of wild bacteria that help sour Daywalker. Third, Avery lets these oak barrels sit for six months so that the beer can age and sour. The slightly porous oak allows oxygen to come into the beer and help ferment all the Brett, Lacto, and Pedio.  Avery actually has a separate location a couple hundred yards from the Brew House, called the Barrel House, that stores about 2,000 barrels. Special Projects will go over there a couple of times a month, try about 30 beers at a time, and check each one's pH level and gravities. After six months, the ginger juice is finally added to the "mélange of yeasts and bacteria." Think of a brewer dry hopping a sour beer, but using ginger juice instead. Avery sources the ginger juice from the Pressery, a Colorado-based cold juice presser. And, unlike Liliko'i's passionfruit, ginger juice is a relatively inexpensive adjunct, which keeps the cost of the beer down. Avery's decision to wait to throw the ginger in until the end is part of the reason why the flavor is so prominent when you "tip back that 10oz pour of the Daywalker into your flavor hole" (Andy's words, not mine.)
As with most of Avery's beers of the sour variety, the Daywalker is heavier on the lactic acid, which is part of the reason why it is so damn drinkable. That being said, when you put your glass of Daywalker to your nose, it does not necessarily smell as if it is going to be a sour beer, which is the case for more acetic-acid forward sours.
Look, Smell, Taste – A Group Effort
In terms of appearance, Special Projects Team member Travis Rupp says the Daywalker pours a nice orange hue with some haze. There's not much lacing going on. Thoma exclaimed that Daywalker smells healthy! I think it smells deliciously gingery, and somewhat like kombucha. For flavor, Travis concludes that Daywalker is a ginger bomb with an almost orange-y, tangerine essence. Andy thinks it tastes like pure victory. Daywalker's ginger bite and citrus flavors, neither of which overwhelm the palate, make for a great combination. The spiciness of the ginger juice and tart, sweetness of the sour flavor create a well-balanced drinking experience.
Also, the fact that Avery used neutral wine barrels was a smart move, as the lack of any vinous character allows the ginger to really shine. All in all, according to Thoma, drinking a Daywalker is akin to your mouth being romanced by a small Asian chef. I fully endorse this sentiment, as I have not been this excited about an Avery beer in a while.
Food Pairings
For food pairings, Thoma thinks anything Thai-inspired will pair nicely with the Daywalker — perhaps some Thai mussels or chicken tikka masala. Along those lines, since you can only get this beer at Avery, order its restaurant's Udon Noodle Bowl to pair with your pour of this magical offering. If you're feeling super fancy whilst dining at Avery, get their Cheese Plate which comes with Ewephoria, Truffle Tremor, ColoRouge cheeses. Andy thinks cheese would also go wonderfully with Daywalker, as the beer's acidity will cut cheese's fatty flavors nicely. Another good option to pair with the Daywalker is Avery's Charcuterie Plate with chicken liver pâté, soppressata, and speck.
Availability
According to Andy, Daywalker's popularity caught the brewery somewhat unexpectedly. Since its debut in the Tap Room, it has consistently been one of the best sellers. As of right now, the Daywalker is only available fresh from the source at Avery. However, the beer's renown has spurned a discussion about a possible bottle release… but that is a TOTAL MAYBE. Thus, I would urge you to get over to Avery ASAP so that you can get your hands on some Daywalker before this initial batch kicks. That being said, Avery and the Special Projects team have plans to make both the Day-tox and the Daywalker again sometime in the future.
---