No Comments
Brewery Showcase | River Dog Brewing Co.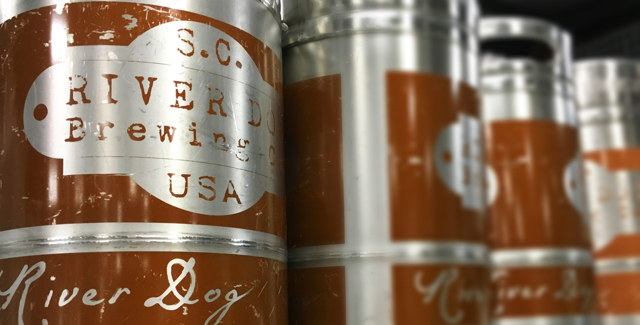 Sometimes when you travel off the beaten path, you are rewarded by the sweetest of treasures. This is what you'll find when you reach River Dog Brewing Co.
River Dog Brewing Co. is a quaint, hometown brewery in Ridgeland, South Carolina. I say 'hometown' because River Dog was the first brewery in its surrounding area. Deep in the heart of Lowcountry South Carolina, River Dog has been brewing handcrafted beer since 2013. Producing around 1,200 barrels a year and serving 10-12 taps at any given time, the locals have come to know River Dog as their neighborhood watering hole. Lucky for those of us who live in the area, many exciting changes are coming to River Dog Brewing Co.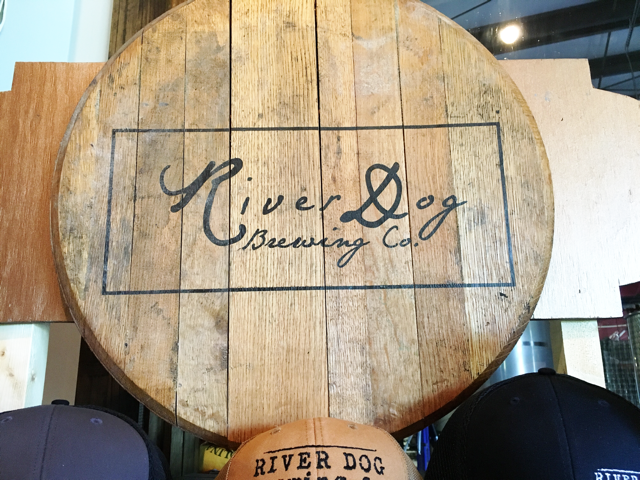 Once upon a time…
River Dog opened its doors to the public in May 2013. But that is not where the story begins. The planning of River Dog took place during 2012, between three business partners who shared a passion for brewing quality, handcrafted beer. Production began in January 2013 with distribution across the state of South Carolina. Once the taproom opened that May, Bluffton and Hilton Head natives could enjoy fresh, local beer.
In 2014, one of the original owners, Dawna Gray, and her family took 100% ownership of the brewery. However, by 2015 River Dog had lost its second head brewer in 2 years. Despite the changes in their business, they continued to pursue their dreams. Gray hired John Federal from Raleigh Brewing Co. in North Carolina in April 2015. The addition of Federal to the River Dog staff helped turn a good brewery into an excellent production facility. Federal's knowledge of the brewing process and the chemistry that occurs, along with his creativity are grand additions to the entire beer scene in Bluffton.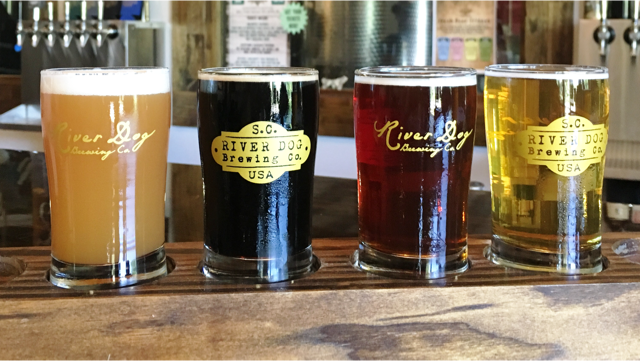 The Good Stuff
River Dog has a lineup of 4 year around beers: River Dog IPA, Riverwalk Empire Pilsner, Altered State Red IPA, and Perkolatte Coffee Milk Stout. Currently, Riverwalk Empire is their only packaged beer. However, they are expecting a shipment of cans for River Dog IPA in June with plans to distribute in July, 2016. There are also plans to can the other two in the future.
https://www.instagram.com/p/BFr5bnryCAf/?taken-by=daneleheartshops
Federal has created several impressive beers since joining the River Dog team in 2015. A crowd favorite has been Imperial Perkolatte, an imperial version of Perkolatte that boasts an 11% ABV with a chewy mouth feel and roastiness from the malt base and coffee. Both Perkolatte and Imperial Perkolatte are collaborations with local coffee shop and roaster, The Corner Perk. "My favorite River Dog beer to brew is Perkolatte," commented Federal, "mainly because I love the collaborative effort between us and Corner Perk. Also, I just love brewing dark beers." Federal also collaborated with the Beer Street Journal guys by brewing a traditional Belgian Saison with orange peels and aged in Red Wine Barrels.
There are big plans in the works for the rest of 2016. Federal recently began a series called Fresh Beer Fridays where he brews an inventive one-off on their new 10 gallon pilot system using creative ingredients. Every Friday, the taproom releases a new small batch. It's an exciting and creative outlet for Federal, allowing him to try different ingredients and create new recipes. It's also exciting for local patrons who love trying new flavors. So far he has brewed a vanilla cream ale, a SMaSH with Pilsner malt and Amarillo hops, a ginger wheat beer with lemon zest and peaches, and a traditional Belgian Grisette to be released soon. Along with Fresh Beer Fridays, Federal has many plans for the remainder of 2016.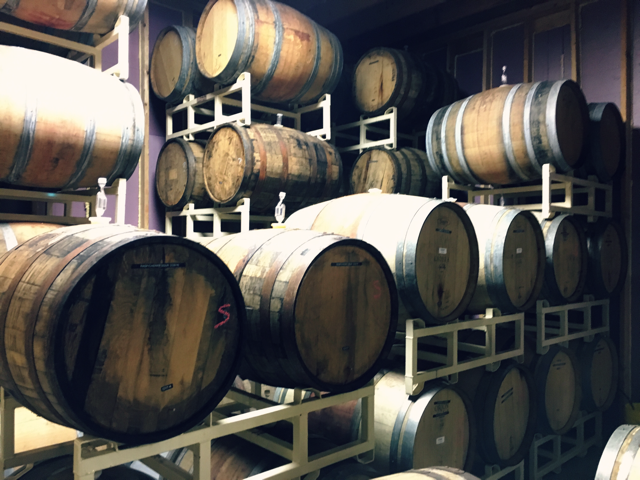 You Have How Many Barrels?
That is a common question asked when walking into River Dog's barrel room. They boast an impressive space with over 100 oak barrels including bourbon, red and white wine, rum, and new oak. Federal plans to use these barrels to age upcoming clean and sour beers. This fall, he will start their new sour program that will include a blonde sour ale (lactic, bready) and a sour amber ale (restrained, caramel, funky). Federal will utilize the kettle sour method to create these sour base beers with plans to create other beers by adding fruit/spices, dry hopping, and barrel aging. He plans to package any barrel aged beer on a small package format in 22 oz. bottles that will be available in the taproom and select specialty retail stores across South Carolina.
The Future of River Dog Brewing Co.
The entire staff at River Dog aims to create an excellent experience for Bluffton natives and craft beer lovers alike. Federal strives to "create robust, flavorful and consistent products" and that is all he expects of himself and the team at River Dog. "To me, no matter how big or how small you are, it all really boils down to those qualities."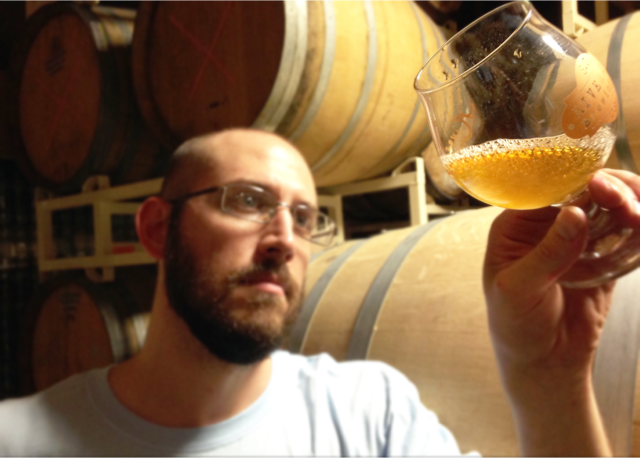 Currently, River Dog is about 45 minutes from Hilton Head Island and 35 minutes from Savannah. However, the brewery is "coming home" to Bluffton, South Carolina as Dawna Gray plans to move the brewery to a section of town called Old Town Bluffton. This section of town is highly sought after by many businesses and will put the brewery in a very desirable location. Gray and her team have plans to triple the size of their production facility to 25,000 sq. feet and also plans to include an outdoor beer garden, new tasting room, River Dog Brewing gift shop, two barrel aging facilities, and event space. This will allow locals and incoming tourists easier access to handcrafted beers from River Dog.
"We're really committed to our craft and we're fortunate to have a really dedicated and hardworking crew at River Dog. Getting in the brewing business is not for the financial faint of heart. It takes a major investment and we're fortunate to be one of the few debt-free breweries. We are also passionate about doing business with local vendors, supporting the communities within which we live and work and buying American made equipment. We're proud to have been Bluffton's original brewery and we're happy to be coming home!"
– Dawna Gray
So the next time you pass through South Carolina, be sure to pull off Interstate 95 down a road less traveled to experience a taste of the Lowcountry craft beer scene at River Dog Brewing Co.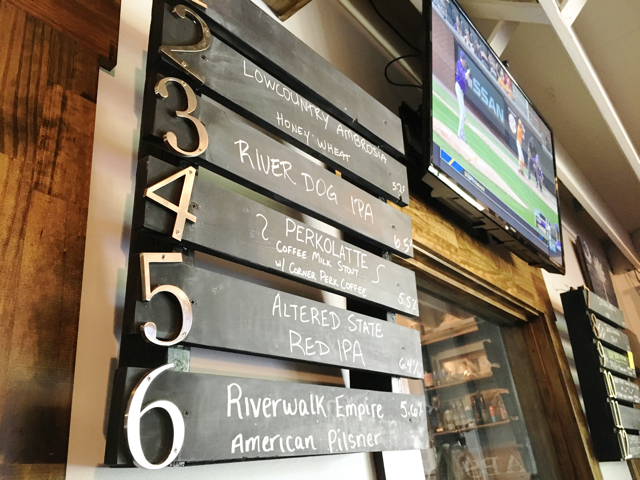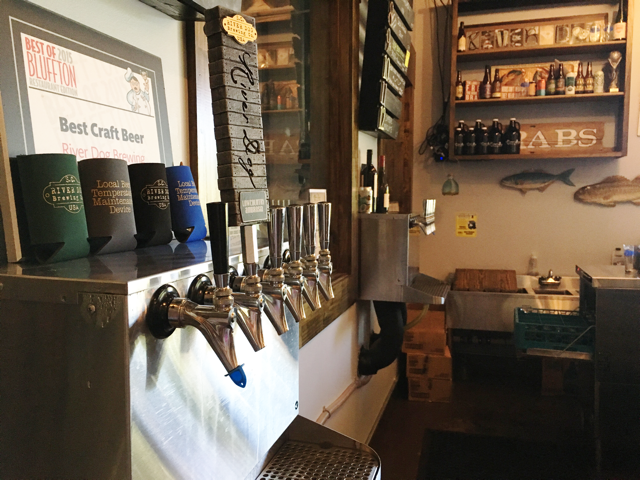 River Dog Brewing Co.
591 Browns Cove Rd. N, Suite H
Ridgeland, SC
Hours
Tuesdays, Wednesdays, & Thursdays:  3 p.m. to 8 p.m.
Fridays: 3 p.m. to 9 p.m.
Saturdays: 12 p.m. to 9 p.m.
---