No Comments
Scorched Earth Brewing | Hickster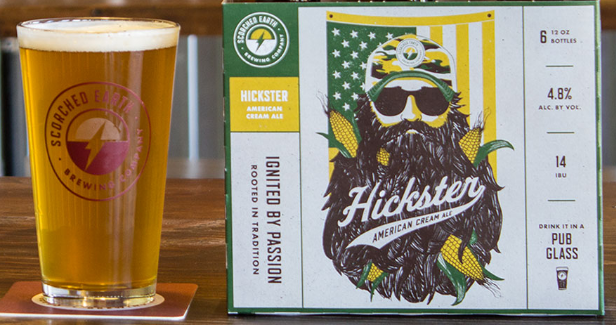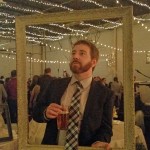 ABV: 4.8% | IBU: 14
After pinballing through Chicago Craft Beer Week, my liver was in need of some time off. I obliged for about a week before the amazing weather we've been having eroded my willpower. However, I compromised, and vowed to drink only beers that were less than 5% ABV. It's more fitting for 80 degree weather anyway and, frankly, I'm a little worn out on 7%+ IPAs. Thankfully, CCBW reintroduced all the beer styles I haven't visited in awhile, which granted me plenty of options. One of these stuck out, and I'm pretty sure it will be a consistent 6-pack in my fridge this summer — Scorched Earth's Hickster.
Scorched Earth Brewing (see their brewery showcase here!) is located in Algonquin, IL, which straddles the border between the Chicago-Metro area and endless rows of corn. Hence the inspiration for their American Cream Ale, Hickster. A little hip and a little hick, this beer isn't just for those wearing skin-tight overalls or driving an electric pick-up truck. Rather, it satisfies both ends of the spectrum with attributes each can appreciate: it makes for a great partner at a burger cookout, and also providing plenty of complexity to fuss over. And at 4.8%, it's incredibly easy drinking.
This beer is great for backyard or front porch drinking, pouring a slightly hazy straw-color. A thick, white head rests on top, and the aroma is sweet and malty with a slight hint of corn. A bit of floral hops show up on  nose, but the creamy malt is the centerpiece here. Hickster drinks clean and smooth, with notes of toast and a subdued corn sweetness. It finishes dry and begs for another sip. Although this beer endures quite a few comparisons to another flagship Cream Ale from our neighbors to the north, Hickster truly stands on its own.
I'll be finding as many opportunities as I can this summer to grab my ethically-sourced, gluten-free cowboy hat and a Hickster Cream Ale for some backyard drinking. And if all goes accordingly, I'll get a free-range farmer's tan to go with it.
https://www.instagram.com/p/BC0vTHRw4Uz/?taken-by=scorchedearthbrewing
Header photo courtesy of Scorched Earth Brewing
---