No Comments
Event Recap | 2016 SAVOR: An American Craft Beer & Food Experience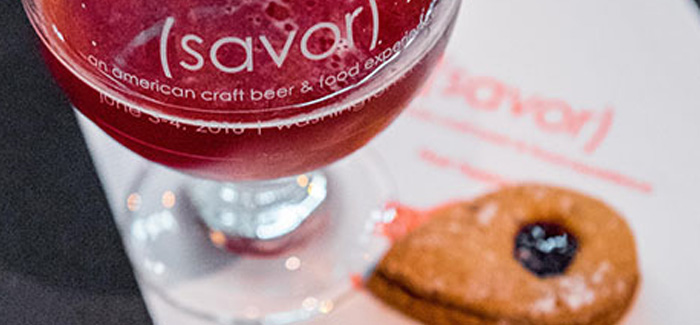 PorchDrinking.com has been fortunate to attend SAVOR the past few years, an event presented by the Brewers Association in Washington, D.C. where over 4,000 craft beer lovers have an opportunity to taste brews from 76 emerging and independent breweries from all over the country. In addition to the craft beer being poured, small bites and appetizers are perfectly paired with each of the brews to provide the ultimate culinary experience. I dare say this year, the ninth year for this premier craft beer and food pairing event held at the National Building Museum, may have been its best yet. Now I know that's a bold statement with this year being my first year attending, but based on feedback received from attendees and breweries alike, this year truly stood out as one of the best yet.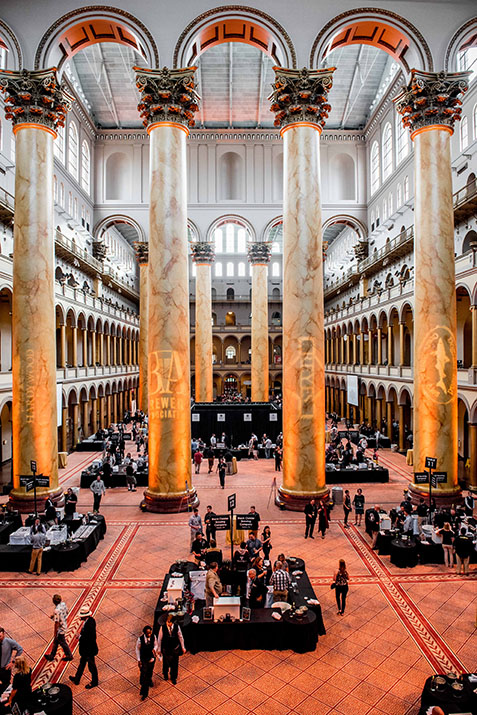 The National Museum Building is a stunning venue and set the stage for one incredible night spent with brewers from all over the country. Waiting in line for entry when the event kicks off is critical to ensuring you get first dibs on your choice of beers. Having a husband attend along with you who may have printed out the map of the entire floor and made a spreadsheet of all the breweries to hit first doesn't hurt either! (I have no problem renting out his insane yet lovable craft beer organizational skills for an event near you… for a fee! Just say the word!)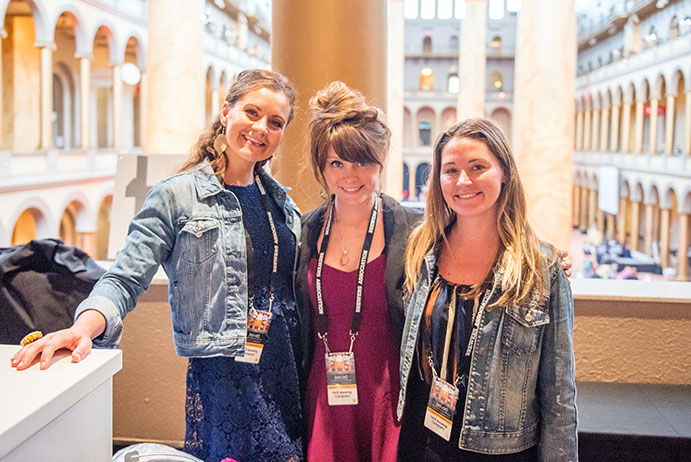 My first stop of the night was to share a drink with the ladies of FATE Brewing Company out of Boulder, CO. Scoring the coveted spot overlooking the rest of the National Museum Building floor, FATE was pouring IRA, their India Red Ale, brewed with both mosaic and azacca hops. A little sweet with a hint of tropical fruit and berry flavors, it finished dry and slightly bitter. A great beginning to a long evening of craft beer!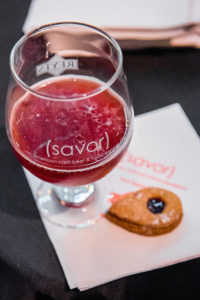 I met my husband at Melvin Brewing out of Wyoming to get our joint tasting adventure started. Our plan of attack was to share beers we both wanted to try in order to maximize our tasting ability and keep ourselves somewhat sober! (Ha…Rookies!) Melvin's Chchchch-Cherry Bomb, a fruit ale that reminded me a little of a lambic with mild sour notes, was top of my list to try. Paired with a cherry linzer torte, the cherry-on-cherry pairing was heavenly for those of us that might be a tad obsessed with this delicious red fruit. The cherry flavors in the beer were actually further enhanced by the cherry notes of the dessert while the crust of the torte provided an overall balance to the pairing.
---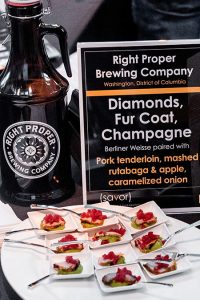 Right Proper Brewing Company was one of two Washington, D.C. breweries in attendance, bringing their Astral Weeks, a farmhouse pale ale and one of the best named beers ever – Diamonds, Fur Coat, Champagne, their Berliner Weisse. One of my favorite beers of the evening, the Berliner Weisse, was light and tart with lovely floral notes. The beer was brewed to mimic the characteristics of a brut Champagne, and dare I say this beer could replace a glass of bubbly at brunch for me any day! The beer was paired with pork tenderloin, mashed rutabaga, apple and caramelized onions. This was one of my husband's favorite pairings, the tart notes complementing the rutabaga and apple flavors while the floral notes in the beer paired well with the juicy pork
---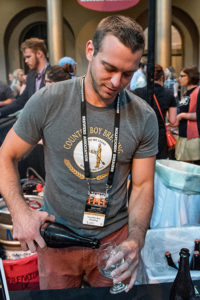 Country Boy Brewing out of Lexington, Kentucky had two phenomenal beers for pouring – Alpha Experiment: Mosiac IPA and their Wild Red Ale Aged in Whiskey Barrels. The Alpha Experiment, part of their single hop series, had hints of strawberry and tropical fruit flavors on both the nose and palate with those bold mosaic hops front and center. The Wild Red Ale was aged in whiskey barrels for two years and was paired with one of my favorite foods ever – pork belly!
---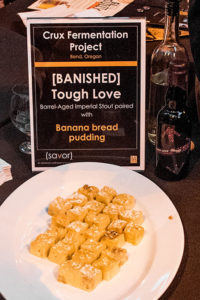 The Crux Fermentation Project was a new to us brewery out of Oregon, as individuals well versed in their delicious brews recommended we hit their table as early as possible in the evening! There was a good chance their [BANISHED] Tough Love – Barrel-Aged Imperial Stout paired with banana bread pudding wouldn't make it more than an hour or two! Their beers were definitely some of the most memorable of the event, with the imperial stout having hints of molasses, vanilla and a little bit of licorice. The pairing of the banana bread pudding with the beer was one of the best food and beer pairings on the floor. The creaminess and smoothness of the banana bread paired well with the barrel aged beer and helped to intensify those boozy, barrel flavors.
Even though we were completely mesmerized by the food and beer pairings, another great part of SAVOR was running into brewers and brewery staff from all over the D.C., Maryland and Virginia region. Richard, Drew and Kai from Aslin Beer Company in Herndon, VA, enjoyed a well deserved evening off of to indulge! Known for their IPA and DIPA "Juice Bombs", Aslin is brewing some of my favorite beers in the entire DMV and has something for everyone from the novice beer drinker to the craft beer connoisseur.
We also stopped by Adroit Theory Brewing Company and checked in with Mark Osborne and his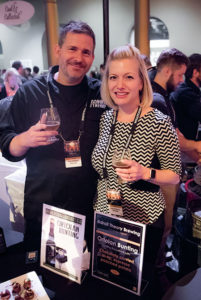 beautiful wife, Nina. In addition to the Advanced Beer and Cheese Pairing Salon they hosted earlier in the evening (see a preview of the beer and cheese pairings on PorchDrinking.com here), they were pouring two of their beers – Triptych, their farmhouse ale and Ortolan Bunting, their strong ale. The Ortolan Bunting was paired with a Chocolate crusted tri-tip with espresso poached potatoes. Talk about decadent! The vanilla notes of the ale were a nice complement to the roasted, chocolate flavors of the tri-tip.
The above beer and food pairings are just a small sample of the amazing evening, as there are many more beers I fell in love with at SAVOR. We unfortunately didn't get a chance to try everything we wanted. For next year, if you have the time and money, I'd recommend going both evenings so you don't have to rush and don't have to cram as many beers in as possible in a short amount of time! You can truly indulge and enjoy and savor! Cheers!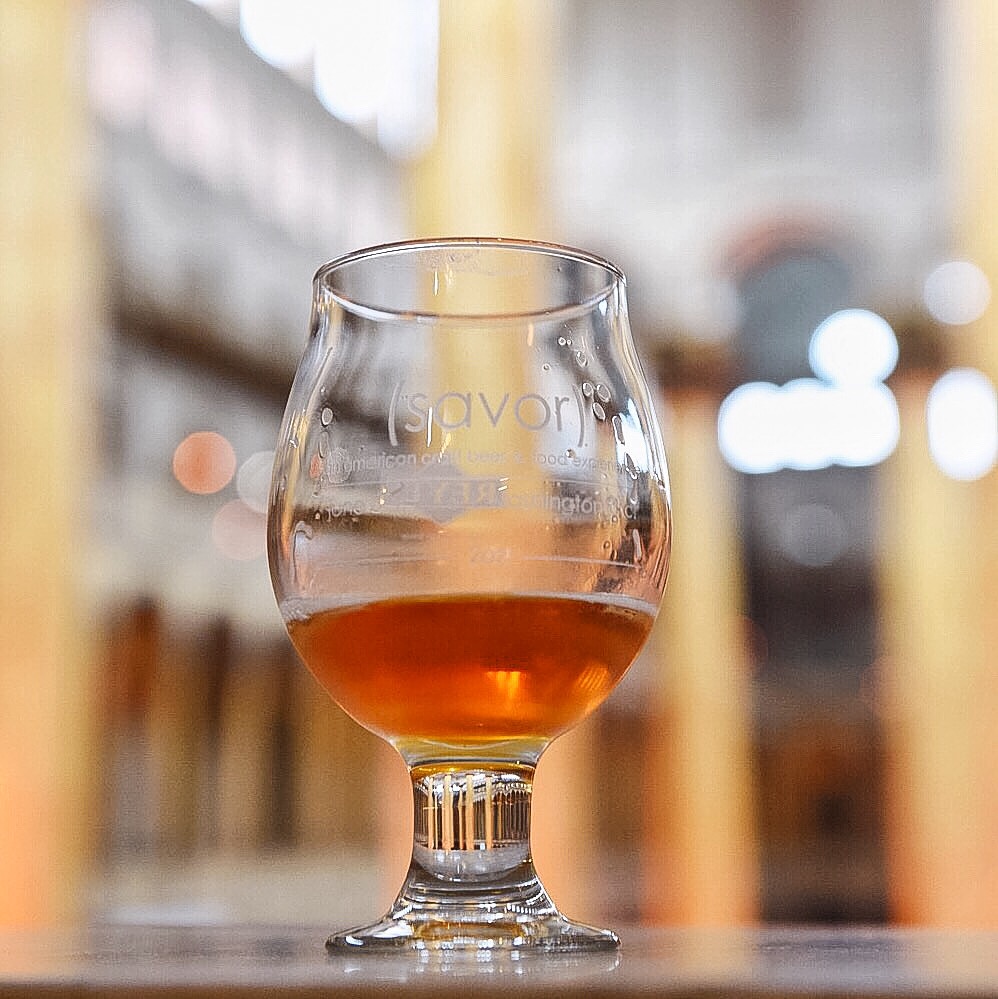 ---