No Comments
Best Autumn Beers of 2016 Without Pumpkin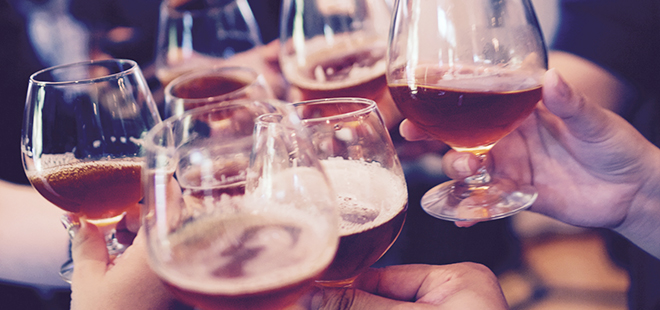 Although the first official day of autumn was September 22, shelves and taps have already been filling up for weeks with spicy, malty fall beers. And while we love the sessions, fruit farmhouse, and juicy IPAs of summer, we're excited to usher in the new season of heavier, stick-to-your-ribs kinds of beverages. These are the best autumn beers of 2016 that don't include the use pumpkin (don't worry, pumpkin fans, we've got a list for you coming as well).
We've put together this roster of our staff-favorite fall beers from every nook and cranny across the country – from Oktoberfest-style lagers to straight-off-the-vine fresh hopped wonders, to bold stouts and porters. And for the purists, don't worry; there's not a pumpkin-themed beer in sight (we've saved those for a post of their own). Find a new favorite with this roster of the best pumpkin-free fall beers of 2016, and toast the changing of the seasons!
OKTOBERFEST/MARZEN
This medium to full-bodied style of beer signals the official end of the warmer months. Before the invention of refrigeration, Marzen beer was brewed toward the end of winter (typically in March) and was kept cold in storage to keep it from spoiling in the spring and summer months. Prost!
Hop Harvest Oktoberfest
Oktoberfest/Marzen
4.9% ABV
Peak Organic
Portland, ME
Grassy hops on the nose with a light to medium biscuity malt flavor, this light version of an Oktoberfest offers a pleasant transition from summer to fall.
Mecktoberfest
Oktoberfest/Marzen
5.4% ABV
The Olde Mecklenburg Brewery
Charlotte, NC
This easy drinker starts off with bready malts, follows with a mild fruitiness in the middle and finishes with a clean, hoppy flavor. Bright, crisp and dry.
Oktoberfest
Oktoberfest/Marzen
5.4% ABV
Legend Brewing Co.
Richmond, VA
Slight caramel and bready notes come through in this beer; no hop flavors at all. Well balanced; not too sweet, not too bitter.
Festbier
Oktoberfest/Marzen
5.6% ABV
Victory Brewing
Downingtown, PA
Lightly sweet with bready malts and a hint of bitter German hops, this beer is decoction brewed for a bold flavor.
Oktoberfest
Marzen
6.0% ABV
Fort Collins Brewery
Fort Collins, CO
There's a very clear reason why Fort Collins' Oktoberfest took home a gold medal during last year's GABF in the Dortmunder/German-Style Oktoberfest category, and it's because it represents exactly what you're looking for in a classic Marzen style beer: rich caramely German malts and a crisp light refreshing finish.
Ramstein Oktoberfest
Oktoberfest/Marzen
6.0% ABV
High Point Brewing Co.
Butler, NJ
Malty-sweet without being too cloying, this beer begs to be enjoyed with bratwurst and sauerkraut.
Sierra Nevada Oktoberfest (Mahrs Brau Collaboration)
Oktoberfest/Marzen
6.0% ABV
Sierra Nevada Brewing Co.
Chico, CA
Sierra Nevada has partnered with one of the best breweries in Germany to create this festival beer brewed with rare Record hops. Has light carbonation and mouthfeel with a sweet, grassy flavor.
https://www.instagram.com/p/BKtuH28hFcp/?taken-by=surlybrewing
SurlyFest
Oktoberfest/Marzen
6.0% ABV
Surly Brewing Co.
Minneapolis, MN
The can reads "beer for a stein, from a can," and this brew lives up to its tagline. Made with three types of rye, it has flavors almost reminiscent of whiskey, but is also very sessionable.
The Hunter
Oktoberfest/Marzen
6.1% ABV
Lost Forty Brewing
Little Rock, AR
This Oktoberfest even tastes amazing right out of the can. Starts off dry with a strong caramel flavor and finishes with herbal hop flavors as it warms.
Staghorn Octoberfest
Oktoberfest/Marzen
6.25% ABV
New Glarus Brewing Co.
New Glarus, WI
Not too sweet and perfectly toasty and crisp, this beer is slightly fruitier than most Marzens. Well-balanced and faintly spicy, with impressive clarity.
https://www.instagram.com/p/BI5v_axjAvO/?taken-by=twobrothersbrewingcompany
Atom Smasher
Oktoberfest/Marzen
7.7% ABV
Two Brothers Brewing
Warrenville, IL
Oak-aged and big-bodied, this is a unique take on the traditional Marzen style. Charred and oaky with subtle hops, caramel, toffee, vanilla and earthy flavors.
---
WET/FRESH HOP
The term "wet hop" or "fresh hop" refers to beers that have been brewed using fresh-off-the-vine hops (within 24 hours) without any processing. These hops can only be used in the fall immediately following harvest. These hops impart a bold, grassy flavor that is unique to this time of year.
https://www.instagram.com/p/BKQ0lCJjfCg/?taken-by=rhinegeist
Crash
Wet/Fresh Hop
5.4% ABV
Rhinegeist Brewery
Cincinnati, OH
Described as "explosively hoppy," this fragrant pale ale is bursting with citrus and juicy, tropical flavors. Has a malty, bready backbone and a dry finish.
Hop Trip
Wet/Fresh Hop
5.9% ABV
Deschutes Brewery
Bend, OR
Sharp and crisp with a piney grapefruit smell, this beer is pleasantly not too bitter. Well balanced, fruity and floral.
Cowiche Canyon Organic Fresh Hop Ale
Wet/Fresh Hop
6.0% ABV
Fremont Brewing Co.
Seattle, WA
Love fruit? Love hops? Try this. Bitter for a pale ale, but it's backed up with plenty of citrus and tropical fruits.
Fresh Hop Pale Ale
Wet/Fresh Hop
6.1% ABV
Great Divide Brewing Co.
Denver, CO
Rich, toasty and acidic, this beer packs plenty of grassy hop flavor. Hints of herbs and pine shine through to live up to the "fresh" descriptor.
https://www.instagram.com/p/BKHkXVlDbMN/?taken-by=fortgeorgebeer
Fresh IPA
Wet/Fresh Hop
6.4% ABV
Fort George Brewery & Public House
Astoria, OR
Big apricot and caramel nose with citrus, pine and floral flavors. Smooth, juicy and complex with a dry finish.
Born Yesterday Pale Ale
Wet/Fresh Hop
6.5% ABV
Lagunitas Brewing Co.
Lagunitas, CA
This crisp pale ale tastes surprisingly like a hoppy white wine. Citrusy, melony, medium-bodied and delicately layered.
Victory Harvest Ale
Wet/Fresh Hop
6.5% ABV
Victory Brewing
Downingtown, PA
Juicy, fruity and tea-like, this malt-forward IPA has a moderately bitter finish and piney notes. Great for those who love a dank hop flavor.
Mosaic Fresh Hop IPA
Wet/Fresh Hop
6.8% ABV
Castle Danger Brewery
Two Harbors, MN
Earthy, flowery and fresh, this standout beer boasts hints of tart green apple and bitter citrus.
Founders Harvest Ale
Wet/Fresh Hop
7.6% ABV
Founders Brewing Co.
Grand Rapids, MI
Hop-forward, but not overly bitter, this wet-hopped ale is citrusy and piney. Malt is secondary here, coming through at the finish. Great aromatics.
---
STOUTS AND PORTERS
Who doesn't love a hearty stout or porter when the seasons start to change? Here are some of our tried-and-true favorites on the darker side.
https://www.instagram.com/p/BKl_UcVjNWR/?taken-by=skabrewing
Autumnal Mole Stout
Chile Stout
5.5% ABV
Ska Brewing Co.
Durango, CO
Chocolate, cinnamon, dark fruit and smoky chile pepper play nice together in this dark-as-night beer.
Stone Smoked Porter
Smoked Beer
5.9% ABV
Stone Brewing
Escondido, CA
Rich coffee and chocolate shine above the dark notes of peat-smoked malt in this delicious brew. This beer is being retired in November of 2016, so snatch it up while you can!
Coconut Hiwa Porter
American Porter
6.0% ABV
Maui Brewing Co.
Kihei, HI
Bridge the gap between the tropical flavors of summer and the richer tastes of fall with this bitter brew that comes through with a toasted coconut afterthought.
https://www.instagram.com/p/BKoTvgoBeiH/?taken-by=ballastpointbrewing
Mocha Marlin Porter
American Porter
6.0% ABV
Ballast Point Brewing
San Diego, CA
A new release this fall, this beer starts off with the original Black Marlin Porter as a base, and then mixes in dark, bitter notes of coffee and chocolate.
Marooned on Hog Island
English Stout
7.9% ABV
21st Amendment Brewery
San Francisco, CA
A collaboration with San Francisco's Hog Island Oyster Company, this unique brew is made with oyster shells for a touch of saline flavor that balances out the coffee, chicory and malty notes.
Founders Breakfast Stout
American Double/Imperial Stout
8.3% ABV
Founders Brewing Co.
Grand Rapids, MI
Always a classic, we can never say no to a FBS once the temperature starts to drop. Brewed with oats, chocolate and coffee, it's the perfectly smooth start to official stout season.
Oak Aged Yeti Imperial Stout
Russian Imperial Stout
9.5% ABV
Great Divide Brewing Co.
Denver, CO
Dense, creamy and a little smoky, this is a stick-to-your-ribs stout that will definitely warm you up during a crisp fall bonfire. Gets even better as it warms a bit and the flavors deepen.
Imperial Biscotti Break Stout
American Double/Imperial Stout
11.5% ABV
Evil Twin Brewing
Brooklyn, NY
Smooth, syrupy, chocolaty and nutty, this boozy treat is complex despite its sweetness.
---
ALES
These fuller-bodied beers are brewed with a warm fermentation method and are moderately strong and flavorful – the perfect beverage to sip on to help keep the chill away. We love a good brown ale in the fall, but there are a few interesting red brews in this list, as well.
Cubano-Style Espresso Brown Ale
English Brown Ale
5.5% ABV
Cigar City Brewing
Tampa, FL
Sweet caramel, coffee and a dry nuttiness dominate this beer with slight vanilla undertones. Smooth and perfectly drinkable.
Tumbler Autumn Brown Ale
American Brown Ale
5.5% ABV
Sierra Nevada Brewing Co.
Chico, CA
This might be the ultimate brown ale for fall. Malty and delicate, this bready, toasty beer is decently sessionable for football games and other outdoor autumn activities.
https://www.instagram.com/p/BKEq2LhgREv/?taken-by=bellsbrewery
Bell's Best Brown
English Brown Ale
5.8% ABV
Bell's Brewery
Kalamazoo, MI
Toasty and malty without feeling too heavy, this ale is perfect for the transitioning of the seasons.
Backpacker Brown
Brown Ale
6.2% ABV
Tallgrass Brewing Co.
Manhattan, KS
Rich and toasty from malts and citrusy from a generous portion of hops, this new beer debuts on shelves in late October.
Hazelnut Brown Nectar
American Brown Ale
6.2% ABV
Rogue Ales
Ashland, OR
Rich, malty and and hazelnutty; you could honestly drink it with breakfast after a night of fall camping.
Evil Dead Red
American Amber/Red Ale
6.66% ABV
AleSmith Brewing Co.
San Diego, CA
Named after the campy horror movie, this beer comes out every year around Halloween (notice the ABV number – clever!). Well balanced hops and malts make this deep red brew a scary-smooth fall treat.
https://www.instagram.com/p/BKb5_xsgGT3/?taken-by=glbc_cleveland
Nosferatu
American Amber/Red Ale
8.0% ABV
Great Lakes Brewing
Cleveland, OH
Malty and floral in flavor, this medium-bodied ale is smooth, dry and perfectly crisp.
---
OTHER SEASONAL BREWS
Saisons and sweet potato ales and rye beers – oh, my! This motley crew list has some uniquely autumnal beers that you have to try at least once this season.
Fall Saison
Saison/Farmhouse Ale
5.7% ABV
Blackberry Farm Brewery
Walland, TN
This spicy, silky amber ale is perfect for pairing with heavier cold-weather eats. Accents of toffee and vanilla blend with a hint of spicy rye for a warm flavor.
Fuego Del Otoño
Biere de Garde
6.1% ABV
Jolly Pumpkin Artisan Ales
Dexter, MI
This unique brew is tart and funky, with notes of malt, oak and a touch of spice and hazelnuts. A subtle musky, earthy quality conjures up those autumn feels.
https://www.instagram.com/p/BKV6fmzjHVv/?taken-by=ardentcraftales
Sweet Potato & Sage Autumn Ale
Saison/Farmhouse Ale
6.4% ABV
Ardent Craft Ales
Richmond, VA
Sweet, spicy and slightly funky, this sweet potato beer stands out from the average pumpkin offerings in all the right ways.
Hayride Autumn Ale
Rye Beer
6.6% ABV
Baxter Brewing Co.
Lewiston, ME
Two rye malts give this beer a subtle spiciness that is balanced out by sweet malts. Oranges, tropical fruit, ginger and pepper come through, too, to create a seasonal flavor bomb.
Sweet Potato Casserole
Seasonal, Fruit and Vegetable
7.9% ABV
Funky Buddha Brewery
Oakland Park, FL
Have you ever wanted to consume sweet potato pie in liquid form? Here's your chance. This cinnamon and marshmallow-flavored brew makes for a great dessert beer on a chilly night.
Triple
Belgian Tripel
9.0% ABV
LIC Beer Project
Long Island City, NY
Pear, spice and caramel notes will lure you into this golden beer. A light start and slightly bitter at the finish.
https://www.instagram.com/p/BKzWz_DgS-r/?taken-by=thebruery
Autumn Maple
Seasonal, Fruit and Vegetable
10% ABV
The Bruery
Placentia, CA
This Belgian yeast beer packs a sweet and spicy punch that takes a twist on the common pumpkin theme – each barrel is brewed with 17 pounds of yams. Also comes in sour, 100% Brett and BBA versions.
---