No Comments
Founders Brewing Co. | Mosaic Promise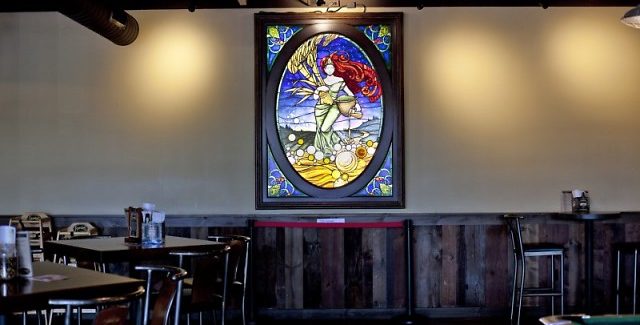 Craft beer has always been about the story. If you can make oatmeal, you can probably make beer. That's the easy part. Beer comes in different shades of colors and styles. Yet, despite the basics of brewing being so simple, we are still drawn to drinking and discovering all the different styles and interpretations brewers put on our favorite liquid courage.
Now, why's that?
It's because craft beer is an art that's greatness hinges on the brewer's mastery of his skill to bring his inspired flavors into fruition. Founders Mosaic Promise is one of those brews that represents that harmonious relationship between beer and art. It's one of the cleanest golden ales that's crisp and refreshing as its history.
To those unfamiliar with Grand Rapids, Michigan, a festival occurs every fall known as Art Prize. It's a citywide festival that turns downtown Grand Rapids into the world's largest art competition. The beautiful lady we know and love on the Mosaic Promise was a stain glass submission in 2013. The piece is aptly named "Ninkasi," which makes our stoic redhead the Sumerian tutelary goddess of beer herself. Founder's loved her so much that they bought her. "Ninkasi" still holds a permanent place in their taproom today.
The Mosaic Promise is part of Founders "Artist Series." It's a series of beers that represents the five-year contract that Founders has with Art Prize to be the official beer of the festival. On the Founders website, Dave Engbers, co-founder and vice president of brand and education states how "making a unique beer in honor of ArtPrize has become a fun challenge for our brewers," Dave Engbers says.
"This year's [2014] release just fell into place. Ninkasi—a stained glass ArtPrize submission that showed in our taproom last year—became a permanent part of our taproom when we purchased it last year. We knew right away that it would make a perfect label for Mosaic Promise, a beautifully simple beer that we had been experimenting with for some time."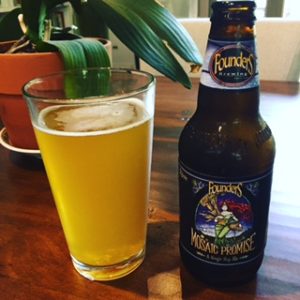 ABV: 5.5% | IBU: 50
Two years later, the Mosaic Promise is still a staple that's become part of Founders signature fall line-up. The beer has a certain elegance that is complimented by the mosaic hops' aromatic scent. It also has a clean and refined taste that one can only expect from Founders. It reminds me of Pipework's Lizard King, which also uses mosaic hops. Though it's hard to compare the two, it's the Golden Promise malts in the Mosaic Promise that push it over the edge. It blends ridiculously well with the mosaic hops to make it just a notch above your average American pale ale.
Founders recommend having this beer paired with a peanut butter, coconut milk, and fish sauce marinade over chicken tenderloins. Founders even offers that exact recipe for those who are brave enough to try it. After making the recipe myself, I can say that the pairing stands up, and with a side of lentils, it's definitely worth your time. So be on the lookout for the Mosaic Promise while it's still in season. It's a beer that's art from the inside out.
Featured image courtesy of Eric Tank 
---