No Comments
Sam Adams Spring Beer 2017 News: Fresh as Helles & Hopscape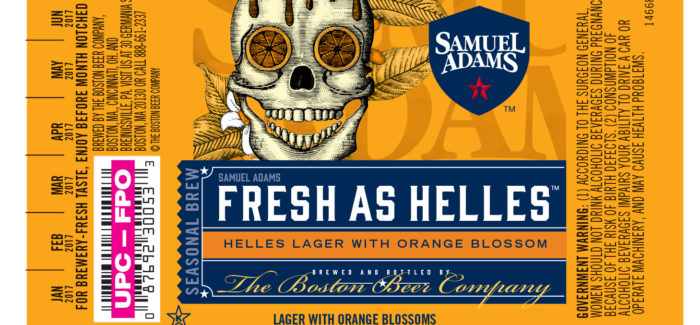 Pull up a chair, turn on the Weather Channel and relax, because Sam Adams has two beers ready to match anything Mother Nature can throw at ya! Samuel Adams, no stranger to seasonal releases, is introducing drinkers to two new seasonal beers: Samuel Adams Hopscape and Fresh as Helles. Ashley Leduc, Sr. Communications Specialist at Sam's, explained the reason for two seasonal releases in a press release, "The brewers felt that these two brews capture the essence of the ever-changing season across the country from January through April."
"At the start of 1988 we introduced our first-ever seasonal beer, Samuel Adams Double Bock, a traditional spring beer originally brewed by German monks," said Jim Koch, Samuel Adams founder and brewer. "While we pioneered rotating beers for the season, this season's beers have changed more times than we can count. The variety in the weather during this time of year begs brewers and drinkers to explore flavors that match the ever-changing season. It might seem crazy, but after we brewed a few test batches of Hopscape and Fresh as Helles in our Nano-Brewery, we knew we had two seasonal beers that captured the essence of the schizophrenic weather around this time of year."
Hopscape: A good beer for the end of winter.
A wheat beer that also enjoys the characteristics found in a West Coast IPA.
Leduc stated, "Hopscape is Sam Adams' first new brew of 2017. It's brewed with four varieties of West Coast hops that add bold pine and grapefruit notes to the deep golden wheat ale. Chinook, Citra, Centennial, and Zeus hops impart citrusy, dank resin and grapefruit rind aromas that lead into a balanced flavor of bright citrus and piney hop character. White wheat and a two-row pale malt blend add a crisp, light sweetness, and the beer finishes with a slightly lingering bitterness."
The citrus and piney notes provide a lingering bitter finish that can withstand any polar intrusion. Brewer Megan Parisi explained, "With Hopscape, we knew we wanted to brew a hop-forward beer to match the bitterness of the cold. Our Sam Adams Nano-Brewery gave us the chance to experiment with a variety of hop trials until we nailed the citrusy and piney flavor profile we were going for."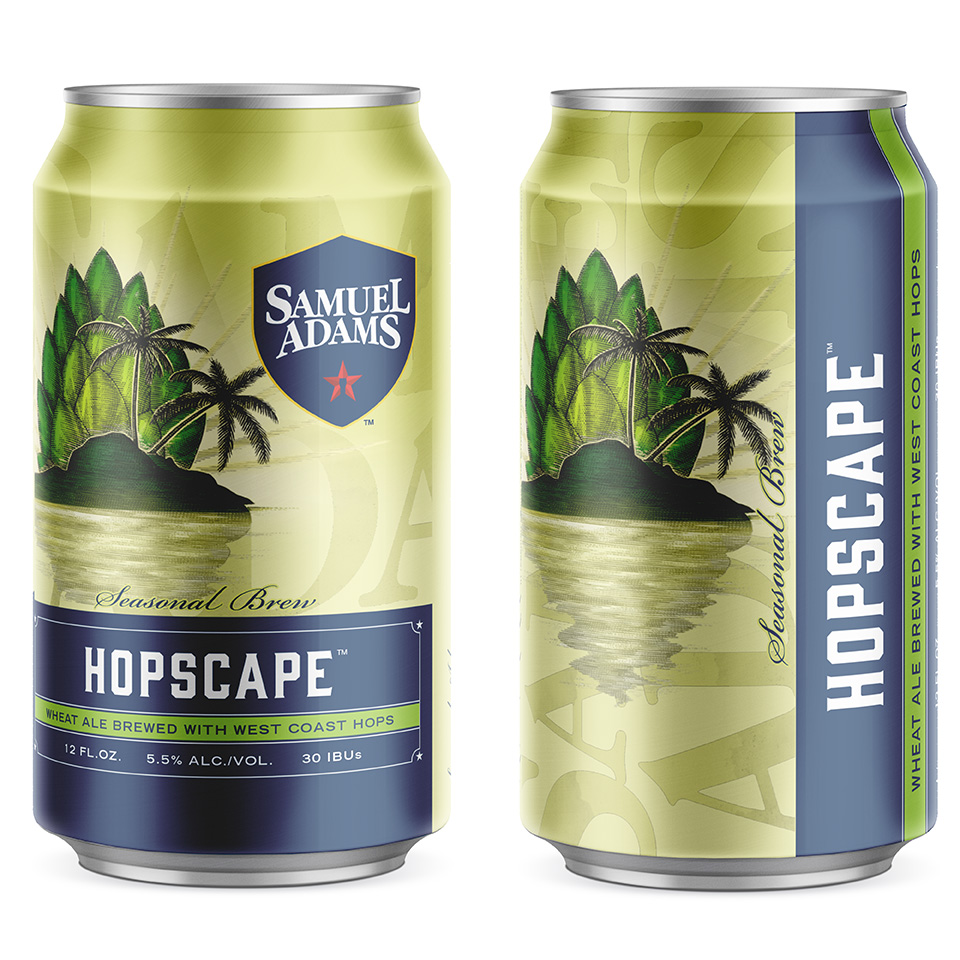 Fresh as Helles: Perfect for the changing weather of early spring.
A helles lager with a good citrus kick
After a season of robust beer, Fresh as Helles serves as a palate refresher. This Sam Adams spring beer pours light amber and offers a medium-body. The otherwise traditional helles also provides notes of orange from Mandarina hops and orange blossom petals using in the brewing process. Ludeec adds, "The beer's lively, citrus flavors pair perfectly with the changing season. Soft citrus notes of orange blossom add a bright accent to the slightly sweet honey malt notes, leading to a round, smooth finish."
Parisi noted the contrast of the Helles to Hopscape, "For the more fickle side of this season, we knew we wanted to brew a more delicate beer. We found that our Helles recipe created the perfect base for balancing the flavor of tangy Mandarina hops and floral orange blossom petals. As brewers, half the fun is brewing multiple trials until we get just the right flavor – or in our case flavors – that we're looking for."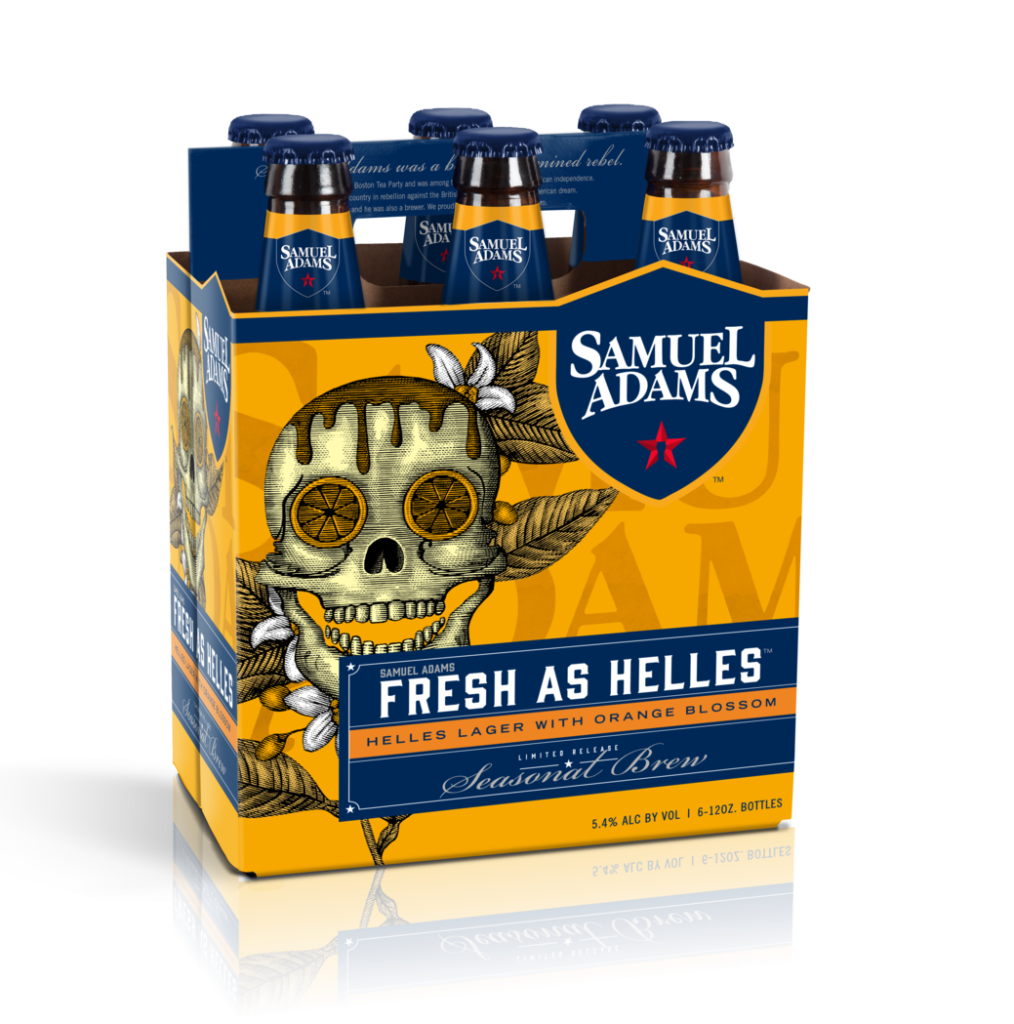 Sam Adams Spring Beer —  Hopscape & Fresh as Helles — Availability
Samuel Adams Hopscape will be available nationwide from January through February 2017. Samuel Adams Fresh as Helles will be available nationwide from March through April 2017. Both brews will be available in six-packs for a suggested retail price of $7.99-$9.99, 12-packs (bottles and cans) for a suggested retail price of $14.99-$17.99, 16 oz. single serve cans for a suggested retail price of $1.99-$2.49, and on draft. From January through April, both beers will also be available in the Samuel Adams Spring Variety 12-Pack for a suggested retail price of $14.99-$17.99, and 24-packs for a suggested retail price of $22.99-$24.99. Price for each package varies by market.
To find where Samuel Adams beers are sold near you, visit www.samueladams.com/find-a-sam
Some of this piece was provided to Porchdrinking.com via a press release from Sam Adams via Ashley B. Leduc, Senior Communications Specialist at The Boston Beer Company (www.samueladams.com) 
---