No Comments
BREAKING | Firestone Walker 2017 Invitational Tickets Go On Sale Monday!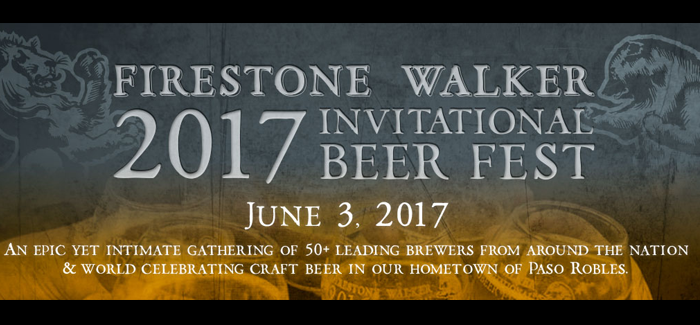 Featured Image Credit: Firestone Walker Brewing Company
Tickets for this year's Firestone Walker Invitational Beer Fest (FWIBF) will go on sale Monday, February 6, 2017! This celebration of craft beer will take place on noon until 5 p.m. on June 3, 2017 at the Paso Robles Event Center in Paso Robles, California. FWIBF will feature over 50 breweries from around the country. The Invitational will also include food samples from several California restaurants.
Ticket sales will begin promptly at 6 a.m. (Pacific Standard Time) on Monday on Eventbrite. Tickets will cost $85 and will include a snifter glass, beer, food samples and music. Sales will be limited to two tickets per transaction. The FWIBF will likely sell out, and no additional tickets will be issued. If you want to attend, plan on buying your tickets early!
A very limited amount of Early Entrance Tickets will be available for $200 each. These tickets will allow you to enter the Firestone Walker Invitational one hour early. Early Entrance ticket holders will also receive a FWIBF t-shirt and hat.
Because the price of admission includes more than just beer, discounted tickets for Designated Drivers will not be available. All net proceeds will benefit Pioneer Day (a local non-profit), so you can still consider it money well spent, even if you don't drink any beer.
https://www.instagram.com/p/BQD8g3lDi27/?taken-by=firestonewalker
Additional FWIBF information will be made available as the event draws nearer. Be sure to visit Firestonebeer.com or download the official FWIBF app for the most up-to-date news! If you have any additional questions, you may email Firestone Walker Brewing Company at [email protected]
---