No Comments
Brewery Showcase | Nevin's Draft Company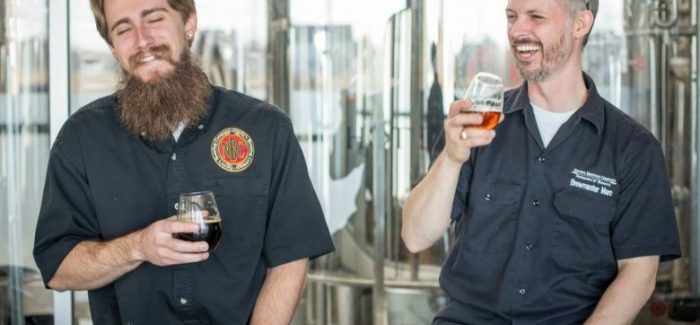 Nevin's Brewing Company (NBC), located in Chicago's suburban Plainfield, is a restaurant, banquet hall, music venue and a brewery — and now that brewery has its own name, Nevin's Draft Company. The "B" in NBC, occasionally got lost in the mix, so the brewing arm of NBC created a new, separate identity. The beer has always been good, but now more people are going to know about it.
The brewery isn't moving, nor is it isolating itself from the restaurant and music venue; the new branding allows head brewer Marc Wilson and his team, Matt Smith and Cory Davidson, a chance to effectively promote and distribute its award-winning beer. As a result, Marc and his crew hope to increase annual production from 500 barrels to its maximum potential of 1,800 barrels per year.
Nevin's Draft Company: An Introduction
Marc guided the brewing portion of Nevin's Brewing Company from the ground-up when the place opened in 2012. You might say, it's his baby. And, he has the pedigree and experience to lead Nevin's to the next level. It's the latest step in his climb from middle school science teacher to head brewer.
Marc received a homebrew kit on his first-ever Father's Day, which turned into a passion that eventually led him to Siebel Institute. From there, it was a stint at both a Rock Bottom in Chicago and then in suburban Warrenville. "Rock Bottom on Chicago is like boot camp, churning out wort all day long. I lost 10 pounds the first two weeks I was there from walking to the brewery and doing all the work. I was eating burgers all the time but still losing weight."
And then he moved to the suburbs, which presented new challenges: "The water at the Warrenville location was horrible. Well water; really hard; tons of mineral content. It was really hard on brewing system. Things were always breaking down; it was a great way to learn how to improvise. You are the only one doing it!"
Today, Nevin's presents its own unique challenges for the beer-geek-trifecta of Marc, Matt and Cory. Marc explained, "It's an enormous venue. We do banquets, have bands, and the restaurant. We serve everyone from homebrew clubs to hairbanger ball crowds that would never touch craft beer — I think they'd riot if we didn't have [macro beer]. And then there's a lot of people in between. So, we can't be a niche like in the city. We have to cater to a diverse crowd with diverse tastes."
The Beer
[Pointing to me, sitting across the table], "You are drinking our Quick Witted [Belgian Wit] right now. That's our number one. We don't sell Blue Moon or Shock Top. Quick Witted is basically a craft crossover beer. And, I'm happy that pilsners are making a comeback. Although, I think it's still a highly underappreciated style. Pilsners expose all the flaws of the brewing process, so if you don't make it well… well you either make it well or you don't."
It is easy to see that Nevin's Draft Company does more than brew a few IPAs. In fact, it was a visit to them last May during Chicago Craft Beer Week that made me appreciate the place more than I already had — the infamous 21 Beer Salute, a veritable celebration of beer genres and styles.
For instance, "Apocalyptinator!," won the Bronze Medal at the 2016 Great American Beer Festival. The beer offers beer drinkers robust caramel, chocolate and toasted toffee flavors. Or, if that doesn't grab you…
…Maybe Nevin's Draft Company will catch you with your hand in its cookie jar — the Oreo-infused Kookie Monster.
Marc explained, It was national stout day and we had some imperial stout we wanted to release, and we thought it would be fun to make a flight. We had no problems coming up with two variants, but we didn't know what to do with the third. So, my brewer at the time and I looked through the pantry and saw the Oreos. We shrugged our shoulders and thought, "why not? [laughter]."
The beer quickly sold out at the Festival of Barrel Aged Beer — it was a hit! And, Nevin's Draft Companay will again release it on February 28, A.K.A. Fat Tuesday. Indulge!
https://www.instagram.com/p/BOFs8u9jiev/?taken-by=nevinsdraftco&hl=en
Distributing Nevin's Draft Company
Accolades aside, convincing bars to sell a brewery's beer is no easy task in a a crowded craft-beer market. Matt explained, "One of the biggest challenge is getting our name out there. We've found that people really like [our beer], but outside of our local area, it wasn't a beer people knew about. But lately, by going out there and just getting places to try our beer, we are seeing our product sell more and more."
I asked, Does it hurt having your own large establishment already? Cory responded, "We got a little push back from having our own place, but mostly we have gotten really positive feedback… far more than pushback." He added, I've found when we go into places, they are more likely to ask about canning because they don't want to take on a half barrel or something like that. I've had a lot of interest in that. That's something we need to explore."
Nevin's Draft Company may be a new name, a new brand, and a new method for selling the beer. But, nothing matters unless the beer is good. When one can sell out at FoBAB, win at GABF and convince restaurant-goers who are not prototypical craft-beer geeks to drink handcrafted beer, there's a good chance success will ensue.
If you don't know Nevin's Draft company yet, you will soon. And, you'll probably see me there downing some Kookie Monster.
---