One Comment
Discussing Chicago's Beer Culture & FoBAB with Werk Force Brewing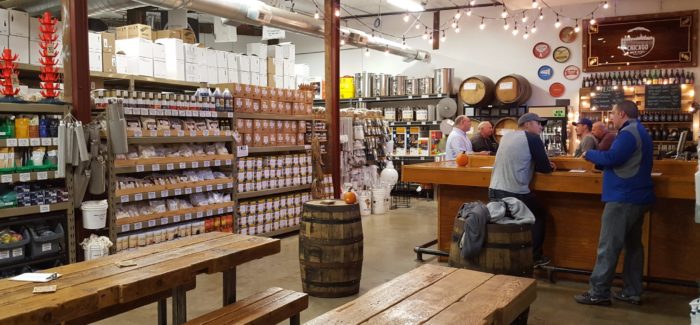 Chicago's brewing culture is as diverse as its population, but one genre of brewing resonates strongly with Windy City beer enthusiasts — barrel-aged brewing. In 1993, Greg Hall at Goose Island experimented with beer in bourbon barrels and, as they say, the rest is history (see this movie about that story). The legacy of his idea manifests itself every November with Goose Island's Black Friday Bourbon County release and numerous barrel-aged beer festivals, notably the Festival of Barrel Aged Brewing (FoBAB). Brandon Wright, of Chicago Brew Werks/Werk Force Brewing, shares his unique perspective on Chicago's love of barrel-aged beer.
At various times during the span of a 90 minute interview with Brandon, members from Flesk Brewing, Horse Thief Hollow Brewing and Ten Drops Coffee (frequent craft-beer collaborator) arrived, and Imperial Oak Brewing sent him a text. Brandon explained, "Yeah, the brewers around here are so great. We are extremely involved with the Illinois craft-beer scene and we have become friends with all these brewers. We hang out together, bounce ideas off each other and sometimes say, 'That's awesome, let's brew that together!'" So, when it came time to talk about Chicago's brewing culture, Brandon seemed like an obvious choice.
Plus, he knows his way around a barrel, too! 
https://www.instagram.com/p/BMZRzUwjbr_/?taken-by=werkforcebrewing
So, what is Brandon's take on FoBAB and the popularity of barrel-aged beer in Chicago? We got the inside scoop.
He remarked on the culture: "I think that Chicago beer culture is really exploding. There is such a movement of people wanting that finesse, something that's a big deal during a bottle share. People like to drink beer and collect the bottles. You don't down these beers, they are meant to be enjoyed, and enjoyed with people. It's the idea of Midwestern values – coming together, sharing experiences, and doing it with a good beer." 
He discussed brewing skills: "A huge portion of the brewers here are Goose Island alums. Even if they weren't there when it all started with Bourbon County, it's almost like a generational thing, passed on to each new brewer. And then those guys go and do their own thing and in the process they train more people."
He explained logistics and collaboration: "To be honest, as it has grown, the availability of barrels has grown, which makes planning recipes easier. But the work of the [Illinois Craft Beer] Guild and then people like Brandon [Bandbury, owner/head brewer at] Hailstorm Brewing and Penrose offering barrel buys, it makes it good for everyone involved. We are obviously all working together on this, in some sense. We are all doing it so we have a lot of people with barrels."
Homebrewers are barreling, too: "Penrose Brewing Tom Korder — a killer dude — just came here to do an awesome talk to homebrewers and give them lessons on it. It's something that's getting more popular. And again, It helps that the distilling world is blowing up, too. So, more distillers means more barrels, especially five, ten, or fifteen gallon barrels — that's something homebrewers can use! But also, homebrewers are like sponges; they are always on internet forums, reading books, going to meetings, so it's only natural that barrel aging took off."
From Chicago to the World:  "We get inquires ALL THE TIME from Brazil. At first I thought it was a scam, [laughter]. We have a lot off people from Brazil that fly into Chicago, and will order and drop ship overnight. It's interesting they have to hit us up for that. We get calls from Mexico, Italy, Costa Rica. Staying in a hotel, getting supplies and heading back. So, that's pretty cool!"
https://www.instagram.com/p/BMSDot_DbOz/?taken-by=novobrazil
For Illinois and Chicago brewers, there's just something special about barrel-aging beers. Certainly, barrel-aging techniques pre-date Chicago's first European visitor, just as hops in beer predates San Diego's brewing revolution. Chicago can't claim it invented barrel-aging; Greg Hall simply discovered that one can use barrels previously used for bourbon. In 2016, brewers are happy to use anything and everything, and most Chicagoans love it with a passion.
The awards ceremony at FoBAB is met with much enthusiasm. For a brewer to win an award for a beer he or she speng months (or years) planning, brewing, and nurturing is something for which a brewer truly feels proud.
---