No Comments
Maplewood Brewery | Charlatan Pale Ale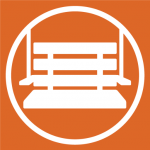 For my first piece for PorchDrinking, I decided to revisit a beer that kicked off my love of craft beers.
I still remember the first time I tried The Charlatan…back before it was canned. Before it received its new look. Hell, even before Maplewood came to be known as Maplewood.
It was mid-November of 2014 and I was perusing my local Binny's Beverage Depot, when I stumbled upon a cool new bottle.
A slick matte white label with a black silhouette of a bearded man adorned with a top hat and a cane caught my eye. A simple green line was etched along the middle of the bottle with the words the words "The Charlatan" sitting above it. Below the line, written in cursive, "Mercenary" with a bold red line just underneath added a touch more color and flare to it.
I like Pale Ales and I really liked the way the bottle looked…so I didn't waste any time in purchasing the 22-ounce bomber for the very reasonable price of $7. When I opened it for the first time, the aroma was just outstanding. I remember texting my best friend, saying, "If it were legal to marry a beer…I would marry this one." It was that very moment where I first developed a love affair with Mercenary/Maplewood.
A lot has changed in those four years, the biggest being that the Mercenary name is no more. A trademark dispute with Odell Brewing, due to similarities with their Myrcenary Double IPA, resulted in a rebranding to Maplewood Brewing and Distillery. Their new name comes from the street they're located on.
Since then, Maplewood has continued to grow, becoming well known for their New England-Style IPAs–the Juice Pants series and Son of Juice, among the most notable. But they still produce this Pale Ale year-round. Known just as Charlatan now, it comes in four-packs of 16-ounce cans that run $10. And, just like the brewery, it too has received a bit of a face lift.
Gone is the matte white label, silhouette and cursive font. Replaced by a shiny purple and white can, an easy to read font, and a more simple logo–the outline of the Charlatan's hat, beard and monocle.
And, turns out, I wasn't the only one that loved it. Out of 157 entries, this brew took home the bronze medal at the 2016 GABF for American-Style Pale Ale.
But despite all the changes and popularity around the beer, what's inside the can has remained the same.
Brewed with Centennial, Citra, Simcoe and Warrior hops and five different grains, Charlatan has a solid 6.1% ABV and just 35 IBU.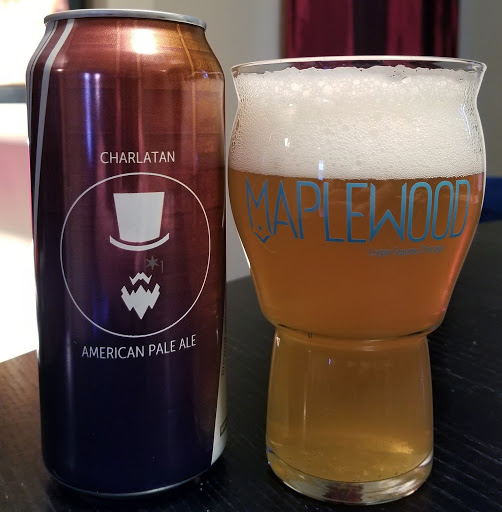 Charlatan Pale Ale pours a somewhat cloudy straw color with over two fingers of sticky, dense eggshell white foam. Very slowly the head begins to fizzle down, lacing the top of the glass nicely.
After just a quick whiff I remember why I love this beer so much.
A bouquet of citrus fruits–mango, grapefruit, orange and lemon–hit first and foremost. Behind the fruit lay some light pine, a caramel malt backing and just a touch of grain (mostly rye).
Each sip begins with a soft, creamier mouthfeel and just a quick buzz of carbonation. From there, the hops kick in with a burst of orange, mango and lemon zest. After a moment of juicy citrus, a grapefruit rind characteristic kicks in and is accompanied by a moderate bitterness that sits at the back of the tongue.
The beer is balanced out by some caramel malt and rye sweetness. That duo blends nicely with the fruity aspects of the Charlatan and eliminates most of the hoppy bitterness.
Charlatan ends mostly clean, but there is a moderate dryness and just a dash of resinous grapefruit rind flavoring that sticks around for a few moments after.
While the unpredictability of life may evolve a brewery, the important aspects of a truly incredible beer remain the same. And Charlatan certainly proves that.
Feature image: Maplewood Brewery on Instagram
---