No Comments
Event Recap | 2nd Annual Love on Tap Shore Craft Beer Fest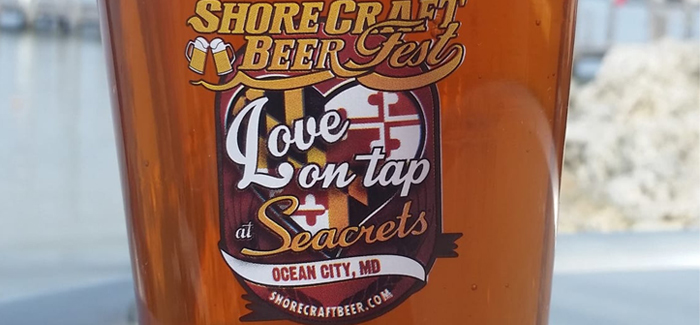 Warm, windy and a chance of tasty craft beer was the forecast for Saturday's 2nd Annual Love on Tap Shore Craft Beer Fest in Ocean City, Maryland.
Held within Seacrets, Jamaica U.S.A., 14 craft breweries along the Maryland and Delaware eastern shore region each showed off two of their brews for the masses to sample. Some participating breweries made beer especially for Maryland's "FeBREWary" and Craft Beer Lovers month, like 3rd Wave Brewing Co.'s Chocolate Cherry Stout and Backshore Brewing Co.'s Sofa Sexy King, a chocolate-strawberry milk stout.
Doors opened at 12 p.m. for VIP ticket holders and 1 p.m. for general admission. The first 750 ticketed attendees received a commemorative pint glass for the event. Breweries provided a larger than normal tasting pour, which allowed participants to enjoy each sample longer and socialize with other beer lovers. With a more intimate setting than other large beer festivals, Shore Craft Beer Fest provided attendees a chance to talk to brewery staff about their beers. In many cases, the brewer was behind the taps pouring their creations for the sold-out event.
Various IPAs, tripels and porters were amongst the featured selections. Hints of spring flavors were also in abundance, with Old Dominion featuring their Cherry Blossom lager and Burley Oak with their delicious Blueberry Peach J.R.E.A.M. fruited sour ale.
Breweries that participated in this event included:
| | |
| --- | --- |
| Photo Credit: ocbrewingcompany.com | Ocean City Brewing Company (Ocean City, MD) |
| Photo Credit: 3rdwavebrewingco.com | 3rd Wave Brewing Co. (Delmar, DE) |
| Photo Credit: backshorebrew.com | Back Shore Brewing Co. (Ocean City, MD) |
| Photo Credit: fincitybrewing.com | The Fin City Brewing Company (Ocean City, MD) |
| Photo Credit: burleyoak.com | Burley Oak Brewing Company (Berlin, MD) |
| Photo Credit: fordhamanddominion.com | Old Dominion Brewing Company (Dover, DE) |
| Photo Credit: www.dogfish.com | Dogfish Head Craft Brewery Inc. (Milton, DE) |
| Photo Credit: rarbrewing.com | RAR Brewing (Cambridge, MD) |
| Photo Credit: taletalesbrew.com | Tall Tales Brewing Company (Parsonsburg, MD) |
| Photo Credit: evolutioncraftbrewing.com | Evolution Craft Brewing Co. (Salisbury, MD) |
| Photo Credit: bigoysterbrewery.com | Big Oyster Brewery (Rehoboth Beach, DE) |
| Photo Credit: mispillionriverbrewing.com | Mispillion River Brewing (Milford, DE) |
| Photo Credit: blueearlbrewing.com | Blue Earl Brewing Company (Smyrna, DE) |
| Photo Credit: rubbersoulbrewing.com | Rubber Soul Brewing Co. (Salisbury, MD) |
For more information on Shore Craft Beer Fest's events, visit their website at Shorecraftbeer.com
---